POV Holder:
Paul
POV Competition
Aug 20th
POV Used
Yes
POV Ceremony
Aug 22th
HOH
Natalie, Meech
Next HOH
Aug 25th
Original Nominations:
Victor AND Paul
After POV Nominations:
Victor AND COrey
Have Nots
Victor and James
Watch the next week of the feeds for FREE – 1 week Trial!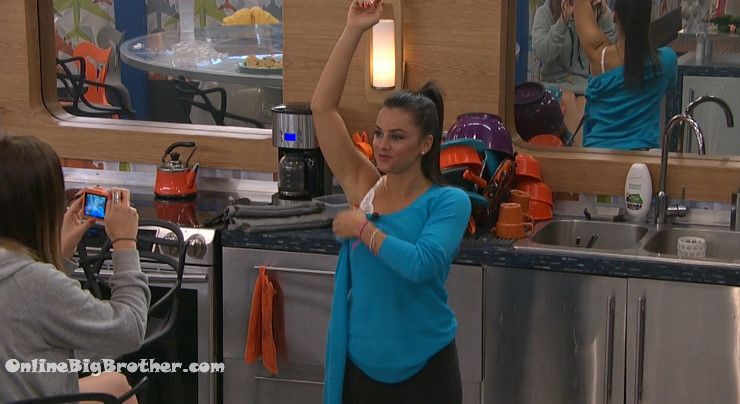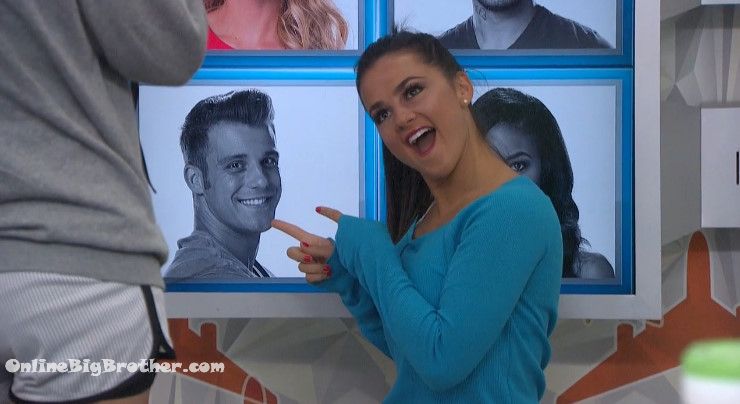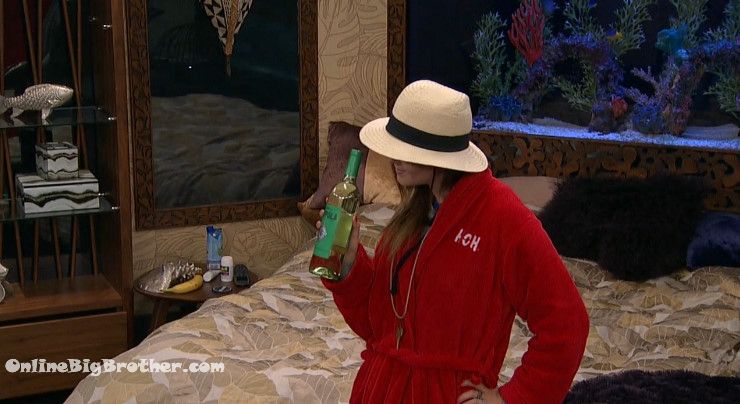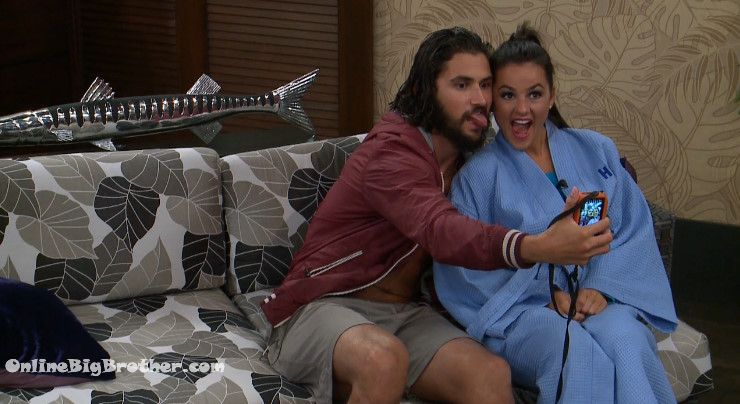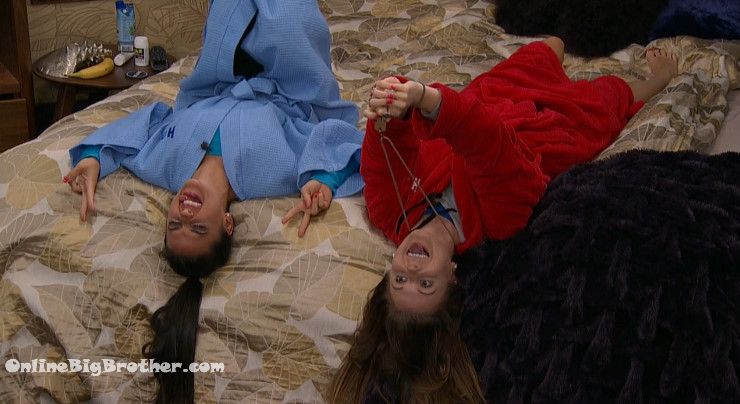 What happened today? HOH pictures.
Anything else? Nope.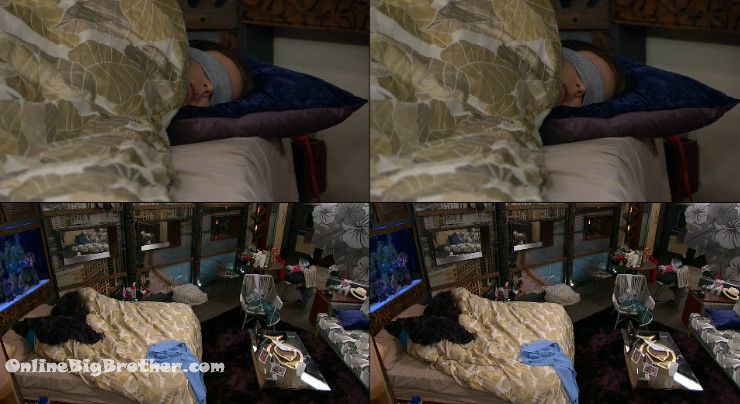 2:30pm …. ZZzszzzz on all feeds.. Corey, James, Michelle and Victor are in the kitchen eating etc.. (I'm actually happy all the feeds are on someone sleeping)
2:37pm the feeds flip to the kitchen where Victor and Corey are chatting about skydiving videos.. etc..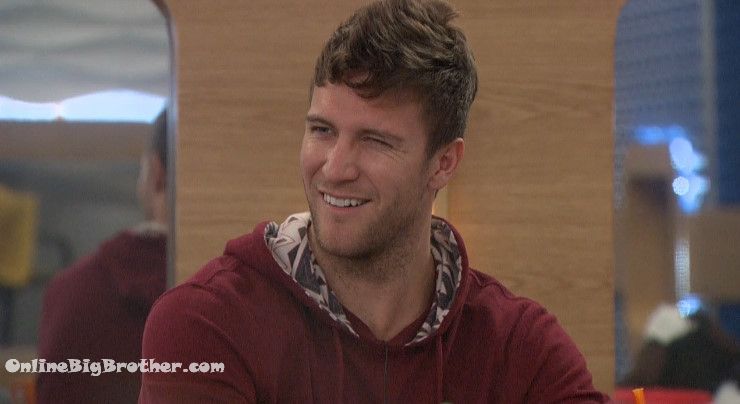 3:30pm Kitchen Nicole and Corey
Nicole says she messed up and called Paul a manipulator but then went off denying it
Corey – who cares
Nicole – I want to cry and leave, because what if I can't get a job after this or something..
Corey – are you serious, that will get you out of a job (see image above)
Nicole – I don't knowwwwwwwwwwwwwwwwwwwwwwwwwwwwwwwwwwwwwwwwwwwwwwwwwwwwwwwwwwwwwwwwwwwwwwwwwwwwwwwwwwwwwwwwwwwwwwwwwwwwwwwwwwwwwwwwwwwwwwwwwwwwwwwwwwwwwwwwwwwwwwwwwwwwwwwwwwwwwwwwwwwwwww
Corey – are you for real right now, nothing you can do in this house..
Nicole cuts him off.. Yes, you have to be very careful
Corey – really.. Why do you say that
Nicole – anything you say or do can be held against you .. that's why I was scared to come back too..
Nicole says she feels so guilty she never did anything bad.
Corey doesn't believe her says none of that is true people don't care.
Nicole asks him if he was around when she called Paul a manipulator
Corey – I believe I said it.. I didn't care.. Didn't say it in a negative way..
Nicole – meant he was good ya..
Corey thinks it's crazy it would impact your jobs outside or prevent you from getting a job. Explains they are on a game show about manipulating and lying.
3:40pm – 4:10
Victor, Corey, Nicole cleaning up the house
James irons his shirt
Natalie sleeping
Meech and Paul off Camera most likely sleeping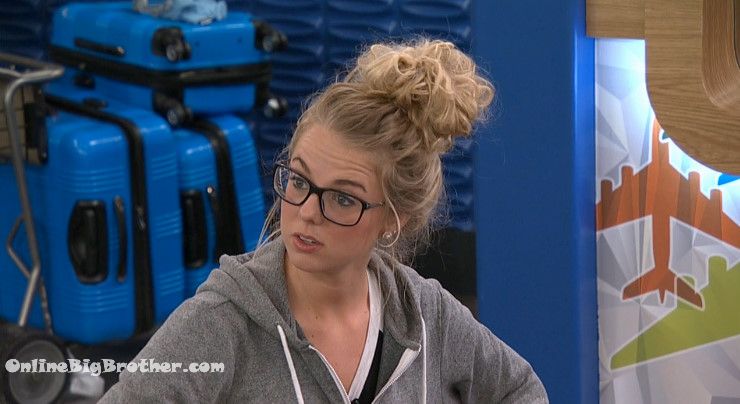 4:07PM Nicole and James
Nicole says she has slipped up in front of Victor a couple times.
James says it doesn't matter he thinks Victor knows already and so does Paul
James – it's best for everyone's game Victor is gone..
James says if Paul doesn't win the HOH next week he's gone
Nicole – he can win Veto or the care package.. hopefully not..
Nicole – the fact that he lies about French fries.. that's what makes me nervous.. lies so easily
James- french fries.. he's working all sides..
Nicole says she knows a lot of things that Paul lied about, She adds that lying is part of the game but Paul is so good.
They agree Paul is acting weird right now he's not talking at all.
Nicole says 26 hours ago Paul was ruling the house.
James says he'll throw the HOH to Nicole and Corey if they take Paul out
Nicole – I would never put you up no matter what.. Even if I heard you wanted to cut my arm off or shave my eyebrows off.. I still wouldn't
Nicole – strategically smart for me.. I never would..
James- I never told anyone I was gunning for you and Corey..
Nicole – same
Jame s- i just distance myself because Paulie and that little hiccup
Nicole now claiming she was never close to Pauli it was always Corey and James then Paulie was 4th on the "Scale"
Nicole says them still being in the game this long "is so cool" being with people for this long that they "Click with"
4:33pm Kitchen random chatter..
Corey – when I'm on adderall I go balls to the walls cleaning..
Victor says he's always had a clean room
Nicole says when she was in college her room was messy
To make things bearable Vic has the right idea #BB18 @DawgsBigBrother pic.twitter.com/V4ZloUYKFB

— OnlineBigBrother.com (@bigbspoilers) August 23, 2016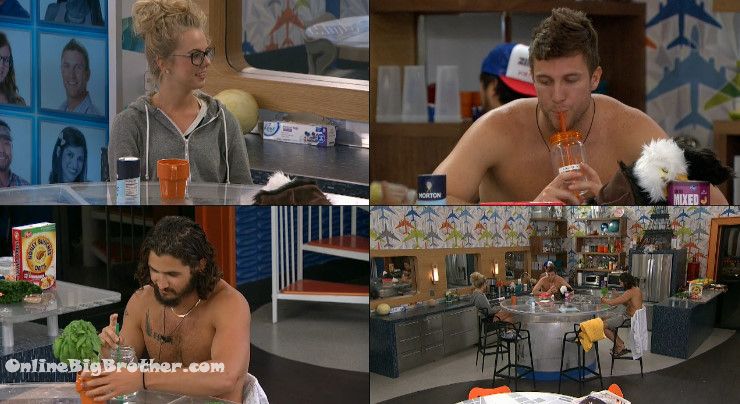 4:53pm More chit chat…
**note they are in lockdown now for production to build the backyard competition. If you remember from past years when they have competitions for a jury member to come back they sometimes roll the HOH and returnee comps into 1. The last jury member standing comes back and the last house guests standing wins HOH.. Think BB15, or it could be a complete crapshoot like BB16. prepare yourself in case my vision is wrong and the most boring jury member comes back**
Share it YO!!
Tweet