POV Holder:
Paul
POV Competition
Aug 20th
POV Used
YES
POV Ceremony
Aug 22th
HOH
Natalie, Meech
Next HOH
Aug 25th
Original Nomi1nations:
Victor AND Paul
After POV Nominations:
Victor AND Corey
Have Nots
Victor and James
Watch the next week of the feeds for FREE – 1 week Trial!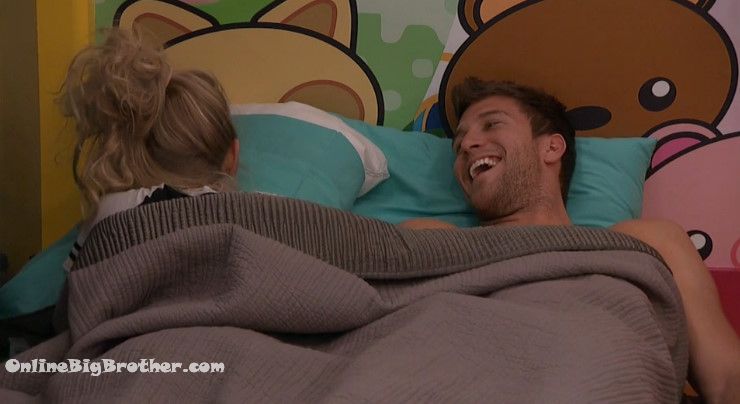 8:03pm James, Corey and Nicole
Nicole is pissed because she found out about Corey being VIB (Like VIP) on bumble. VIB access is given to users who get swiped and swiped a lot it's a more elite collection of Girls, "All the hot ones"
Corey claims he's never been on a single bumble date he uses it to bring girls to his bar.
Corey starts grinning, "Don't hate the player hate the game… "
Goes back to saying he just uses bumble for business..
Corey then says his "roommates" use his bumble account more than he does
James- you have farmers daugters.com
Corey – ya
Corey explains it but it doesn't sound like he uses it.
Corey now says he used it plenty of times to meet people for business like dallas cowboy cheerleaders because then he can talk to athletes that might use his app.
JAmes leaves, Paul joins them and the tinder/bumble conversation continues…
Victor joins them..
Paul says Tinder is great he's met some great people.
Corey – it's a genius concept..
Victor says it's a great resource to meet people when you're busy with work and the gym, mentions how hit or miss it is meeting girls at the gym.
Nicole – I would download it if there was no profile pic
Paul – do you really want to do that
Victor – I meet people on instagram sometimes…. I like 1 they like 2 I like 2 they like 2….
8:32pm Paul and Corey
Chatting about their fans, who has the most fans, etc , etc.. Paul says his friend works at TMZ and will probably post something.
Paul – Bronte was the only roadkill that was sent home..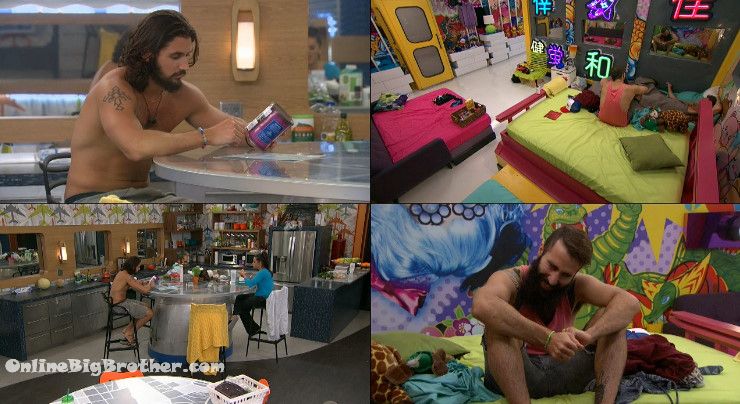 Paul's spending time with Corey Vic spending time with Michelle and Natalie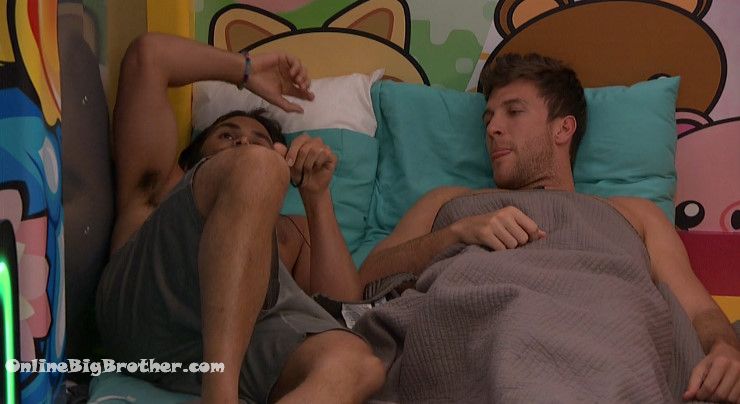 9:07pm Corey, Victor and paul
Corey admires Victor's tan
Corey – you are getting dark… wow… OH my god you are frickin real dark..
Corey admiring Victor's tan "you are getting dark, wow. OH my god you are frickin real dark" #BB18 pic.twitter.com/HKNUWKyUBW

— OnlineBigBrother.com (@bigbspoilers) August 24, 2016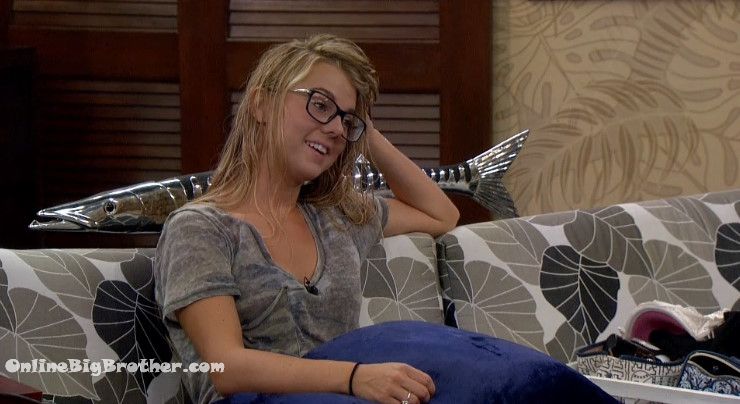 9:15pm HOH Nicole and Michelle
Getting paranoid about Paul because yesterday he was up all night and he didn't talk to anybody today he's acting like everything is fine.
Nicole says where she lives the only place to get avocado is wal-mart and they are not very good.
Nicole – my moms allergic.. She's allergic to bananas too so that's why here I eat at least 1 banana a dayyyyyyy.. And so at home we'll like buy them but she .. I don't like bringing them inside the house so I can't eat them as much as I would like to.. I eat them with peanut butter
Nicole – I can't eat them as much as i want to
Nicole explains that her mom's tongue and throat swell up when she has a banana.
Nicole – she's allergic, Kiwi, Banana, latex, Pineapple maybe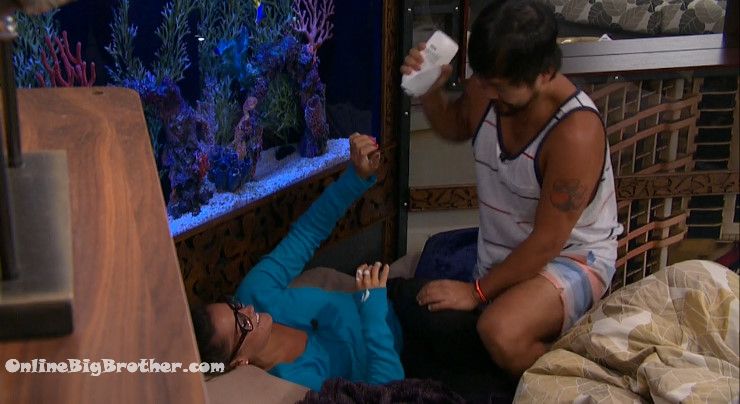 Cause everyone loves james' pranks….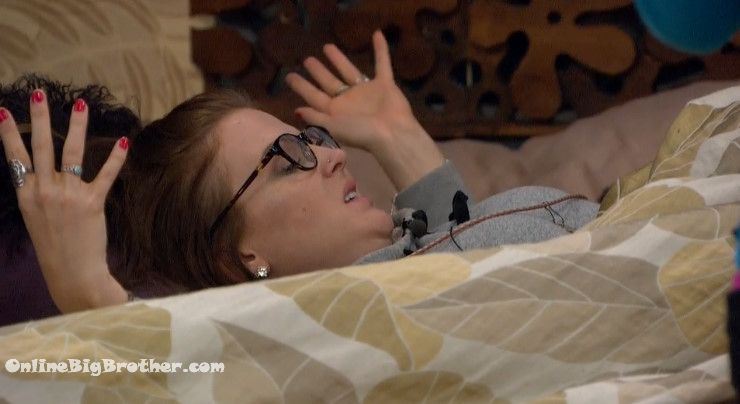 9:23pm HOH Natalie and Michelle
Getting paranoid that Paul is hanging around Corey all day.
Michelle says the plan is for James to tell Victor tomorrow, "You don't want to blindside him"
Michelle says the worst case scenario is Paul gets the package and Corey/Nicole wins HOH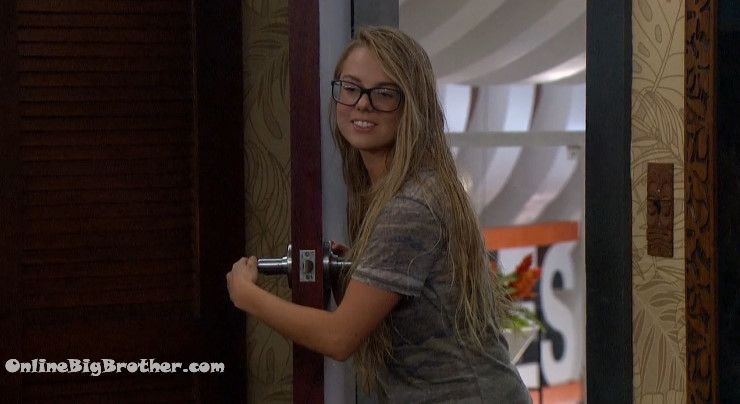 Nicole comes in says "Are you ready for a prank war"
The girls try to do something but are told to stop.. Natalie is pissed says Production lets James do whatever he wants and when they try they get "yelled" at .
9:34pm James and Natalie chatting, She thinks he's the saboteur.
Natalie says James has the greatest legs in the house..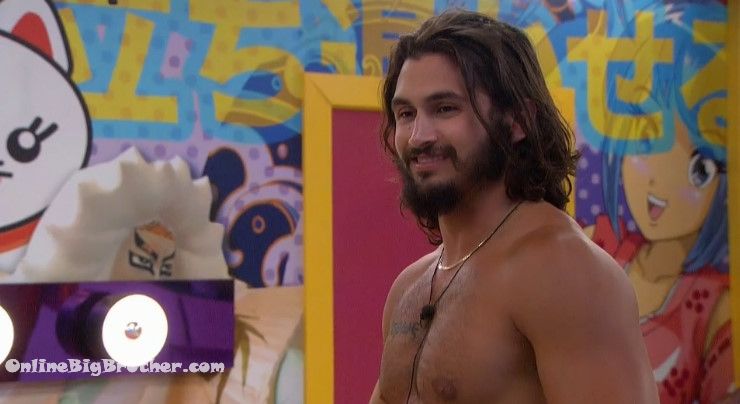 Can he win and get back in again?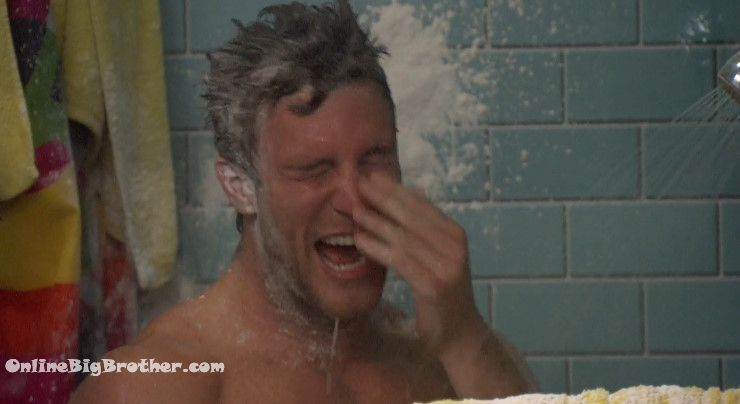 Pranks
A flower/lotion battle breaks out #BB18 @DawgsBigBrother pic.twitter.com/YyYp74J6jM

— OnlineBigBrother.com (@bigbspoilers) August 24, 2016
Victor spent a good chunk of time cleaning out the bathroom
10:18pm Natalie and Meech in the HOH.. Natalie says a HOH takeover isn't fare and it isn't right.
Natalie going on about Paulie saying that James is blinded by Natalie's b**bs.
(OMFG) Natalie brings up Paul lying about the fries. Paul told them he's never cooked before yet shared a story where he made fries for his friends.

10:25pm Kitchen Corey, Paul and James
laughing about he flower war.. James says something about keeping his head on a swivel because "I gotta deflect you for 28 days"
Paul gives James a look (See image)
10:34pm Nicole, Corey and James help clean up.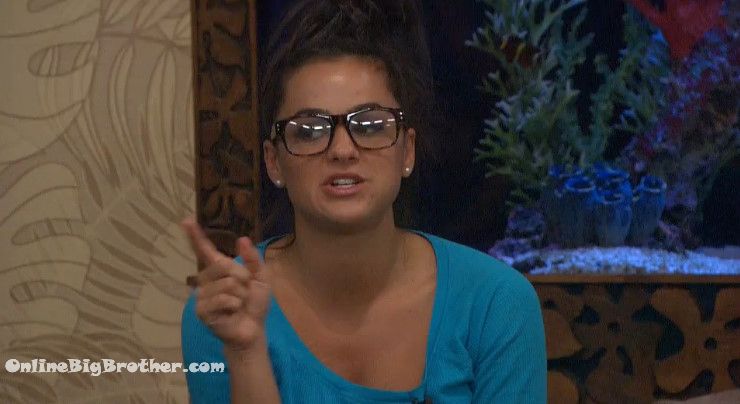 11:22pm HOH Natalie, james and Michelle
James- I know every move he makes (JAmes about Paul)
James says Paul's next move is to gain Nicole and Corey's trust but secretly team up Michelle.
James adds that Paul is secretly going to be OK with James but if James wins
JAmes says he can read all that Paul is going says that Paul is going to tell Corey and Nicole that they were targeting them.
Michelle says it's teh truth.
Natalie and James are now denying that they were targeting Nicole and Corey before.
Natalie goes on about being 100% with James and Michelle
Natalie says they never had an alliance with Paul they were just working to get Paul out.
11:31pm Natalie and Michele really want James to win the HOH this week.
Natalie tells him the care package might send one of them home.
JAmes says Paul can't win every single time he's goign to slip up and they'll send him out.
natalie – JAmes you need to win
James- if I don't win the HOH i'll win the veto
Michelle says if she had won the veto she would have pulled Vic down
James – Vic would have been forced to work with us
Natalie says Paul forced them to help him study for the veto.
James says he's goign to blame Paul on him voting out Victor tell paul that he was supposed to go this week.
Michelle says the only reason we voted Vic out was because he was close to paul, "It's Paul's fault"
11:36pm James wants them to fool Paul into thinning if he wins HOH he won't get the care package.
Natalie says they are a group of 3 vs a group of 2 (Nicole and Corey) and a lone players Paul.
Michelle and Natalie says if Corey wins the care package it's best case scenario but Corey cannot win the HOH.
PAul now saying Corey wants him to throw the HOH to Nicole so she can take PAul out.
Natalie – if you don't win there's a high possibility me or Michelle goes home next week.
Michelle doesn't think Nicole will piss off James and send her home
Michelle says Paul wouldn't waste a HOH on them.
11:45pm
Natalie calls PAul a master manipulator
Michelle says paul is with Corey and Nicole right now he's goign to be up with them all night scheming.
The girls keep going on and on about James having to win the HOH. James says he'll try and win it.
JAmes says if it's Natalie and Michelle on the block Natalie will be the one evicted.
Michelle – We should send Nicole out if Paul gets the care package.. Corey will win the HOH to get Paul out for us.
11:47pm They are trying to figure out how the care package mechanics work. Michelle thinks the care packages show them that the fans want Paul and Victor out.
JAmes says if Paul had won the HOH they would have had to put up Nicole and Corey.
[polldaddy poll=9501597]
[polldaddy poll=9503412]