HOH: Sarah Beth
HAVENOTS: Derek X and Ky
Nominations: Claire and BIGD Xavier (High Roller random nom)
Power of Veto Players:
Power of Veto:
Power of Veto Ceremony:
Big Brother 23 Houseguest Rankings – – RANK THE HOUSEGUESTS –
View the previous day ranks on the – Ranking Grid
** There was a High Roller competition where the winner of the got to take someone off. Alyssa won and took off Big D. They then spun the roulette wheel for the replacement nominee to be randomly selected. Xavier was selected.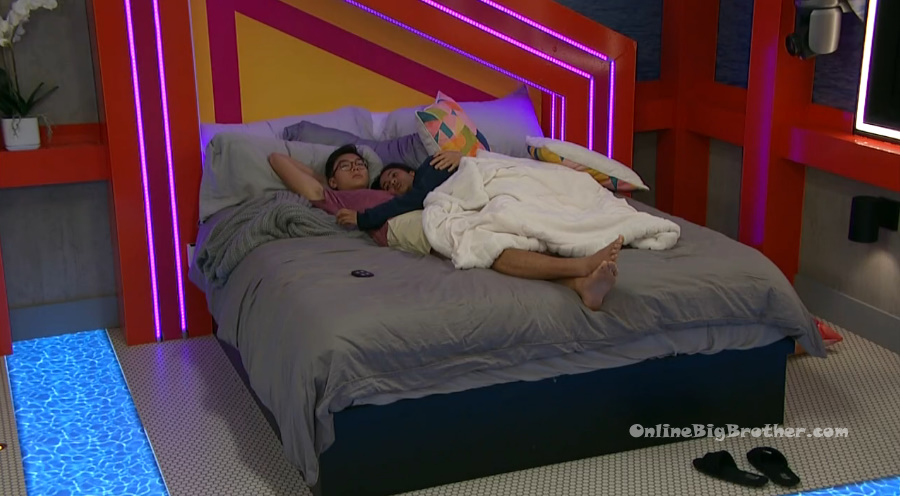 10:20pm – 10:47pm HOH room. Hannah and Derek X.
Derek – I think I have the most money by far in the house right now. X is right behind me. Hannah – what do you mean? Derek – if he got $75 and $75.. Hannah – what about Big D? Derek – he got $100 and $50. Hannah – yeah same as X. Derek – but I think X probably got a $100 this week. Hannah – no I think he only got $75. The 3 $100's were you, Big D and Claire. Derek – Damn who were the $75's? Hannah – Me, Alyssa and X. Hannah – I think you really need to win Veto. What happens if you don't get picked? Derek – then I watch from the sidelines I guess. Hannah – then me or Tiff have to win. Derek – I cannot keep putting my game in hands of you three girls! What the f**k. Hannah – but imagine how epic it would be if my first comp win was tomorrow? Derek – imagine if X wins and I'm sitting next to Claire. Hannah – going back to the coup d'etat, who is the biggest threat to your game? Like who would put you up? Derek – its so illogical, I think I am actually okay with X. Ky would put me up but it should be I am good with Ky and X should put me up because I have given X so much reason but he is just so trustworthy. Whereas Ky I have given him no reason to come for me but I just don't trust him. Hannah – because he is so sketchy! And he's associated with Sketch-B (SB). Derek and Hannah talk about calling their "alliance" the Sicka monsters. They comment on how as their sign he will pat her head and she will pat her shoulder. Hannah – we're so awkward!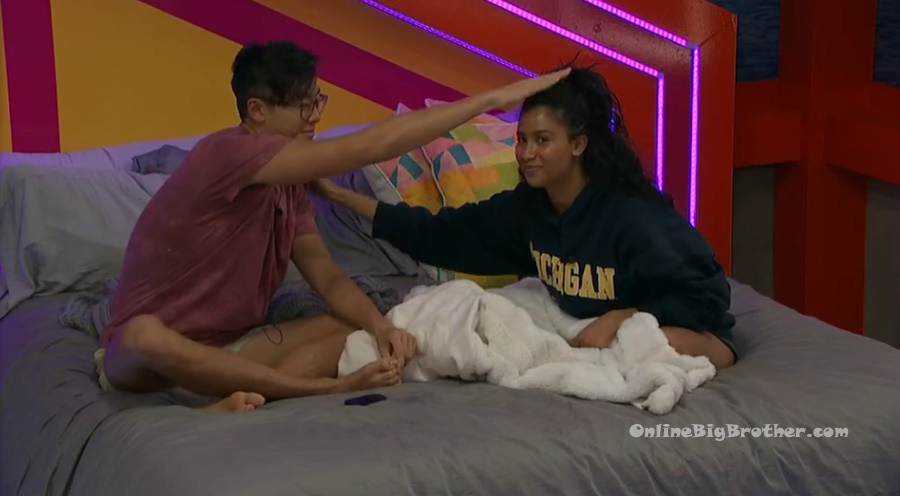 11:05pm The house guests are getting ready to go to bed. Big D comments on how they'll be woken up at 8:30am to pick chips for the veto.

11:12pm – 11:35pm Gym – Hannah and Kyland.
Ky – where's he (Derek X) at? Hannah – he is okay with X but he is a little unsure about you. Just because SB's HOH and if SB asks you to do something even if you don't want to do it, you would probably do what she asks of you. He doesn't think that for sure I am going up but he knows its a definite possibility and that he probably has to win tomorrow. Ky – yup. Hannah – in order to ensure his safety. Ky – it seems like would not use it to keep you safe. Hannah – yeah he would keep noms the same. Ky – then we're good and nothing changes. Hannah – yeah. And you're cool with Claire going home this week? Ky – doesn't matter to me. Hannah – okay. What about X? Ky – X is still the same. Hannah – do you really want to play? Ky – I always want to play. Hannah – if its a puzzle count me out. ..no just kidding. I want to play. I think its about time that I win something. Ky – I agree! I think if there is a high chance that I can't play HOH next week .. I want to win this one. Hannah – if you won, would you take X off or Claire off. Ky – oh.. I would take Claire off.. I would be open to that conversation because there are pros and cons.. If Claire wins.. Hannah – then DX would go up and he would go home. I get why DX needs to go sooner than later. If he goes this week it would be okay with me. It would suck on a personal level but I will see him when I see him. ky – I get it. Its the same for SB. Hannah – and I would rather not be next to him at the end.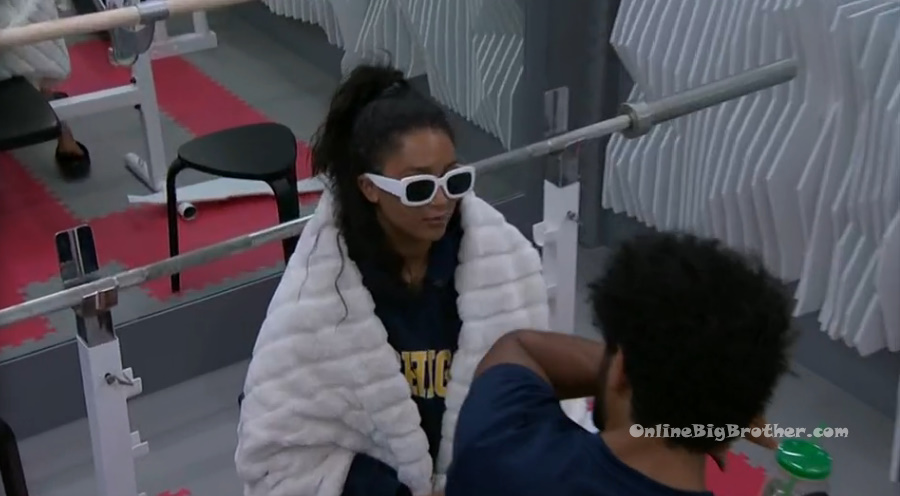 11:40pm Bathroom. Big D and Hannah.
Hannah to Big D – I've never seen you this happy since week one HOH. You're safe no matter what this week. Big D – I want to be like you guys. I want to feel like a competitor. Maybe I'm supposed to play a not winning season and be like Dr. Will. (LOL) But I would like to win something because I am not scared to take the big risks. Hannah – I think this upcoming HOH is going to be random. Big D – I hope. Hannah – whoever wins the HOH will name two nominees but then whoever wins the coin flip with come in and dethrone the HOH .. which means the sitting HOH noms won't even matter.. so why would they waste an actual competition on crowning that HOH. I think it will just be a ball toss. Big D – it just scares me because I am trying to make it to top five and I just don't know how that is possible. Its scary! Its hard! Its Hard. Think about it you have to get out Derek X, SB and Alyssa. Hannah – Derek X is not looking at you. Big D – but he tried to flip the votes last week if you remember. Hannah – no I have that under control. Big D – I know that but he tried to flip the votes. Hannah – not because he was coming for you but because Brit and her campaign was promising a lot to him. Like a lot! And you didn't start campaigning till a day before. It was not anything personal. DX is not coming for you. Alyssa is not coming for you.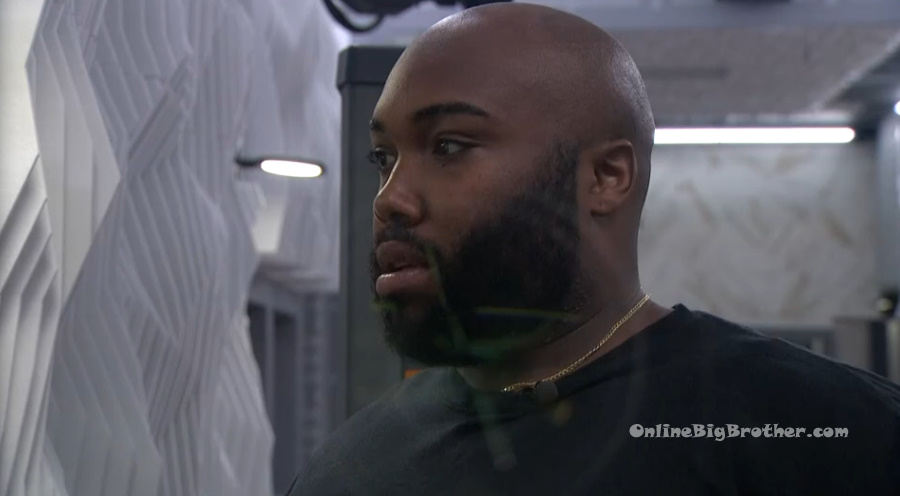 11:55pm Bedroom. Azah and Big D.
Big D – hopefully X can win the veto and then we can get Derek X out of here and then we won't have nothing to really worry about besides SB, Claire and Alyssa. And then hopefully next week you can win and you can take your shot at SB. Which sucks because I really want to win but if it came down to it I would throw it to you because that would make more sense. If DX takes of Claire .. she would probably put up Hannah or Tiffany.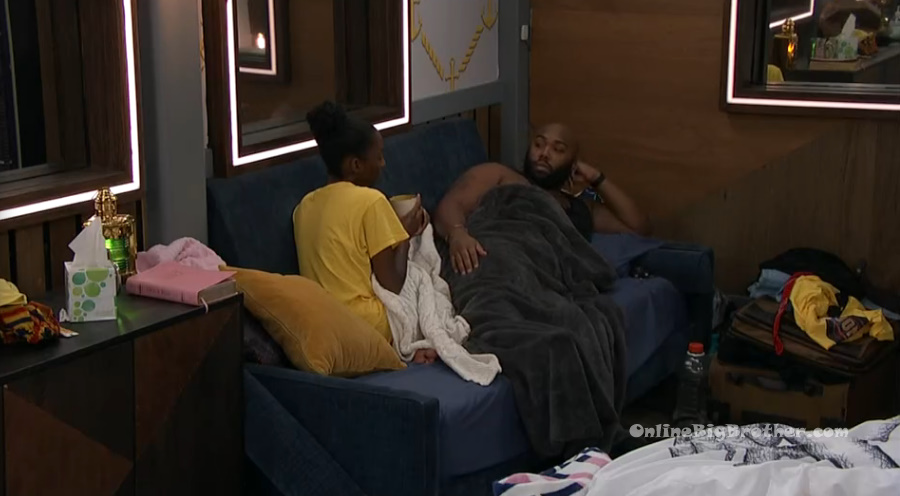 12:30 am Zzzzzzzzzzzzz
4:50 am zzzzzzzz
Show your support 🙂 Without your support this site and these spoilers wouldn't be possible.
Please consider a donation to keep the madness going.