POV Holder:
Liz
POV Competition
Aug 15th
POV Used
No
POV Ceremony
Aug 10th
HOH
Liz
Next HOH
Aug 20th
Original Nominations:
Johnny Mac and Becky
After POV Nominations:
Johnny Mac and Becky
Have Nots
Vanessa, Johnny Mac, Steve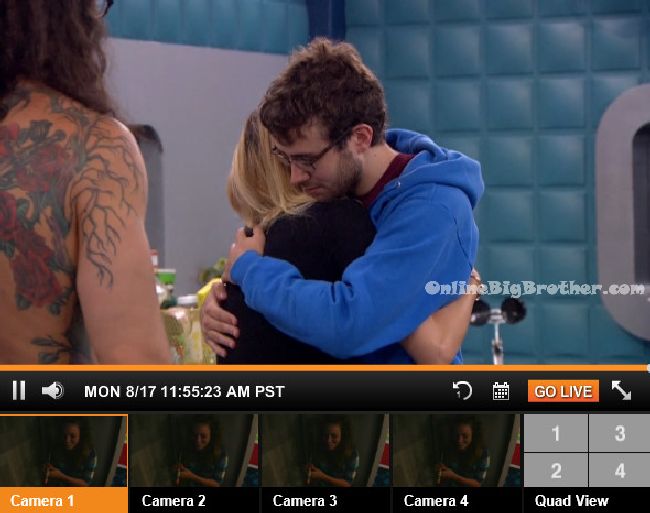 11:20am Big Brother blocks the live feeds for the power of veto ceremony to take place. As Head of Household and Veto holder, Liz has all the power this week. She has decided Becky is her target and does not want to get any more blood on her hands so she did not use the veto. The nominations remain the same and either Becky or Johnny Mac will be going to jury on Thursday. (As of today Becky is who they will be voting out.)
11:55am – 12pm Havenot room – Austin Austin says I don't think she means to do that in her speech but she basically just said I am coming after you if you don't save me. Becky basically just said that.. accidentally. Liz says she said last week if you save me all is forgiven. Steve says I think we look too much into these speeches. Austin says I don't think she meant to say all that. Steve says well its my bed time. Liz says I'm not scared of her. I messed up my speech. Austin says there's more to come. Now she's up there. She keeps outing groups. Julia and Vanessa join them. Julia says that speech was ridiculous ..If you don't save me I'm coming after you.. that doesn't make you want to use it. Vanessa says it was her best shot. And her best shot was a threat. Julia says what are you going to do save her and get more blood on your hands? They leave the room.
Watch the NEXT WEEK of the Live Feeds for FREE! Click here for your: 1 Week Trial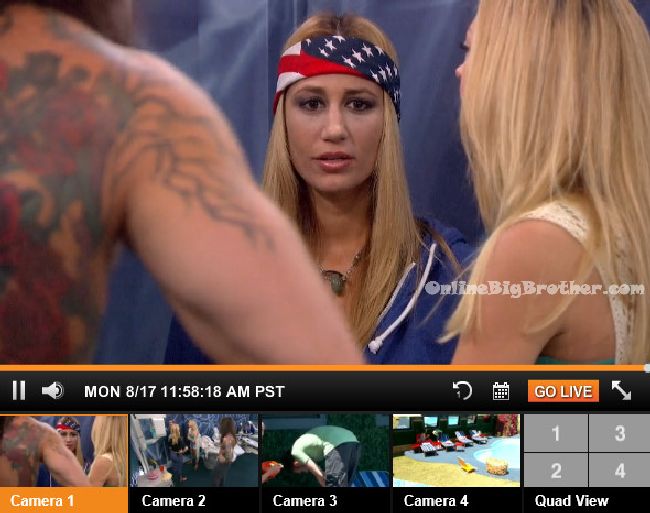 Backyard –
Becky and Johnny. Johnny says its the losers corner. Becky says my speech was good. Brass Tacks. Johnny says yeah I think it was good. James could win sh*t. Becky says I'm not scared of Austin. He's the head of the snake. Austin doesn't like me and Liz doesn't like me. I'm not in a good move. I tried to get them to go after Vanessa and it didn't work. Johnny says if I had won HOH.. I could have gotten it done. I would have nominated Meg & Julia and backdoored Vanessa. Becky heads inside. Meg joins Johnny and then Vanessa comes out and tells Johnny she is sorry he is still on the block. You're speeches are epic. How do you do that? Talking about the chair is more comfortable than the dental chair.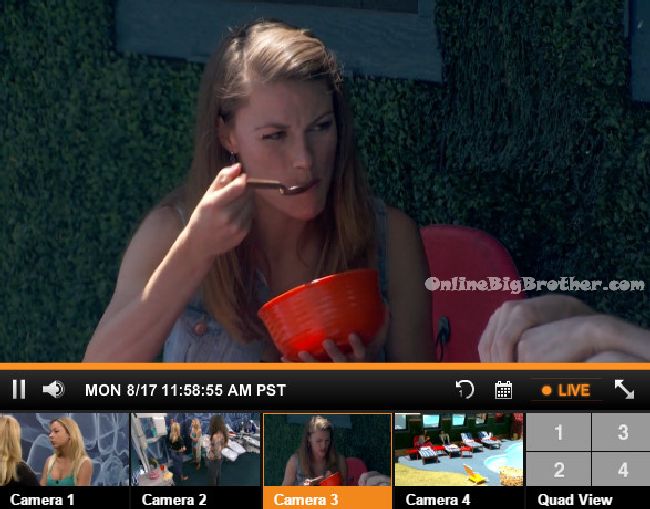 12:15pm Havenot room – Becky complains to Steve that she never put any of them up when she was HOH. They were in summer camp. They all act like I'm a big threat but Liz has won more than me.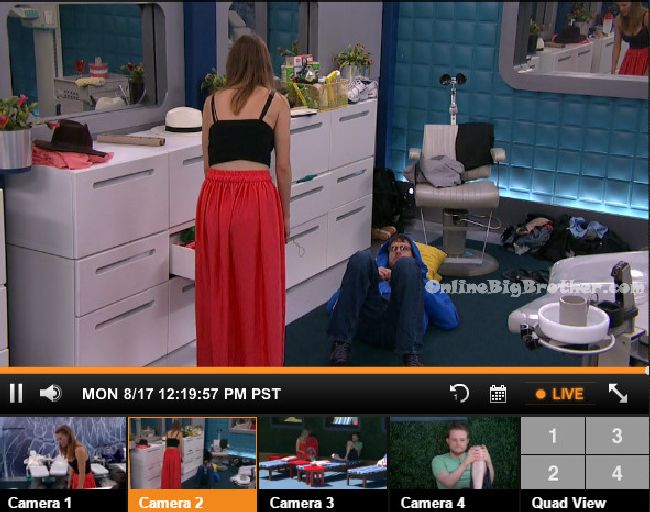 Backyard – Meg, Johnny and Becky. Johnny says if we do get her (Vanessa) out next week she is not coming back against these three (Shelli, Jackie, Becky). Becky says because I turned on the plan I am an untrustworthy wildcard.
12:25pm – 12:35pm HOH room – Austin talks to Vanessa. Vanessa says that she's just been down because she misses her girlfriend. Austin says I can't even imagine. Vanessa says ever since I was blind sided people are just avoiding me like I have block-pox. And then you got upset with me. Austin says I just got upset but at the situation, not you. You had that question right too (Which hand Clay was using to hold the bowl). Austin says for the rest of the week we just need to work on making Johnny Mac comfortable. Vanessa says Becky can't come back. If she does .. that's why Johnny Mac needs to go next week. And if Shelli comes back she would work with him too. Austin says I didn't think about that. If he wins HOH we just need to make sure he targets the you know whos'. (Meg & James) I talked with him last night and said he felt good with us. Steve is our liaison too. Vanessa says the problem is he is very hard to convince. Big Brother blocks the feeds. Austin says if she (Meg) goes then James is vulnerable. She keeps saying that no one can beat her, she can't win anything. But the problem is all her friends are in jury. Vanessa says agrees and says if she gets near the end everyone will take. Austin says I feel like Julia is almost guaranteed top 3 because people will go after me and Liz before her. She hasn't done anything. Vanessa says people will target her for the same fact as Meg. Austin says that's true. Vanessa says I asked for permission on something. It would be a deal outside of the house, if one of us wins and the other doesn't ..we make some kind of a deal where the winner makes a stake.. you know about staking in gambling? Austin says yes. Vanessa says this is what's fun because we both win. We stake the loser and x number of dollars in gambling where we split the winnings. I was a professional gambler and can make it very profitable. And if you the one to do the gambling I could give you pointers. Its something fun on the side. They're getting back to me on it if I'm funny allowed. In the gambling world gamblers get staked by wealthy people. And we could maybe do a little spin off thing because they like gambling.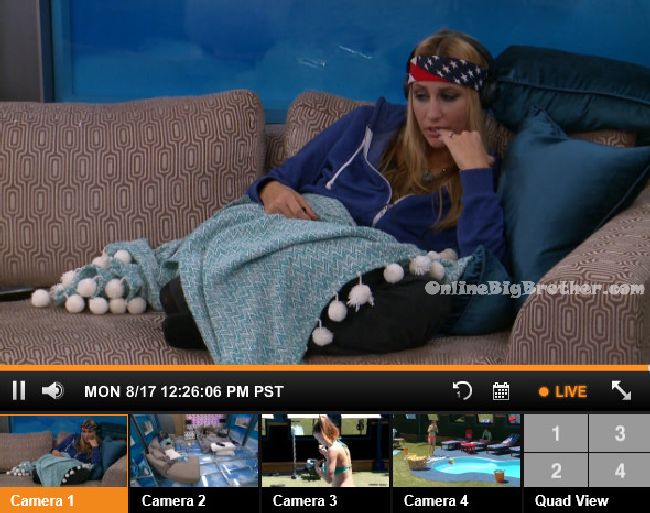 12:50pm Backyard – Meg and Becky are talking by the pool. Becky says I probably shouldn't have done that speech. I don't know what I was thinking. Meg says You had good points but I don't know if it helped you. Becky says if I stay here I have no beef with them. I would still go after Vanessa and she would still go after me. If I win she would go out and if she wins I would go out. Johnny Mac doesn't have anyone and isn't really set after anyone.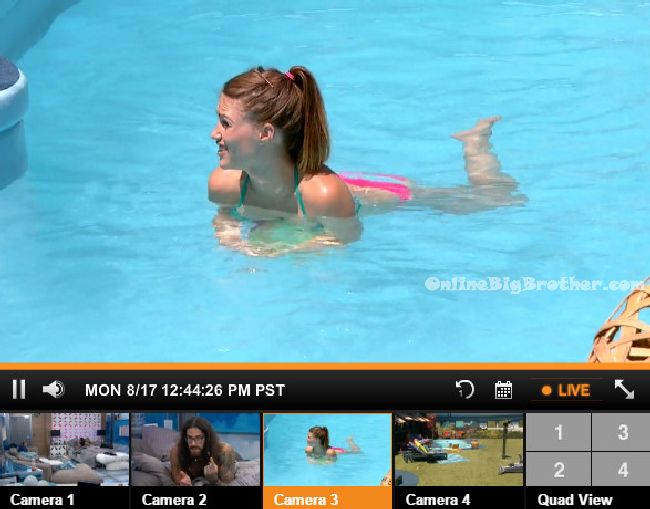 12:40pm – 1:05pm Vanessa tells Austin that when she was mad at her she thought he was faking it because he never gets mad. Austin says no. Vanessa says and Liz said you have a limit to the amount of game you can talk. Vanessa says I was at my breaking point. I was frazzled. Austin says we have the votes no matter what if they come after us. And which ever one goes we have the votes when one of them to come back. Vanessa says if they put you up against Liz .. we would have the votes.. if the were smart they would put you against me. But we could win the veto. Vanessa asks do we throw HOH this week? Austin says I don't know, we have a deal with everyone. Austin says you need to make a deal with Johnny Mac. Julia and Liz join them. Vanessa says I can't wait to see what Becky says when she campaigns to me. Vanessa tells Liz if you wanted me to vote out Johnny Mac, then I would. Liz says oh really. Austin says lets give her time to campaign and see what we can get out of her. Vanessa says she wants to say in her goodbye to Becky .. if you take a swing at Austin's Angels you better make sure its locked in because we're coming after you. Vanessa says I'm going to try really really hard to win next week. I was trying to not make a deal with Johnny Mac. WHat would be better is if you guys make a deal with Johnny Mac because then if I win I could put him up next to Steve and tell him he's the pawn. Austin says if we make a deal he and you don't he will wonder why you didn't. I think its better we all make a deal with him so he feels so safe and doesn't try to win.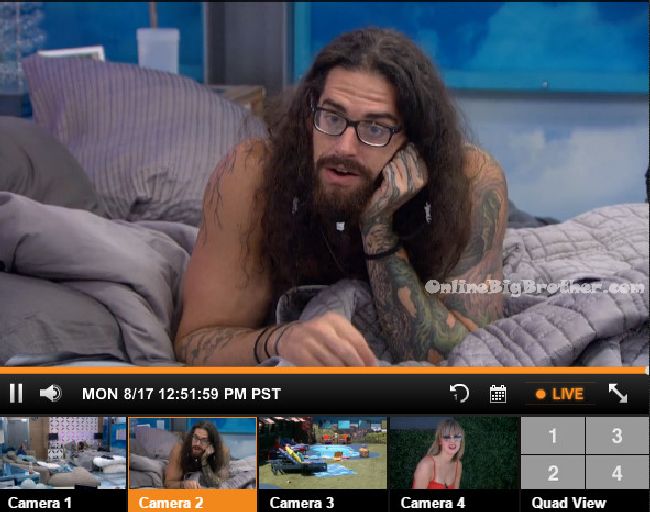 ALLIANCES:
"Goblins/Gremlins" = James and Meg
"The Generals" = anyone allied with Becky
"SOS" (Students of Sound) = Steve and Vanessa
Rockstars = Steve and Jmac
AUS-Twins = Austin, Julia and Liz
"Austin's Angels" = Austin, Liz, Julia, Vanessa
"Brass Tacks" = Gobins and Austwins
The new "Brass Tacks" = Aus-Twins, Meg, James + Vanessa
"Freaks and Geeks" "The Scamper Squad" = Aus-Twins, Vanessa, Steve
[polldaddy poll=9025485]