POV Holder:
Liz
POV Competition
Aug 15th
POV Used
No
POV Ceremony
Aug 10th
HOH
Liz
Next HOH
Aug 20th
Original Nominations:
Johnny Mac and Becky
After POV Nominations:
Johnny Mac and Becky
Have Nots
Vanessa, Johnny Mac, Steve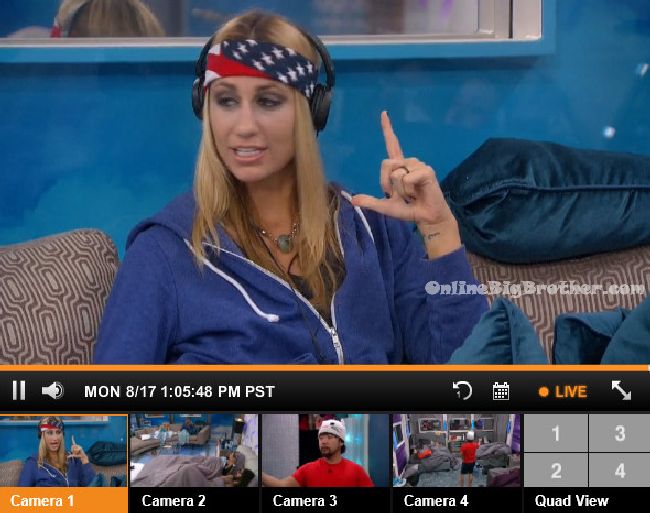 1:05pm – 1:15pm HOH room – Vanessa says maybe I can creatively make a deal with him (Johnny Mac) that I won't put him up .. which doesn't include backdoor. Austin says you could say that. Vanessa talks about how when she was on the block with Shelli she would talk about the next week like it was a forgone conclusion that I was going. Austin says After Clay left she was just gone. Her focus left. After Clay left she lost her identity. Julia says after Clay left she was like a 13 year old girl crying when a song come on. You're a 33 year old woman who lost a guy you've known of 2 months. She had no social game without Clay. I had never talked to her for more than a couple minutes. She put all her eggs in one Clay basket. Vanessa asks do you guys know any competitions with blowing leaves.. because I saw leaves.. Big Brother blocks the feeds. They feeds return to them talking about competitions from past seasons. Liz gets called to the diary room and the others head downstairs.
In the kitchen – Becky says we lost the takeouts like we lost the takeovers. False promises! (They were supposed to receive 3 takeout meals and only received one of them.) Becky tells Austin once Vanessa goes into the diary room I want to talk to you and Liz. Austin says okay. She asks Austin to go grab Liz and she will go up to the HOH room to wait.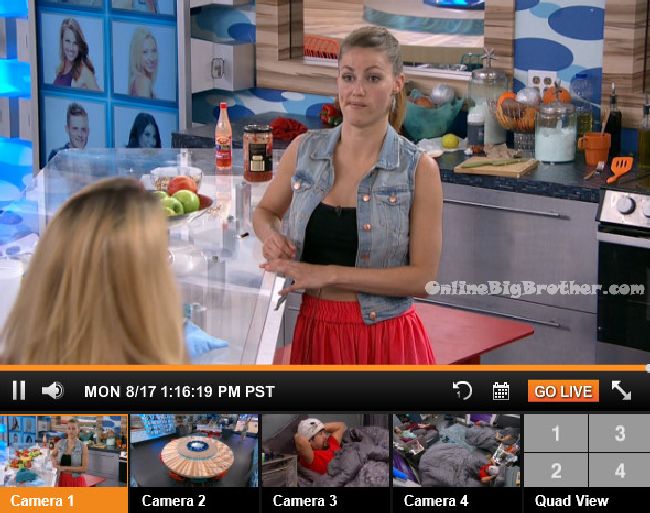 1:30pm – 1:40pm HOH room – Becky says my strategy throughout the week is that I am going to convince everyone that I am for sure done. That I am going to jury. If I do a great roll of being the main target. .. when things are close that's when things get messy and people start campaigning. Do you guys have any questions for me. I assume he will come to campaign unless he feels so safe that he doesn't have to. I will talk to you guys one more time maybe Wednesday night or Thursday morning. Vanessa and Steve will want Johnny to stay and James and Meg will want me to stay. So you guys will be the deciding factor. The fact that someone does come back from jury no one will be throwing hail marys. It doesn't help me if I walk out the door and says damn you Liz if I get back.. because then the second I walk back in the door you would want me back out again. If I stay in the house everyone knows who my target is. Liz says that's right I don't know who Johnny Mac is targeting. Becky says if I win she's my target (Vanessa) if she wins I'm her target. Those that have been loyal to me I will be with them. I don't sacrifice those around me to get further in the game. Those that deserve my trust and respect I will be loyal to. If I would win HOH I would heavily incorporate you guys. I know who I would put up and you guys wouldn't be it. If I needed a pawn I would ask you guys who you think I should put up. Last time I didn't listen to those around me. Becky leaves.
Watch the NEXT WEEK of the Live Feeds for FREE! Click here for your: 1 Week Trial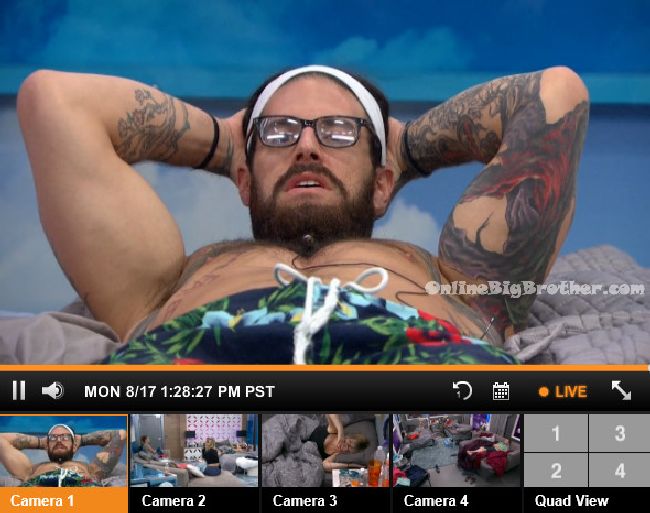 1:40pm – 1:55pm HOH room – Austin, Julia and Liz talk. Austin says I love how she just sells out Meg. It just comes down to she would be better in competitions than Johnny. It better to get rid of her because of Jackie, if she comes back. Julia says the fact that Johnny Mac also wants Vanessa out its perfect. Austin says she was throwing Steve under the bus again, I can't believe it. Julia says when someone comes back from jury Vanessa will be a number for us. Austin says that's why we need to stay close to her. Julia says that's why I think we keep her next week. Austin asks who do we take out then? Julia says Johnny Mac. Austin says then Steve wouldn't trust us. Liz says she just scared me last night .. I think she would go after Austin. Julia says I think we should take Vanessa out the week after someone comes back. Austin says lets just see how it plays out. Julia says if I win next week I can't put her up. Austin asks who would you put up as a pawn? Liz says I don't think its good for you to win next week. Austin says If I won I would have to go after her because everyone would be expecting it. I would probably have to put her up with Steve. Steve or Johnny Mac. Austin says our goal is to just make sure Vanessa feel like she's in the group again. The longer she is here the more she can turn people on us. Liz tells Julia if it comes down to you and Johnny Mac you have to throw it to him. Julia says I would rather he not win because he could put you up as a pawn. Liz says that's right, that's why you need to win Austin. Liz says and I want to stay in the HOH room. Julia says and don't get Clay Aiken… jesus f**k! Austin say they (Production) were f**king with me (LOL). Austin says next weeks HOH would be the worst to win because then you sit on the side lines for the HOH when someone comes back. Liz tells Julia she needs to secure her vote with Johnny mac. Liz argues that she has to do it today .. as soon as possible. Austin says if you (Liz) say something it counts for both of you.. its crazy. Julia says I can't go talk to him after Becky just talked to us it would be too obvious. They end their conversation and head out of the HOH room.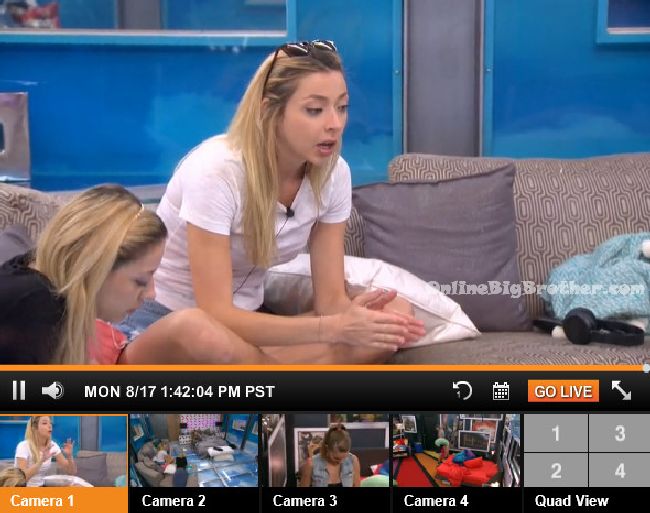 2:10pm – 2:20pm Backyard – Austin comes out to workout with Johnny Mac. Becky's suntanning. Others are laying out by the pool.
Johnny Mac @bigbspoilers #bb17 "Feel the burn!" pic.twitter.com/b8mL432uH4

— Dawg (@DawgsBigBrother) August 17, 2015
ALLIANCES:
"Goblins/Gremlins" = James and Meg
"The Generals" = anyone allied with Becky
"SOS" (Students of Sound) = Steve and Vanessa
Rockstars = Steve and Jmac
AUS-Twins = Austin, Julia and Liz
"Austin's Angels" = Austin, Liz, Julia, Vanessa
"Brass Tacks" = Gobins and Austwins
The new "Brass Tacks" = Aus-Twins, Meg, James + Vanessa
"Freaks and Geeks" "The Scamper Squad" = Aus-Twins, Vanessa, Steve
[polldaddy poll=9025485]