POV Holder:
Jared
Next POV
April 9th
POV Used
Yes
POV Ceremony
April 11th
HOH Winner:
Maddy
Next HOH:
April 14th
Original Nominations:
Jared and Kelsey
Current Nominations:
Kelsey and Raul
Last Evicted Houseguest
Paige, Sharry, Christine, Kelsey, Loveita, Dallas, Mitch
Have Nots
Raul, Nikki, Kelsey
Watch the Big Brother Canada 4 Live Feeds anywhere in the world with HideMyAss VPN.
ALLIANCES IN THE HOUSE
There will likely be a lot of alliances during the season – keep track, read our alliance help guide.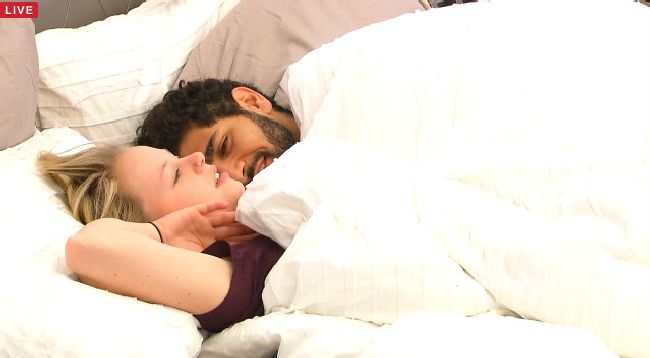 8:30am Big Brother wakes up the house guests. Ramsey asks so what do we say to him? Should we just not even beat around the bush? Its gotten to this point in the game where people understand who people are .. and we've decided that we do want to work with you. Then we list off a bunch of reasons why he should work with us. Ramsey says we'll be a threesome. Maddy says I'd have a threesome with Tim… he would be wild. Ramsey asks so what does an alliance mean though. He's into all that bullsh*t. Its a group with one common goal. Maddy says with respect and trust. Ramsey says we don't have to hangout with each other but the decision we make bring us one step closer to a common goal. Ramsey asks what if he's like no, I don't want to. Maddy says then that's fine. Ramsey says yesterday he was like everyone's approached me. I just really want this to work. It would be awesome.

9:10am Bathroom – Jared tells Rual to tell Maddy that Kelsey has a good chance to stay and then your whole plan to get out Jared or Kesley backfires. Raul says no I won't say that. Jared tells him to say she should put up the brothers and we guarantee her safety next week. Raul says he won't say that either.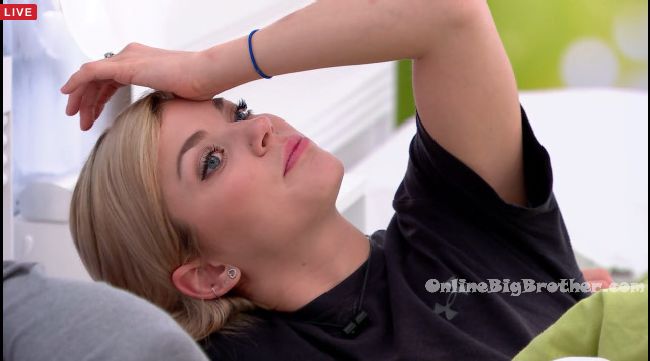 In the bedroom –
Jared talks to Kelsey about telling Maddy to put up the brothers and then they would offer her safety next week. Jared says at this point I would put her up, she's lied to my face and said I was good. I want her gone. Kelsey says I don't think she'll put them up. Jared says ever since that power of veto they (brothers) haven't talked to me at all. Kelsey says I don't know, do whatever you think is best. I just don't think she'll put up the brothers.
9:30am High roller room – Tim asks so if we win HOH who do we put up the brothers and Maddy. Cassandra says yup. Tim asks do we tell Maddy she is the pawn or the brothers. Cassandra says we don't tell either they're the pawn. Cassandra says I would do Maddy and Ramsey. Then we tell Ramsey is the pawn and there's a bigger plan. If someone wins the veto then we backdoor the brothers. If not then Maddy goes. Cassandra says I think we target Maddy during Nick's week. Tim says we need to prepare for this triple eviction. We could just put up Joel and tell him he's the pawn and then get out the brothers. Cassandra asks shouldn't we get out Maddy first. Tim says oh this is tricky. I don't want to win it. Cassandra says she does. She says that Maddy hasn't come to us with anything. Tim says she's an idiot. Cass says she said lets just get the 3 out and then its game on. If its not a triple and its just a regular week then we do Maddy & Ramsey. Tim asks so we're sure we want Kelsey and Jared to stay? Cass says yes. Tim says Jared has very good odds to win but its better to have him on our side till that final challenge. Tim asks at what point do we get rid of Joel? Cass says I think we take him till final 3. He's been riding everyone's coat tails. Tim asks so who do we not want to win HOH next week. Cass says Ramsey and the brothers.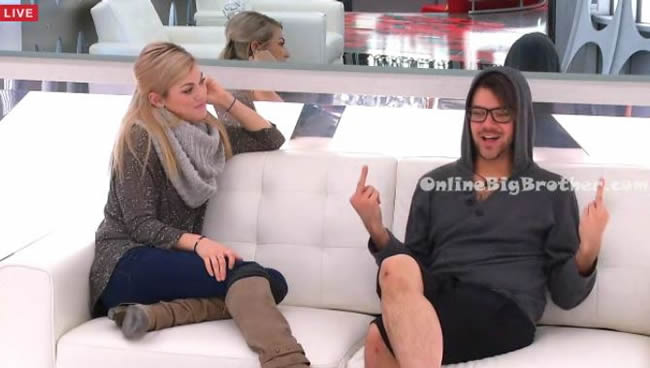 10am – 11:05am Big Brother tells the house guest to report to the HOH room for a lock down. Big Brother then blocks the live feeds for the POV Ceremony.
Veto Ceremony Results
Jared used the veto to remove himself from the block
Maddy then nominated Raul as the replacement nominee
In the bedroom – Raul & Jared plan to not like each other if Kelsey goes and then meet up in private to talk so they don't look like a pair. Jared tells Rual and Kelsey he'll leave it up to them what they want to do this week.
In the kitchen – Maddy tells Cassandra that she doesn't f**king care. I'm tried of people bullying other people into doing what they want.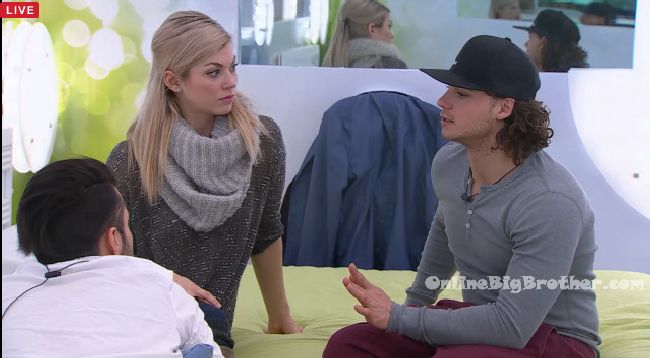 11:20am Kelsey asks Cassandra what she thought of her speech? Cass says it was terrible. I was terrified the whole time. I'll tell you later why. Kelsey heads into the storage room where Phil is. She tells him she feels like she's going to throw up. Phil asks her if she's going to campaign. Kelsey says she and Rual are just going to say the positives of each other instead of the negatives. Kelsey heads to the bedroom and talks to Cass. Cass tells Kelsey that her speech scared her because she was worried Maddy was going to put up a pawn instead of Raul.

11:30am Raul says I can't believe I've been put on the block twice by that dumb b***h! Kelsey says I know I want to get her out so bad! They talk about how jealous Jared was getting last night because Kelsey kissed Nick. Kelsey says it was a game. Nick is a 20 year old boy… have some confidence in yourself (Jare). Raul says f**king brothers I hate them. I want them out as well so bad! I want them out. I can't believe its us up on the block again!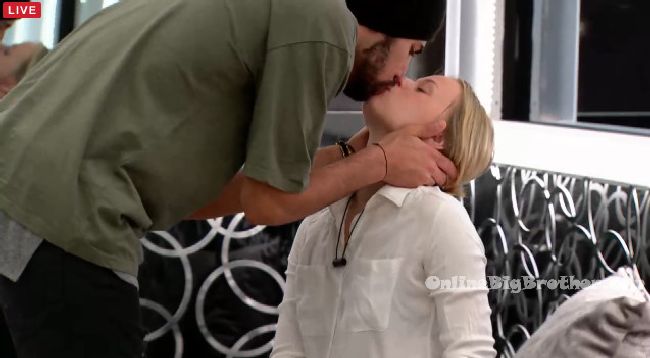 12:25pm Jared says if I won HOH next week I think I would put up Ramsey and the brothers. Ramsey not because I want him to go home but because I would want strong competitors in the veto. If one of them comes down then I would put up Maddy.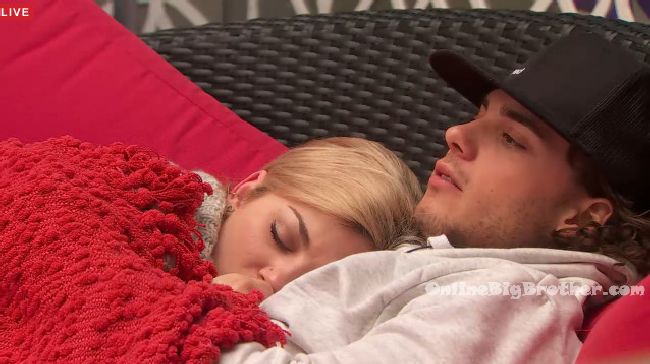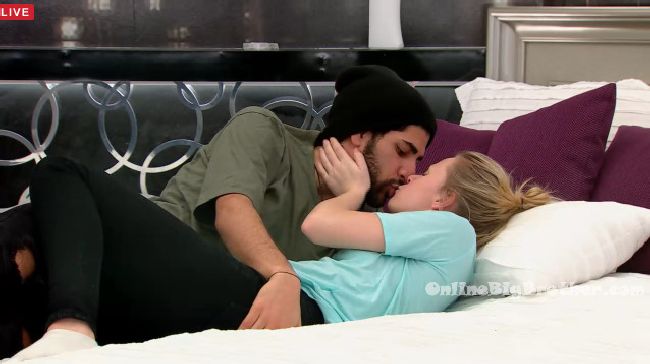 2pm HOH room – Ramsey says I'm going to say goodbye Felicia when I say goodbye (To Raul). Maddy talks about how Raul thinks we made a deal with the brothers. He was saying that he is going to campaign to stay. Ramsey says its funny how they think we want Kelsey out. And when I say they, I mean Raul. Maddy comments on how Raul was talking about wanting to work with them. Maddy says its weird that Raul thinks the brothers are on our side. Ramsey says well the brothers do hang out with us a lot. Even me I make conclusions based on what I am seeing. Big Brother blocks the feeds.
2:10pm In the bedroom Joel hears a knocking sound. He gets up to go look and Big Brother blocks the feeds.
4:50pm The live feeds are still blocked..
Want to watch the rest of big brother Canada 4 & all of Big Brother 18?
Sign up for the 6 month plan with HideMyAss VPN.
Share it YO!!
Tweet