POV Holder:
Austin
POV Competition
Sept 5th
POV Used
Yes
POV Ceremony
Sept 7th
HOH
STEVE
Next HOH
Sept 10th
Original Nominations:
Austin and Liz
After POV Nominations:
Liz and Julia
***FYI – The live feed time is off by about 15 minutes from the actual time.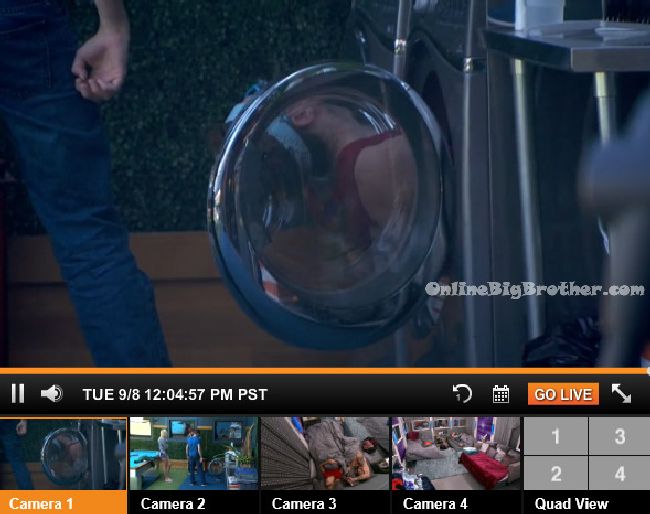 11:50am Steve comes out with the HOH camera. Julia, Vanessa and Johnny Mac head out into the backyard to take photos. Austin and Liz refuse to get up for the photos and go back to sleep. Steve wants to take the camera into the pool because it has an "underwater mode". Vanessa doesn't want to risk it. Steve says using the computer today was very strange. (HOH blog/tweets) I wanted to see if there was an internet browser because it was on wifi. Johnny Mac climbs in the dryer for a photo. They head inside. Steve complains the HOH blog hour was really draining.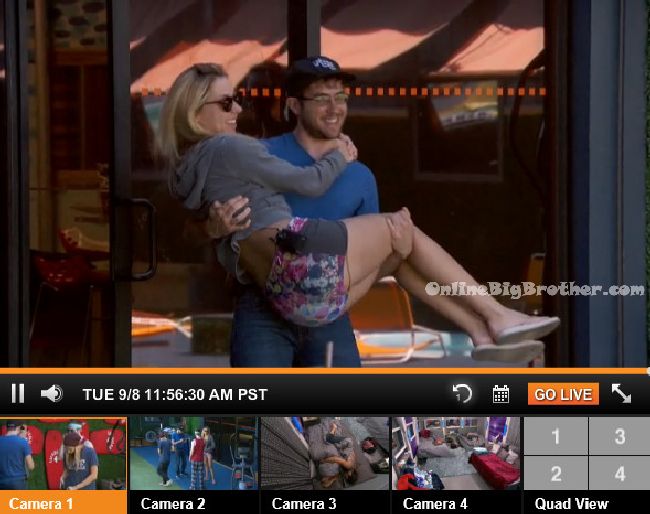 12:20pm – 12:45pmJohnny Mac takes a photo of Julia and Vanessa jumping from the nomination chairs. They all get into their tutus for a group photo. They convince Austin to join in on the tutu photo. Austin is being a big grump. They finish taking photos and start making breakfast.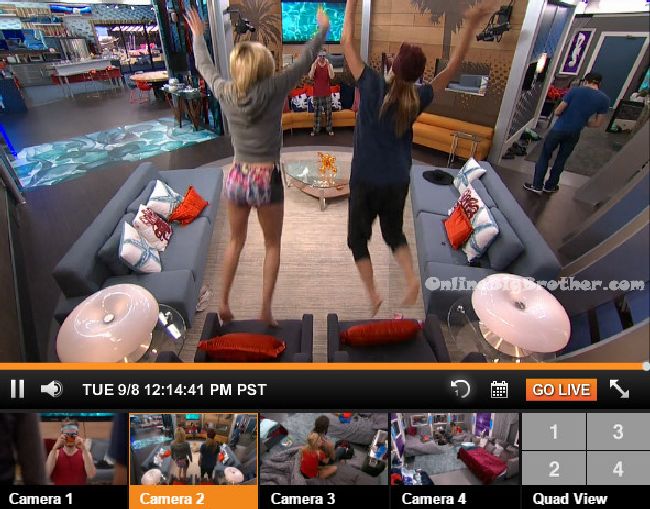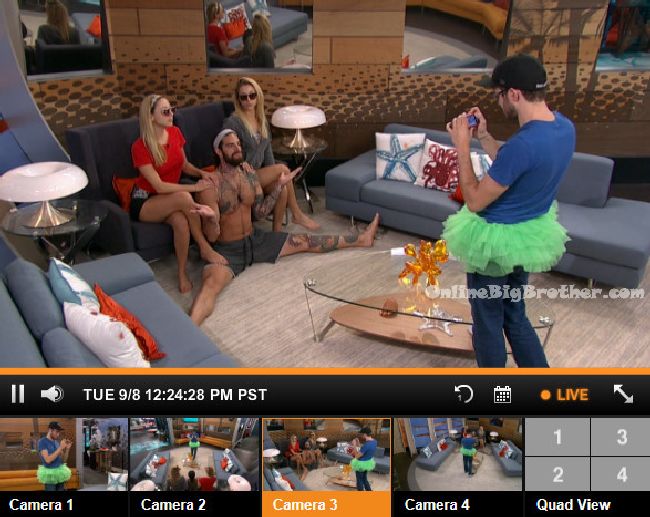 1pm In the kitchen – Liz tells Julia that Vanessa and Johnny Mac are up to something. They've been out there talking for awhile. Julia says she probably wants to bring him to the final 2. She is probably saying take me because everyone hates me in jury. That's why I think she is going to throw the next HOH because she is good with him and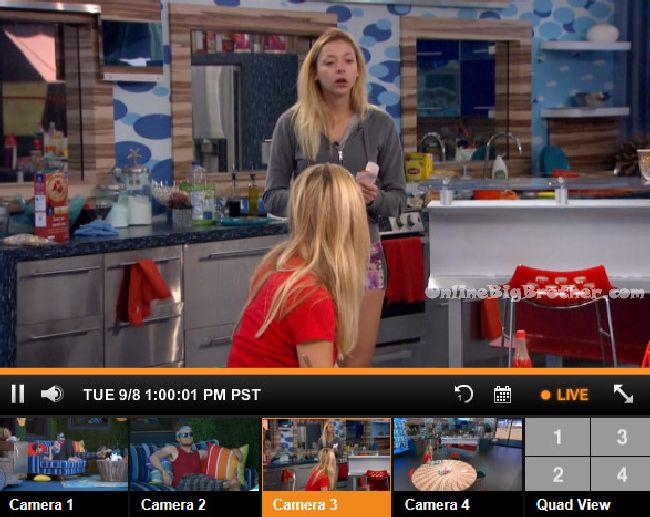 12:50pm – 1pmJohnny Mac joins Vanessa out in the backyard. Johnny says he doesn't want to pull a Jeff and have one of those dreams. Vanessa says and he didn't need to tell everyone about it. I am excited for Thursday. Johnny says more sh*t is happening. It our defining moment. Vanessa says I've been working out hard and will rest Wednesday. After tomorrow its going to be just a week and change left. I can't wait! Johnny asks if it is shovels (Comp) I wonder which way they will set them up. Vanessa asks will your parents come? Johnny says if I make it to finale they will. Vanessa says you'll make it. Vanessa says that she's thinking about doing something romantic for her girlfriend Mel when she gets out. Johnny talks about how he warned his family not to read the stuff on the internet because there will be people that love you and hate you. He says I'm used to it being a dentist. I've walked in before and they say I hate you. Vanessa asks has Austin said which one wants to stay? Johnny says no, I don't think they'll decide until the last minute. Then we can decide whatever we want. Vanessa says I am supposed to vote how Steve wants. I definitely gave my word on that. Now if Steve doesn't care. Then that's different. He should care because if the one stays will probably want to come for revenge. So its obvious if he wants to minimize the odds of that (Vote out Liz). Johnny says Julia was better at the Midway (comp). If Liz stays she will do better but Julia will go further. If one comes off the block the other goes up as the replacement. Vanessa says it will affect Austin's game if Liz goes. He will become more ambivalent about staying. Johnny says you're right that's a good way to look at it. Vanessa says the benefit of Liz staying we get to the final 4 no matter what. You're okay with putting up Steve as a replacement? Johnny says yes. Vanessa says we can tell Steve that because we were the ones to play for HOH we made that deal not to backdoor each other and we will promise to keep him. Its in our incentive to keep him over Julia too because if she stays everyone would want to keep her to win over her in the final 2. Theoretically we should just keep Julia. Vanessa asks how do we know for sure Steve will take us? Johnny says right because he is tight with them. Vanessa says Steve's incentives is not to take Austin because he has so many friends in jury. Julia comes out to break up their conversation.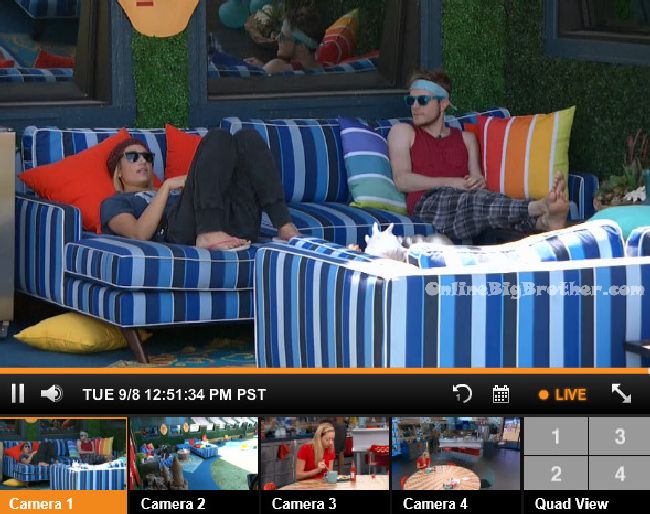 1:20pm Steve and Vanessa start playing chess.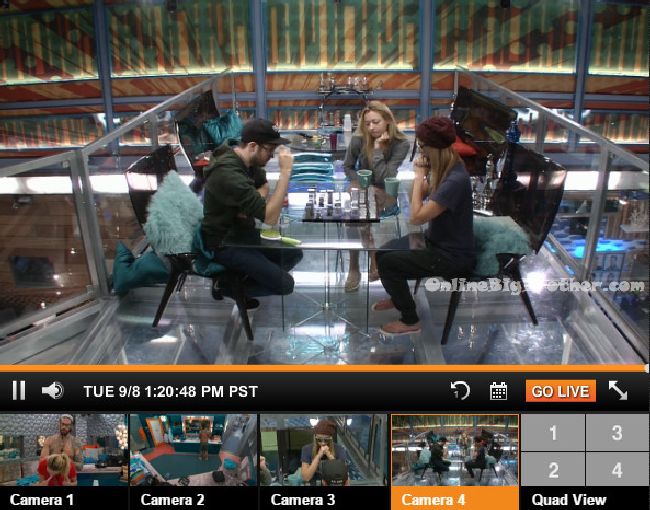 1:25pm – 1:40pm Bedroom – Austin and Liz are talking. Austin says that he is worried that Johnny Mac thinks the only person he can beat in the finale is her (Vanessa). She might have convinced him of that. So if he wins next week it doesn't matter he is putting me and the twin up. That's why we just have to go for the win. He won't take her out. I will try and tell him, you and I are the favourites we should promise to take each other to the final 4 next week. That's our only saving grace but I'm afraid it will go right back to her. So I don't know if I should even say anything. If Steve and Johnny mac are in the final 3 they will take each other. She (Vanessa) thought they would take her. They won't, they'll take each other. If she is really good with Johnny Mac she will throw next week. Then its just me and the twin who need to win. They all want you out of here… but I don't think they'll lie if you want to stay .. I think she will vote for you because it would clearly show she is aligned with them. And if I win she is f**ked. If you win Julia wins f**ked. If you say you want to be here she will vote for you. If you go she thinks everyone would take her to final 2. Austin says she told me she would take me. I'm sure shes told Johnny Mac she will take him. I'm not here to get manipulated. Liz says America will hate her if she turns on us. (LOL) Liz says Vanessa is good from all sides. If I stay I am going after Steve and him (JMac). You're not going after her. Austin says if its Julia, Vanessa and Johnny Mac in the final 3 .. she will throw it to Jmac so he can make the decision to evict Julia and not have to make the decision. She thinks about every angle possible. Liz asks should we ask her if she has anything with JMac? Austin says no there's no point. I don't know what Steve's position is on it or Johnny Mac. Steve is scared as f**k because he can't play HOH. Austin says either we try to win it or go to Johnny Mac and say we're all getting played (by Vanessa). He isn't going to win against her either. We should tell him if he is in the final 2 with her she has our votes .. even if it isn't true. Liz says we'll say she has a final 2 with me, you… Julia joins them.