POV Holder:
Austin
POV Competition
Sept 5th
POV Used
Yes
POV Ceremony
Sept 7th
HOH
STEVE
Next HOH
Sept 10th
Original Nominations:
Austin and Liz
After POV Nominations:
Liz and Julia
3:25pm Plucking Austin's Unibrow
Liz – you've plucked them before I can tell..
Julia – Beauty is painful
Julia – Pluck that white one
jmac – Oh OH Austin's getting old
Austin – Oh my god
Feeds cut They are getting Chinese food tonight.
[envira-gallery id="132749″]
4:02pm Milling around the living room
They were singing "Is this real" Production told them to stop. They wonder why Big Brother let them sing it when Audrey was in the house but now they can't.
Everyone except fro Steve agreeing that Shelli's "Is this real" musical was annoying.
Steve – I found it very entertaining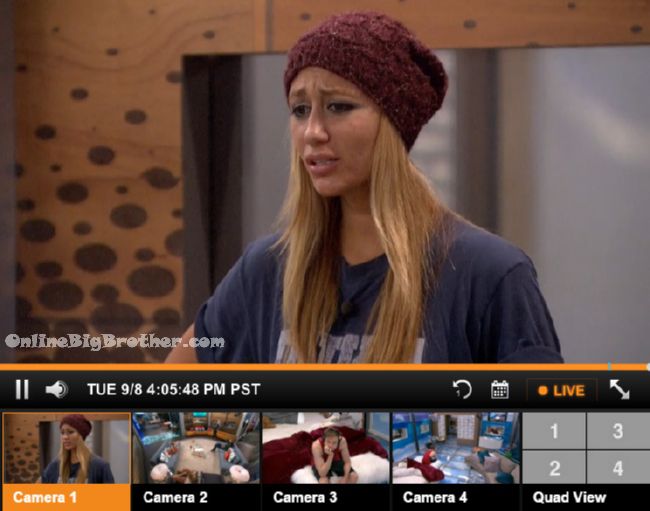 Vanessa starts whimpering "I hate bugs and I asked them fro raid they never gave it to me "
Vanessa says they live in the 21st century they should have a way to deal with these bugs.
4:40pm Lockdown over, Jmac and Austin start working out JUJU watches from the Hammock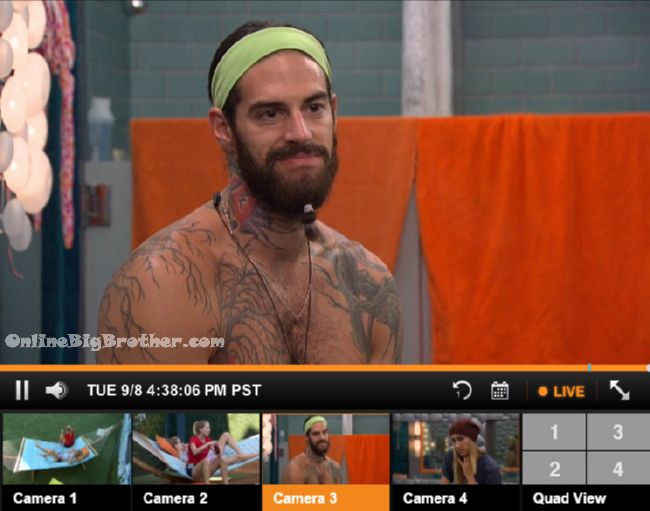 4:34pm bathroom Austin and Vanessa
Austin saying that the twins are leaning towards Liz staying but the twins really don't know for sure. Austin stresses he's letting them make this decision on their own. Says he told them to talk to Vanessa about it because he's going to be biased, 'I want them to do their thing I'll deal with whatever happens.. "
Vanessa goes on about incentives and lining the incentives up with what people say.. (Every time Vanessa says Incentives take a drink)
Austin – Go out and win control your own destiny
Austin adds at this point it really depends on who wins the HOH if he can't he knows Jmac will and jmac is going to put him on the block.
Vanessa says she's Ambivalent to which twin stays. Vanessa is worried Steve will make her vote for a certain twin. "They are very close to the same scenario"
Vanessa – "If Steve is Ambivalent I can do whatever I want"
Vanessa says she gave Steve her word she would vote his way this week.
5:28pm More or less Jmac, Austin and Liz are working out Steve and Juju are watching
Vanessa is in the house you can see gears grinding.
5:32pm Vanessa and Jmac
Vaenss a- I'm so tired I died
Jmac – Get away from me zombie..
Jmac – drinking my protein
Vanessa – protein and you are going to eat Chinese food
Jmac – ya .. ya
Vanessa saying that "They" want Liz to stay "It's bad"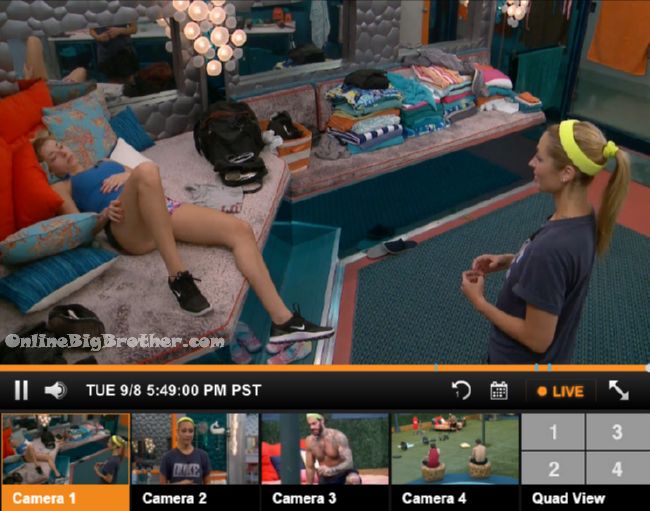 5:46pm Vanessa and Julia
Julia says they've decided Liz to stay it's best, "It's my time I am ready"
Julia – She's won more she deserve to be here… I just wanted to make it to the Jury, Zingbot.. I'm very happy
Vanessa- ok.. right, Anything can happen
Vanessa says he just needs to make sure Setve is ok.
Vanessa – In my mind you girls are one
Julia – She has more of a chance to make it to the end.
Vanessa – there's arguments for both sides..
Julia – It's about winning now.. either way they are going after me and Austin now
Vanessa- if they went after you and Austin you see how you wouldn't go home
Julia- there's two weeks left you win now.. it's do or die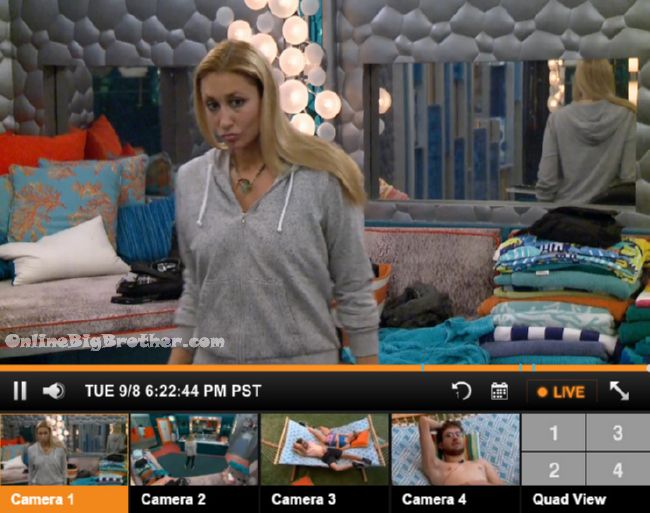 6:16pm bathroom Vanessa and Liz
Vanessa says f** steve he told her he doesn't care what twin goes.
Vanessa saying going final final 2 with either of them is not a good thing for her so she expects a good christmas
Austin hinting about taking Vanessa up on her gambling deal.
Austin – All I can say is CASINO.. that's a reality to me
Vanessa – f*** it I like gambling anyways,.,. it's a gamble regardless how you put it.
Austin leaves.
Vanessa – Liz.. we have to talk though.. if you want to stay..
Liz – thank you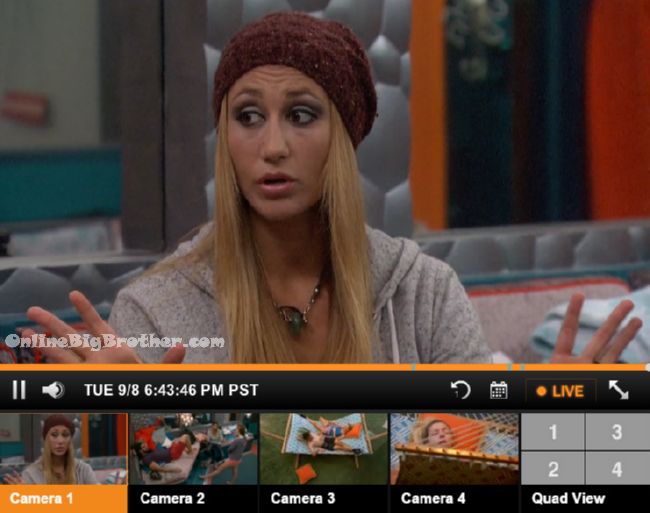 6:42pm bathroom Vanessa, Liz and Austin
Vanessa says voting to keep Liz will mean going against Steve
She game Steve her word she would do what he wants in the vote.
Vanessa – I can probably fall back with the argument when I said that I assumed it was your two on the block (Austin and LIz)
(Vanessa Always trying to get out of her word)
Vanessa says she needs three things to vote to keep liz (Even though she was the one that asked the twins who they wanted gone and told them she would vote the way they wanted her to)
1- Something meaningful that has yet to be discussed, "Not front door… and if I'm the backdoor I have your votes.. "
2- If it's Steve and JOhnnymac are on the block next week it's her call for who stays
3-If it's one of them and her with Steve/jmac in the final 3 and they win final HOH they have to take her.
(OMFG)
7:24pm Feeds come back. Kitchen Everyone.. they got some drinks and take out
If you've enjoyed the spoilers please consider a donation using the drop down box below. Simon and I work 24/7 all season long to keep you updated on everything that happens inside the Big Brother house.
[polldaddy poll=9059938]

[polldaddy poll=9063299]