POV Holder:
Austin
POV Competition
Sept 5th
POV Used
Yes
POV Ceremony
Sept 7th
HOH
STEVE
Next HOH
Sept 10th
Original Nominations:
Austin and Liz
After POV Nominations:
Liz and Julia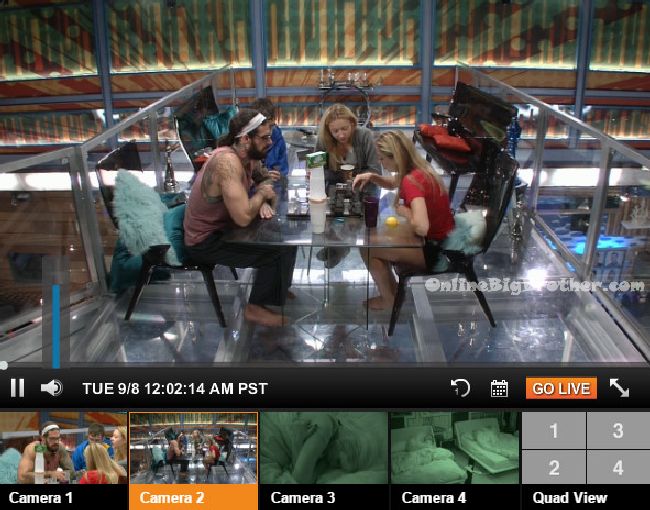 12am Austin is playing a game of chess against the twins. At the end the twins give up. Julia says can we just give him our king. We're done! They head down stairs. Austin says that was such a dominant win. Liz says oh please, no it wasn't! It was equal we gave up. We were bored. Julia and Liz go to get ready for bed. Steve asks Austin are the twins telling you who they want to go? Austin says yes. Steve asks have they decided yet? Austin says no and I don't want to get involved in it. I just tried to give them an objective opinion. Steve says they got to final 6, that's further than I thought they would get. Austin says its crazy how close we are to the end. Steve challenges Austin to a game of chess. Steve gets called to the diary room. Austin and Liz get tired of waiting and head to bed.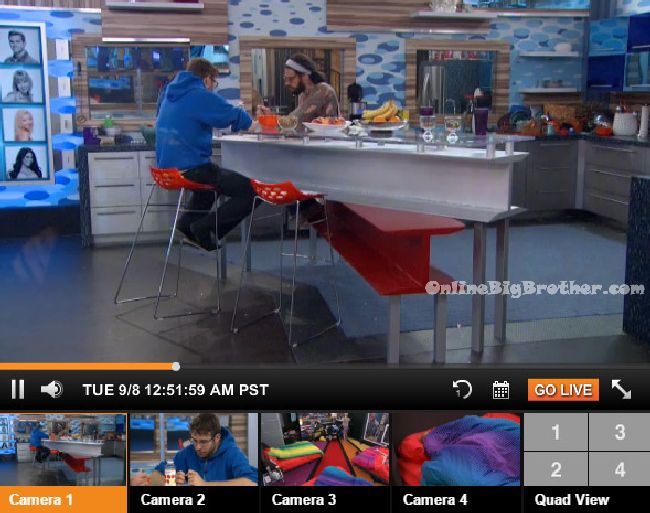 1:50am Hammock – Steve heads out the backyard hammock and starts talking to himself. Okay final 5. Its been an awkward week. They're all awkward weeks for me. 3 more competitions. Chances are you're not going to make final 2. I could potentially be 3 comps way from winning this thing. WOW! I could still win this thing. If Johnny Mac wins next I actually trust him. I'm really happy the face morph is done. I think Austin would go after me and Johnny Mac. I think the only person Austin would be completely solid with is the other twin which ever stays. Because he has a reason to doubt me because I nominated him. He has reason to doubt Johnny Mac because he evicted him. He has reason to doubt Vanessa because of all this sh!t that's gone down. If its the shovels (comp) I am not going to win it. I think Austin would try and earn my loyalty and get rid of Johnny Mac. What would Vanessa want? She doesn't want Johnny Mac in final 3. Vanessa wants to be in final 3 with 3 people that aren't aligned with each other .. and kind of that would be me and Austin. I don't want to be in the final 3 with Vanessa. On an emotional level I feel like it would be way easier to stab Johnny Mac in the back than Vanessa even though I have way more trust in Johnny Mac than Vanessa. I'm safe with Johnny Mac. Vanessa might throw it. No she would put up the twin that's left and Johnny Mac to either have me or Austin to herself. If Liz goes my job is done because I split up the twins and I split up the showmance. That was what I wanted to do. I think Vanessa would want to send out Johnny Mac or Julia. I don't know how Vanessa feels about scumbagging. I think Austin .. the remaining twin will listen to Austin. What I need is Austin to have the same doubt and skepticism in Vanessa that I have. Vanessa isn't going to go after me. Johnny Mac isn't going to go after me. I think Austin would put up me and Johnny Mac and if Johnny Mac wins veto Vanessa would go up next to me. With Austin and a twin with a vote, I am gone. I think I'm safe next to Johnny Mac. Am I safe on the block next to Austin.. maybe. That would come down to Vanessa. Oh my god I wish it was Austin going this week and the twins staying. I don't think the me and Austin scenario would happen. I need to worry about being on the block with Vanessa. My job is to make sure Austin has the same skepticism as I do about Vanessa. Why did Vanessa tell Johnny Mac … I need to figure out where Austin is. I need Austin to have doubts about Vanessa. I need to put as much of a wedge between Austin and Vanessa. Austin is to Vanessa as I am to John. I really wish I could have sent Austin out this week. The twins are blind. They're so oblivious. I need to keep reassuring Vanessa and put doubt in the mind of Austin about Vanessa. Steve heads back inside and goes to bed.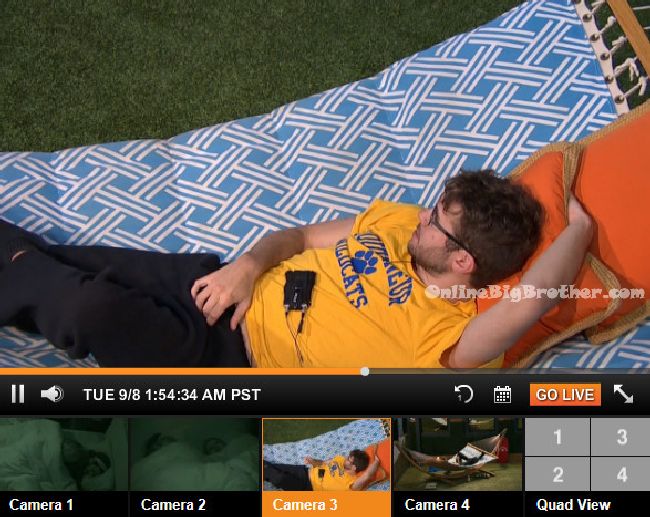 Watch the NEXT WEEK of the Live Feeds for FREE! Click here for your: 1 Week Trial
2:15am Austin scares Liz in the bathroom.
Austin scares Liz @bigbspoilers #BB17 pic.twitter.com/BV0Lo5UfHa

— Dawg (@DawgsBigBrother) September 8, 2015
2:30am
Steve is up scampering and watching the scamper cam. Steve says Johnny Mac is right about Vanessa. If Vanessa and Austin aren't a thing now. I need to start the me versus Vanessa campaign now.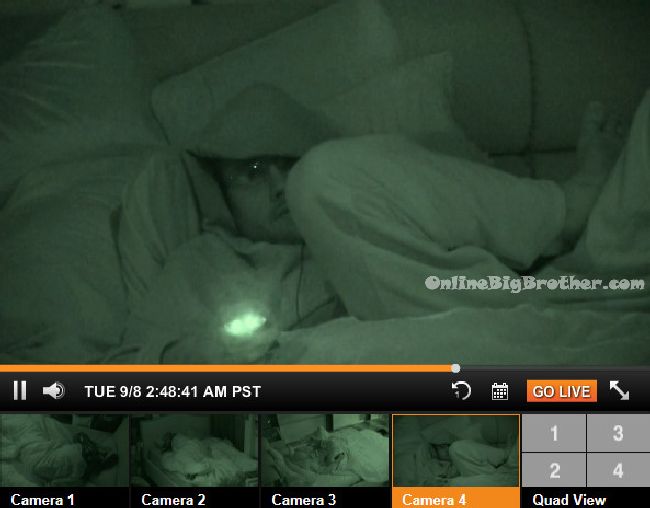 3:30am All the house guests are sleeping.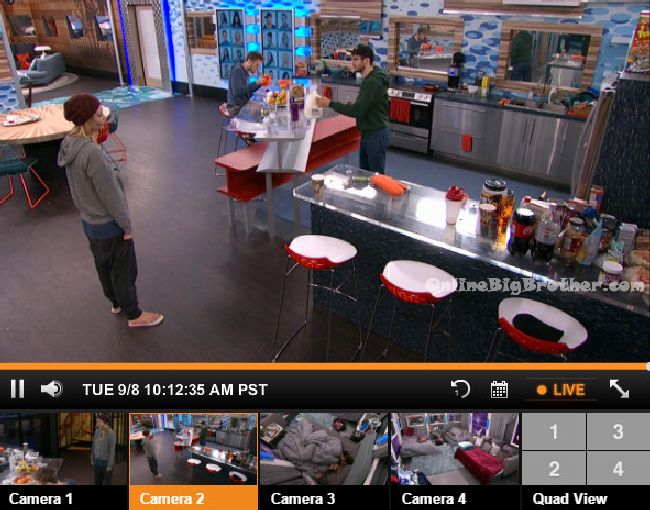 10am – 10:45am
Big Brother wakes up the house guests. When the feeds return – They talk about going to bed early. Vanessa heads outside. Steve comes downstairs. Johnny tells him to go back to bed, its only 10am. Steve says its blog day and twitter day. Johnny says oh yeah, camera day. In the bathroom – Steve tries to stuff chocolate into Vanessa's hoodie.
11:40am The house guests are still sleeping and likely will until Steve comes out with the HOH camera.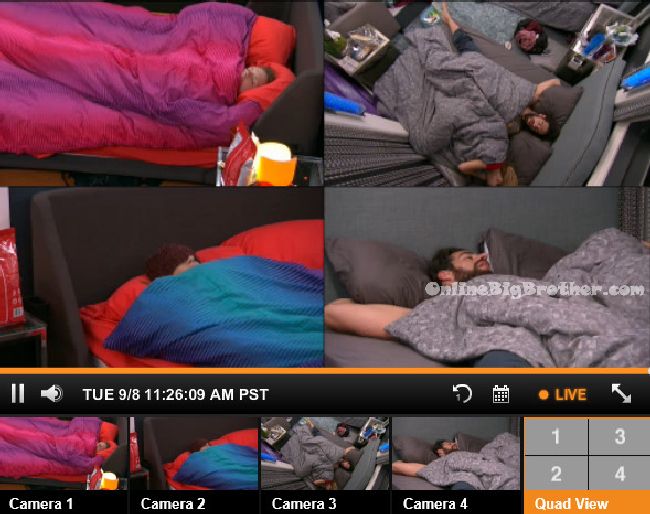 If you've enjoyed the spoilers please consider a donation using the drop down box below. Simon and I work 24/7 all season long to keep you updated on everything that happens inside the Big Brother house.
[polldaddy poll=9059938]

[polldaddy poll=9063299]