POV Holder:
?
POV Competition
Aug 22nd
POV Used
?
POV Ceremony
Aug 24th
HOH
Austin
Next HOH
Aug 27th
Original Nominations:
? and ?
After POV Nominations:
? and ?
Have Nots
????????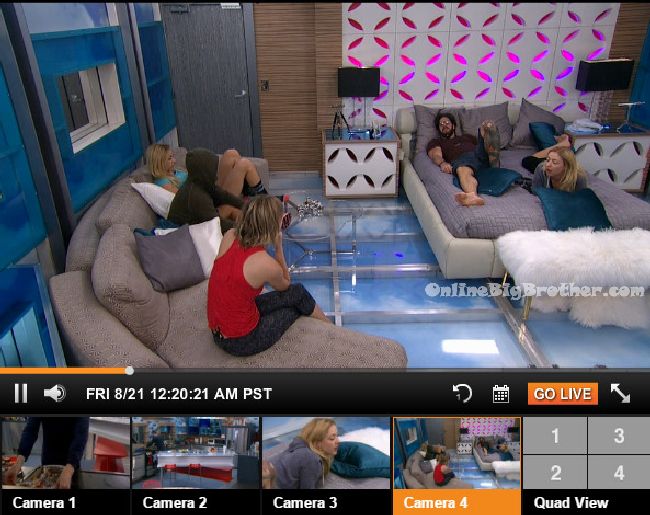 12:20am HOH room – Austin, Liz, Julia, Meg, James are talking. Austin says that Shelli always throws me under the bus. She said to us three that she would never come after us 3. Liz says the depth of everything Vanessa's done came out during my HOH. Thank you Becky for the fruity pebbles demonstration. James says its like what happened with Shelli and Clay.. thank you for the information but you're still going home. Liz says Shelli won't be the same again. Austin says that he doesn't think Shelli will even fight to come back. Her fight was gone after Clay left. Meg says she thinks Jackie will be the hungriest. Austin says just pray that Becky is still hobbling next Thursday. Austin says I don't think she was putting it on but I think she was milking it a bit. James says she should be the happiest of all of them. She went out with 20K. (10K in Cash prizes plus 13K Stipend) They head down stairs. On the way out James says Meg and I will prepare to be havenots tomorrow. Meg says it will be good we can study in there all week.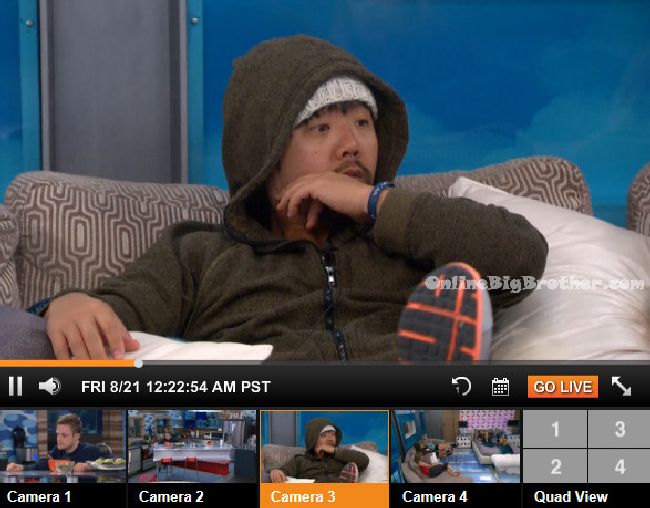 12:30am Julia talks to Liz in the Comic Bedroom. She says I don't know why Austin is so dead set on making it to final 5 with them (James and Meg). James would put us up. Bros, like he needs to get out of lala land. I don't think he should go after Vanessa this week. Like I am looking after us 3. Not that I'm looking out for her but James is so shady. When it gets down to final 5 James is going to win and take us out. Liz says the worst part is that James has a lot of information on us. If we try to backdoor him. He is going to run and tell Vanessa what Austin has been saying. We're in a difficult position right now. Julia says what Austin is doing right now is not smart and I hope you agree with me. Liz says I do. I am trying to give James the benefit of doubt but he was silent. Meg does all the talking. Julia says he was the one that put up Clay and Shelli. If he wins again he is going to make a big move again and put up you and Austin. It needs to stop, like you're not bros with everyone Austin. If Vanessa had won this week she would not be going after any of us. If Jackie came back it would be those three (James, Meg Jackie) against us 3 (Julia, Liz, Austin). Liz says I think he (James) is pissed that he didn't win because he wanted to go after one of us. Julia says if I was HOH I would put up Steve and Meg and backdoor James.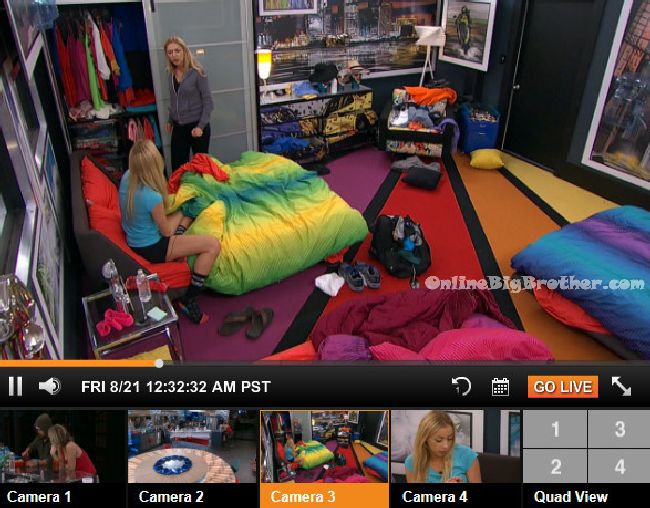 12:45am HOH room – Austin, Liz and Julia are talking. Liz says just being the devils advocate. Did you see how quiet James was up here. Austin says yeah but he's always quite. Do you think he had something to hide? Liz says yeah. He might have been quite because he got called out for trying as hard as his did. Liz says if James goes out this week he will come back. Austin says I don't want to do it and I'll have to tell Steve – We're protecting you. You're our guy 100%. I can say Steve you're in our alliance 100% but no one will believe if I don't put you up. I have to put you up as a pawn but we have the votes 100%. If I put up Steve and Johnny Mac my backdoor target would have to be Vanessa or James but I don't want to have to do that. Julia says when they were up here they didn't once mention Jackie coming back because if she does they're working with her. Austin asks so now you think I should put one of them up? Liz says no. Austin says I don't think its smart to go after Vanessa. Johnny Mac has to go and if he comes off the block and Steve is up there …what do I do? I would have to do something crazy! Julia says you would have to put up someone from the other side. Austin says or Vanessa. Liz says you could put up Meg. Austin says I could but then we would lose Steve. We can't lose Steve. Julia says we have to start playing for us three. Austin says we just told them they have nothing to worry about. Liz says if James has won he would put us up. Austin says I need to talk to Steve because he gets things in this game. We're caught this week. I think ideally Johnny Mac goes this week. I think we tell them both they're pawns. We get them to throw the veto to us. This week we have a scape goat and that is Vanessa. We can blame everything on her. Austin says if he (James) is not working with us then he just lost 3 votes. Liz says and Shelli won't vote for him. Austin says we can tell Steve to not vote for him too. Austin says was I not supposed to win it today and she (Vanessa) would flip it. Julia says he will never say. Austin says unless I tell James that some weird sh*t was going on and that you were going to flip on me. Julia says that's a good idea. Liz says I don't want to get tangled in all these webs. Austin says f**K it! I don't care! I'm the one with all the power. Everyone has to be scared this week. Like I'm going to go nuts! I'm putting the top hat on and who knows who's going up. Julia says he's Judas. Austin says and he's coming out. Julia says Johnny Mac great but if the noms don't stay the same then we need to take out someone like James if we want to get further in this game. Austin says I will either put up Meg & Johnny Mac or Steve & Johnny Mac. Julia goes to get Steve. Austin says Steve needs to know everything. He needs to know that Vanessa wanted me to throw it and I didn't for him. Liz says I love how you're handling this, way better than me. Austin says because I'm nuts and want to make good tv.
Watch the NEXT WEEK of the Live Feeds for FREE! Click here for your: 1 Week Trial
1:10am HOH room – Julia brings Steve up to talk. Austin tells Steve there is more sh*t going on with Vanessa and you're not going to like it. Remember that deal we made with Johnny Mac and her last night? She wanted to make the same one with Meg and James! Steve asks who? Austin says Vanessa and us. She made sure that everyone in the house is in an alliance with her. We were supposed to drop out when it was down to you and James. And when it came down to it I couldn't do it, I could not let this happen to Steve. I won it because I knew I could win it. I couldn't do that to you because you're our guy. At the end of the competition James offered me a deal that I wouldn't put him and Meg up. He didn't say anything about backdoor. Steve asks are you putting me up? Austin says as a pawn maybe but I don't want to do it. So we're going to talk options right now. There is no way we can lose you this week. Zero chance. If I don't put you up it would be very weird. You're supposed to be our arch nemesis. Steve says but I didn't put you up. Who would care if you didn't put me up? Austin says James and Meg. Vanessa joins them. She asks who he is putting up. Austin says he isn't sure, I'm open to suggestions. Vanessa says if you tell me who you're thinking then I can help you. Austin says I told Meg and James I wouldn't put them up. We didn't solidify the rules of it. I haven't broken any deals and don't want to start now. I was just thinking if he won and we were off we could control the votes. I could really just put the top hat on and do whatever the f**k I want tomorrow. Vanessa says no don't do that. There's always the option of getting someone to agree to go up as a pawn. Vanessa says you only need 3 votes to control who goes to jury and I will vote any way you want to. Vanessa says convince James that Johnny Mac is the target. Put Johnny Mac up with a pawn and then James won't want to win the veto because you'll want the noms to stay the same. Austin says if Meg was up James would try to save her. Vanessa says so the pawn would be either Steve or I .. and it makes sense it would be you (Steve) because you would be a vote for JMac. Vanessa says I would do it because I trust everyone in this group. I would do it if that's what we need. Steve asks to explain the plan again. Austin asks how do you feel about that Steve. Steve says not good about being a pawn. Vanessa says I would do it but it puts you in an extremely awkward position having to evict Johnny Mac. Austin asks Steve what he thinks, do you want to talk alone? Steve asks could we?
1:30am HOH room – Austin and Steve are alone talking. Austin says she's good. She was trying to orchestrate this whole thing. Steve says she knew she wanted me up on the block before she even walked through the door. Austin says yeah. Steve says no that we're alone, I'm the pawn automatically. You're putting me up. Austin says not necessarily. I'm not going to play her game. I'm not losing you. Steve says thank you for telling me about the other 6 deal. It sounds to me like Vanessa wanting me up is her wanting to honor that other deal. Austin says if that deal was real .. why did James try so hard to win. It shouldn't have mattered who won. I think Vanessa's been telling James we should go after Austin. Steve says she tried to f**king backdoor you. Austin says that whenever I'm HOH Vanessa comes up with new information. She told me that you and Johnny Mac have a final 2 deal. I trust you. Steve says thank you. I don't have a final 2 deal with Johnny Mac. We're close but don't have a final 2 deal. Austin tells Steve about how last year Hayden was my alternate. I dropped out because of the girlfriend. Austin says part of me wants to put my top hat on and go down there and tell Vanessa she's going on the block ahahaha. But I don't think that's smart. She's a good backdoor option though. Steve says I do not want to go up. Austin says Vanessa will have to do it. Steve asks who do you want to go.. JMac or Vanessa? Austin says Vanessa. She promised she would go up if she you would promise to keep her. Steve asks was that douchey of me not to want to. Austin says we could all promise her she's the pawn and then break it. Austin says that Vanessa promised to buy Julia if we're in the final 4 I could buy you a car as collateral. She promised me a gambling stake. She said she would go to Vegas with me and bet half the prize money in a poker tournament because she knows how to win money. She know's that will appeal to me because I'm a gambler. She knows that to Julia a car would appeal to her. She is playing a lot of things very f**king deeply. Austin says if I put her up as the pawn then its not some drastic betrayal. Steve asks so you're thinking of putting up Johnny and Vanessa? Austin says yeah. Steve says that will look bad to Johnny. Austin says even if we explain Vanessa is the target. Steve says I am working with Johnny Mac but we do not have a final 2. Austin says Vanessa made me promise her a final 2 deal on day 2 when she gave me the fast forward. Steve says wow. Austin says she thinks its real but it wasn't for me the day she tried to backdoor me. Austin says so Vanessa will go up as the pawn. She might freak out about going up as a pawn. Steve says so, hows that any different than me. Austin says its my HOH, I'm going to put the top hat on and do what I need to do.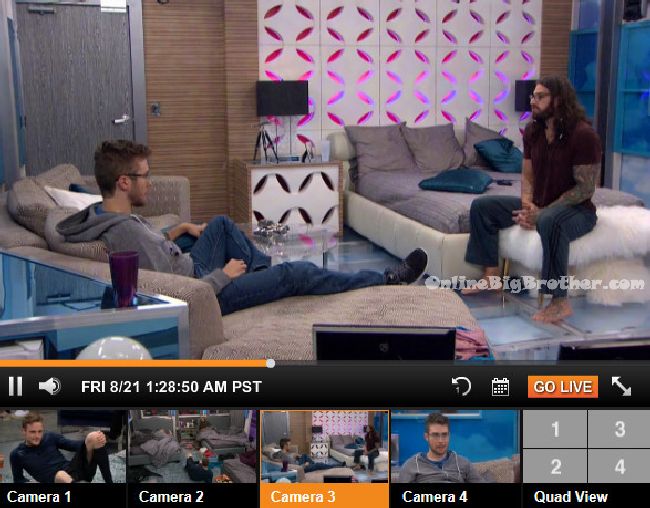 FLASHBACK and watch ALL the DRAMA: Big Brother 17 Live Feed 7 day FREE Trial!
1:50am Liz comes up to the HOH room and Austin tells her that Steve isn't going up, Vanessa is. Steve asks instead of me breaking my word I will just tell Vanessa that I am voting how ever Austin and the twins are voting. Austin says she'll corner you and ask that means Johnny Mac right? That means Johnny Mac right? Steve asks you're cool with me breaking that word? Austin says yes. Steve says okay got it. That's what I'll do. Liz asks are you sure, that's scary. Austin says Vanessa said she is willing to be a pawn, why no. Steve you have to say you're not comfortable being the pawn. Liz says Vanessa asked me down there if I was sure you wouldn't backdoor her. Austin says no, I'll frontdoor her. Liz says I am scared of her, she is not going to handle it well. Liz tells Steve he needs to stand his ground. Austin says I trust your vote more than I trust hers. Liz asks how do you backdoor if the veto gets used. Austin says James. Or Meg and we send Vanessa out. Liz says why not put up Meg as a pawn. If you tell Vanessa she is the pawn it will be world war 3. They talk about putting up Meg & Johnny Mac. Austin says I want to put up Vanessa and Johnny Mac more than Meg and Johnny Mac. Getting out Johnny Mac would be a waste to me. Austin says we have reasons to take her (Vanessa) out. Liz says we need you (Steve) to win next week.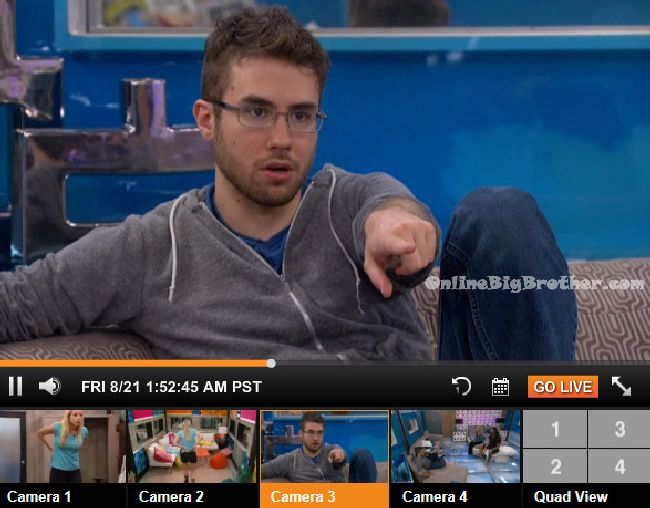 1:30am – 2:05am Cabana room –
Vanessa, Liz and Julia. Vanessa tells them she actually really would volunteer to go up. After this week we only need 2 votes. If one of you win HOH I will go up because I trust you guys. For better or for worse. My be I'm a dumba$$ but I trust you. Liz says that Steve is the only safe person. Vanessa says he has to understand that. Liz says he was being as awkward as sh*t. Vanessa says you want to make me feel comfortable going up as the pawn that was not the way to do it. Vanessa asks he's not going to keep that deal with Meg and James right? He's not going to backdoor me? Liz says no. Vanessa asks that deal was only frontdoor? Did he make that deal or was that bullsh*t? Liz says I think he did. Vanessa says Steve was pouting because it risks his buddy Johnny Mac. Julia says someone told me.. I can't say who .. "allegedly a dentist" I can't says but. Vanessa says ever thought about this the havenot room .. We have not a dentist. Julia says I was a dental assistant for 4 years he knows the dental chart. He went to dental school or something. Vanessa asks do you think Johnny Mac could be a clown? I think my family tries to send me .. When they send me pictures they try to send me signals. When they sent me my first basket I got a shell for Shelli and there was a sticker on the shell. You know what the sticker was? A clown fish. I couldn't figure out what it meant. Isn't it weird that Austin also got a clown nose? Johnny Mac acts like a clown a lot. Maybe it was a sticker for stuck on Shelli. Or a CL for Clay? Julia says I really think we have to go after James this week. Vanessa says or Johnny Mac. Although Johnny Mac is more controllable. James is not and will make a big move. Vanessa says its Austin's HOH and I'll respect what he wants to do. I don't feel like Steve is a team player. Liz says and if you're not winning for us.. Julia says we all love him and don't want him to go. They discuss how the next week after someone comes back will be a comp about the days. They agree to study together but not to let others know so they don't study. Liz heads but upstairs. Vanessa tells Julia that things I've told Steve has gotten back to Johnny Mac.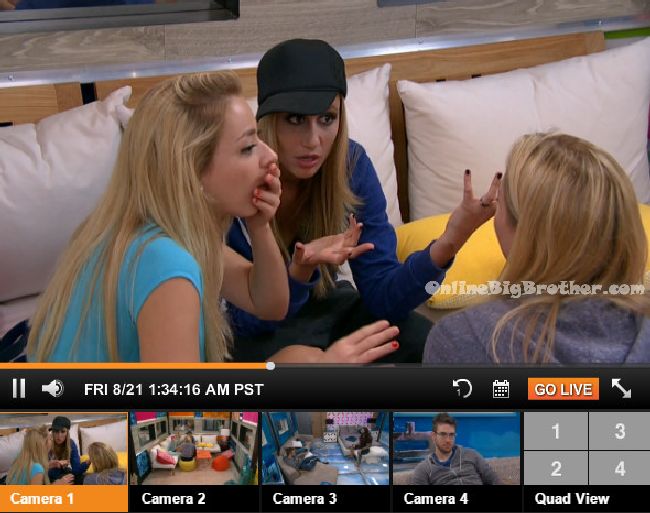 2:07am HOH room – Vanessa comes up to the HOH and asks if they've made any progress? Austin says Steve doesn't want to go up. He's given his word that he will do whatever we want him to do this week including take out Johnny mac. So now I'm caught do I put up Meg, do I ask you to be a pawn. Vanessa says no one wants to be a pawn but if he puts me up Johnny Mac will know he's the pawn. If he puts you up you have plausible deniability .. that feasibly Johnny Mac has no idea who the real target is. Steve asks what's the difference between me and you? Vanessa says Johnny Mac knows I'm close to them (Aus-twins). Johnny Mac doesn't know you're close to them. Vanessa says if you put me up its going to look really funny first of all and second of all if you play in the veto .. what do you (Steve) do if you win. Steve says I could use it on you. Vanessa asks you wouldn't use it on Johnny Mac.. really?! Steve says yes. Vanessa says that would be terrible for your game. Why would you want to be put in that position. Steve says I don't have a final 2 deal with him. I will get rid of him if I need to. I am just really not comfortable being the pawn and I got out the person that wanted to backdoor him (Austin). Vanessa says well she wanted to get you out too. Steve says I will give you my word to vote how you want to. Vanessa asks how can I believe that if you're not willing to go up as a pawn and trust me. Steve says I'm just not willing to go up as a pawn. Vanessa asks how can anyone work with you if you're not willing to go up. Everyone has to be willing to go up at this stage in the game. There a too few amount of people. Our alliance is 5 people of 8. Vanessa says Its scary for me to go up relying on your vote when you also have allegiance to the other person. Steve says I've just told you I would vote him out over you. Vanessa tells Austin to do what he thinks is best. They talk about the possibility of putting up Meg and Johnny Mac with Steve going up as a pawn if James or Meg in the veto to take Meg off. Steve says he would be more willing to do that. Vanessa says Meg should volunteer to go up as a pawn because she hasn't won anything. Vanessa tells Steve she is scared to go up rely on his vote because when she was up with Shelli .. you wouldn't promise me your vote. Austin says Steve couldn't do it without the house because it would have outed him. Vanessa says we all need to be okay with being pawns. If you're not willing to then it makes it difficult to work with you. We all love you (Steve) and I never would vote you out. Vanessa tells Austin I got so much blood on my hands trying to keep you here and I forgave you and got over what you did to me. From that point I've moved on and if I have to go up then fine. Vanessa says I've done so much for you in this game. You owe me for not backdooring you. Austin says Oh really!? Austin says I say we reconvene tomorrow because I am done talking about it. Austin asks for reasons to tell Meg she might have to go up. Vanessa says because we have her back and she's safe. Vanessa turns to Steve and asks him for ideas. Steve says he is done. Vanessa says you should help give reasons Vanessa asks can I have 3 minutes with you alone? Austin says no more, I'm done. I just want to sit with Liz. Big Brother blocks the feeds.