POV Holder:
?
POV Competition
Aug 22nd
POV Used
?
POV Ceremony
Aug 24th
HOH
Austin
Next HOH
Aug 27th
Original Nominations:
? and ?
After POV Nominations:
? and ?
Have Nots
????????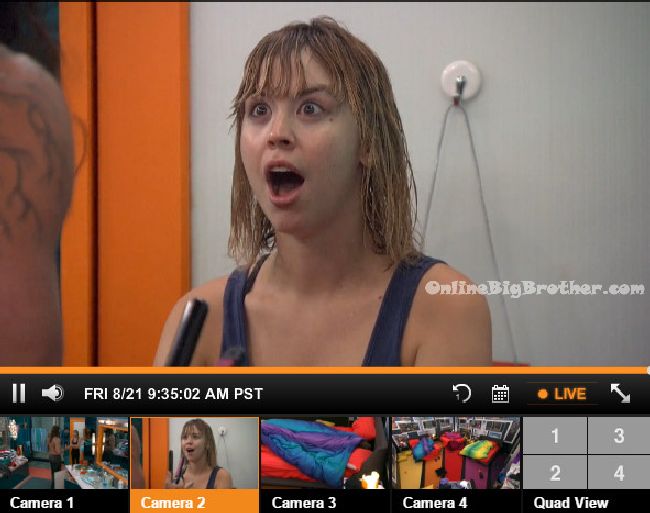 Watch the NEXT WEEK of the Live Feeds for FREE! Click here for your: 1 Week Trial

9:25am – 9:45am Big Brother wakes up the house guests. Meg takes a shower. Liz asks Meg why she is up so early. Meg says to have a shower before havenots. I made the mistake of not doing it last time. Austin joins them to straighten his hair. Meg asks how his talks went last night. Austin says by the end of the night I had my top hat on and I was swearing. Sh*t went down! Meg asks sh*t went down? Austin says not really but.. Vanessa went off on Steve because he didn't want to be the pawn. I was like maybe I could put Vanessa up as a pawn and she lost it! She said that I owed her. I said we have the votes to keep you. I asked her why she was so paranoid. Meg says she was in the hammock room with people last night. Austin says I caught her in a lie too. I asked her about the BOB James threw and she said she didn't know. She put up two strong people. Meg says she was the plan in all that. She made it personal even. Austin says you tell me that I deserved to go home 3 weeks ago for lying to you. … That's why I put the top hat on and went to the diary room. She wanted to talk and I said no, I'm going to bed. Meg says she has the same chances. Austin says she keeps asking if I'm going to backdoor her. You don't ask that of an alliance member. Austin brings up how Julia overheard Johnny screaming in the diary room. It makes me wonder if I can trust him too. Austin says that Steve doesn't get why I'm not putting you guys (james & meg) up. I keep saying I promised you I wouldn't. Austin says I just want to say I know you lied about the James BOB thing, now we're even. I need you to go up as a pawn. Meg says she will never admit she lied. She needs to grow up. She is going to blow up. I have no sympathy for it. Austin says she came at Steve again making him promise to squash it. She's become that bully figure she hated everyone else for. Meg says she is crazy. Its like the lie she told to Johnny Mac. She will never admit she lied. She's built her whole game on being trustworthy and if she admits it her whole game crumbles. That's why its not a good idea to confront her about it.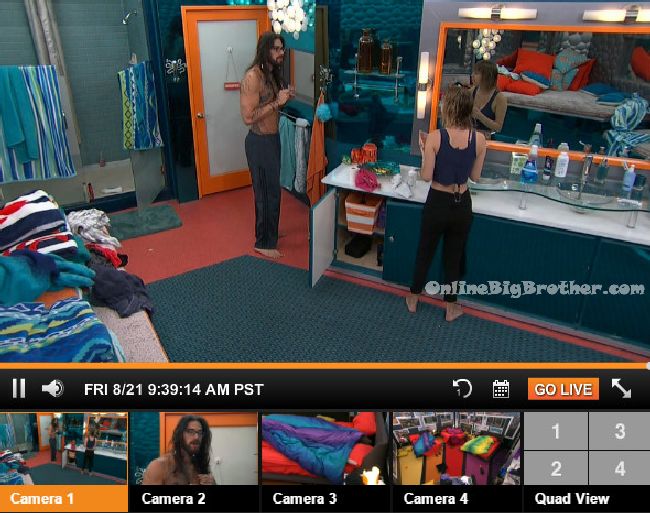 9:55am – 10:25am Vanessa tells Liz if he puts me up he is risking me. It would be so silly!! Liz says he doesn't want to put up Steve. Vanessa heads up to the HOH room to talk to Austin. Austin says last night it just went back and forth and all I want is a pawn. How do I get Steve to stop. Last thing I want is to have Steve go half cocked. Vanessa says as far as I'm concerned we're square. You can trust me. Austin says I know I can. Vanessa says last night I went to Steve and asked him if I went up would I have his vote and he said as long as you haven't lied to me. And that little caveat made me think and so I asked him if he has something he is concerned about. He was like no I need to go to bed. Austin says I feel equally about either of you up. Vanessa says I don't know how you see it equally. He is closer to Johnny Mac. I am genuinely looking out for you. Austin says I just want someone to be cool with going up. I am going to get Liz to make an emotional plea with Steve to go up. Vanessa says they (James and Meg) see me as closer to you and if I am up there next to a pawn they can see it as a chance to take a stab at us. Last night you gave him an hour to talk to him and you wouldn't even give me 3 minutes. That really hurt. I've been very selfless in this game. I am a team player and he is not a team player. Austin says its always a numbers game in his head and I don't know why he doesn't trust it. Vanessa says with him up its a sure with me its not. Vanessa asks what is your fear with Steve going up. Austin says I just feel bad he is the greatest linchpin. Vanessa says you saw him after winning HOH he was crying about sending her out the door. He doesn't want to be HOH again. Vanessa says whereas I am chopping at the bit to do it. Vanessa says after this week I am so willing to go up as a pawn. Austin says Steve will be competing in the HOH next week because he won't want anyone to come back to win. I wish he would just be more willing. Vanessa says I think you should go with your gut. Austin says my gut is to go with Steve. Vanessa says I am guaran-f**king-tee you that I am more loyal than he is. He only looks out for himself. Meg and James has more incentive to send me out. Austin says this isn't the week to do that because they risk the person coming back. Vanessa asks the way he (Steve) is acting .. why not keep Johnny Mac over him. What is the benefit of that. His attitude scared me. Austin thinks maybe Steve is just worried about your vote. Vanessa says putting up Steve feeds that story that you guys aren't working together. Putting me up makes no sense. Austin says I just don't want another target after me. Austin says I think I just need to put up Steve and Johnny Mac. I will get Liz to make an emotional plea with him and if he really doesn't want to do it then maybe he isn't that willing to work with me. I'll have a talk with Meg and James too and see if one of them would be willing. Vanessa says if it is me just tell me before, don't surprise me like before. They head downstairs.
FLASHBACK and watch ALL the DRAMA: FREE 7 Day Live Feed Trial!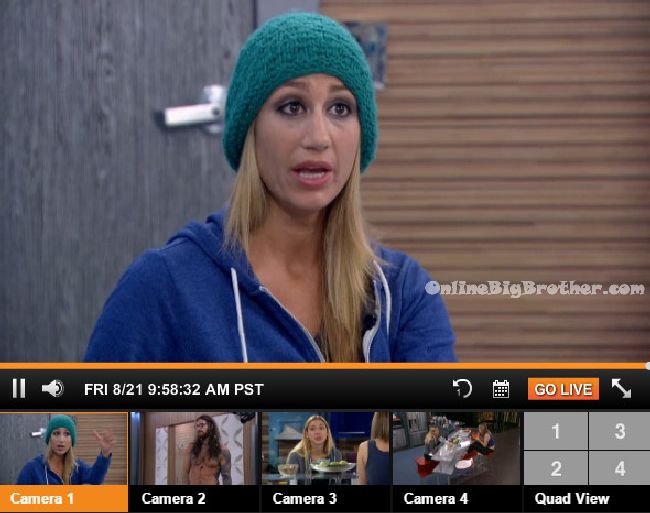 10:25am – 10:30am Bedroom – Meg tells James that Austin also asked Vanessa about you throwing the BOB with Liz. James says oh god they just can't let that go. What did Vanessa say? Meg says that she had nothing to do with it. It was the other side of the house and that she just put up strong players. And that yesterday she kept saying that you were trying so hard to win. James says who cares. Austin joins them. I just put in another 30 minutes with her. This is getting stressful. I need to come up with another speech that has nothing to do with my nominees again. Meg laughs.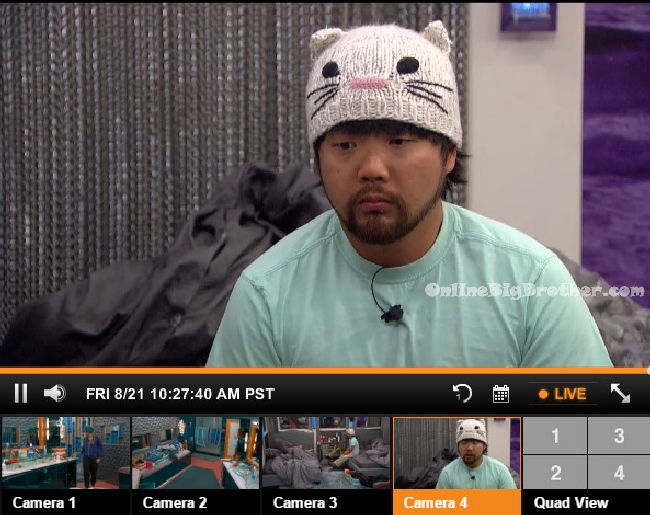 10:45am – 10:55am Kitchen – Vanessa asks Austin what he told Johnny Mac. Austin says that he thinks he's the pawn. He thinks the backdoor plan is James or Meg. He doesn't know who I am putting up next to him. Vanessa tells Austin her theory about Johnny Mac being a clown. Austin puts on the clown nose and says I should just do the whole speech like this. Vanessa says you should. Austin says I just wish the two of you could work together because we're stronger with you guys working together. Vanessa says there is something else I want to say to you but it has to be in extreme confidence. When it comes down to it what is your goal in this game. Austin says getting to the end and winning. With Liz obviously there. Vanessa says your chances of doing that are better without Johnny Mac in this game. Vanessa asks did your family send the picture with you and your gay friends and gymnastic rings? What if they were trying to tell you to stick with your gay friend? Austin says I am always the one to not read into things. Vanessa tells Austin when I tell you I don't need the money .. I don't. The one thing I do have is integrity. You need people like me in this game who are willing to be pawns.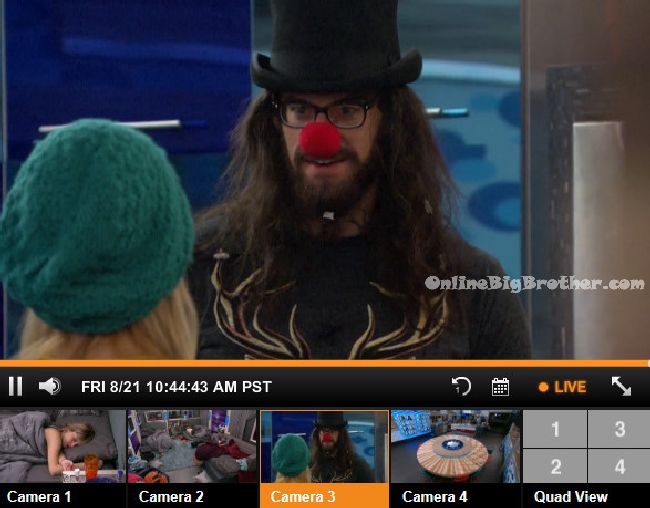 11:10am – 11:20m Bedroom – Austin says its not that big of a deal. I'm safe this week. I just need to make a good tv spot and make things funny. Austin says she is telling me how much she trusts me. She threw Julia under the bus to me. With out meaning to do it. She said in a final four I am taking you over Julia. Sure I would love to be taken but why do you need to tell me that right now. She still won't admit that you (James) were supposed to throw that BOB with Liz. James says every move with her is like chess. Austin says that's why I wonder if its better to just ride with her put Steve up and hope she doesn't win the veto. She and Steve don't want to have anything to do with being a pawn but one of them is going to have to do it. Steve keeps asking why not Meg or James. I'm like I made a deal with them. Austin tells them about what Vanessa thinks about the photo of him with his gay friends and rings. Meg says that means nothing… I've never heard the LGBT thrown out so much.
11:25am Big Brother switches the feeds to the live feed highlights.. Its likely for the setting up of the havenot extra food.
11:55am Still blocked.
Help support all the live feed updates we provide. Show your support by making a donation. Any amount is greatly appreciated!