POV Holder:
?
POV Competition
Aug 22nd
POV Used
?
POV Ceremony
Aug 24th
HOH
Austin
Next HOH
Aug 27th
Original Nominations:
? and ?
After POV Nominations:
? and ?
Have Nots
????????
8:55pm Have nots Steve and Jmac
Steve saying Vanessa might be a replacement nomination.
Steve mentions how happy he is they made that deal with Austin and the twins.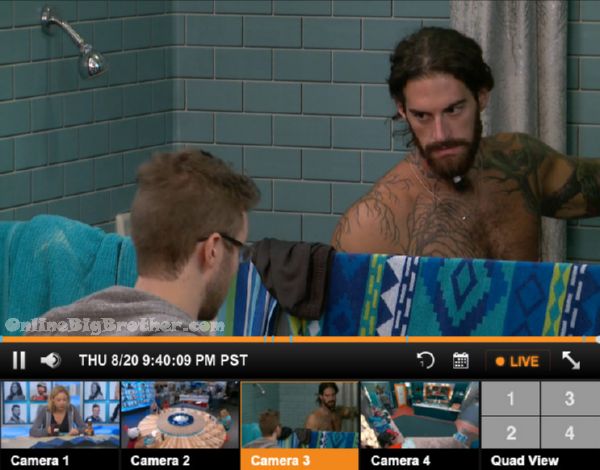 9:39pm Austin and Steve
Steve thanks him for winning "I can't believe I made third"
Austin – you got a false start
Steve- ya
9:51pm Bathroom Vanessa and Austin
Vanessa says she has an idea she'll tell him up in the HOH
9:51pm Bathroom Vanessa and Austin
Vanessa says she has an idea she'll tell him up in the HOH
Austin says this is the second week they've been in power they've had a lot of "Prime time" exposure "This is really good for me"
Liz – and it's a turn on
Austin – Thank you
JUJU Joins them.
Austin saying he's not putting up Meg and james so that leave, Steve, Jmac and Vanessa as targets
Vanessa joins them, does the Austin's angles symbol. (See image)
"You want me Idea.. here's my idea only way to get no blood on your hands except for Johnny Mac but he's going home"
Vanessa wants Meg and James on the block so they can put Jmac as the replacement nomination. Or Get Meg and Steve up.
Austin says that's risky because if he put up Meg and a pawn they will put them up as a pawn next week.
Austin – Jmac's speech really bothered me
Liz agrees
Austin – you want to go home bro
Vanessa – he was trying to be funny.. I really think he's a bad player. .
Vanessa says they will tell Steve James is the backdoor target.
Vanessa says if they put Steve and meg up Johnnymac will not throw the POV
Liz – then we put up Steve and Johnnymac
Vanessa again points out that the only way to make sure jmac throws the Veto is for them to put up Meg/James.
Austin tells Vanessa jmac is the goal
Vanessa- he was in an alliance with Jackie, Connected to Shelli and Becky.. all three.
Austin – he's gotta go
Vanessa tells them they are marching to final 5 there's not scenario she can think of where they won't make it.
Austin brings up that two day ago Jmac did a leg work out with him. He knew his legs would get destroyed if he did it. 'He wanted to be one of the boys"
Vanessa and liz mention how Jmac was saying he pulled a leg muscle during the competition.
They Agree nobody is voting Jmac to win the season.
Austin says he never gets questions from Julie Chen "They're worried i'll say Beef cake this and Irish Springs that"
Austin leaves them
Vanessa says Austin's girlfriends never signed a release so the letter won't be from her.
Julia – I wish it would
Vanessa – you're so mean
Liz – I kinda to, I wanted a reason to be mad at him.
Vanessa – the sun rise and sets on your a$$
Julia- He's your b1tch he does everything for you
Liz – Shut up guys
Julia- Sometimes he gets annoyed when you boss him around don't bite him so much
Vanessa- he likes that it doesn't want it to be easy
Julia says she can tell Liz likes Austin more now.
Vanessa- he's a good guy all way around.. he would be good to you
They all agree Austin is a good guy
Julia- He's like 30 though I feel like you've never dated a guy that old
Vanessa tells them her girlfriends is their age "It can work"
Liz says her last boyfriend was 21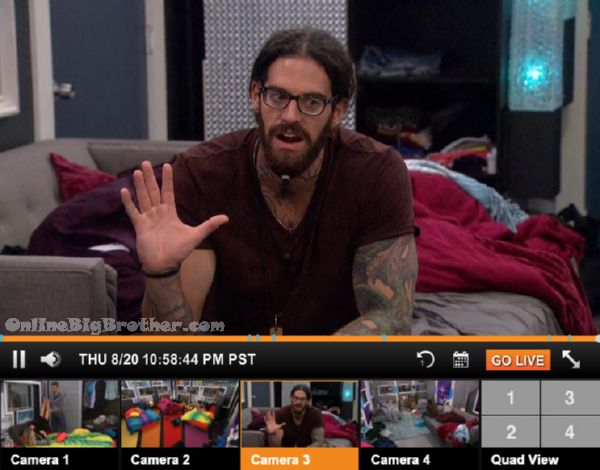 10:58pm Austin and the Goblins
Austin talking about this being the one competition Big Brother gave them were he has a good chance to win it. Adds that he's got the longest stride and the longest reach
Austin mentions when production said the buttons weren't registering them hitting it.
Austin – I got an imprint of the button on my hand right now
Austin tells them that Jmac is the target and Vanessa has been suggesting they go up.
Austin also tells them that Steve and Jamc had a final 2 .
11:03pm Vanessa and Julia
Vanessa talking about trying to get an answer from production if she can guarantee people a gift, "Like a car.. I realized there's 4 of us but only 2 spots"
Julia – who do you think we should send home this week
Vanessa – I think Johnnymac we can't control him
Julia says if it's James and Jmac on the block and Jmac wins veto and James goes up she's voting James.
Vanessa is completely down for that.
Vanessa says she wants Shelli to come back "She's the only one loyal to our side"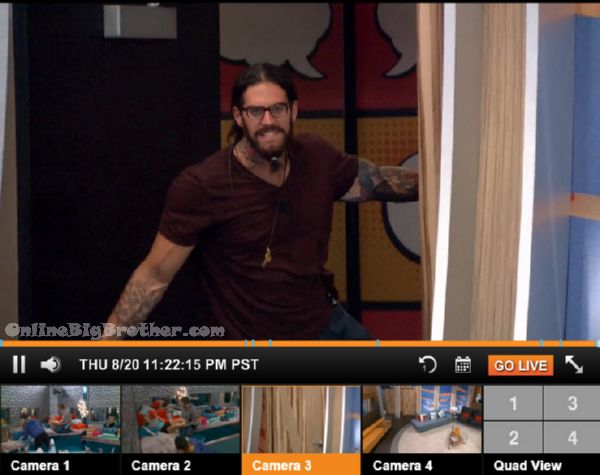 11:26pm Austin's HOH reveal..
Letter from his parents. No picture of his ex girlfriends.
[envira-gallery id="129636″]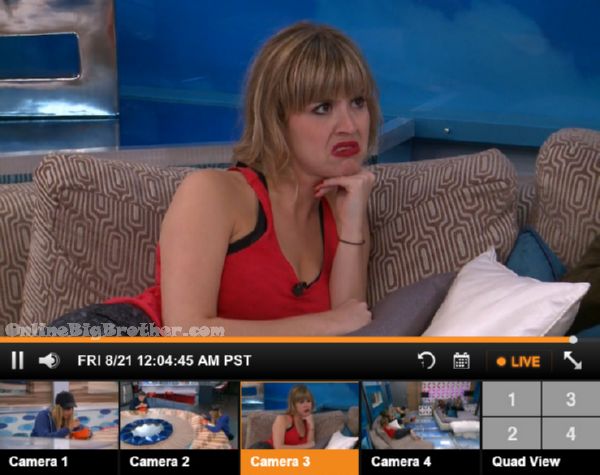 11:51pm Twins, Austin and the Goblins
Meg points out that every week Vanessa tries to get the person she wsn wants out.
James – whatever way you want to run your HOH, I'm supportive.
Austin saying he's completely onto Vanessa but number wise he's not sure getting rid of her now is the best, "She was confident to throw it this week why not next week"
Meg tells him he's in a really good spot nobody is talking about taking him out, "there's no lose in it"
James, Julia and Meg volunteer to be have nots it's their turn.
12:18am HOH Austin, Goblins, Twins
Austin says he kinda wants to backdoor Vanessa it will be the melt down of the century. Says it's kind of like the kid that's not supposed to want the cookie but he really wants the cookie.
[envira-gallery id="129646″]
ALLIANCES:
"Goblins/Gremlins" = James and Meg
"The Generals" = anyone allied with Becky
"SOS" (Students of Sound) = Steve and Vanessa
Rockstars = Steve and Jmac
AUS-Twins = Austin, Julia and Liz
"Austin's Angels" = Austin, Liz, Julia, Vanessa
"Brass Tacks" = Gobins and Austwins
The new "Brass Tacks" = Aus-Twins, Meg, James + Vanessa
"Freaks and Geeks" "The Scamper Squad" = Aus-Twins, Vanessa, Steve
"The new Freaks and Geeks minus Vanessa" = Austin, Liz, Julia, Steve, Johnny Mac
[polldaddy poll=9035699]