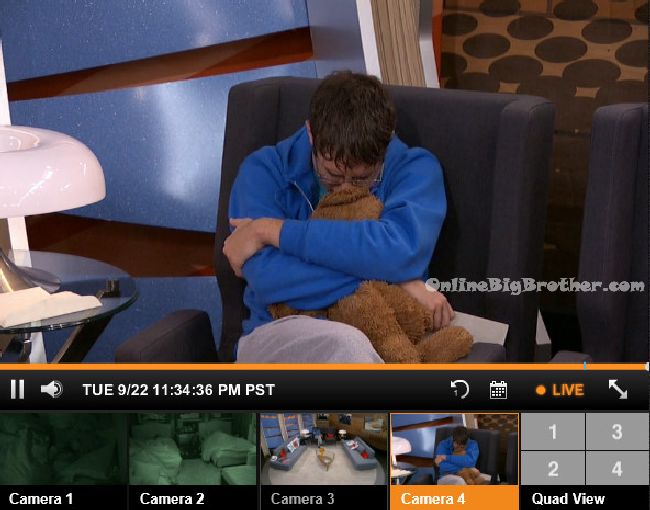 11:30pm – 12:15am Steve grabs COCO and his HOH letter and sits in the eviction chair. He starts crying. He walks to the bedroom. Vanessa asks what's the matter? Steve says I don't know, I'm a mess. Maybe that the finale is tomorrow. Vanessa says that him walking around with his teddy bear is too much. Steve says I don't even know what he's crying about. Vanessa says You could leave with the half million. Life could be so much worse. Liz tells Steve to stop crying. Steve says sorry, I just can't believe that I'm here right now. Sorry if I'm being over dramatic. Steve heads to the Bathroom. He washes his hands and after Big Brother asks Steve did you wash your hands? Steve says I just did. Liz asks Steve why they're f**king with him. Steve says probably because I'm a mess right now and crying. Liz tells Steve you have no reason to be crying. I do. Steve says I'm not upset. The conversation turns to talking about the evicted house guests and past events of the season. Liz asks Vanessa how she got through her schooling. Vanessa says scholarships and loans. The 50k isn't even enough to pay off all my loans. Liz goes to the bathroom. Steve asks Vanessa how her speech is? Vanessa says she has no idea what she's going to say. I'll plan it out during the lock down tomorrow. Steve leaves to let Liz & Vanessa sleep. Liz tells Vanessa that she deserves to win. But with this jury its different they're really bitter. They might be like I don't want her (Vanessa) to win so I'll just vote for him (Steve).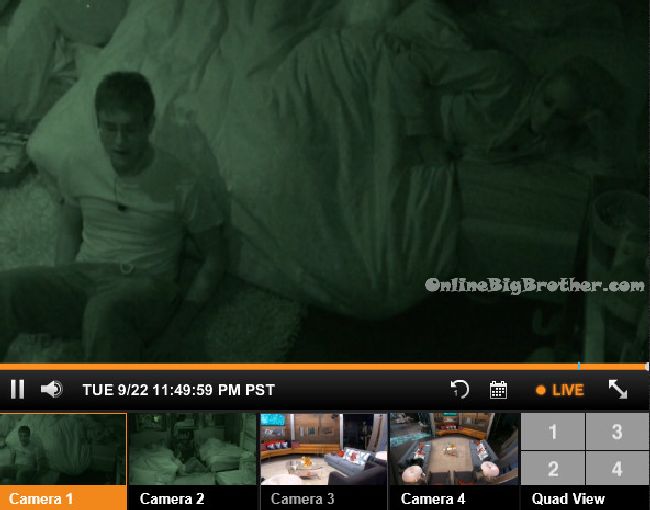 12:25am Steve heads to bed.

6am All the house guests are still sleeping.
If you've enjoyed the spoilers please consider a donation using the drop down box below. Simon and I work 24/7 all season long to keep you updated on everything that happens inside the Big Brother house. This website wouldn't be possible without your support.
[polldaddy poll=9082767]
[polldaddy poll=9063299]