Finale Schedule
Sun, 9/20- 8p
Wed, 9/23– 9:30-11p Finale = Winner of Big Brother
VANESSA WON PART 1 Of THE 3 PART HOH
STEVE WON PART 2 Of THE 3 PART HOH
Part 3 of 3 – Steve competes against Vanessa (Finale)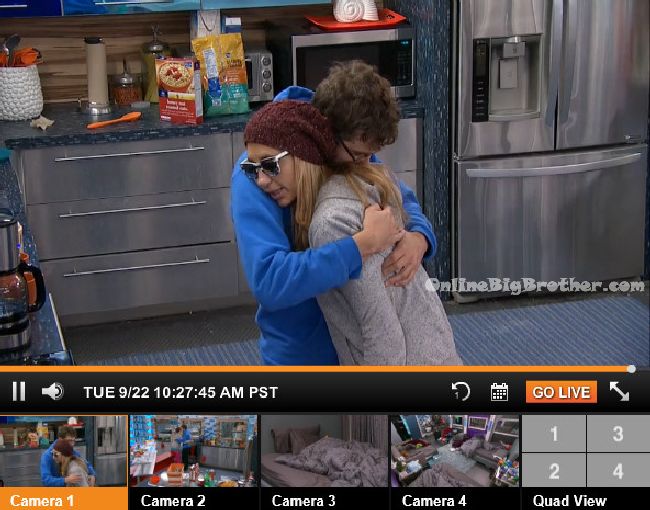 10:20am – 10:45am Big Brother wakes up the house guests. Vanessa and Steve get up. Steve comments that he hasn't even thought about packing yet. You guys have done a lot and I haven't even started. Vanessa says that's because we're good girls and you're a bad boy. Vanessa says how cool would it be if it was over today. I would be so happy. Steve says I like it tomorrow better. Vanessa says No dude I'm ready to go! Steve says I wasn't ready for last night to be the last night. Vanessa asks what do you do when you're up late? Steve says Scamper? I walk around in an attempt to sleep and realize I can't sleep. Vanessa asks do you talk to yourself? Steve says I'm sure I do. A lot of things about me are bizarre. Steve asks for a hug. Vanessa and Steve talk about the finale being tomorrow. Vanessa says in 24 hours we'll be doing our lockdown. Steve asks do you think we will though? Oh yeah because they have to make the house presentable. Vanessa asks if everyone walks though the house? Steve says I would assume so they have to get from the the audience to the backyard somehow. Maybe there's another way they go around. Steve and Vanessa sit down to play cards. Vanessa tells Steve he needs to start adjusting his schedule. Steve says not until he gets out. That's a real world people problem. Vanessa says we are literally breaking out of this joint tomorrow! Steve says you know we are .. You might be but I am never going to be in here again.
10:50am – 11:40am Steve heads back to bed. Vanessa plays cards by herself. Vanessa then heads back to bed as well. The final 3 are back sleeping. Vanessa can't sleep so she starts eating chips in bed.
12:15pm – 12:35pm They're sleeping.. Liz and Vanessa get up and head to the kitchen. Vanessa tells her that Steve and her thought the nom/eviction would be today considering they got hair dye and clippers but we confirmed it will be tomorrow. Liz says I hope the things for interviews we have to do isn't too long.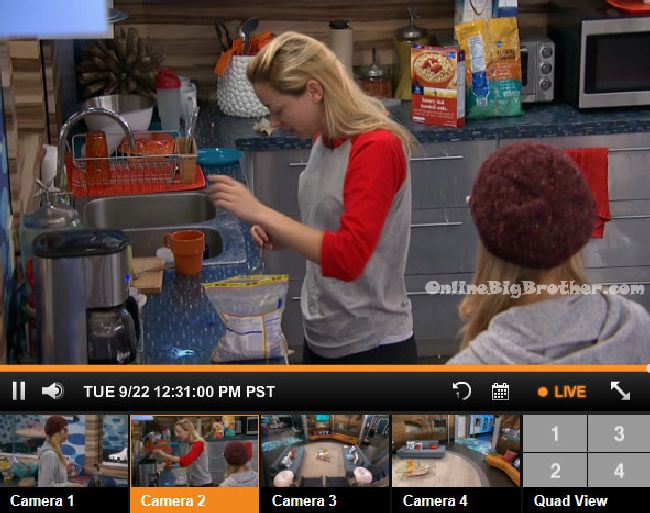 Steve gets called to the diary room. Liz and Vanessa start getting ready to be called in as well. Liz says how funny is it that I caught Steve practising his speech last night. He's been doing it for 3 days! I'm not kidding. I'm not an idiot. He is going to have a speech of a life time. Vanessa asks were you saying you felt bad for Steve last night? Liz says no. Vanessa says you were saying he was sitting there all confident. Liz says I feel better that he is all confident. Vanessa says just to make you feel better about why I wouldn't throw … then Steve would have the same number of wins and HOH wins as me. Liz asks really?! Vanessa says yes, so I would never throw it. Right now he has 7 comp wins and I have 8. He has 3 HOHs and I have 4. Liz says I just feel like he is already trying to write me off because I automatically have 2 votes in jury. If you think about it he has definitely Johnny Mac, Becky… probably Meg. Vanessa says I fully expect him to go against me. And I'm going to do that to him. Vanessa says having a twin and a boyfriend in jury is either great or rotten depending on how you look at it. Liz agrees. Vanessa says all I ask is that you're keeping your word on Julia that you're not going to tell him about our deal. Liz says 1 million percent!! Vanessa says you realize how out on a limb I am going with you on this. Liz says he hasn't said anything so no. Vanessa says with me I am going to go with my integrity for what I feel is right. Its probably worse for me than going with Steve but I am going to do what I feel is right. Liz says you've taken me from 5 – 4 – 3… I owe you. Vanessa says just please don't break your word to me. Liz says you have my word and even if the worst case happens and he he takes you .. you have my vote 1 million percent. I would never vote for him. Vanessa tells Liz she is only 23 and will have amazing success after this. Big Brother blocks the feeds.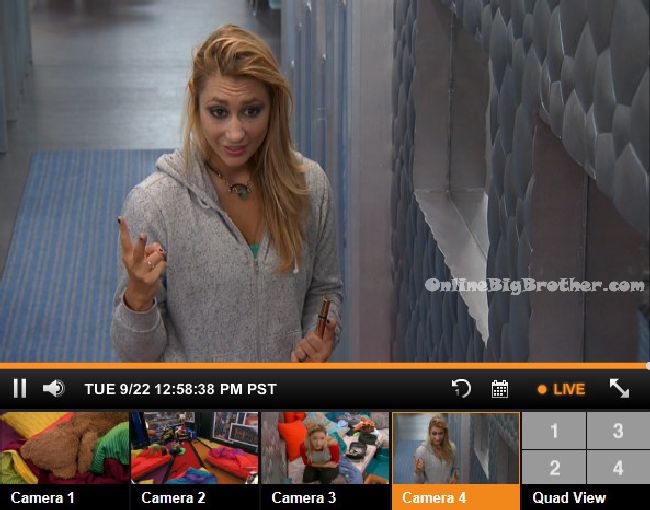 1:08pm – 1:30pm Vanessa talks to Steve alone in the bathroom. Steve asks if Liz was crying. Vanessa says she is just having an emotional moment to have gotten this far. If someone told you when coming in you could get third wouldn't you be so excited. Vanessa talks about how she was talking to Liz about how she'll have a lot of opportunities after this. Vanessa tells Steve we'll have that convo later tonight (Telling Liz they're not taking her to final 2, although both Steve and Vanessa really are.) We can't tell her for sure. Steve says we've been together since the beginning. Steve says I am not looking forward to this conversation. It sounds like she already knows. Vanessa says she doesn't know. Steve asks has she asked you if you're going to take her? Vanessa says no, she thinks we're not going to take her because she has Austin and Julia. I told her no matter what 3rd place is a great thing. Steve says it still feels strange that she hasn't initiated any of these conversations with me. Vanessa says its not weird she and I have always had these philosophical conversations. Liz is stressing out really bad. She is holding it together really well but is stressing. Steve says so are you and I. I get my mommy tomorrow!! I get my MOMMY! Vanessa says oh my god this mommy thing has to stop! You're 22 years old. Steve says its not a regular thing in my real life .. its a sequester thing. They head to the kitchen.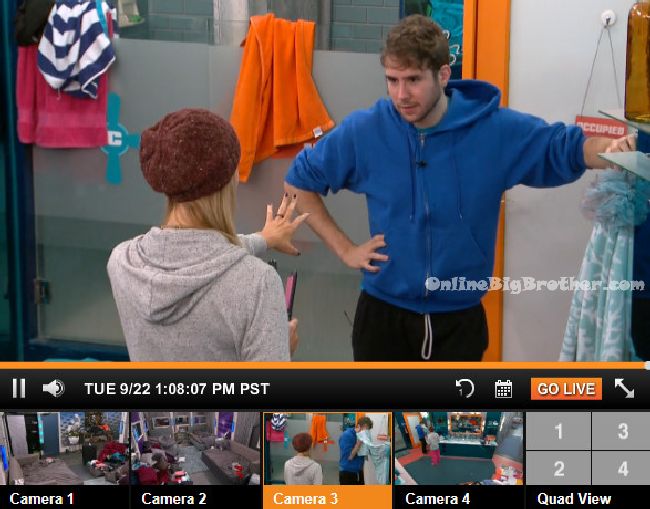 1:55pm Steve, Vanessa and Liz start playing cards…
1:55pm Big Brother switches the feeds to the live feed highlights.
3:10pm Still blocked..
3:25pm The live feeds return. Vanessa is dying Liz's roots. Steve shaves his face with a razor and really does look like a boy. Vanessa heads to bed.
4:10pm Vanessa cuts Steve's hair. Steve says he doesn't want gel in his hair and won't use it for the finale either. Vanessa strongly disagrees and tells him he should otherwise it won't look good.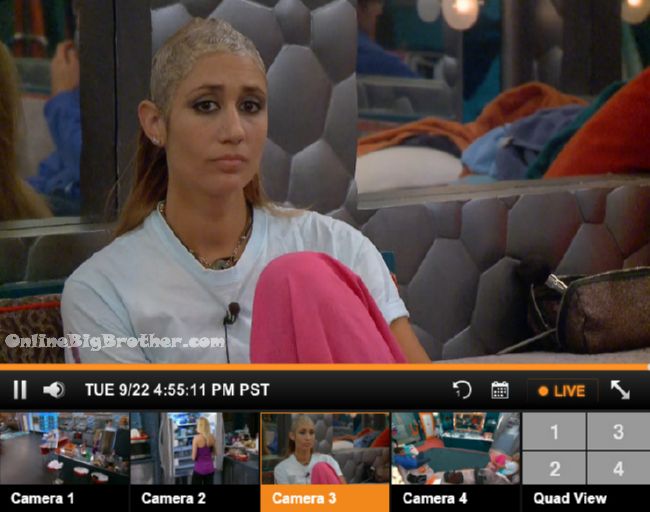 4:34pm Bathroom Colouring Vanessa's Hair..
Vanessa says Austin's biggest mistake was getting in "Too Deep" with Johnny Mac. (or too deep with Vanessa)
Liz says Austin confiding with JOhnny a lot but mostly Austin just wanted a workout buddy
Vanessa- what about.. They might have been team America together.. I always thought it was going to be Austin, Audrey and Johnny Mac.
5:10pm Vanessa and Steve in the bathroom
Vanessa says her girlfriend Mel knows Sabrina from Big Brother Canada 2
Steve just called Sabrina a Victoria type character. Adds that Sabrina did do somethings but was mostly useless. (I added this because it couldn't be further from the truth. Sabrina was majorly disliked by fans but was a CRAZY active player. One of the more active players I've seen on Big Brother.)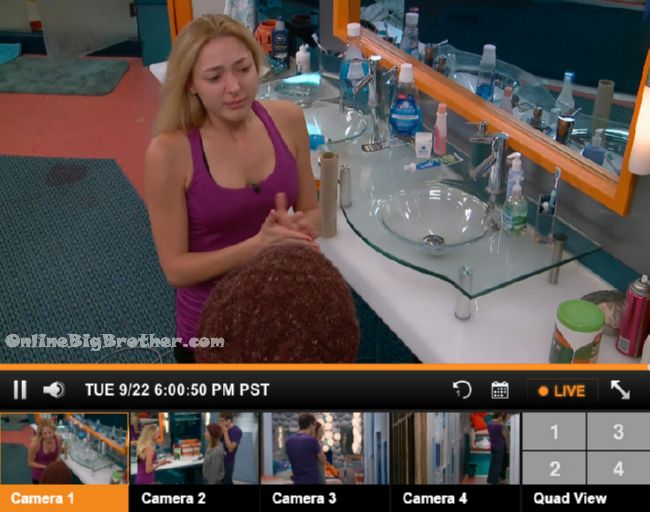 6:01pm Vanessa says Liz and Julia will be the next nervo (2 Australian Dj's) Liz starts to cry. They all get emotional about the show coming to an end.
Vanessa says she wants propose to Mel.
They talk about how Frankie, Christine and Cody all are friends outside the house.
Vanessa asks about Zack does he hang out with them?
Steve says no tells them that Zack Rance is a asshole.
Vanessa says they have 24 hours until they find out something about her. She jokes that she's ex CIA.
Vanessa – Steve cmon.. I'm joking..
Liz – She's a DJ
Steve – I think you are omitting something
Liz – I'm ex professional volley ball player.. with this body
Vanessa asks them to use the money well, don't blow it away.
Vanessa says she's seen it a lot in Vegas.. quick money, "The quicker it comes the quicker it goes"
6:52pm Cards.
8:27pm Bedroom Vanessa and Steve are saying how much they like Frankie from last season. Steve doesn't understand why the fans disliked him so much.
8:47pm Steve packs the rest of this stuff. Grabs his Bible says he was surprised he didn't talk about religion. (That was the bible Vanessa was reading)
Vanessa jokes says when she was in "Hospice" she turned to god and that helped her get through it. (When Becky was HOH and nominated her and Shelli)
they start talking about what they will drink 24 hours from now.
Steve says he wants to get drunk with Jace because he has a man crush.
Liz jokes that Jace is goign to hit on Julia, "Jeff's goign to hit on Julia too"
Steve – the whole world will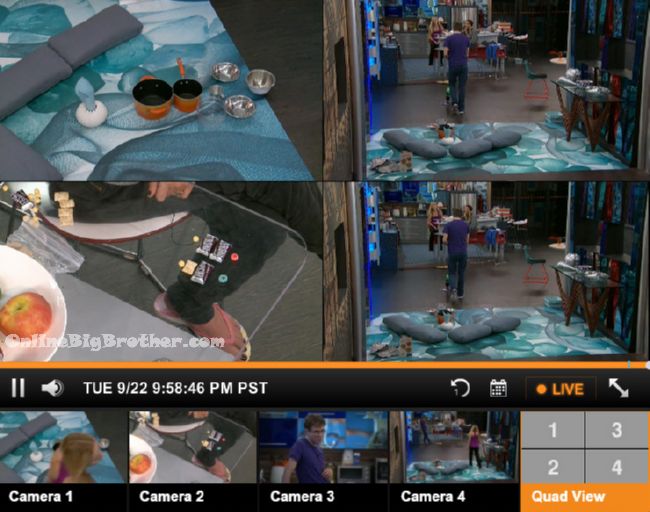 10:00PM Pot Ball Pot ball Pot Ball brought to you by Irish springs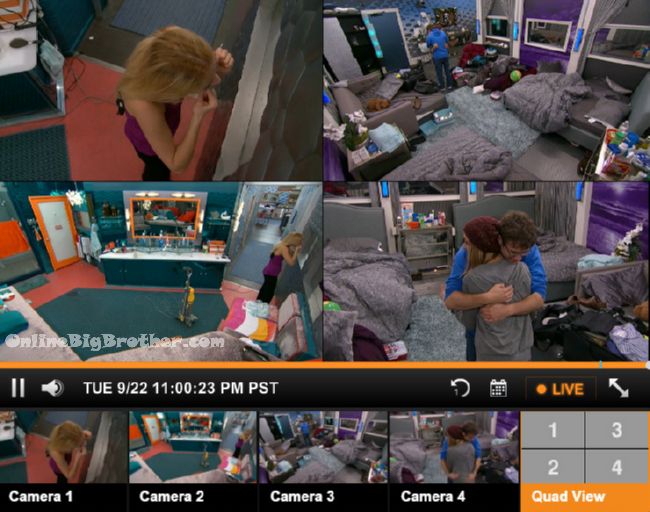 11:01pm Steve going on about how surprised he is he made it this long.
He's happy it's over but is also sad to go.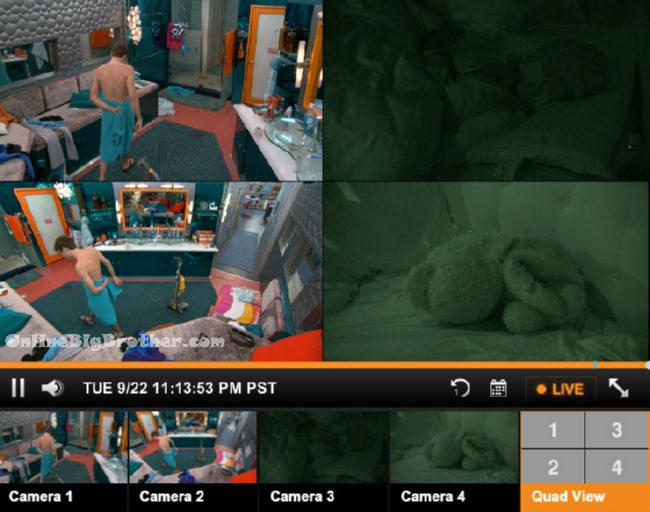 11:10pm Steve is scampering. Liz and Vanessa are sleeping.