Finale Schedule
Sun, 9/20- 8p
Wed, 9/23– 9:30-11p Finale = Winner of Big Brother
VANESSA WON PART 1 Of THE 3 PART HOH
STEVE WON PART 2 Of THE 3 PART HOH
Part 3 of 3 – Steve competes against Vanessa (Finale)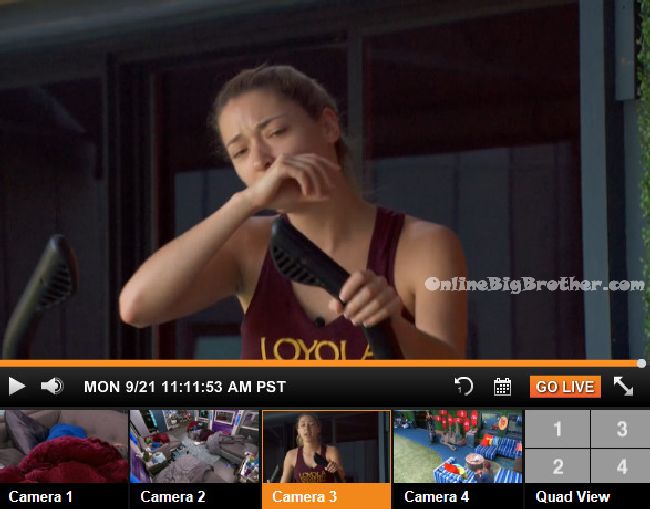 11am Vanessa asks has Steve talked to you about anything gamewise? Liz says no. Vanessa asks you give me your word? Liz says no a million percent! Obviously he has talked with you because he has not talked to me about anything. Vanessa says no matter… I am just going to ask you one thing.. you've given your word you were never going to tell Steve about our deal right?! Liz says 100% I haven't! Vanessa says and I am good for that deal. He just can't know about it. No matter what he might come to you and say over the next couple of days.. you know the real deal is what we have. I give you my word on Mel. Okay! Liz says I know. Vanessa says I know you trust me and in my book my word is only as good as the person to whom I'm giving it. And If someone has given me loyalty over the course of the game my word is good to them. Steve has betrayed me in this game multiple, multiple times and more than you know. He doesn't deserve that level of loyalty from me. That's how I look at it. Liz says I'm going to cry. Vanessa says no its true and I want you to know I'm going to keep my end of the bargain. On the other hand I need to make a deal with him that if he wins he is going to take me. Liz says right. Vanessa asks I hope you understand that?! Liz says 100%! Vanessa says I think I'm a favourite to beat him and I would rather beat him and take you. So I'm going to do my damnedest to win and no matter what I tell you .. he is going to want us to come to you to make him feel comfortable he is going to want us to tell you we're taking each other. I'm NOT taking him. Okay! Liz says okay. Vanessa says I give you my word on Mel which you know I'm not going to lie.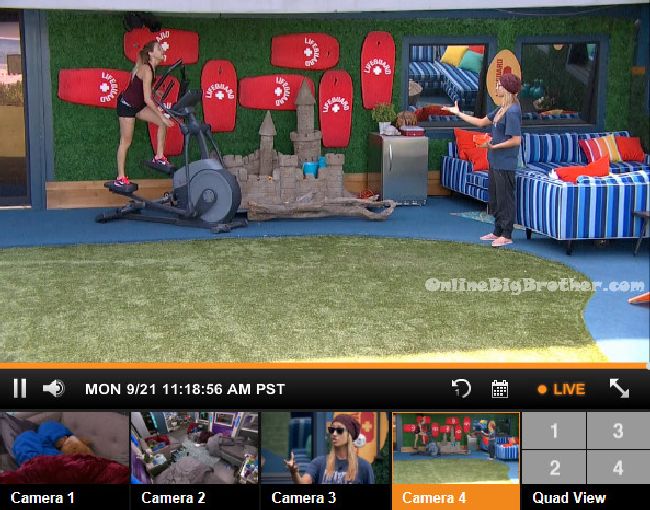 Liz says I know .. which is why this has been so hard for me because I feel like I have no… Like I am just dead in the water. Vanessa says you're not dead in the water. Liz says which just sucks because I literally f**king tried my hardest in that stupid crossword puzzle. I didn't want to be know as the stupid Victoria (BB16) you know!? Vanessa says oh my god you're not! You're not the stupid Victoria. What do you mean you have won so many comps girl! What are you talking about.. Steve only beat you by like 2 minutes. Liz says I know. Vanessa says he is a genius and a boy that is faster and stronger. Liz says do you know what I was being told "I was beating him" the entire time until I got to the double eviction. Its been so hard for me to put on a smile because at this point I can only have faith you know. Vanessa says I'm not going to do you dirty like that! I'm not. The only other thing I am asking if Steve beats me and takes me I am praying to god that I have you, Austin and your sister's votes. Liz says a million… Vanessa says I know you can't guarantee theirs but I just hope you know how hard I've played this game. What is rough for me .. what is sh*tty is that no matter who I'm up against I'm going to lose to probably just because people don't realize how much I've played. How many moves I made because a lot of them I did behind the scenes. Liz says I know. Vanessa says I helped so many people with the strategy of it. Liz says I hope you win, you of all of us deserve it the most. Me and Steve .. for example I held on to the coat tails of you and Austin. I don't even know what I would say to what was your best move. I have literally not even practised. I didn't think I would even get to this point. You have worked your a$$ off and deserve it the most. Vanessa says that's very sweet of you. Liz says you remind me of the Derrick (BB16) of the season. I'm more like the Cody! You know my word is good and I've never given you a reason not to.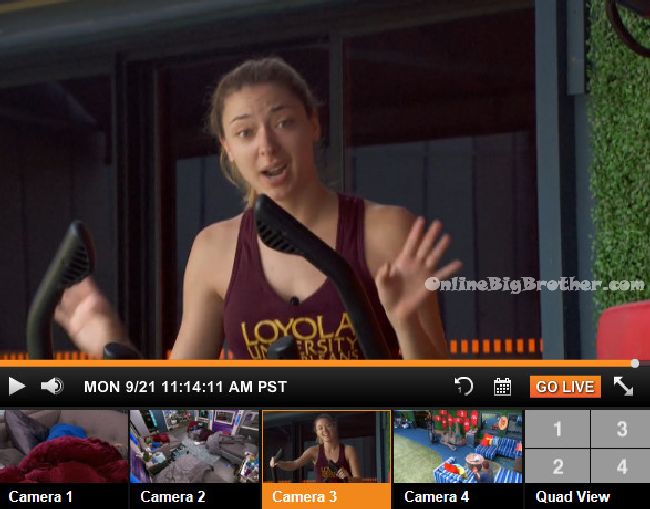 Sign up for CBS All Access and watch over 6500 episodes for ONLY $5.99! Try it FREE for 1 MONTH!
11:15am – 11:25am Liz says I swear on Julia he hasn't come up to me or even tried. Vanessa says I am trusting you a lot because if you've said it to him (that they have a final 2 deal) .. it would ruin every thing and I would have to .. Thank god he hasn't even asked me to give my word to him. He is just going on that he and I had a final 2 because in Scamper Squad we said it was the two of us. He doesn't realize how much I took it to heart that he betrayed me. When he tried to replace me with Johnny Mac. If it weren't for you I would have been gone. If he had had his way I would have been gone and if he thinks I am going to just forget that he is nuts! Simple as that! And that's the gods honest truth! My word is only good to whom the quality of the person to whom I'm giving it to. You and your sister I've always trusted you guys a million percent. You've always had my back. No matter what we come to you and say tomorrow .. I am doing it to play through the motions with him but you know .. on MEL! I can't say any more than that! I know you believe me. I would never do you dirty like that! Liz says you know how bad I wanted that.. Vanessa and Liz talk about the Part 2 comp. I could have beat him because I was way faster than him. Vanessa says I am going to try so hard to win .. I have the perfect speech. Liz says you deserve to win. Vanessa says no I'm talking about winning round 3 and giving the speech to pick you. Its going to kill it. Like WHOA! He is a kid but he needs to learn that loyalty is everything. And he only looked out for himself. Vanessa explains how she always looked out for Steve. Vanessa says not to mention I would love for it to be two girls in the finals. Liz says trust me you are my last hope. Besides he knows, he hasn't tried talking to me. He thinks I still hate him. Vanessa says he looks at it like if he took you .. he would lose my vote, Julia, vote, Austin's vote.. you need 5 votes to win.. so after already losing 3 he has to get 5 of the remaining 6 votes which is almost impossible. If I took him you, Julia and Austin should vote against me because that would be so disloyal of me. I am going to have 3 votes against me no matter what ..is how I look at it. I am going to take you and give my best speech and if you win congrats and if I win congrats. And the people that have been good to me in the game are going to have a Merry Christmas. I am a big sharer of all the success I've ever had in my life. Liz says that's why I have a hard time understanding why people have hostility towards you in the jury. And Steve said that when Dr. Will goes to jury… Big Brother switches the feeds to Steve sleeping.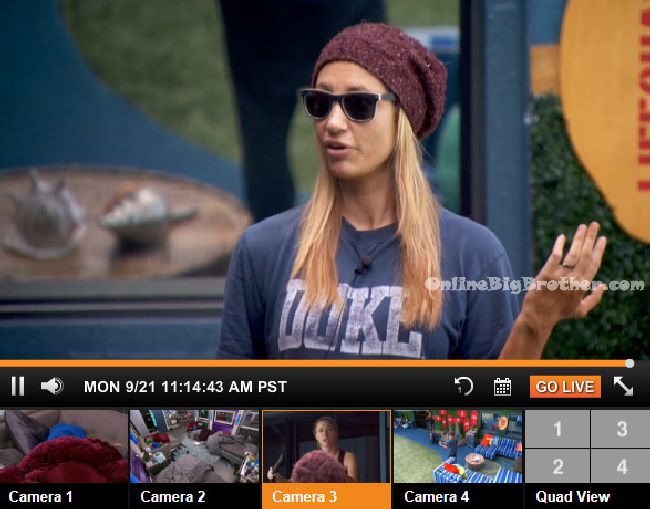 11:30am Vanessa says jury statements .. I have to believe I am better than Steve at that. If I miss this that will be really bad because I am supposed to be able to read people professionally. Liz says I am going to hate this season if he wins. Vanessa says I don't think he will because either I am going to win in that final round and you and I will be in the finals or if he wins in the final round and if he takes me .. then hopefully I will kick his a$$. Liz says I know! He is not getting my vote! Vanessa talks about how Austin said she didn't have his vote. I was like really?! He was okay that week not winning. He is going to be very successful in his life. Vanessa tells Liz that she got some big people out of the game and aligned with strong people and you were loyal. I feel bad about doing it to Steve but he was sneaky. We were the ones that brought him into Scamper Squad. Liz says I know that he hasn't once tried to talk to me that's how I know its not going to happen. Vanessa says just please don't say anything. Liz says I won't. Oh My God I hope Steve doesn't win. He is going to get so much gratification sending me out the door. Vanessa says he won't win.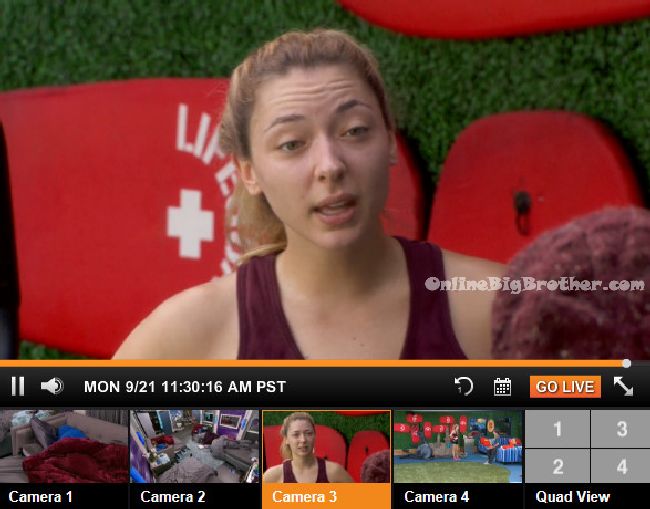 11:45am – 12:15pm Liz and Vanessa head inside to play cards. Big Brother puts the house guests on an indoor lockdown. Vanessa makes a deal with Liz .. for every poker game I play with you .. you have to play 30 minutes of chess with me. Liz says okay I'll make that deal.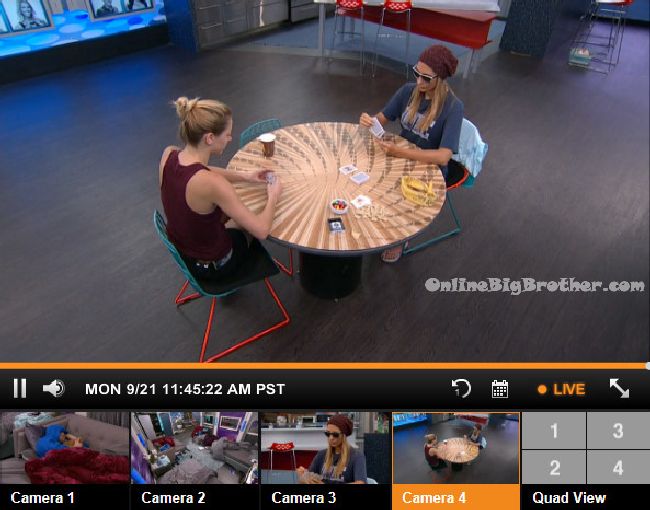 12:40pm – 1:15pm
Liz and Vanessa go to Steve's bedside and ask why he's so sleepy.. were you up late scampering? Steve says yes. Steve moves to the comic bedroom to continue to sleep. Liz goes to take a shower. Vanessa tells Liz that she requested alcohol. I said its incredibly boring. Liz says 1 bottle of gin! Liz tells Steve that she had a dream that when she sees Austin at the finale he had cut off the pony tail beard. You know how much that would mean to me!? That would be awesome! EWW I can't believe he likes it. Liz says if you are a guy watching this right now .. do not grow a pony tail beard .. it does not look good. Steve, Liz and Vanessa talk about the jury and talk about who hates who. Vanessa thinks everyone hates her. Steve tells her to she's exaggerating how much people hate her. Steve says he's worried about the outside world. Vanessa says he will be okay and won't regret this experience. Steve says he's more worried about his grad school application.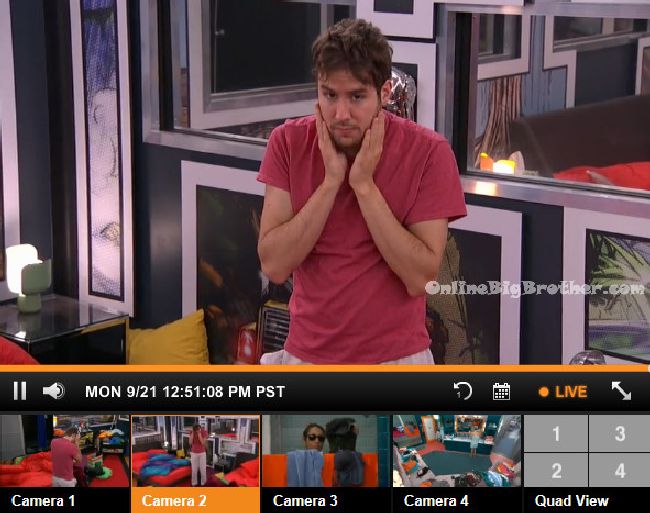 1:45pm – 1:55pm In the kitchen – Liz and Steve reminisce about past events in the season. Liz talks about how Austin gave Jackie a massage before they were together. She says she thinks Austin only did it to make me jealous. Vanessa asks did it? Liz says yes. Steve teaches Vanessa how to play solitaire. Steve and Vanessa start talking about politics. They talk about gay marriage. Liz asks does Mel want to get married. Vanessa says she does. I have to put a ring on it. (Mel has said she is "planning a special proposal" when Vanessa gets out.)
2:15pm Vanessa teaches Liz and Steve a new card game.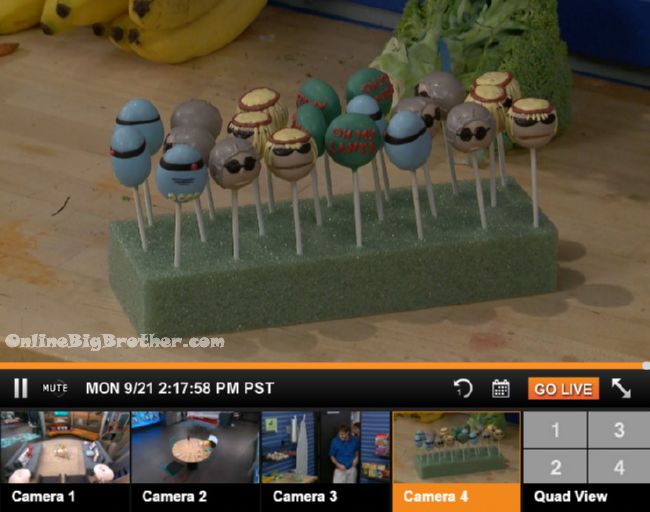 2:28pm They get Cake pops of this years houseguests
3:15pm Cards…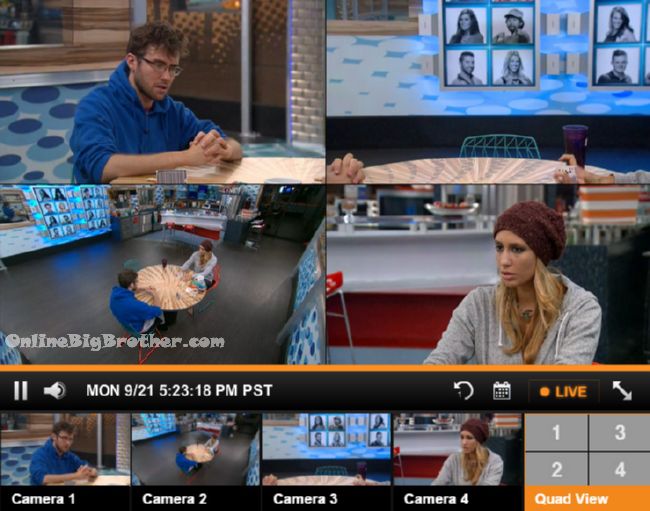 5:27pm They were sleeping for a while now more cards..
6:43pm Cards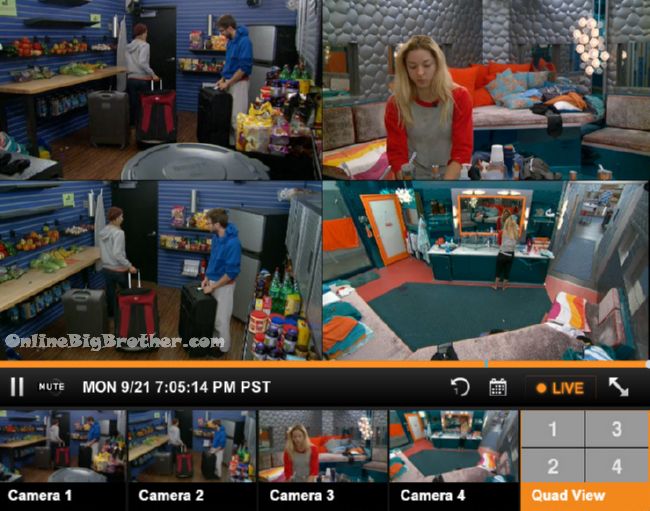 They get their suit cases and back to cards.
7:52pm Steve and Liz playing around, Steve has a beach ball saying he's going to throw it on her head. Liz threatens to throw chocolates at Steve. Vanessa – watch it you'll get a stop that.
Liz – You're not a fun tickler you hurt..
Vanessa – so what are we going to do now guys
Steve – Camp… I'm the only single person in this house
Vanessa – saying coming in the game Single is a big advantages. Says she was at a disadvantage not being single, "There was so much flirting going".
Steve admits he has a crush on Julia, "I tried to land a cuddle session when I was HOH but the game got in the way"
9:00pm cards and eating.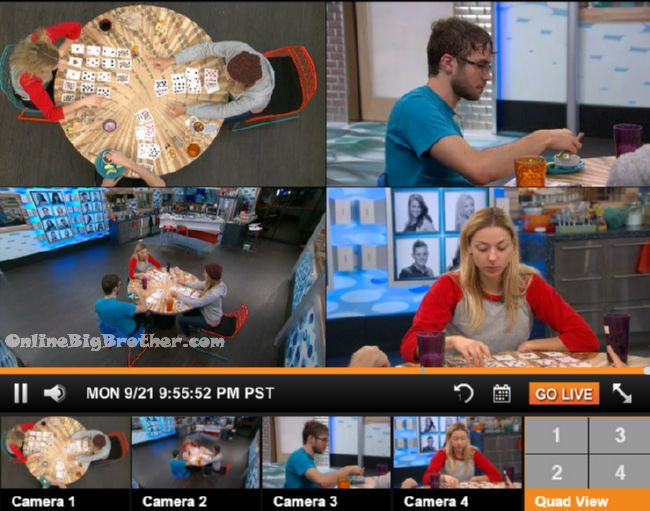 11:00pm – 11:40pm Cards
11:45pm Steve asks Vanessa when do we tell her? (Tell Liz they're not taking her to final two. Although they both plan to take Liz.) Vanessa says I guess we'll feel it out. Steve says okay. Vanessa says unless you want an exact time. Steve says No I don't. I just feel like its going to be really awkward after. Vanessa says MMMMmmHHmm. I told you. Steve says so I feel like night is better. Like this time tomorrow. Vanessa says okay. Steve says okay cool.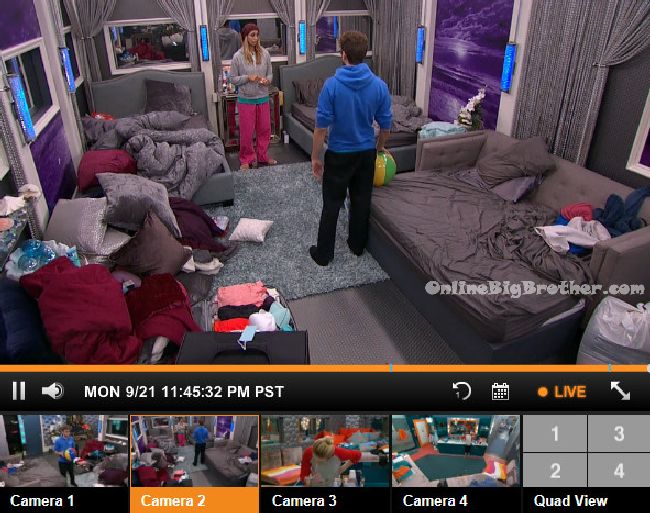 11:55pm – 12:45am Steve gets Vanessa to give him the massage she owe's him. Vanessa tells Mel that its just a friendly massage. Vanessa and Liz go to bed. Steve grabs coco and his HOH letters and heads to the living room. Steve heads into the cabana room and starts rehearsing his Liz speech again.

1am All the house guests are sleeping..
10:20am Big Brother wakes up the house guests.
If you've enjoyed the spoilers please consider a donation using the drop down box below. Simon and I work 24/7 all season long to keep you updated on everything that happens inside the Big Brother house. This website wouldn't be possible without your support.
[polldaddy poll=9082767]
[polldaddy poll=9063299]