POV Holder:
Austin
POV Competition
Sept 5th
POV Used
?
POV Ceremony
Sept 7th
HOH
STEVE
Next HOH
Sept 10th
Original Nominations:
Austin and liz
After POV Nominations:
? and ?
7:20pm Steve alone in the HOH
Steve – Vanessa is doing something shady
7:24pm Vanessa and the twins
Vanessa says Austin knows he's in the dog house. Vanessa adds that she told him the twins might be sensitive about him wearing it the veto.
7:54pm Kitchen Steve, Austin and Liz
Everyone sleeping. Chit chat about the POV, Jessie, Whatever.
Austin is explaining that Jessie gave him a funny look when Julia picked him in the POV.
They agree the POV was an awkward moment.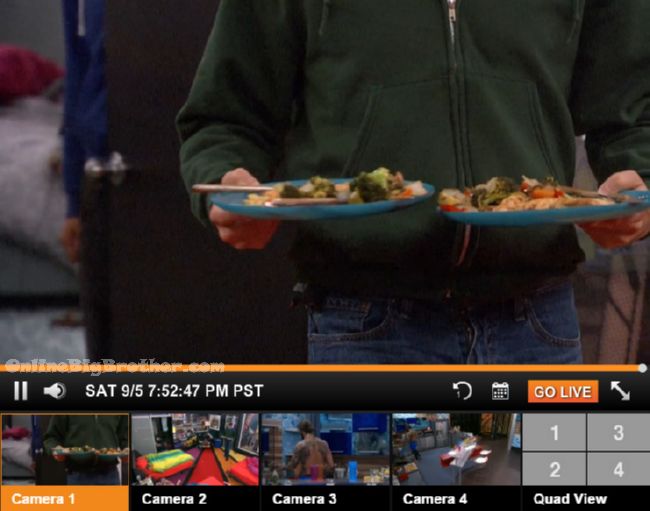 Steve and Vanessa deliver the food to the twins.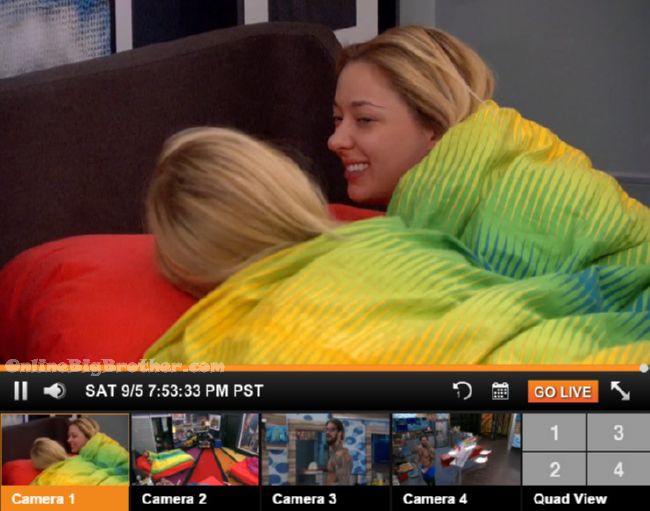 Steve – "I come with dinner from austin.. Chicken in the shape of a heart and some vegetables"
A twins "Tell him thanks but no thanks"
They Say thanks but no thanks. They do want it but will eat it out in the Kitchen
A twins – We're not that Hospice
Steve and Vanessa leave.
The twins laugh
Liz – Oh my god
Vanessa tells Austin they don't want the food right now
Vanessa – I didn't know how far you are in the dog house I can't believe they don't want it normally they like eating..
Austin – I know whatever.. I'm sorry I f***ed up
Steve runs upstairs to the HOH
Vanessa for the 400 002 time tells Austin why she told Julia to pick Austin.
Vanessa says the girls want Julia to stay. Austin says Liz lost her heart in this game said she's over it.
Vanessa saying she's always had those girls backs.
Austin – I just want this all to go away
Vanessa – it just sucks
8:11pm Kitchen Austin and Vanessa
Austin – Liz has proven herself in this game
Austin says the twins settling for second place is dumb, Liz's done a lot in this game and Julia has done nothing. He wants to see Liz be able to play further.
Austin – It's like taking a surrender bet in blackjack when the dealer is showing the ace, right.. they're surrendering to get half their money
Vanesa – I actually agree with you
Austin – it's a surrender bet.. I never surrender .. no ..
Austin – I don't know, you and I decide what to do
8:20pm Austin and Vanessa
Austin – If Julia stays in all honestly she's playing for third place
Vanessa says Julia will make it to the finals because they are all a sure bet to win against her.
Vanessa thinks Liz is a sure bet to win the game.
Austin says his vote doesn't matter if her and JOhnnymac are voting one way.
Vanessa says the twins want Julia to stay but she thinks they're very open minded.
Vanessa says if they get to final 4 with Steve and Liz those two will want to take each other out.
Vanessa says if Liz takes them to final 3 Austin sits the final HOH out and her and Liz play it out. If Steve takes them to final 3 they all play their hearts out.
Vanessa – from your perspective isn't it better if Julia stays
Vanessa goes on to explains. Says the argument to get Julia out is everyone will take her to the end. Adds Steve will keep him over Julia because Steve wants Jmac in the final and will be worried Jmac will take Julia for a sure win.
Vanessa points out if Johnnymac wins he'll put Austin and Liz up and if Liz wins the POV he's f****D
Austin wonders why Julia doesn't like him
Vanessa thinks the game really isn't Julia's thing
Austin says they have time to think this throw 'Obviously I'm coming down they are going up"
Austin – Luck is the residue of Design
Vanessa – I love it, we had a cluster f*** of alliances.
They agree how smart their planning was this season.
Austin and Vanessa suspect Jmac threw that final round in the POV.
Vanessa goes on about how Austin's target would get much smaller if Liz went.
Vanessa – The odds are very high we get to final 3 together if we take Julia
Austin – I'm choosing this game over relationships
Vanessa continues coming up with minor reasons they should take Julia.
Austin doesn't feel bad grabbing the POV this deep in the game. Even if he did have the votes to stay he trusts them all but he doesn't trust Big Brother.
Austin – Final 6 scenarios when they're half the house not much I can do about that
Vanessa asks if one of them win final 5 HOH who's the target, "Steve or JOhnnymac"
Vanessa saying they should take out Steve because steve will take Julia and JohnnyMac to final 3.
[envira-gallery id="132351″]
9:00pm Johnnymac's pizza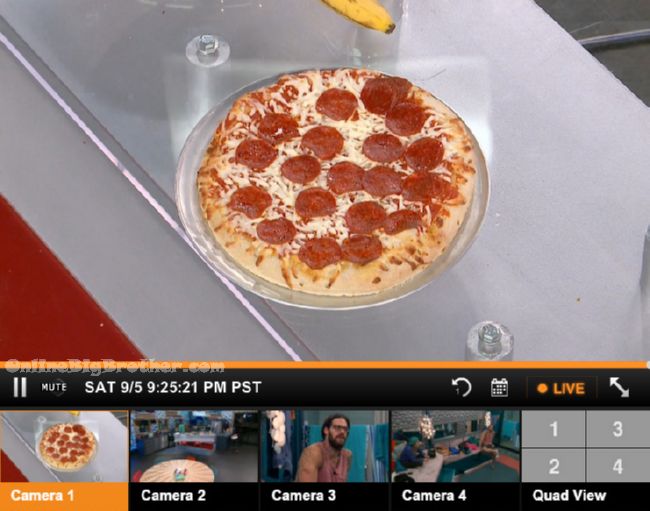 9:27pm Johnnymac's pizza cooked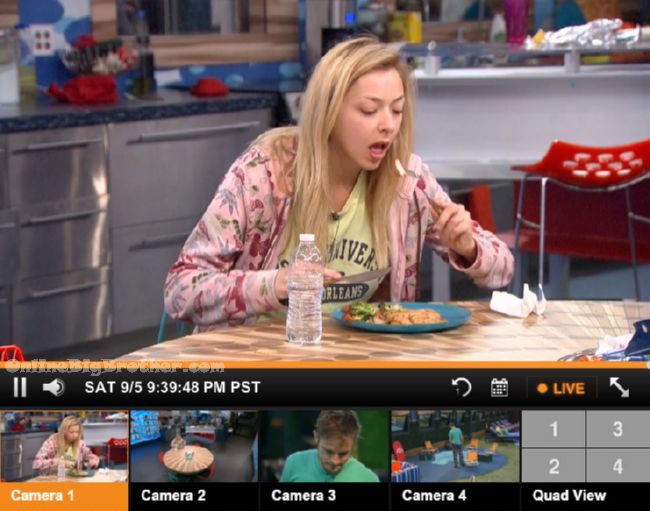 9:38pm Twins up and about.. they heat up the food Austin made for them.
Julia – UMMMMMM Chickens really good.. thanks Austin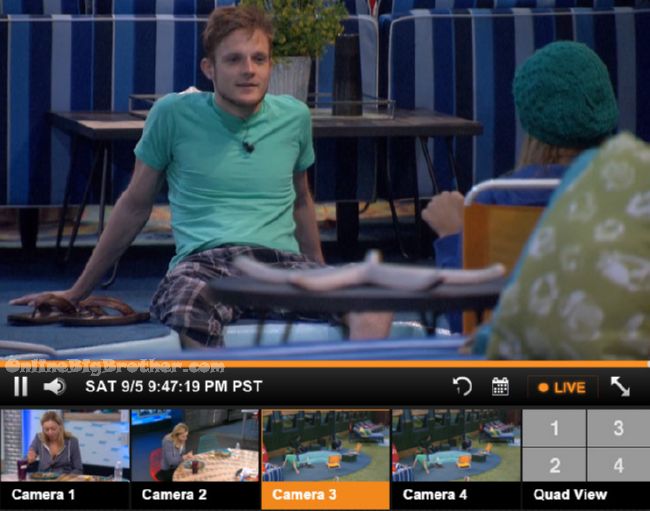 9:40pm Vanessa and Jmac
Vanessa – we need to figure sh1t out
Vanessa says the twins don't know who they want to stay, "There's an argument I can make for both of them I don't know who's the best"
Jmac – what will be better for us
Vanessa – I'm running scenarios to increase our probability to get to final 4 .. if we make the right move and tight deals.
Vanessa says there's a risk if they take Julia she'll take their spot.
Jmac – if we keep liz
Vanessa – they're a bigger target
Steve delivers Vanessa some medications for her cramps.
Vanessa – ohh that's so sweet of him
Steve sits down with some of the Jmac pizza, "Is something up"
Vanessa – we're thinking of this week
Vanessa goes on about this and that
Steve just wants to see how the next couple days play out "I don't want to make any decisions"
Vanessa – I understand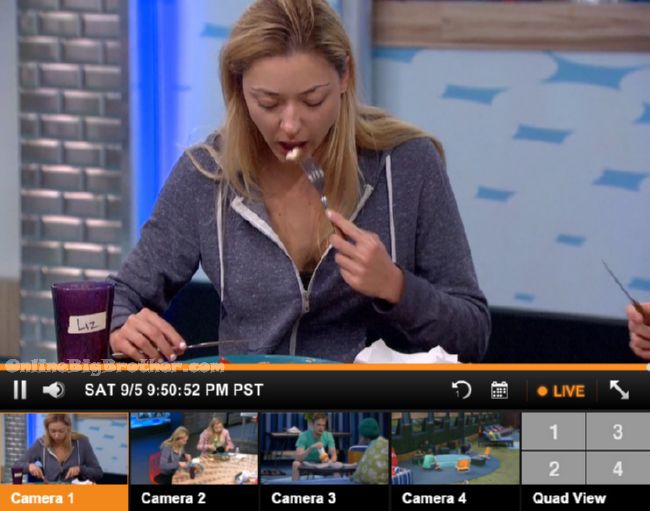 9:47pm Liz and Julia
Crying .. torn about what to do who should stay or go.
Liz – I'm clearly a huge target and you're not
Julia – What if John wins he's putting you up
Liz – you can't think like that
Julia says nobody in this house will bring her to the final two
Liz – yes they will they think they can beat you .. nobody will bring me to the final two because other than Austin
Liz finds a ant in the food she gets grossed out says she's done eating it.
Julia – Ewww he tried to poison you you should be made at him again
Liz goes back to eating.
Julia – ratings better go mother fucking up because this is crazy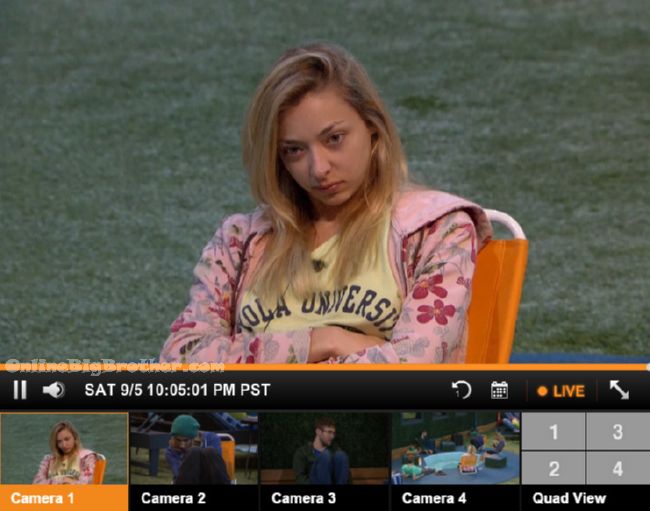 10:00pm Twins, Steve, Johnnymac and Vanessa
Julia is going on about how fine Mr Pectacular is. She can call her any time. Steve says Jessie slept with Lydia in the jury. Adds that Jessie came up to his chin.
10:20pm Hot tub everyone but Austin
Steve says Amanda from season 15 was a genuinely mean spirited person
Steve says Jason was a bully behind people's back.
Julia agrees.
Steve – he would talk shit about austin
Vanessa says Jason talked shit about everyone
Jmac says jason was telling everyone him and Becky were plotting against Shell And Clay
Steve says Quebec is to Canada as Texas is to America. (I always thought Alberta was more texas)
He starts talking about politics, says if want to find out Obama is a kenyan muslim terrorist go to Texas and the south.
Vanessa – dangerous area of conversation
11:00pm Hot Tub Twins and Vanessa
Vanessa tells them she'll help them decide which one should stay.
Liz says Austin won't give them a un biased opinion.
The twins tell Vanessa they are with her till the end whichever one survives.
11:13pm vanessa tells them she's starting to get into parkour
vanessa says if one of them win they have to have a giant party.
Julia – party at vanessa's
Steam has joined them.. vanessa is going on about her agent hooking her up with a gig on a cruise. Steve is surprised "you have a agent"
Vanessa – of course how do I get my gigs
Vanessa goes on about the cruise she's djing on
[envira-gallery id="132368″]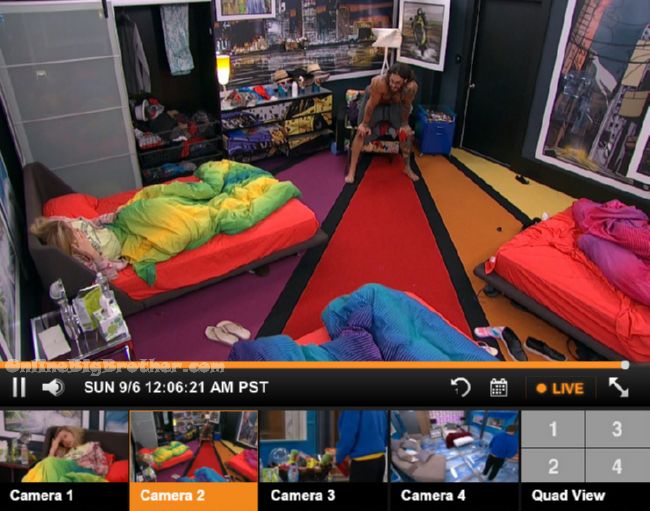 11:52pm Vanessa and Austin
talking about Austin and Liz
Vanessa Says Liz still feels for Austin "it's going to be a little hard patch get through this week.. not matter how this week goes down she's s strong girt.. and very reasonable
12:15am Julia and Austin
Julia says Liz want to talk to him later tonight.
If you've enjoyed the spoilers please consider a donation using the drop down box below. Simon and I work 24/7 all season long to keep you updated on everything that happens inside the Big Brother house.
[polldaddy poll=9059938]