POV Holder:
Austin
POV Competition
Sept 5th
POV Used
?
POV Ceremony
Sept 7th
HOH
STEVE
Next HOH
Sept 10th
Original Nominations:
Austin and liz
After POV Nominations:
? and ?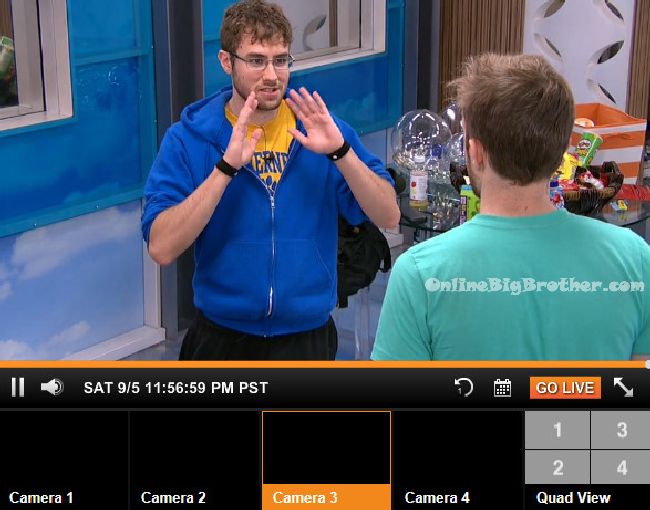 11:55pm HOH room – Steve talks to Johnny Mac. Steve says remember when I said I wanted to tell you something else earlier. I am telling you this because I want to help you with your game. Please know that when I say this I am trying to establish trust with you. When you're in the DR .. You talk really loudly! Johnny asks people can hear me? Steve says yeah! Johnny says oh sh*t! Steve says I've heard you. I can attest to that. Please don't freak out. I've never caught more than a few words. Johnny says yeah I do talk very loud. Thanks man, I appreciate it. I thought it was sound proof. Have you known a long time? Steve says a little while. Johnny says I wonder what other people have heard.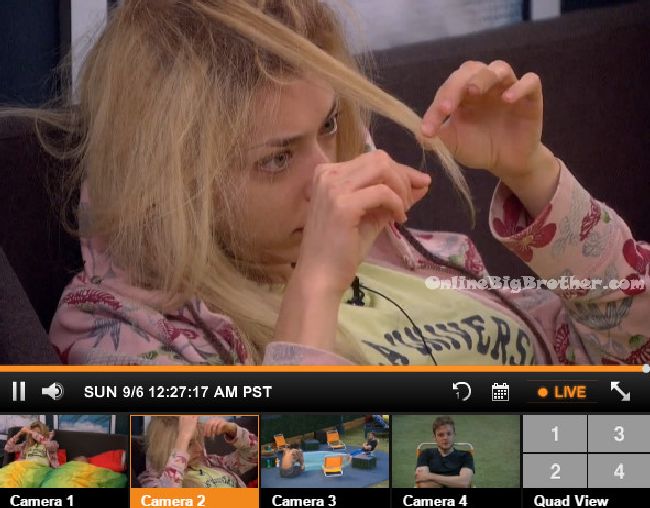 12:20am Julia says there was no way he was throwing it to me. He was like that was so good for my wrestling career. Liz asks did he say anything about me? Julia says he said he wants to talk to you. I was like now we're just deciding who is better to stay. I was like if you can give us advice I would appreciate it. He was like if you stay and make it to the finals you're 100% going to win. Its sucks it's a game. I knew it was going to come down to this. Julia says he was so excited to meet Jessie. Liz says he doesn't even know who you are! Like get over it! He can have a good night sleep by himself. I'll talk to him tomorrow; I don't want to talk to him tonight. Liz says it would be so selfish of me to .. Julia says he's wanted this forever and has a tattoo of it. We've barely watched the show. Liz says we got what we wanted to .. TV time so whatever! I'm over it! Julia heads to the bathroom to get ready for bed. Vanessa talks to her about how Austin is biased he will want to keep Liz because she will be targeted before him. Vanessa tells Julia if she gets to the finals she can say their strategy was to have one really strong player and one not so much that people would take to the end. You can argue that's how you played but its a little hard without winning at least 1 HOH.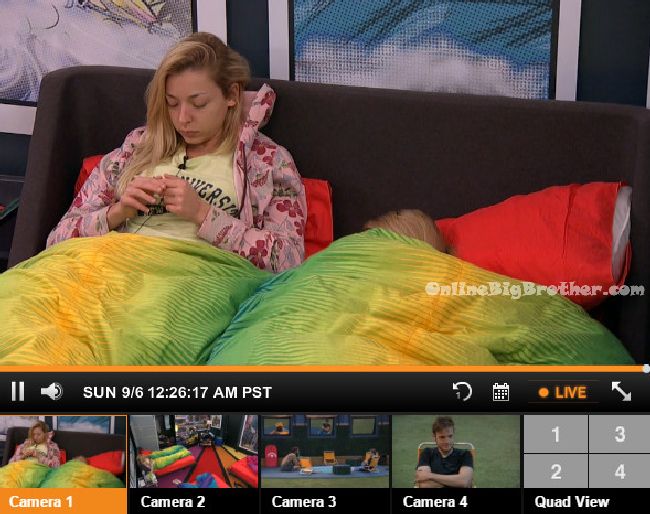 Watch the NEXT WEEK of the Live Feeds for FREE! Click here for your: 1 Week Trial
12:30am – 1:10pm Backyard – Austin is talking to Johnny Mac. Austin says I'm damned if I do, I'm damned if I don't. I'll just let you guys decide. He comments on how Liz has a better shot at winning the game but she will need to win to get there and Julia has to win or she is playing for second place. She is like the Victoria (BB16) of the season. Whatever you guys want to do I am game. Now I have to spend one night in the dog house. Johnny asks what does she want a wimpy guy that would roll over and die. Austin says she said she wants a guy that's challenging. This is f**king challenging. I am a competitor. Johnny says once she gets over it she will realize this wasn't a dating show. We were thrown into a gladiator pit to take each other out. Austin says I didn't do anything but win. I had to fight for myself. Steve joins them. He asks how was your talk with Julia. Austin says she understands. We had a good conversation. She said Liz does want to talk to me just needs her space right now. Austin says I had my moment with Jessie crown me with the veto. Unfortunately that happiness has to come at their expense. Steve asks are they both mad. Steve asks we're still on page going forward. Austin says we are. I just need to smooth this over. Austin says Liz is and Julia isn't. Its been a burden, its been a lot on my trying to protect them. Half the time I've been putting myself in a vulnerable position but its okay because I love her. The conversation turns to talking about relationships and past events of the season. Austin says I should call you "PT" (Steve's fraternity nickname "pu$$y thrasher") in my speech. Steve says please don't.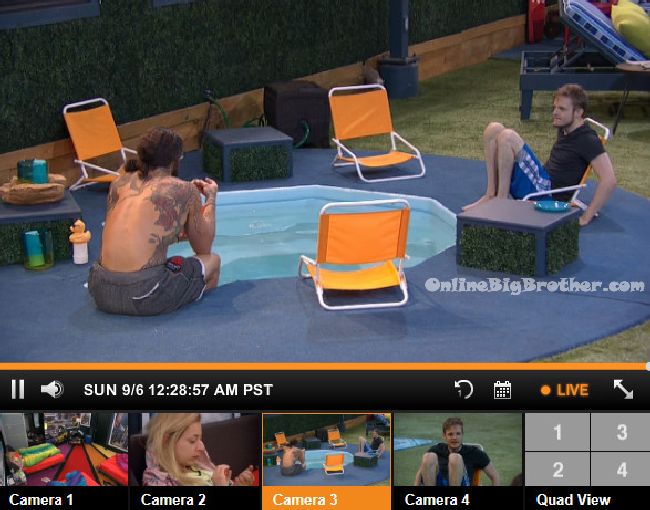 12:55am Liz and Julia. Julia says I am so nervous for which ever one of us leaves. I hope we get applause. Liz asks what if we get boo'd!!? Julia says don't boo us boo! Liz asks why would we get boo'd we didn't do much. Julia says home wrecker! Julia and Liz hear Johnny screaming in the diary room and go to eavesdrop on him. Big Brother tells them to stop that. Julia asks why is he screaming. They move closer on the couch by the diary room door and listen. Big Brother says HEY Stop That! They head to the bedroom. Liz asks do we take the 1 in 5 chance of making 500K? Or the really good chance at making 50K? Julia says I know. Liz says a 3 out of 5 chance at 50K. Liz says he (Austin) is going to be more of a target with the guys. Julia asks I wonder what he would want for his personal game. Julia says I want Austin to win it how amazing would that be .. I mean he has a tattoo. Liz says its time girl to win this b!tch! If johnny Mac wins it I would blow my brains out. Julia says Johnny Mac is a strange person. Julia and Liz head to bed.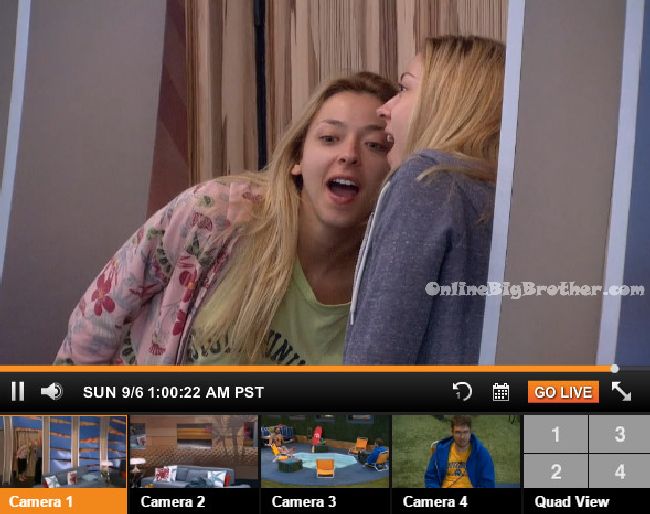 1:20am – 1:40am Backyard – Steve, Johnny Mac and Austin are sitting around the hot tub talking about the veto and meeting Jessie Godderz. Austin asks if everyone is in bed. Johnny says Vanessa was in bed and Liz and Julia were talking in the bedroom. Austin says maybe I should go talk to her. Johnny says no, tomorrow. Austin says okay. They head inside and look at the memory wall. Steve says there are 3 girls, 1 guy and Meg in the jury house. Steve asks who did you think had the potential to win when you came in. Austin says he thought Clay, Audrey, Jason, James. Steve comments on how he is bad at picking up social cues. My way of dealing with girls in the house is give them wine, chocolate and stay away.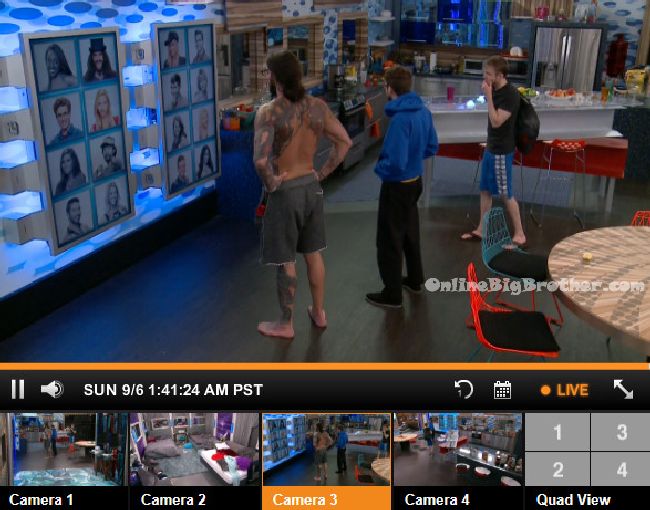 1:45am – 2:35am They start getting ready for bed. Steve and Austin chat in the kitchen. They talk about past events of the season. Austin says for a superfan Jason played the dumbest game ever. Steve agrees. Austin says why do you tell people that you can't keep you mouth shut. Why do you walk in here and say that your only here for a cheque. Steve goes into his theory of why he thought Liz's memory wall photo was photoshopped with two people. They continue to reminisce about the past events of the season.
Steve says I feel bad for you this week. Austin says its a tough one for me. Steve asks voting? Austin says the voting won't be hard .. my vote doesn't really matter. I'm only one person. Vanessa and Johnny Mac will ultimately decide. If I want to vote for Liz because she's my girlfriend, it doesn't make a difference. Even if Liz doesn't want to be here I can still vote for her because its just one vote and I don't really want to vote against her. So the other two can decide. Just leave me out of it. I don't want to hurt them any more than they have already been hurt by the game. When Liz was saying she hates this place and doesn't want to be here. I'm like you shouldn't have come here. This place is ugly. This place hurts people.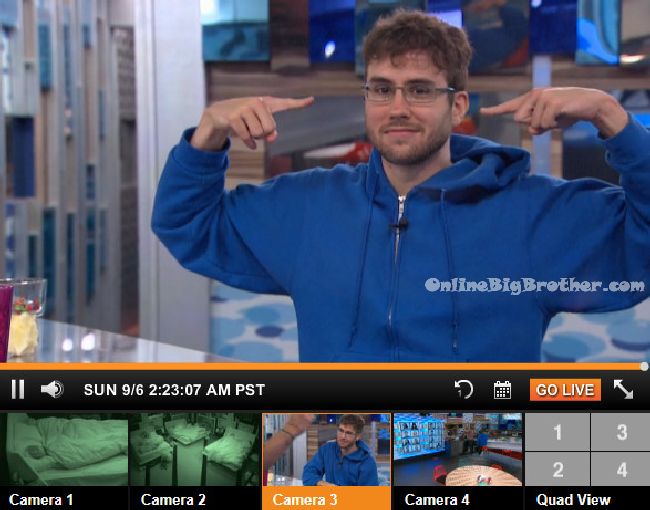 2:40am – 3am Austin and Steve head to bed. Alone in the HOH room – Steve says I need to scare Vanessa a little bit. Why did she tell Liz … Steve starts listening to his music and pacing around the HOH room. He heads downstairs and out into the backyard. He starts playing pool. He says I wonder if I would have been better off is James stayed. Steve says he's tired and heads back up to the HOH room to go to bed.
10:40am Big Brother blocks the live feeds to wake up the house guests.
If you've enjoyed the spoilers please consider a donation using the drop down box below. Simon and I work 24/7 all season long to keep you updated on everything that happens inside the Big Brother house.
[polldaddy poll=9059938]