POV Holder:
Austin
POV Competition
Sept 5th
POV Used
?
POV Ceremony
Sept 7th
HOH
STEVE
Next HOH
Sept 10th
Original Nominations:
Austin and liz
After POV Nominations:
? and ?
5:00pm Austin tells Jmac in the bathroom he's going to wait until Liz calms down before he tries to talk to her again.
Austin says he was a bit hurt that during the POV Liz was overtly cheering for Julia not him. He thinks Liz would make it further in the game with him than Julia.
Austin – Julia you just sealed your fate or your sister's fate.. what are you doing;.. clearing not thought out decisions.
Austin says Liz feels like she's being betrayed by him because he's not being Clay and using the veto on her.
Austin adds if Liz really does feel that way she's not the girl he thought she was.
Austin says they both have families how would those families feel if he threw the money away for a girl that he just met 2 months ago.
Jmac says Clay said he only had one relationship in high school.
They laugh at the other side of the house never keeping their mouths shut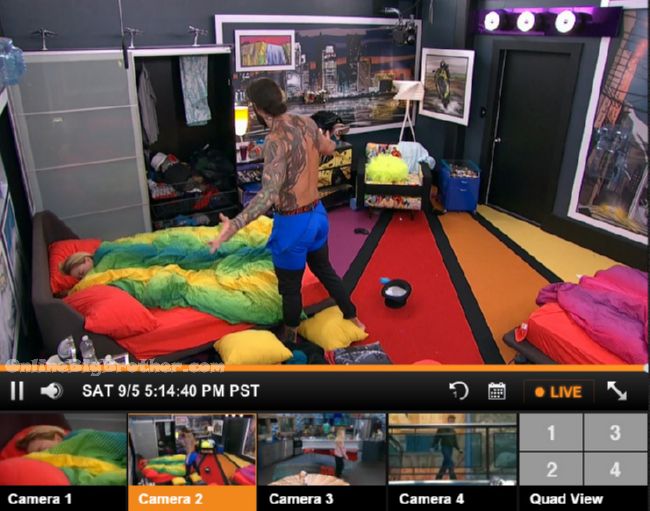 5:09pm Austin and Liz
Austin – Hey what's up
liz – nothing I just want to sleep
Steve comes in with candy
Liz all happy "Thanks Steve"
Steve – the wine is on the counter grab it if you want it
Liz – I just want to be with my sister
Austin – OK, I just want you to know I wasn't trying to hurt you, I wanted her to win it but after she put me against Johnnymac that early I don't know what was going on anymore.. I just had to win it.
Liz – I just feel like.. Your reaction was everything, it proved everything to me
Liz – this isn't going to end well..
Austin – I told you you were the F*****g target
Liz – Vanessa says she has information for me
Austin – no she doesn;'t
Liz – yes she does.. yes she does..
Austin – Talk to her again she only said that because she was pissed.. I love you
Liz – I can't wait to see this show after
Austin – All I've done was protect you
Austin tries to explain to her after Julia picked him so early and everyone in the POV was looking at him weird and rooting for Julia, he knew he had to win it.
Austin – I was like Oh my god the whole house is in on getting me out again, this is week 5 all over again
Liz- OH PLEASE YOU KNEW THAT, you are so full sh1t.. Get out of here please.. You were bragging about it in the bathroom.. oh I had to show Mr Pectacular and your reaction afterwards.. you are disgusting to me
Austin – you are so off base right now.. I ruined my life for you , I choose you over a girl back home because I fell in f***g love with you.
Austin – are you kidding me right now are you this mad at me because I won't eh veto.. I have never lied to you .. if you don't believe all the moments we have are real I don't know what to say.
[envira-gallery id="132316″]
5:20pm Twins in teh bedroom alone
Julia says Austin wants one of them out this week.
5:20pm Austin and Johnnymac
Austin – anything I say she's turning against me right now
Austin wants Jmac to talk to Liz
5:21pm HOH Austin and Steve
Austin says he's going to need Steve to talk to Liz
Austin – right now she says she hates me say we're done says i've been against them from the beginning.. says we were in a room with you and Johnnymac and I knew I was the pawn
Steve – she just broke up with you
Austin – yup over this..
Austin says Vanessa was telling Liz stuff and now Liz doesn't trust him at all. Vanesa told her he was conspiring against them.
Austin says Liz is believing that he's been against her for awhile "She thinks I kept stuff from her"
Steve – you even told her you thought she as the target
Austin – I did
Austin says Liz will now say he's responsible for her sister going.
Steve – how is that your fault when I was the one that nominated you
[envira-gallery id="132321″]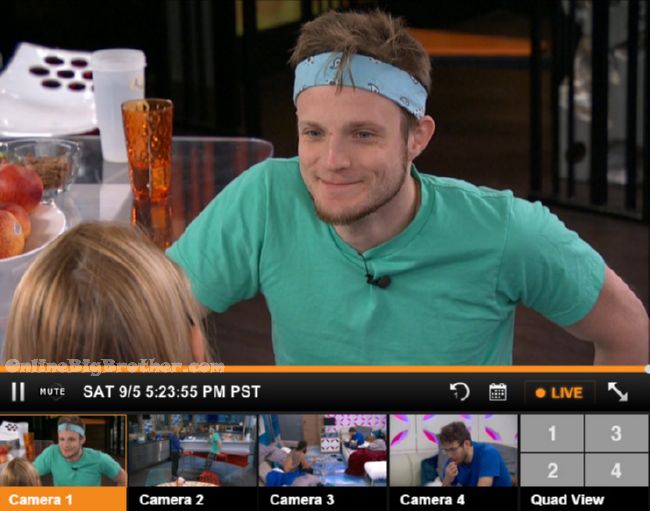 5:23pm For the 400 000 time Vanessa is explaining the POV incident.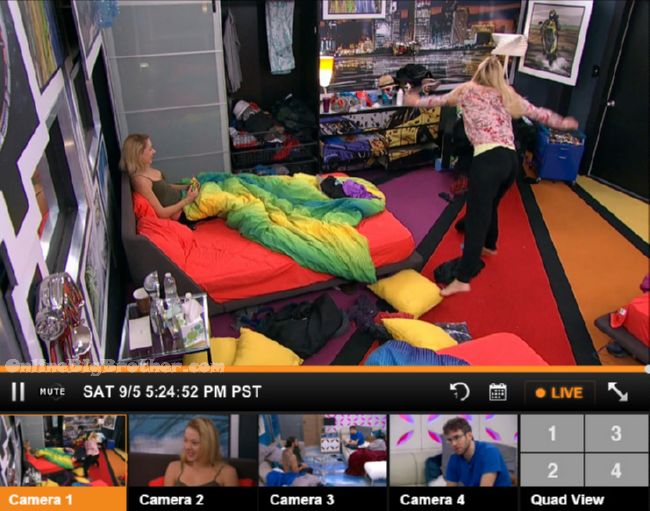 5:25pm Julia throws all Austin's stuff in the corner
THey are pissed Austin didn't throw the POV to them. Julia thinks Johnnymac threw the POV to him.
Julia goes on and on about not trusting Austin
Liz – Oh my god we literally had the biggest fight.. he said he loved me though
Julia – it's all for show I don't believe literally anything that comes out of his mouth
JUJU "I'm so sick of stepping on his SHIT! SO I'M GOING TO MOVE IT OVER HERE!" @bigbspoilers #bb17 pic.twitter.com/O59S3ZNHAD

— Dawg (@DawgsBigBrother) September 6, 2015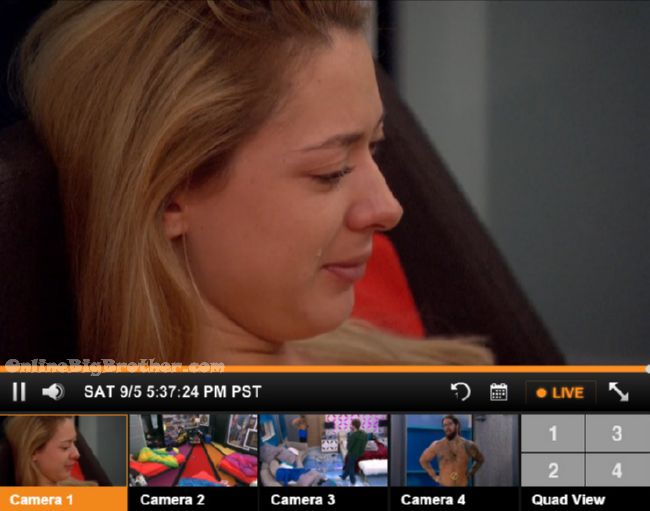 5:37pm Liz alone crying
Julia joins with some of Steve's port wine. Liz starts to cry says how embarrassed she feels losing the POV.
LIz – you have to stick with Vanessa and pretend to be nice to Austin
Liz – after he lost me he's probably coming after you
Julia – Vanessa makes it sounds like he really loves you
Julia says Austin is a super fan of the show they can't be mad at him for not suing the veto on her.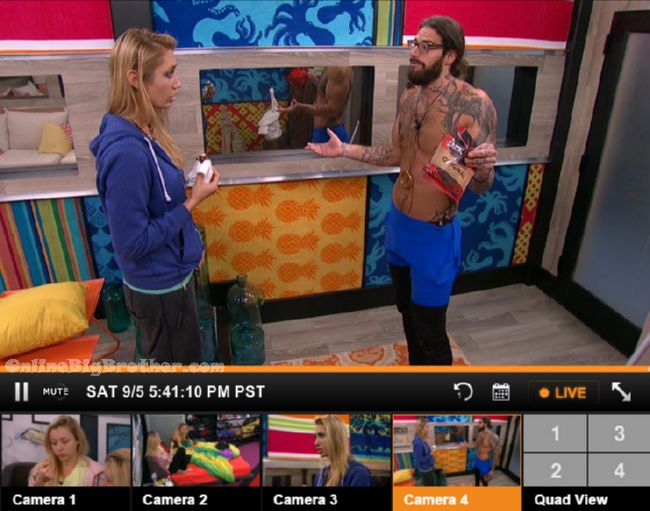 5:39pm Austin and Vanessa
Austin says Liz hates him now. Goes on the describes the fight..
Austin "I made myself the biggest f***G jerk in the world to my girlfriends family because my heart was with you I didn't want to have any regrets I love you"
Austin says Lix is saying Vanessa has more information about him
Vanessa – I have more information strategically
THey go over what Vanessa can say to liz to help his
Vanessa- I will fix this
Austin – Please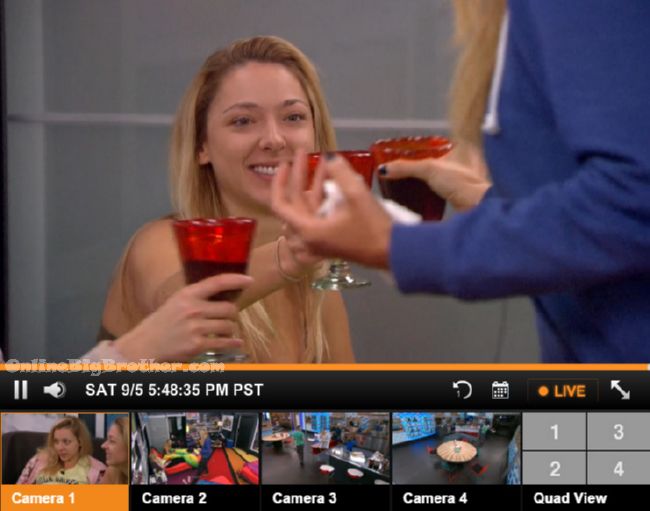 5:48pm Vanesa, Twins
Vanessa – on my mother I've never done anything to you girls in this game..
Vanessa says she hurt her game telling Julia to picked Austin. For the 400 001 time she explains the entire POV and why she did what she did. (Still only Jmac see what she really was trying to do in the POV)
Vanessa asks them who they want to get evicted. The twins want Julia to stay in the game they think she has a better chance. Vanessa tells them Liz is playing for the win Julia is playing for second place.
(The universe doesn't contain the required energy to follow a fully medicated Vanessa tonight.. She's gone complete bad shit crazy)
Vanessa "Do you have a preference who stays?" Liz "yes her (JUJU)" @bigbspoilers #bb17 pic.twitter.com/8ZlaIcxIMM

— Dawg (@DawgsBigBrother) September 6, 2015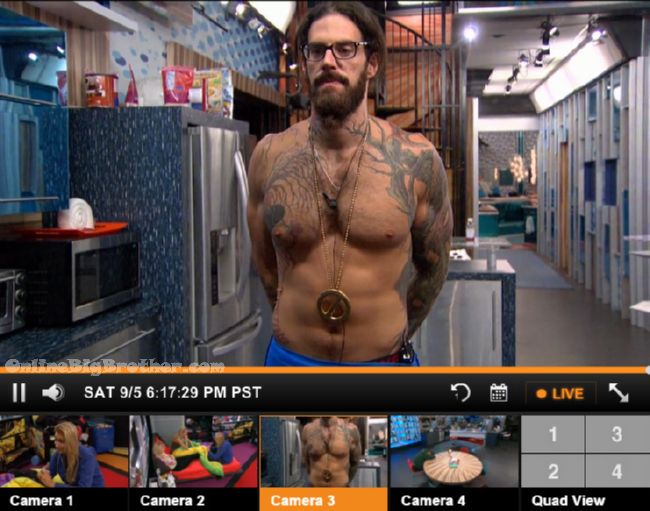 6:16pm Kitchen Austin, Jmac and Steve
Random chit chat some big brother talk about the BOB, Season 2 etc. Austin explains Season 2 you could win back to back HOH's. one of the players "Hardy" was winning of them until he lost one and was taken out final 5. For season 3 you couldn't win them back to back anymore.
Steve says Austin is pulling a janelle wearing the veto for so long. Austin says if there was still 12 people in the game he wouldn't do that.
Austin – I want things to be smoothed over.. But I'm not going to f****g grovel I didn't do anything wrong
Jmac – and you didn't' even get her out of the comp I did
Austin – I know
6:30pm Vanessa comes around tells Austin wearing the veto pissed the twins off because they feel like he's rubbing it in their faces.
7:15pm Mostly chit chat.. we learn that the first time Steve saw a breast was on the internet looking for cheat codes for his console game. The first time he saw a real breast was his freshman year in college. The girl was drunk and it freaked him out.
If you've enjoyed the spoilers please consider a donation using the drop down box below. Simon and I work 24/7 all season long to keep you updated on everything that happens inside the Big Brother house.
[polldaddy poll=9059938]