POV Holder:
James
POV Competition
Aug 29th
POV Used
Yes
POV Ceremony
Aug 31st
HOH
Vanessa
Next HOH
Sept 3rd
Original Nominations:
Meg and James
After POV Nominations:
Meg and Julia
Have Nots
Johnny Mac, Julia, James, Meg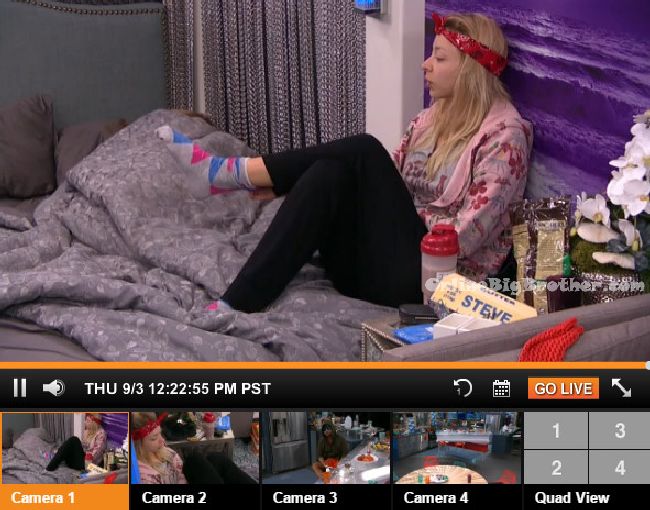 12:20pm – 12:40pmThe live feeds return from being blocked for the HOH lock down. Steve, Vanessa and Austin are the last ones moving out of the HOH room. James and Meg are in the kitchen making / eating slop. In the bedroom – Julia asks if people are going to question her not coming in till day two. (Julia references being in the house for the total amount of days since they started) Liz says no one is going to question that. Julia leaves. Austin curls up with Liz. They comment on Steve being worried. Austin says he thinks he's covering him self for next week. Austin says maybe James promised him safety. And he's just making sure you guys are good. Liz says yeah. I just don't understand why he's worried. If I do win HOH and put up two people and one comes down he would be the only option left as a pawn. right? Austin says yeah. And he knows that. It doesn't make sense just for that. He doesn't fully trust Vanessa's vote so he doesn't want to be on the block. Liz says yeah. Austin says Johnny Mac said he doesn't trust Vansssa or Steve any more. He put all his cards on the table. If he puts them up and one of them comes down he might put one of you (Twins) up. He said he isn't going to put me up frontdoor or backdoor. I didn't even ask him.. he just said it. Liz says its okay with James we have the votes. Against Steve or Vanessa. Austin says I don't think Steve would vote against us if he was off the block. They talk about not over or under throwing the comp today (The one they practised in the backyard yesterday).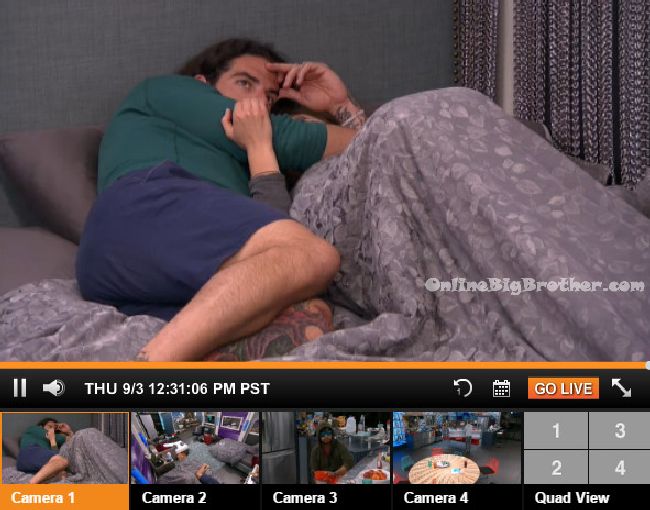 12:45pm – 12:55pm Bathroom – Austin tells Vanessa that Steve made a deal with the twins.. no front door and no backdoor on my next week. Keep it to yourself. He doesn't trust your vote maybe. If you're not on the block. Why does he need that from them? Is he going to throw it?! He said he is just going and covering all his bases. Is he worried that I told them about conversations I've been having. Vanessa asks he said that to Julia. Austin says yeah. Vanessa says he is doing the math that James wouldn't be next to Johnny Mac. That's kind of a dirty move. He realized he is going to be the pawn next to Johnny Mac or me. He has no grounds to ask for that .. he already gave his word. Austin says he said he wanted to clarify. ..And as if Liz is going to say no. I didn't tell Liz I was going to tell you. Vanessa says just between us. Austin says chess moves… Do I make a deal with James now are after if he wins HOH. Vanessa says if he wins HOH then give him the go ahead. (To take out a twin) Austin says if I win I am going to have to backdoor him and break my word. If I backdoor him then he can't do anything but not vote for me in the end. Maybe we just force Steve out. Vanessa says the easiest move is to put James up next to Johnny Mac. I don't think you need to make the deal unless you think you have to. Austin asks do I have the votes against Julia? I need Steve or Johnny Mac. I would need to make a no backdoor deal with James. Vanessa says he's already broken his word before. Austin says its more incentive for him to keep me around to keep the other twin in line for him. Austin says that Julia asks if I was voting for her or not. I was like what?! Vanessa says she just got paranoid if you wanted to make a big game move he could. Austin says that's not a big game move. They were questioning me if you had said anything about it and I said no way. Austin says thank you. That's not a big game move. Taking my own players out.
Watch the NEXT WEEK of the Live Feeds for FREE! Click here for your: 1 Week Trial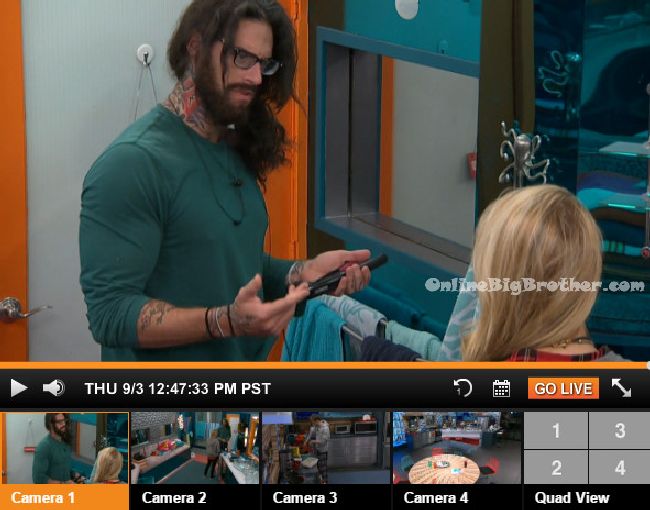 1:10pm – 1:25pm Comic bedroom – Steve tells Vanessa he did not sleep at all. Vanessa asks why you're not a target I am. Steve asks how far are Austin and the twins going to get in this game. Vanessa says she is almost positive they've going to get broken up this week. Steve says but they're half the people in this game. Vanessa says she doesn't think Liz is trying of it (HOH). Steve says that James and Johnny Mac are trying like hell for it. I don't think James would come after you. I really don't. Vanessa says hopefully not if he's smart. Its a terrible move for him. If I win HOH I wouldn't go after him. Steve asks what's different from last week? Vanessa says there were two of them. Steve says I didn't go to bed till 6am. Vanessa says its a bad move to take a shot at them (Aus-twins) right now. Steve asks why? Vanessa says we've been through this! Next week is different. Steve says James has more incentive to go after them if Julia is still here because there's 3 of them. Vanessa says yes it makes them a bigger target. Steve says he is sick because it is 100% stress induced over the vote. Vanessa says this stays between us.. you know how I was a economic major.. I wrote my thesis on game theory. The study of strategic decision making. I am telling you dude you have to trust me on this one. I ran all the variables. Steve says you better not be f**king me. Vanessa says I am not. You have to look at the past, I haven't f**ked you. Steve says but I've f**ked you. Vanessa says but I forgave you and we're moving forward. There is no sure thing. No guarantee but I ran the numbers myself. Austin joins them. The conversation turns to physics, global warming, over population, etc..
1:40pm – 1:55pm Steve says do you know who won't be camping on finale night! Me! Austin says you don't know. Steve says no, I will probably have a hotel with my parents. Steve asks with who would I go camping with? Austin says a groupie. Steve says he doesn't think so and thinks America will hate him. Vanessa says worrying about whether America loves you or hates you is futile. Steve says he's had a lot of unreciprocated interest from relationships. Austin says so have I. Vanessa asks if they're going to try and win tonight? Austin says I'm going to try but its going to be a crap shoot.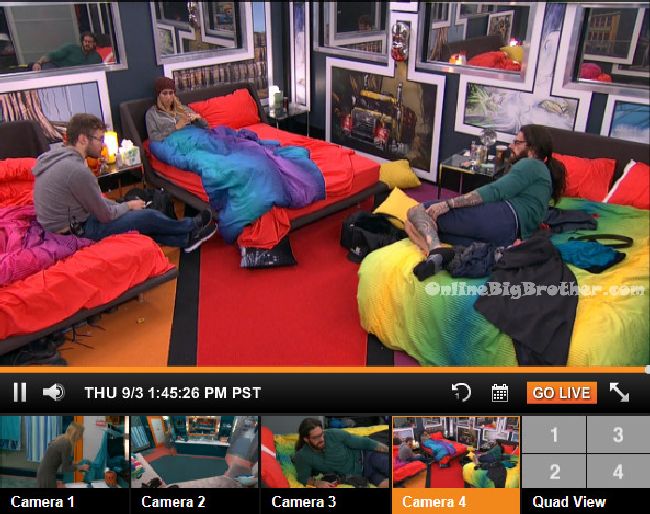 2:10pm – 2:55pm All the house guests are relaxing / napping. Steve alone in the comic bedroom says there will be 7 people left at the end of today. (6 will be left after tonights double eviction) Steve then sit in silence staring at the wall.

3:20pm Feeds are down won't come back until after the Live Double eviction
If you've enjoyed the spoilers please consider a donation using the drop down box below. Simon and I work 24/7 all season long to keep you updated on everything that happens inside the Big Brother house.
ALLIANCES:
"Goblins/Gremlins" = James and Meg
"The Generals" = anyone allied with Becky
"SOS" (Students of Sound) = Steve and Vanessa
Rockstars = Steve and Jmac
AUS-Twins = Austin, Julia and Liz
"Austin's Angels" = Austin, Liz, Julia, Vanessa
"Brass Tacks" = Gobins and Austwins
The new "Brass Tacks" = Aus-Twins, Meg, James + Vanessa
"Freaks and Geeks" "The Scamper Squad" = Aus-Twins, Vanessa, Steve
"The new Freaks and Geeks minus Vanessa" = Austin, Liz, Julia, Steve, Johnny Mac
"The Authority" = Austin, Liz, Julia, Steve
[polldaddy poll=9046808]