POV Holder:
?
POV Competition
Aug 29th
POV Used
?
POV Ceremony
Aug 31st
HOH
Vanessa
Next HOH
Sept 3rd
Original Nominations:
? and ?
After POV Nominations:
?and ?
Have Nots
?
THE PLAN – Vanessa plans to nominate James & Meg
– James & Meg think only one of them will go up as a pawn with Johnny Mac
– Vanessa also plans to make James & Meg havenots for the week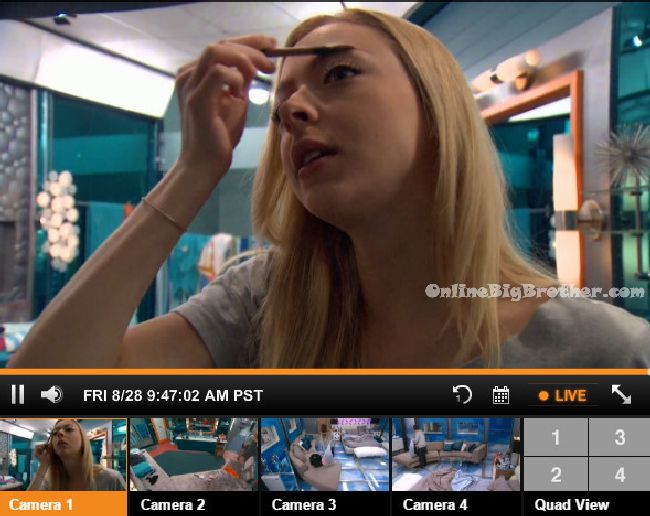 9:30am Big Brother wakes up the house guests. When the feeds return – The twins and Steve are in the bathroom. Steve says it was really strange how content the three other jurors were. Julia says have you ever thought about this that maybe they don't want to come back in this crazy f**king house. Maybe life is better in the jury house. Steve asks what do you mean maybe, of course it is. Julia says the chances of coming back and winning are unlikely. But hey it could happen.
9:50am Comic bedroom – Austin talks to Johnny Mac. Austin says my mistake, I admit it but lets f**king do this. Johnny says Dude, yeah I'm down. Austin says let win this f**king veto. Austin heads to the kitchen. Liz and Vanessa talk to Vanessa about watching Steve on the scamper cam late at night. The conversation turns to talking about the HOH comp. Vanessa says maybe I did well because I don't work out often.
Watch the last month of the feeds for ONLY $5.99! Try it 1 week for FREE!

9:55am – 10:30am Vanessa says what if I say this… this week I had to make a game move no matter what and at the end of the day I have to do what gets the least blood on my hands. My point is they're duo competitors. Its the easiest one for me to go for and get the least blood on my hands. Isn't that so logical. Austin says yeah, absolutely! Vanessa says so I don't even have to make it personal. Austin says and you can say that one can always come down. Vanessa says yeah I can say I'm open minded. Vanessa says how do I say she can't win comps, that's terrible. Austin says you don't have to say it like that, she hasn't won anything. Go win a comp and get yourself down. Go win the veto and get yourself down. James is carrying your a$$. I think that's fine. I think they're going to be shocked. They're going to hope and pray we are going to win the veto and take one of us down. If one comes off then Johnny Mac goes up and which ever stays up goes. Vanessa says the reason I like having Meg left is it gives us the option to out up Steve and Johnny Mac as a pawn and her not win it. I asked who James who he would put up if he stayed and he said he would put up two of you (Aus-twins). He said he isn't scared to get blood on his hands, I've done it before. Austin says what kept them in the dark about us was you winning the veto last week so I never had the opportunity to do it or not do it. Vanessa says I even clarified it so you would put two of them up? And he said yes. Austin says the village idiot. Vanessa says its really a toss up. If he wins the veto, she goes. Austin says he needs to go. Austin says I feel like Steve feel closer to be than before. And even if Johnny Mac has to go up and we vote for him to stay it will seal it for him to know we have his back. Or we just put Steve up as the pawn. Vanessa says that might be an even better plan because Johnny Mac is tired of being the pawn. Steve would understand the strategy. Vanessa says when the havenots happen its going to be terrible. Austin says you promised me I wouldn't go up. Austin says Meg on Thursday with her baby daddy, husband going she will be a wreck. She will be f**ked. Vanessa says not this week but the week after will probably be the the double evict. I might be the ball pit. It might be a good one to target Steve. Austin says the ball one is risky because anyone can grab it. Vanessa says I feel bad for her (Meg). Austin says you feel bad until you realize she was put here to talk sh*t. Vanessa says everyone will want to take me to finals.. every motherf**ker in the jury hates me. I don't even need to sell it. Austin says I feel like everyone hates me too. Vanessa says I am more f**ked. They're all catty women. I'm okay with it though because I did the best I could with the hand I was dealt.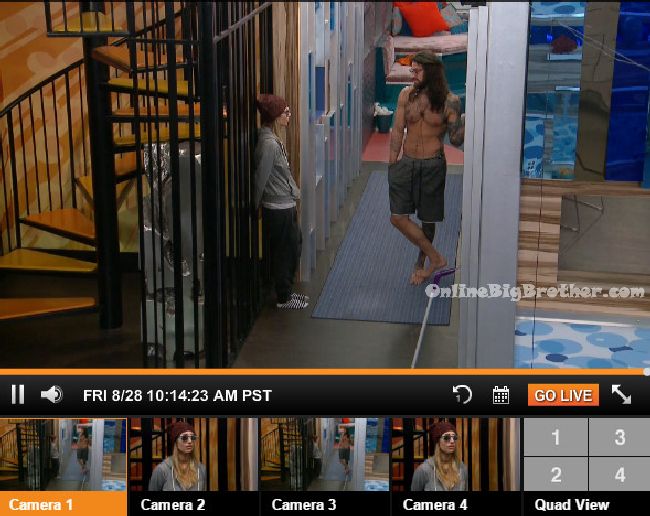 10:35am – 10:55am Kitchen – Vanessa, Julia and Austin are in the kitchen talking about Vanessa's letter. Austin brings up his clown nose and says his family wouldn't give him that. I think its a big brother thing where every season someone gets a clown nose. I hope it means I'm not hated. Vanessa says you wouldn't be hated, why would you be hated. Vanessa says dude you guys are likeable. People liked Brenchel, they'll like you guys. Who was hated last year? No one? Austin says Christine. Austin says people like Steve have the 25K locked up .. his speech showed self awareness. Vanessa wonders if someone like Shelli who already went to jury would win it? Austin says if they were like Jeff & Jordan then yes but they would have to have some super following. Austin talks about Rachel and he liked her. Vanessa says what I need to think about is I am always thinking about the game aspect of it all but don't really think about the entertainment aspect of it. They talk about past events in the season with Audrey.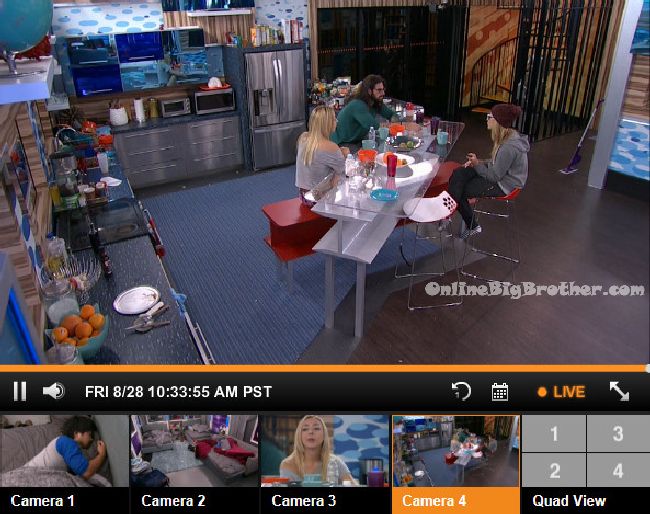 11:15am All camera views are on the house guests sleeping..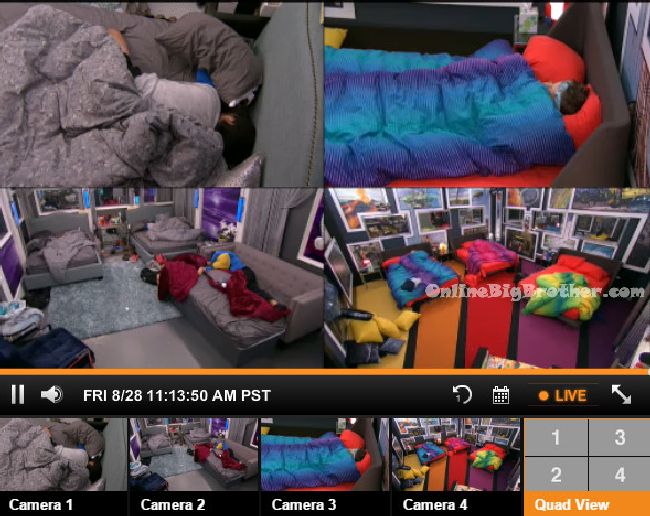 11:20am – 11:30am Vanessa asks Austin to help her with her speech. My content is really bland. I need help. Austin says its all in the delivery of the explanation. Vanessa says I could go with the route of I don't want to give you bullsh*t. OR when the opportunity of finding out about the thing with Becky is that if they wanted to stay loyal to me they could have told me but they didn't they exploited it and opportunistically used it to turn me against you. Austin says you could piggyback off of my speech last week. Vanessa says I like that. Austin says you could go of the victims aren't we all.. I was a victim, you were a victim. Meg and James capitalized off being victims when they weren't. Austin says knowledge is power and those in power tell us what the knowledge is. Vanessa says I didn't know about anything until I won the veto. She says she can use a lot of his speech for hers. Vanessa leaves. Austin tells Liz they'll probably do havenots after Julia comes out. Austin says last week we protected ourselves. Johnny Mac came back so we can work him back into the fold. We didn't go after Meg and James so that is perfect. Liz says that was so fun to see you get scared last night. Austin says I wasn't that scared.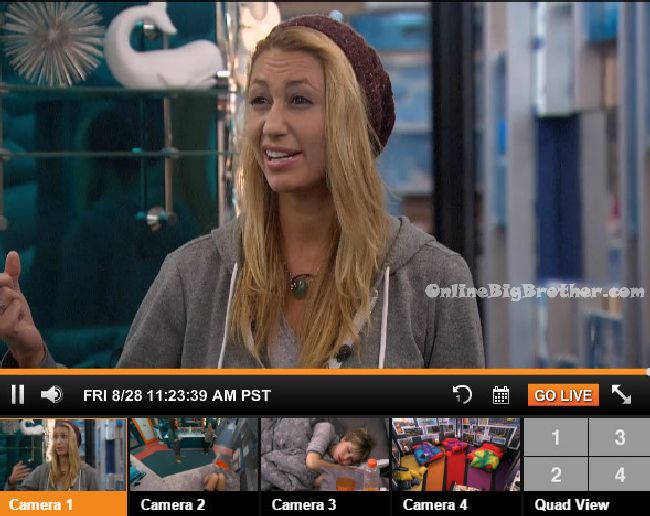 12pm Most of the house guests are still sleeping. The house guests are waiting for the havenots to be picked / nominations to happen. Liz and Julia are getting ready for the day in the bathroom. Austin joins them and wonders if they might not do havenots this week again.
Help support all the live feed updates we provide.
Show your support by making a donation. Any amount is greatly appreciated!