POV Holder:
?
POV Competition
Aug 29th
POV Used
?
POV Ceremony
Aug 31st
HOH
Vanessa
Next HOH
Sept 3rd
Original Nominations:
? and ?
After POV Nominations:
?and ?
Have Nots
?
THE PLAN – Vanessa plans to nominate James & Meg
– James & Meg think only one of them will go up as a pawn with Johnny Mac
– Vanessa also plans to make James & Meg havenots for the week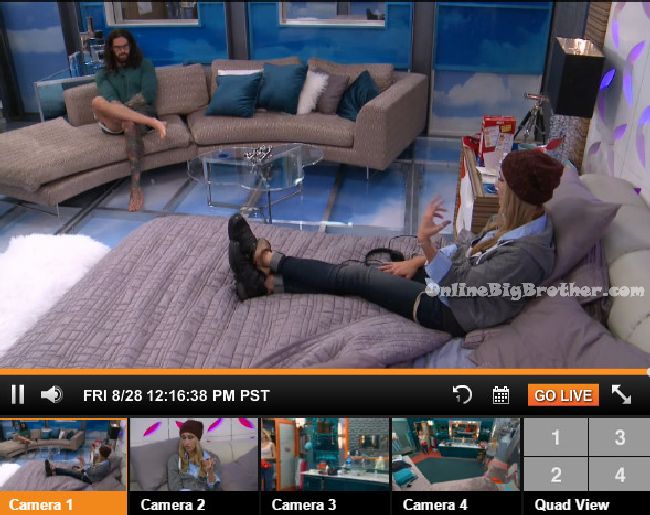 12:15pm – 1:10pm HOH room – Vanessa and Austin are talking. Austin says maybe they won't do havenots this week. Vanessa says that would be awesome. Vanessa continues to talk about what to say in her speech about why she is putting up James and Meg. How do explain the nuts and bolts of the story. Austin says you could explain it all later. Vanessa says the worst part is they knew why I didn't tell you. I had no reason to hold back the details because the point was you were the target. I was keeping my word to them .. and they used that to better position themselves with you at my expense. They made fun of Brass Tacks! Meg has talked a lot of sh*t and never been called out. She hasn't done anything except ride coat tails. She hasn't done sh*t in this game. I don't want to be offensive but floaters get a life vest! Austin says she is a floater. Vanessa says this is like chess and I came here to make big moves. James will respect that. Austin says and Chess pieces aren't we all. Vanessa says bomb! You are good!!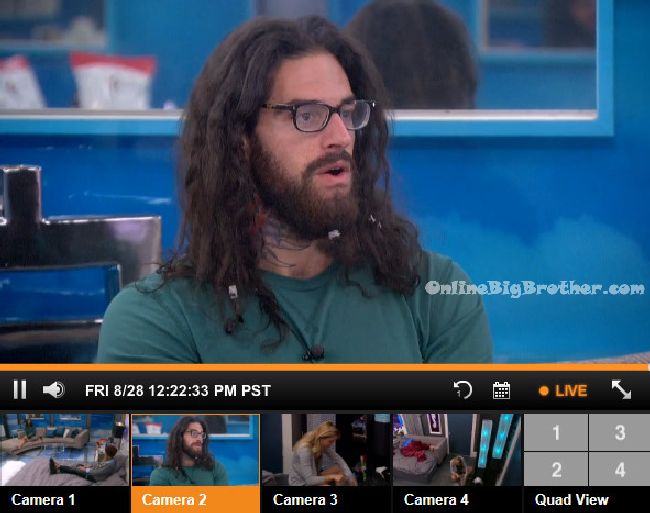 Vanessa's nomination speech:
Vanessa says as you all know I'm all about the game and big brother is like real life chess. I realized last week that there was a lot of information going around about me. The misinformation was being spread around about me in an attempt to make me the easy pawn. As with all game moves the reward doesn't come without risk and in playing me for the easy pawn you risk that I don't later shape shift into a more powerful piece. Unfortunately its my move and as anyone knows who's played chess with me I don't waste time, I go for the big move. I go for the game ending move, I don't hesitate to put a king in check and the King is certainly nothing without his queen. Sometimes chess pieces have to be sacrificed for the bigger purposes of the game. So chess pieces and victims aren't we all.
Watch the last month of the feeds for ONLY $5.99! Try it 1 week for FREE!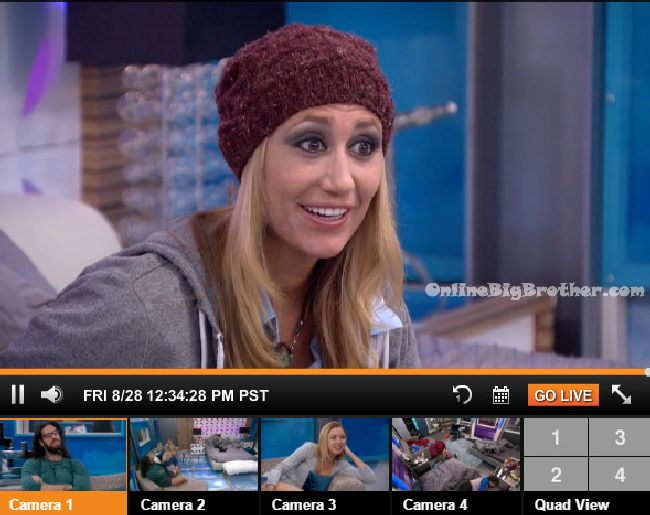 Julia says I love it!! Walk out and throw the beanie! Vanessa says I can't throw the beanie. They talk about Vanessa's conversation with Johnny Mac. Vanessa says it went good. He is willing to do a 6 with us him and Steve. Austin says I talked to him too and we're good. Vanessa says I would love to be able to say he will trust me. Austin says it is a much better shot that he will run with us if Meg is here. Vanessa says oh 100% if James is here he would try to work with him. Vanessa asks what will he do if he (James) wins the veto? Austin says he might take her (Meg) down. We can convince him that no matter what Johnny is going out the door. Its okay man, be the hero. How good would that be if he went out the door and then Meg is crying, she's on slop. The conversation turns to talking about last nights HOH comp. Austin comments on how it was perfect that Johnny didn't get to talk to anyone in jury. Vanessa says the maximum that any of us will be in jury is 2 weeks now.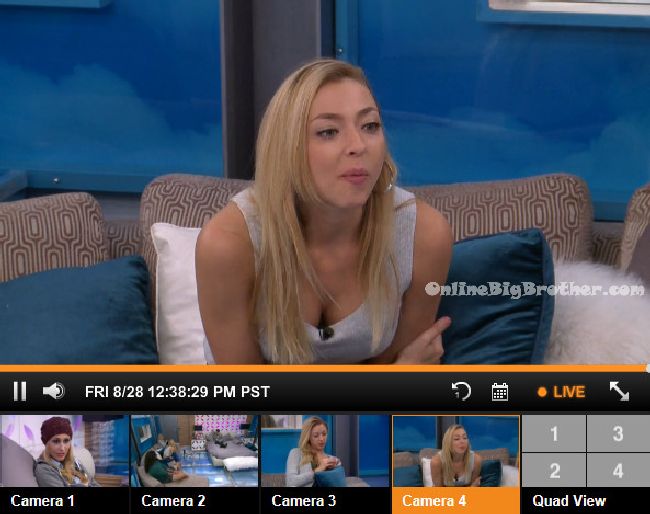 Vanessa's ending to her nomination speech throwing her beanie @bigbspoilers #bb17 pic.twitter.com/QjHbcDTm9h

— Dawg (@DawgsBigBrother) August 28, 2015
1:20pm – 1:30pm Austin and Vanessa continue to talk. Austin says its perfect that Johnny Mac wasn't tainted by the jury. Vanessa says at the very least I am happy how all of this has gone down and hopefully we would get called back for an allstars. I would love to do it. Austin says he would too but maybe not next summer or I would crack. Austin heads downstairs and Vanessa practices her speech.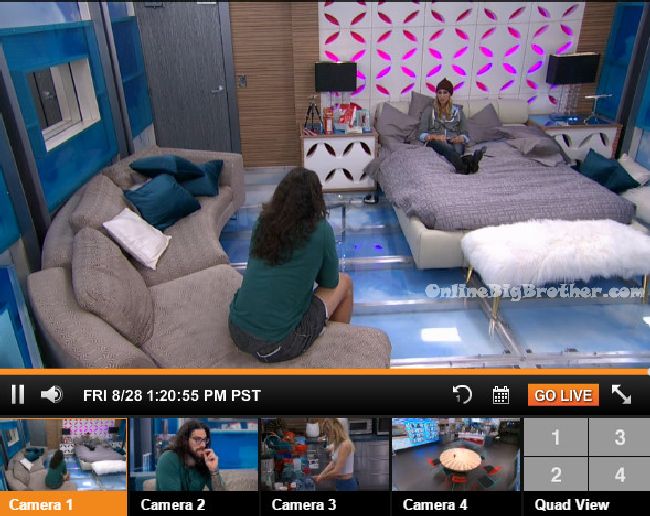 Liz scares JUJU @bigbspoilers #bb17 pic.twitter.com/ZNmLx5zyKe

— Dawg (@DawgsBigBrother) August 28, 2015
1:35pm Big Brother opens up the backyard.
1:40pm Big Brother switches the feeds to the highlights.. could be for the setting up of the havenot extra food or for nominations.
Help support all the live feed updates we provide.
Show your support by making a donation. Any amount is greatly appreciated!