POV Holder:
Vanessa
POV Competition
Aug 22nd
POV Used
No
POV Ceremony
Aug 24th
HOH
Austin
Next HOH
Aug 27th
Original Nominations:
Steve and Jmac
After POV Nominations:
Steve and Jmac
Have Nots
No have nots this week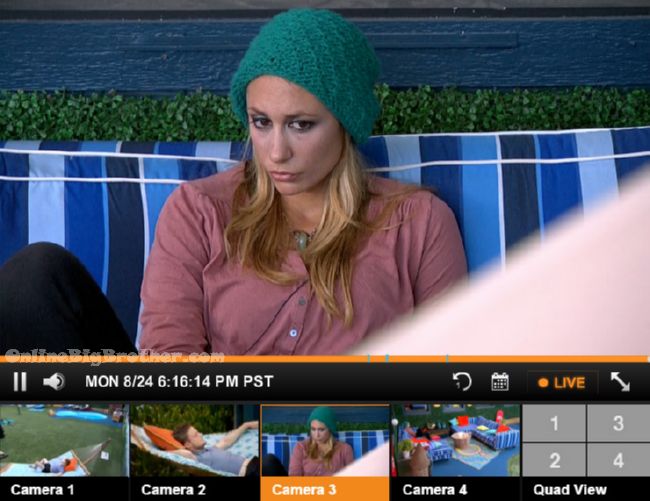 6:15pm Steve and Vanessa backyard
Vanessa – I'm doing as good as you'd be doing if you found out what I've
found out
Steve leaves ..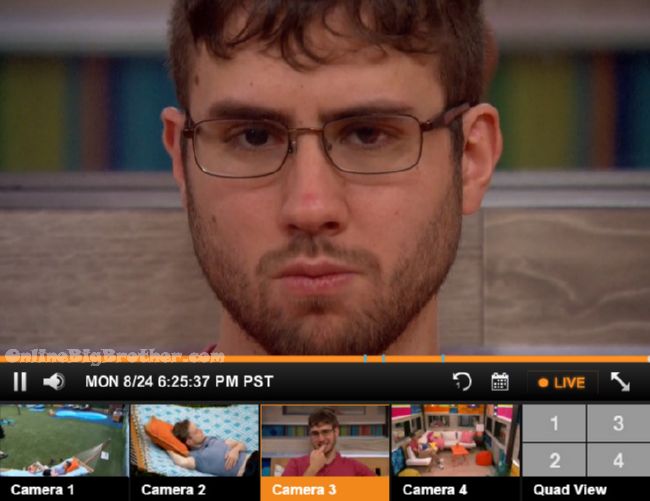 6:19pm hammock room alone Steve
He can't figure out the information Vanessa got today, "I don't understand.. I think this is her excuse.. I Think She had this mind since Austin won HOH..
Steve – She's threatened by me, I told her yesterday there was a lot of people upstairs talking about Backdooring her.
Steve – I told her all of it. She would have been totally justified if this all went down yesterday it would have made a lot sense..
Steve – I don't understand what did she find out..
Steve – I think she's had it out for me before this week.. she's looking for an excuse.
Steve – she wants me out, She's wanted out way longer than she's willing to admit
Steve says Vanessa is doing to him is what she did to Jeff.
Steve – I don't know what she found out.. I told her everything… I hate that damn tooth (He's looking at his teeth)
Steve walking around muttering to himself 'I don't understand.. I don't understand.. the alliance"
Steve – Vanessa is lying to me
Steve – Vanessa is playing me and I think it's working
Steve – I think that's it, it's the only thing that makes plausible sense, Nothing else is reasonable
[envira-gallery id="130272″]
6:28pm Jmac alone
6:58pm Steve and Jmac
Steve says it's going to be an interesting couple days.
Steve says if Jmac has something in his back pocket he can use to get votes then he should play it.
Jmac- I thought we were going to get the veto played
Steve – Your job is to get votes
Steve – Tonight my plan is to chill out
Jmac – hot tub, work out
Jmac says his twitter account is @rockstardmd . He hasn't tweeted anything yet.
7:18pm in the kitchen
James tells Vanessa they're going to do some cool stuff tonight
Vanessa – cool stuff like.. pot ball
James – pot ball, pot ball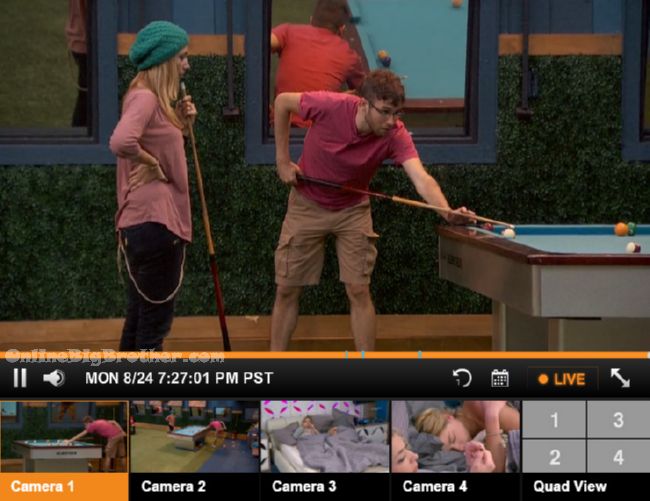 7:24pm Steve and Vanessa playing pool
7:25pm Twins HOH
Julia is pissed at Liz for sleeping
7:52pm They are both up..
Julia says she really misses "Momma" because she's home sick today
They head downstairs where Steve is.
Steve – it's HLT time
The twins agree
(Ham Lettuce Tomato)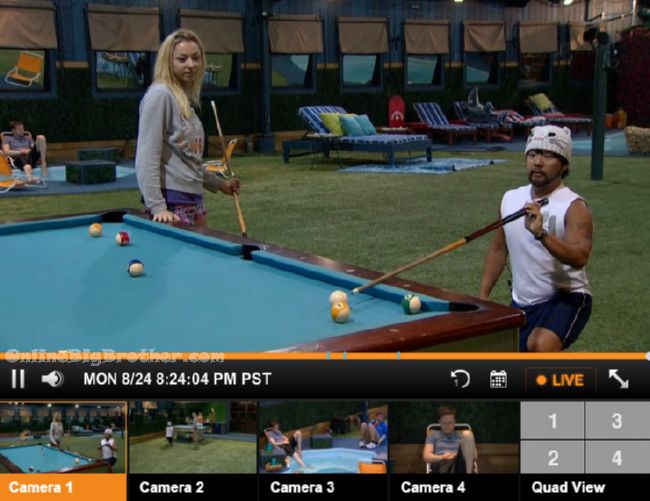 8:07pm James and JuJU Playing Pool (JAmes is very good)
James – brass tacks you rack
Julia – you hear that noise.. those are bats.. that's what Becky said
James breaks..
James – you sh1t me on that rack.. that was a shitty rack.. it wasn't tight
Julia- what..
Liz joins them.. there's lots of "Jamessssssssssssssssssssssssssssssss"
James wins. They decide to have another game.
JUJU – Bats… I would love to see a bat.. JAMMMMEEEESSSSSSSSSSSSSSSSSSSSSSSSSSSSSSSSSSSSSSSSSSSSSSSSSSSSSSSSSSSSSSSSSSSSSSSSSSSSSS
James- WHAT!
(LOL these two are ridiculous)
Julia – Have I made one in I don't think I have
Jmac in the hot tub asks why she bothers playing steve
Julia claims to have beaten james once fair and square.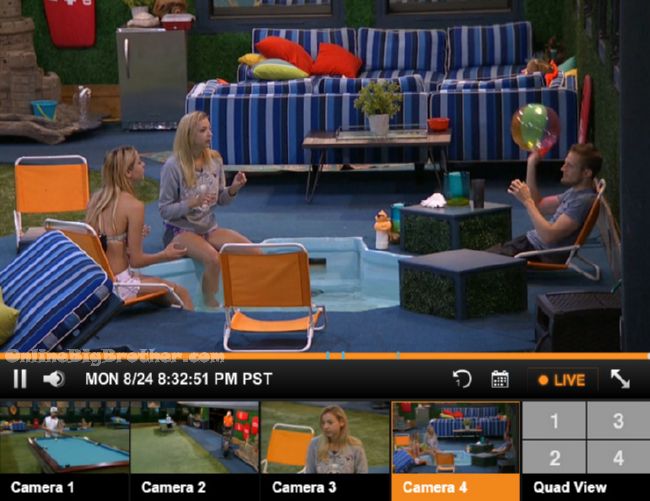 8:31pm Backyard twins are telling Jmac about camping and drinking (Real camping, in the house camping is code for s$x)
James whose playing on the pool table hears camping and gets excited. "Liz did you get wet on your camping trip"
Twins "JAmesssssssssssssssssssssssssssssssssssssssssssssssssssssssssssssss"
8:37pm HOH Austin and Liz
Liz says She's having trouble being fake so she hasn't talked much to Jmac
Austin – what about the boy (Boy = Steve)
liz – the boy is fine
8:39pm James and Meg (Playing pool while pretending they are at the bar)
James says he really wanted to play pool with her to get to know her.
Meg laughs "But I asked you"
Austin comes by "Hey are you guys playing like you're at a bar"
James – This is my friend Austin, he's the bouncer here
James – If I beat you we'll have to exchange phone numbers and i'll take you out on a night out of the town
James- Do you like camping
Meg – I'm a camper
James – WO … OK..
Austin – I get off in a hour there's a secret pot ball tournament, under ground
Meg – I'm really good at pot ball
Austin – what do you think of the glory holes
Meg – usually my partner is really good at that
James says he has a really cool loft. maybe after the bar closes they head over there.
meg – What kinda girl do you think I am
Austin – we have goldschlager
ALLIANCES:
"Goblins/Gremlins" = James and Meg
"The Generals" = anyone allied with Becky
"SOS" (Students of Sound) = Steve and Vanessa
Rockstars = Steve and Jmac
AUS-Twins = Austin, Julia and Liz
"Austin's Angels" = Austin, Liz, Julia, Vanessa
"Brass Tacks" = Gobins and Austwins
The new "Brass Tacks" = Aus-Twins, Meg, James + Vanessa
"Freaks and Geeks" "The Scamper Squad" = Aus-Twins, Vanessa, Steve
"The new Freaks and Geeks minus Vanessa" = Austin, Liz, Julia, Steve, Johnny Mac
"The Authority" = Austin, Liz, Julia, Steve
[polldaddy poll=9035699]