POV Holder:
Vanessa
POV Competition
Aug 22nd
POV Used
No
POV Ceremony
Aug 24th
HOH
Austin
Next HOH
Aug 27th
Original Nominations:
Steve and Jmac
After POV Nominations:
Steve and Jmac
Have Nots
No have nots this week
8:52pm Bathroom
Austin – If Steve was to say and LIz won HOH who does she put up?
Austin says she would have to put up Steve and the returnee. At that point Steve will know they are not with him.
Vanessa says at this point why not put Meg OR James up they are not coming back
Vanessa want steve out this week
Austin says that is where he's leaving now
Vanessa says she's fine if Jmac leaves
Austin tells her they need Steve to know the girls are voting for him he's got a lot of information that he can blow up.
Vanessa says even though she wasn't Steve out doesn't mean she's a big fan of jmac "His speech was an insult to me"
Vanessa says she can pull Shelli in
austin doesn't think she could if Johnnymac was in the house
Liz joins them.
Vanessa asks her who she leans towards
Austin – She hates Johnnymac
Liz – And Steve
Vanessa asks who they should take out next week
Austin – the returning person unless it's Shelli.
Austin says he has a douchey bully play were they pull Jmac into a room with everybody and tell him they'll vote to keep him if he throws the next HOH.
Austin – I feel like this secion is really important
Vanessa warns him Steve cannot be trusted.
Austin – "Steve is rain man, Johnnymac is taxi driver"
"Thursday he'll have a f****g mowhawk, put a gun to his head.. "
9:09pm James and Meg
Meg suggests she might have to make a big move and put up Austin and Liz. They agree if a person comes in wins HOH and makes a play to get rid the austwins they might have to jump on board. Other wise "Just sign them the check"
James – we're safe now we can talk all the sh1t we want.. it's too early to jump I think
Meg – next week is going to change everything
James – the person that comes in wins HOH and throws them up (Austin, Twins, Vanessa) we don't have to do it
Meg – who do we want to leave this week
James saying that Johnnymac is the only one that can beat him in physical competition
Meg – Steve is a wild card don't you think
James- what about you
meg – I really don't know
James – it's up to us they are telling us they don't care who goes home we can vote whatever way we want to
Meg – we still don't have the votes
James- we're still two votes
Meg – we need another person
James – if we voted different.. it would be 3-2
Meg laughs
James – don't laugh at me women
9:33pm Kitchen Austin, Twins, James, Meg
chit chat
James – you can get flys with honey but more honey by being fly
James – you can get more flies with bullshit
James starts pretending he's cutting cocaine with powdered nerds.
James – this here is 20 years in prison
9:50pm
Vanessa talks to Johnny Mac in the comic bedroom. Johnny says I have ideas. How I feel, if I'm going to stay, I have to work with you. You're my number 1. If I'm not your number 1 there is no point in me staying. Just send me home. Vanessa says deal, okay. Johnny says we might have the same ideas. I've done you dirty a long time .. you know that right. Vanessa says yeah. Johnny says you're the devil I know! Vanessa laughs and says I hope I'm not the devil. I'm actually not, I'm actually a very kind hearted person. Johnny says yeah, I know you're a kind hearted person but as far as the game we've been kind of like badgers going at each other… but you're what I've got. Vanessa says I'll give you my vote but you'll need Austin and the twins to want you to stay. There concerns are, I'll tell you. Johnny says if I make it, I'm going after them. We have two on the other side .. and I'll do all the dirty work. I've lost everything .. my back is up against the wall. No one is on my side. No one is going to vote for me down the road. Vanessa says I tried. You didn't owe me any loyalty. They way Steve acted and was fake to me. You were honest to my face. Johnny says I am open to talk but if its not me and you then I should just go. Vanessa says if you stay and its me and you we should cross our fingers that Shelli comes back or Becky comes back and she will listen to you.
10:11pm – 11:04pm POt Ball
[envira-gallery id="130300″]
JUJU and James celebrate sinking the glory Hole in Pot Ball #BB17 @DawgsBigBrother pic.twitter.com/7xFoVkahFi

— OnlineBigBrother.com (@bigbspoilers) August 25, 2015
11:04pm Post pot ball candy fight (Jmac and Vanessa don't participate)
Meg takes a shot to the eye she thinks she'll have a black eye now.
Her back is covered in red welts from the chocolates.
Jmac alone near the hot tub
[envira-gallery id="130305″]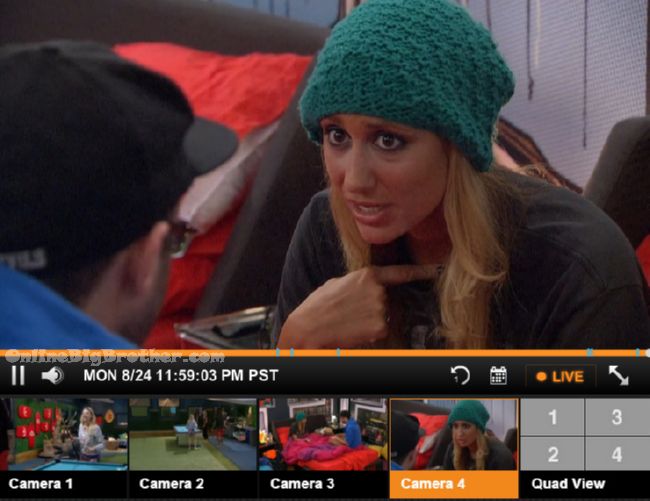 11:57pm Steve and Vanessa
Vanessa telling him she pissed that last week he tried to get her nominated.
Vanessa says Steve is full of sh1t.
Vanessa start to cry "I'm so hurt by you HURT"
Steve – Vanessa can we forget the game for a minute
Vanessa – ya
Steve – I had a lot of doubt put in my head about you..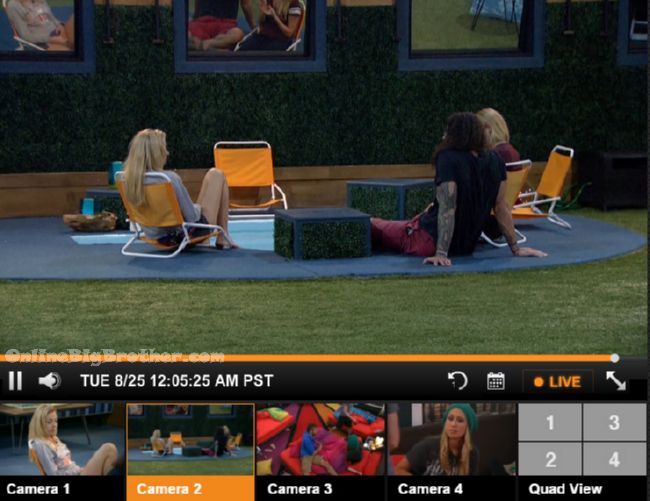 12:05am Austin and the twins hot tub
Trying to decide who to get rid of this week.
Austin – I have a better relationship with Steve
Liz – Me to
Austin – But he can win
Austin is leaning towards getting Jamc out.
Vanessa and Steve join them. Vanessa tells them all that Steve is giving her more bullshit. He's spinning shit and she's had enough of it.
They head to the hammock to chat.
ALLIANCES:
"Goblins/Gremlins" = James and Meg
"The Generals" = anyone allied with Becky
"SOS" (Students of Sound) = Steve and Vanessa
Rockstars = Steve and Jmac
AUS-Twins = Austin, Julia and Liz
"Austin's Angels" = Austin, Liz, Julia, Vanessa
"Brass Tacks" = Gobins and Austwins
The new "Brass Tacks" = Aus-Twins, Meg, James + Vanessa
"Freaks and Geeks" "The Scamper Squad" = Aus-Twins, Vanessa, Steve
"The new Freaks and Geeks minus Vanessa" = Austin, Liz, Julia, Steve, Johnny Mac
"The Authority" = Austin, Liz, Julia, Steve
[polldaddy poll=9035699]