POV Holder:
Vanessa
POV Competition
Aug 22nd
POV Used
No
POV Ceremony
Aug 24th
HOH
Austin
Next HOH
Aug 27th
Original Nominations:
Steve and Jmac
After POV Nominations:
Steve and Jmac
Have Nots
No have nots this week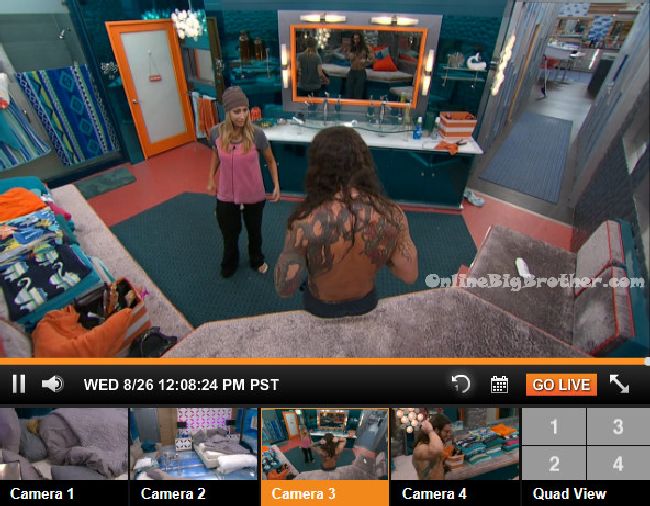 11:45am – 12:05pm Vanessa asks Austin did I miss anything last night. Austin says nothing. They start talking about gambling. Vanessa asks him if he has any relationship with any of the casinos? Austin says no he never gambles enough. Vanessa says that there are 16 fundamental personality types and each one plays poker the same way. If you can quickly identify personality types, then you can predict how they will play. Vanessa tells Austin if he likes gambling and wants to learn she will tell him what he needs to know and what books to read and practices. She says it will blow his mind.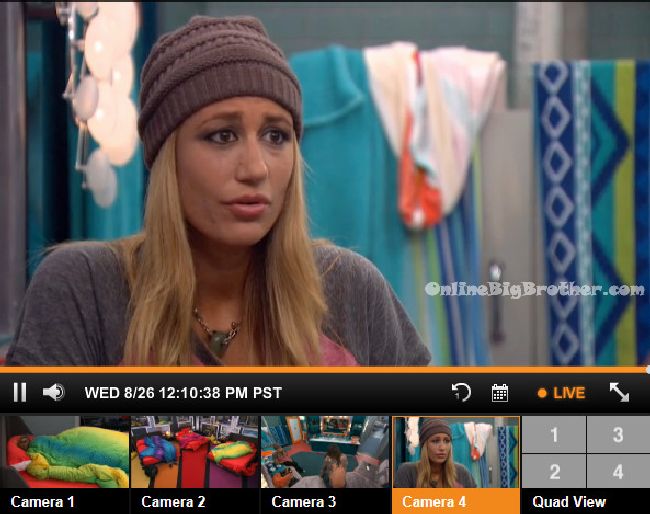 Watch the last month of the feeds for ONLY $5.99! Try it 1 week for FREE!

12:10pm Bathroom – Vanessa and Austin head into the bathroom to talk. Vanessa says we could always rock, paper scissors for who goes? Vanessa asks if the twins are thinking one way or the other. Austin says not yet. Here's the thing if we decided to make a move to keep Johnny Mac .. I could go to him and in his mind make a new "RockStars" .. me and him. Vanessa says okay, do you think he would buy it though with Liz? Austin says I don't know. I feel like someone needs to make a rockstars move. He needs that otherwise he is going to go rogue. Especially with whoever comes back. Vanessa says maybe Julia? Austin says yeah maybe .. but I feel like he bonds more with me out there. Vanessa says yeah I also feel like he needs a bro. Austin says maybe that would give me the ear that Steve has with him. Vanessa says if you think it would work .. go for it. Austin says it could be a strategy to vote him out and if he comes back in. If I had nothing to do with it some how. A strategy to ensure him not coming after us. Meg joins them. They tell her they're talking about gambling. Austin says I like the rock, paper scissors a lot. Vanessa says I kind of like it too. Austin asks how would we even set that up? Vanessa says we say that we're torn either way and out of fairness this is the only way. Meg says it could make them both sour. Vanessa says the beautiful thing is we can't get blamed if one of them comes back. Meg says I don't know what either of them could say that would sway me either way. Vanessa says that's exactly it .. I feel like I am choosing between 2 supreme powers of sh*t! Austin says oh my god! Vanessa says they both suck! Steve is a phony baloney and Johnny Mac is a wild card! Meg says who are we supposed to believe .. so like who cares. Austin says whoever is willing to throw it.. like get out of our way. Meg says I wouldn't even believe it. Vanessa says I think Johnny Mac would throw it. Austin says you can't manipulate the taxi driver (Johnny Mac). Vanessa says so the rock, paper scissors is a great idea. Meg says ideally it would be best to due it during the live eviction but they would never let us do it. Vanessa asks how are they going to stop us?! We could ask permission from production. Big Brother blocks the feeds.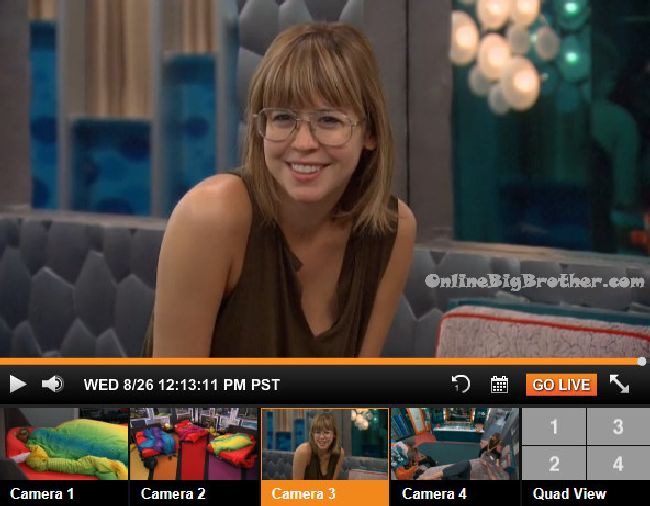 12:15pm – 12:50pm Meg says we say you've both come out with the same stories so we are leaving up to fate. Its pretty bada$$! Austin says we should put bets on who throw rock. Johnny Mac will throw rock or paper. Steve will throw scissors. Meg says I feel like we throw a house meeting. Vanessa asks is James okay with it? Meg says he came up with flipping a coin. I think we do it tonight. Vanessa says Johnny mac is going to love it and Steve is going to hate it because he is a strategist. Vanessa asks who is going to tell Steve? Not it! Meg says Austin has to do it. He is the HOH, you don't have a vote. We can hold a meeting to night and do it. Meg says it could be very successful and chill or it could go horribly wrong. Vanessa says what if instead we all give our word to not tell anyone who they're voting for .. then no one knows who is staying or going. Meg says I think Steve's brain will blow up .. and I don't want his memory of Big Brother to be ruined. Vanessa asks what if one of them were willing to throw the HOH and go up next to the returning jury member? Meg says they're going to say that anyway. I just don't trust that at all. If I was in that situation I would be fired up even more to come out and win HOH. They continue to go back and forth how to decide what to do. Vanessa says Johnny Mac says he's "done me dirty the whole game". Meg asks how.. he hasn't done anything. Austin says Johnny says we targeted his people .. how did we know they were your people you never told anyone! He doesn't realize he's been the bit*h to everyone. Everyone's used him. Meg says maybe we do keep him then.. he hasn't done anything but thinks he's been doing us dirty. Meg says Steve said last night it would be polite if I asked for your vote. Meg says umm okay!? I guess its better than Johnny Mac.. he hasn't even come up to me.
1:10pm James, Johnny Mac and Steve are now awake and in the kitchen. Julia wakes up and joins them. They talk about how Steve wonders around a lot at night. Steve says he's always done that and says he and to have a lot of conversations with his RA (resident advisor) about it. James asks a lot of conversations with the police? James says when I get a girlfriend people on facebook are like WHOA!? What did you do to get James to say yes? Johnny Mac says he made a relationship facebook official once and it went downhill from there. Meg says I ain't putting anything in writing till I get married.
1:20pm – 1:30pm HOH room – Austin wakes up Liz and tells her that they were just talking about either doing rock, paper scissors or just anonymously vote. Austin says its not in our best interest to do it but it is in Meg & James best interest. Austin says all I know is if Steve stays.. then everyone but the returnee is playing for us for HOH. But then again we never know… Austin says I don't have a vote. That's Vanessa. You guys don't have to be on board with it. Liz says its probably in the gremlins best interest but not in ours.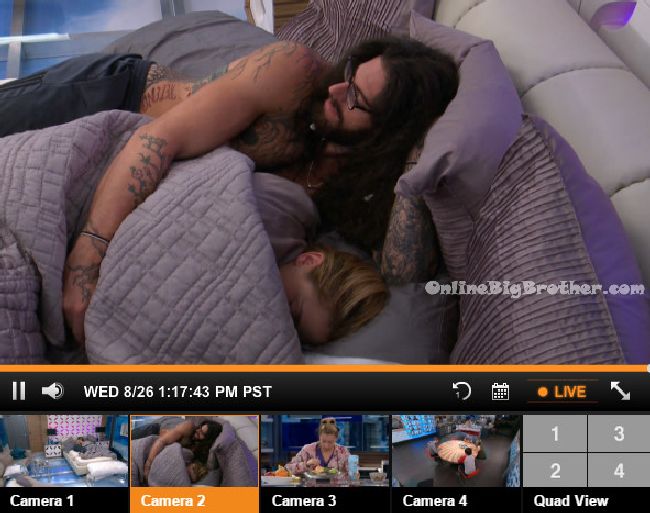 1:40pm Vanessa talks to Steve. Vanessa asks if Becky won the veto, was I a backdoor? Last week if Becky won the veto during OTEV was I the backdoor? Steve says I don't know. Vanessa asks well did you guys make the group before that? Steve says I don't think so. I can't say for 100% certainty. Vanessa leaves and heads back to the kitchen.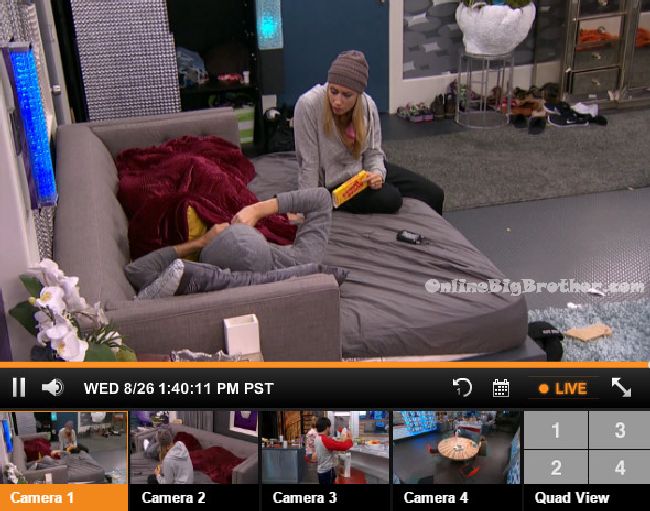 Julia "White rice is made of flour right!?" @bigbspoilers #bb17 pic.twitter.com/emzWalVu02

— Dawg (@DawgsBigBrother) August 26, 2015
2:10pm Kitchen – Austin give nutrition / diet advice to the twins about rice, pasta, carbs, etc. Meanwhile in the living room – Steve and James are talking about watching the season when they get out.

2:15pm – 2:45pm Bedroom –
James and Meg are talking. James tells Meg we're doing rock paper scissors tomorrow. Meg says no we're not. I don't think its fair. There is something about it that just isn't right. What we were thinking about doing is no one tells anyone what they're doing. James says okay. Meg says I just don't think the rock paper scissors will go over well. I think there is a chance we would all look like really horrible people. James says yeah you're right. Meg says so you couldn't even tell me which way you were voting. James says so this would actually be the first real vote. James says to decide I could take herpes medication and flip it. Okay HP227.. Meg says people are going to take it bad. James says but the simple fact of it is they're just so even. Meg says people are going to be upset at the fact that the kids fate that's life has been all about big brother is left up to rock paper scissors. James starts asking Meg questions about the days. Johnny Mac joins them. Meg says isn't it crazy 28 days left. Meg tells Johnny no one really knows what they're going to do. Johnny says if I figure out anything I will let you know. Meg says please do because we kind of feel like the outsiders this week.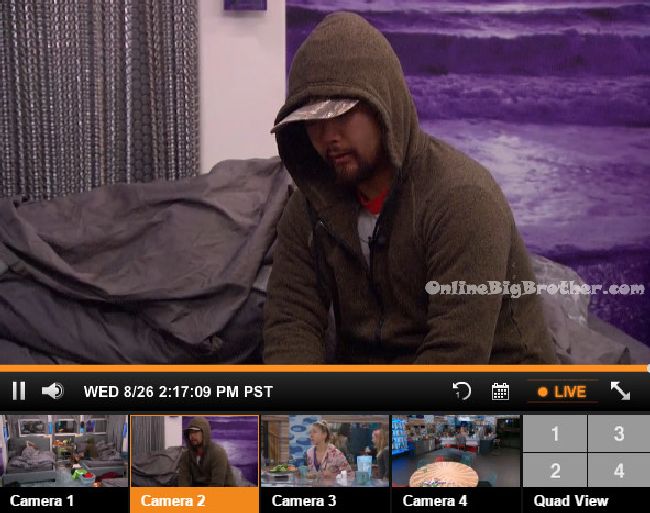 2:55pm Kitchen – Steve talks to Jula and Vanessa. He says that he would never in a million years do survivor. It is way more physical. I am way more interested in the metal part of it than the physical aspect.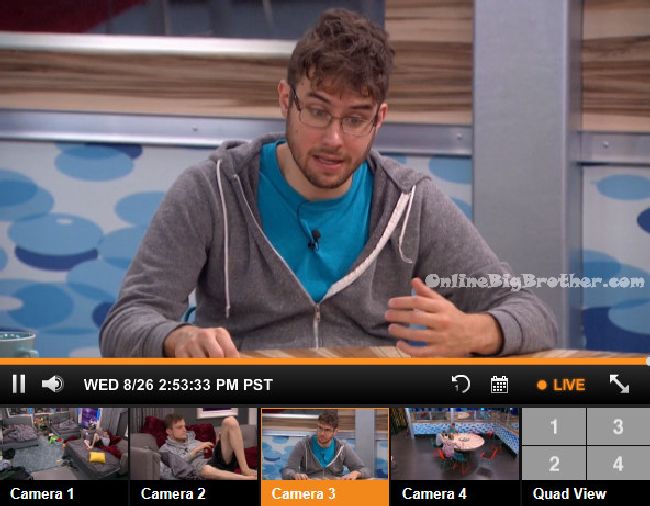 Help support all the live feed updates we provide.
Show your support by making a donation. Any amount is greatly appreciated!