POV Holder:
Vanessa
POV Competition
Aug 22nd
POV Used
No
POV Ceremony
Aug 24th
HOH
Austin
Next HOH
Aug 27th
Original Nominations:
Steve and Jmac
After POV Nominations:
Steve and Jmac
Have Nots
No have nots this week
12am HOH room – Austin, Liz, Julia and Vanessa are studying. Austin leaves. Vanessa says I told him I don't fully trust him yet. Julia says that Austin doesn't really care. I am so torn. LIz says I am so scared of both of them but Johnny Mac is coming after Me, Julia and Austin so keeping him is better for your game. I don't know if Steve is coming after us yet but he did say strong fortress downstairs which is pretty f**king scary. Vanessa says and Steve is smart, he is going to do what is best for his game obviously. Whoever we keep is going to be our fifth person. So the question is which gives us a more well rounded group. Liz says I can't work with Johnny Mac. Julia says No way I can't! Liz says the way his back was against the wall and he "blubbed" something so irrelevant to spin it, you know. The 5 person deal was nothing. I don't know if I can forgive that. Julia says we've been working with Steve longer. I don't want to do anyone's dirty work. I feel like James and Meg are going after Steve. Why would we take him out. Becky wanted us to take you out. I was like no, I do not want to do anyone's dirty work. Vanessa says I am telling you guys I do not need the money. I will leave it at that. I've played a very clean game integrity wise. I've gotten my name out for being a DJ, this is great. Like I don't want to be known as a traitor. Liz says that is the same with us. Julia says we only know about this game because we were recruited. Austin and Steve join them. Austin says James and Meg are in the pool together .. they're being spontaneous. Things have changed for with them the last week.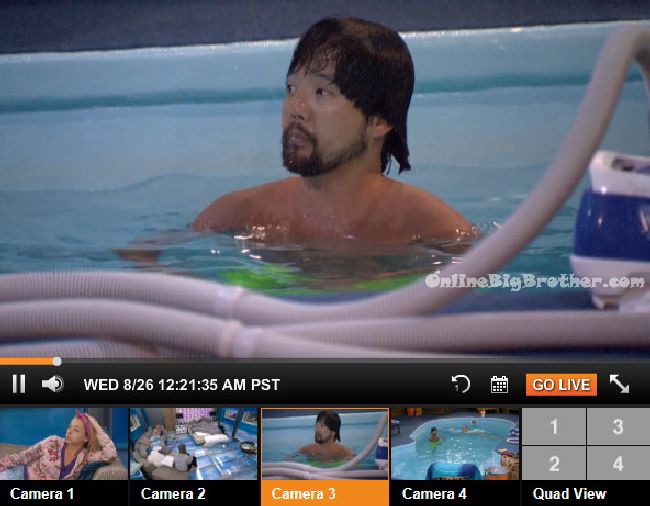 Watch the last month of the feeds for ONLY $5.99! Try it 1 week for FREE!

12am Backyard – Meg and James are in the pool talking. Meg says I was so scared on Monday with the veto meeting. James says oh yeah! But when I saw the fight with Steve I knew we were good. Meg agrees. We were dancing in our beds. Meg asks what is the deal with Vanessa? James says its like Zingbot said Vanessa is playing a masterful game. She cries a lot which makes people feel sorry for her. Meg says no one feels sorry for her. James says she was dead in the water and then we flipped votes on her. She was in the room, bringing her bible out, no one had seen her for a day or two. Then after she fought her way off that block she went right back to being Vanessa. James said his good bye message to Becky was they made me do it, I didn't want to do it. James says I know when Vanessa asked me if you had ever said anything about her. I looked her dead in the eyes and had a low tone voice. I knew she was reading me right there. I told her you never said anything bad about her. Meg says we she doesn't like her tactic of complaining about everything. Oh I really didn't want to be HOH again. James says she always wants to catch someone in a lie in front of everyone. Meg says what if Jackie comes back. James says if she comes back its going to be very tricky because we've said we would put her up. James says Julia and Austin haven't been on the block yet. James brings up how Austin said if he gets to final 2, don't vote for me. Okay, I won't. Meg says he has a tattoo of Big Brother don't tell me he doesn't want to win. Meg says at least Steve asked for our vote. Liz joins them. Liz says its a a toss up who to keep. James says we should just do paper, rock, scissors for it. Meg says she just saw Vanessa studying days with Steve in the bathroom. What the hell is that?! When you guys helped us with one question it was a big deal and now she's been apparently fighting with Steve the last few days and now she is helping him. Austin joins them.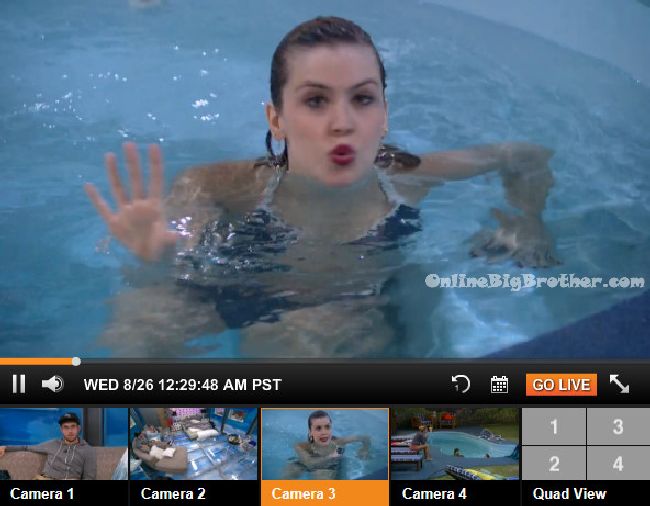 12:45am Comic bedroom – Vanessa talks to Johnny Mac. Vanessa asks so you had a good conversation with the girls? Johnny Mac says it went better than expected. They said they wanted to vote with you and whatever you're doing, they're doing. Vanessa says that Austin is now trying to act like he doesn't care. The girls are saying its up to me. If things don't change I think things are pretty good. I feel like they're tricking me, they're not tricking me are they? Johnny says when I was in that room it felt genuine. I've seen them when they're not being honest with me and when they are being honest with me. They brought up its not personal, its strategic. I was like alright she got in their heads okay cool I'll go with it. I don't know if you have to do a whole lot more. They said they would let me know tomorrow. Vanessa says okay. Johnny & Vanessa go to sleep.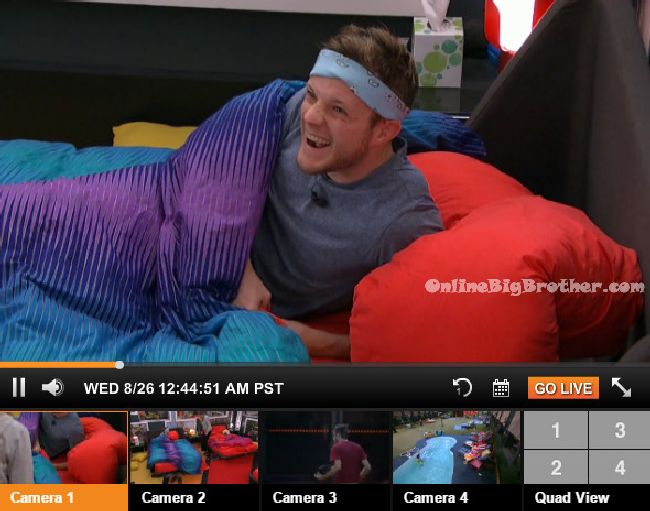 12:40am Pool – James says all I can get is a hand to face. Austin says maybe you can get a little winnie the pooh reach around. Honey pot. James says late a night when we're in bed I tell her I need to tell her a secret and then she is like what was that secret. And I'll go up to her bed and whisper in her ear.. So I get in the bed, start holding her down, like going in her ear. She starts giggling and going crazy. Like I'll be literally kissing her ear. Austin says that makes Liz go crazy too. They can't get enough of it.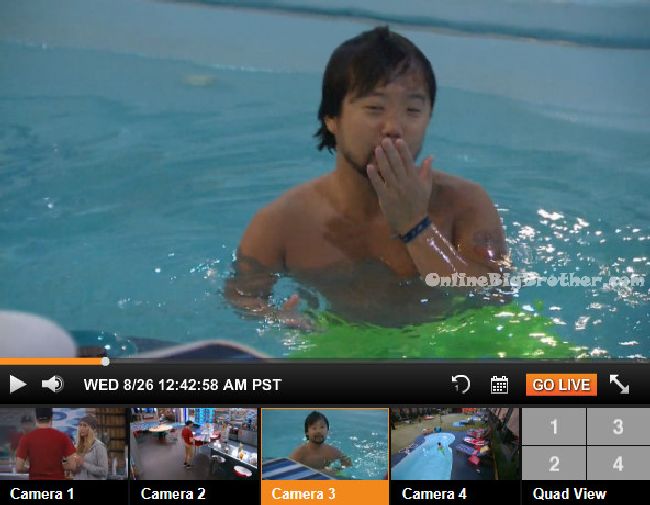 James "So I get in the bed, start holding her down. Like I'll be literally kissing her ear" @bigbspoilers #bb17 pic.twitter.com/e5oojjP8dC

— Dawg (@DawgsBigBrother) August 26, 2015
12:50am Julia and Liz play a game of pool. Meg and James head inside to shower. Austin and Liz head up to the HOH room to go to bed.

1:25am
Bedroom – James asks Meg if she would like any crackers or water. Meg asks why are you being weird? James asks what are you talking about? I like to be nice to you. Meg says because the camera is watching you. James tries to trick Julia into thinking he is in bed by putting the cat hat in his hoodie. He then goes to Julia's bed to scare her but Julia doesn't fall for it.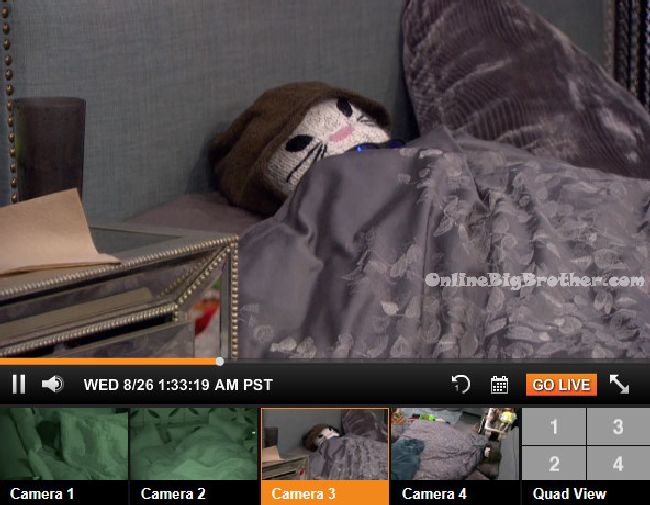 1:35am
James tells Meg that they should talk to Steve tomorrow. Its just like the Austin and Liz situation. Its like which ever way you're voting, I'm voting. Its stupid him wanting to put you aside and then me aside. Meg says she is too tired. We should just all talk tomorrow.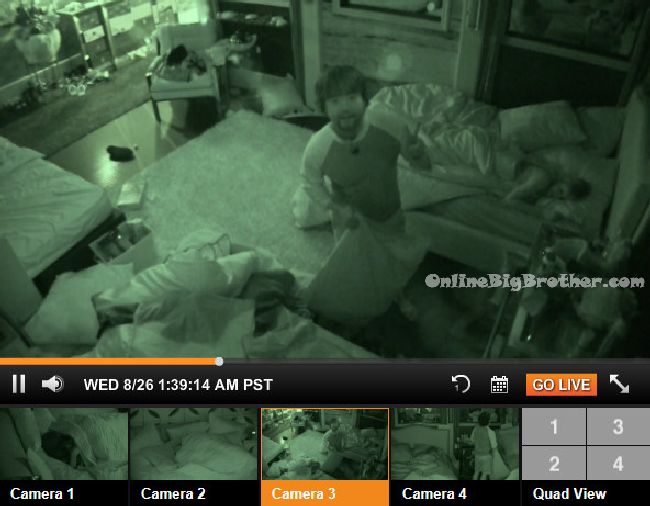 Steve joins them and turns on the light. He says he's been wanting to talk to them. Obviously I would appreciate your vote this week. I think this week has made if evident where my head is ..and the mistakes I've made in this game.. and think I can leave it at that.. you know what I'm saying. I don't really have much else to say unless you want something else from me. James says I just feel like me and Meg are a dying breed just trying to hang on as long as we can. Our group has been picked off. Steve says I was a part of that. James says it is what it is, we're just a little worried. Meg says we're always worried. We will talk tomorrow. Are you trying for HOH next week? Steve says yes. Meg says were just concerned who is coming back and who is going on the block. Steve says without getting too specific because I'm on the block. Just look at where my game is and what has been going on .. and I think you could make some very intelligent guesses. Meg says yeah. James asks how many votes do you have .. or do you need. Steve says I don't know, I need 3. Meg says we'll talk to you tomorrow. Steve says the twins are voting together, Vanessa may or may not so there are potentially 3 groups. Steve says tell me if there is anything else I can do for you.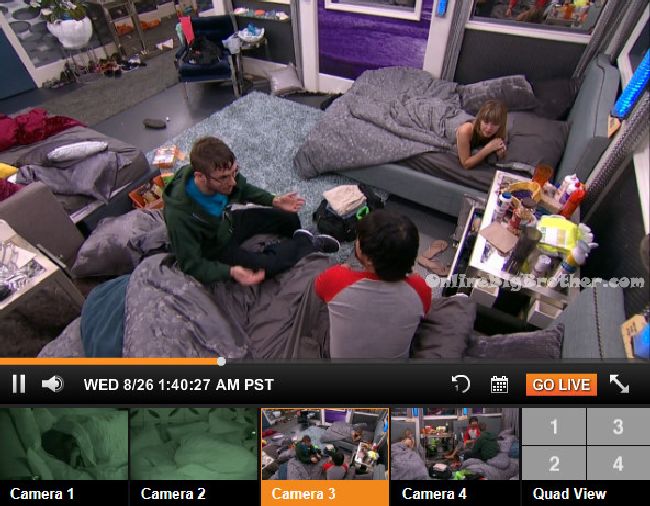 1:50am – 2:15am
Steve is up scampering and then heads to bed.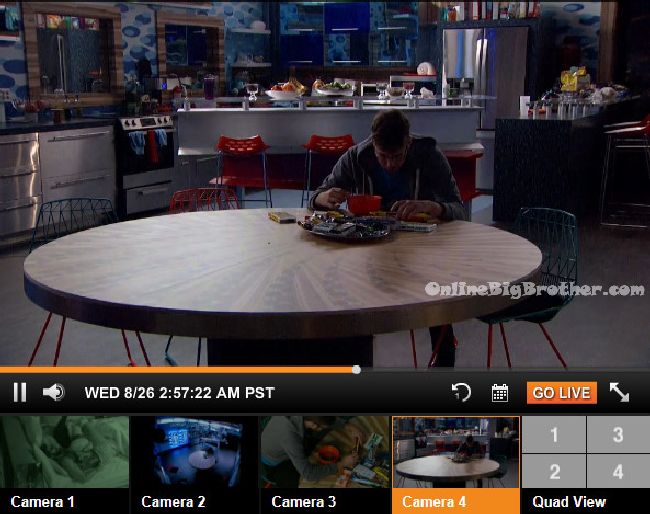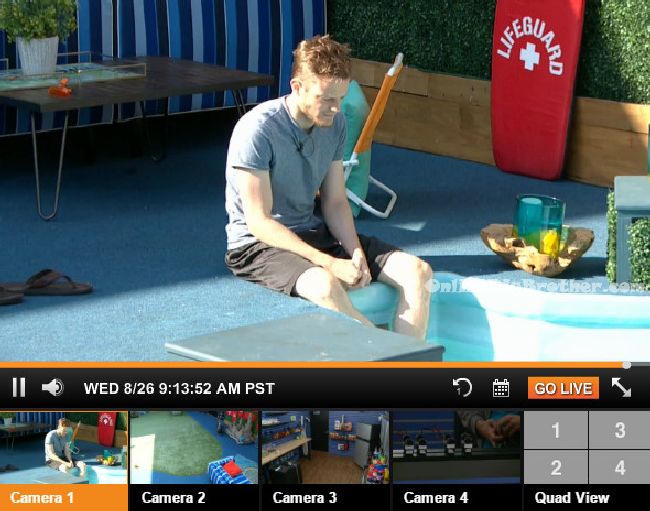 9:12am – 10:35am Big Brother tells the house guests its time to get up for the day. Instead of blocking the feeds to play the wake up music, the feeds are left on while big brother blasts Missy Elliott – Work It. After about a minute of the song playing the feeds are blocked. When the feeds return Vanessa and Johnny Mac are lowering the backyard awnings. Johnny Mac heads back to bed. Vanessa heads to the bathroom to put on her face. Liz heads to the diary room and then goes back to bed once she comes back out. All cameras are on the house guests sleeping..
11:05am Still sleeping..
Help support all the live feed updates we provide.
Show your support by making a donation. Any amount is greatly appreciated!