POV Holder:
Austin
POV Competition
Sept 5th
POV Used
Yes
POV Ceremony
Sept 7th
HOH
STEVE
Next HOH
Sept 10th
Original Nominations:
Austin and Liz
After POV Nominations:
Liz and Julia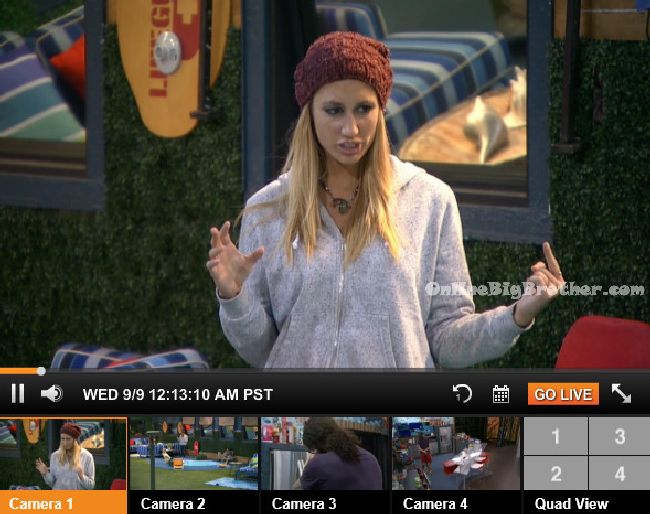 12:10am – 1am Backyard – Vanessa and Austin finish their game at a stalemate. They join the others outside. Vanessa asks what I don't understand is Austin and I have such epic battles. I beat you handily and you beat him. It doesn't make any sense. Steve says he has a mental block that I can't beat you. Vanessa says I don't understand I beat Austin and I are even. I crush Steve but Steve beats Austin. That part doesn't make sense to me. Steve says you whip my a$$ every time .. much like camping. Julia says STEVEAAA! Julia says she is dreading having to think of another speech. Steve says Liz will be gunning for me next week. Won't she? Julia says no we understand what it would be stupid to go to the final 5 with her, me and Austin. It just hurt because we're friends. Steve asks for a hug and says I love you so much Julia. I mean that in a friend way. Not in a romantic way. Julia says obvs! Julia says we all get it, I just think its better for her game if I go.
Watch the NEXT WEEK of the Live Feeds for FREE! Click here for your: 1 Week Trial
12:15pm In the kitchen – Austin and Liz are talking. Liz says I told him we came to this decision and hope you can honor it. Vanessa and John said they were on board and they promised you they would vote the way you wanted and we hope you can honor what we decide. He was nodding but he didn't say 100% okay. Very weird. Austin says that's fine. Liz says he is going to look like an idiot if he doesn't. Vanessa joins them. Liz tells her she talked to Steve and says she told they hope they can respect their decision and told him no hard feelings. That I'm not coming after him. Vanessa asks but he still is the target. Liz says come on, yeah for Julia. Vanessa says if there was a team america do you know who I thought it was? Clay, Shelli and Audrey. Austin asks but can they vote out their partner (Audrey)? Vanessa says yeah if she is nuts!

12:55pm – 1:45am
Liz and Austin play a game of pool. After Liz head up to play a game of chess with Austin.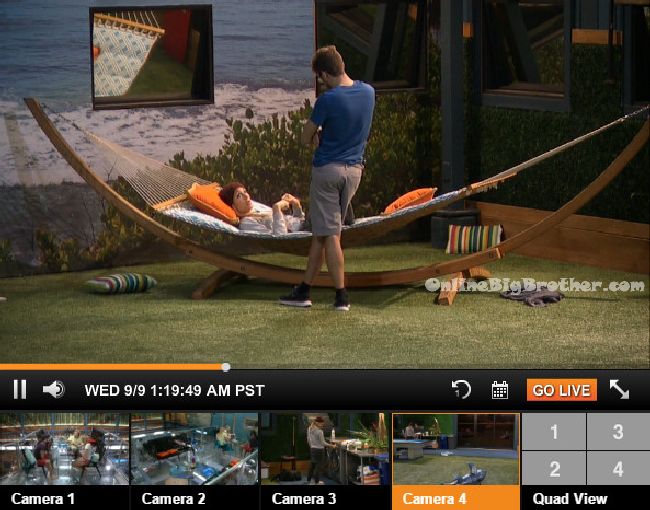 1:15am Hammock – Steve talks to Vanessa. Vanessa asks did they tell you that they want Liz to stay? Steve says they did. Vanessa asks is that okay with you? It was kind of a toss up for me so why not do what they want. Steve says okay. Vanessa says we can work with it either way. The only person I think its bad for is Johnny but I don't think he knows it. Do you know its bad for him? Steve says you told me. Vanessa is annoyed at Steve that she always gives him all of her analysis and he doesn't give her anything. Steve says you think Johnny can't win without Julia in the game. Vanessa says it makes him more of a target because the 4 of us are big players in the game and he's not so we have more incentive to keep each other around in the game. He under cuts us because he would be an easier win. Vanessa says with some of Liz's wins people weren't trying to win. Vanessa explains that Julia was close to winning a lot of comps. I think its better to go with it rather than make waves. Steve says I understand your logic just let me sit and think on it. Vanessa says she wonders who their target would be. They gave indication that I would be safe but I don't see how I wouldn't be up on the block next to you. Vanessa says if you were on the block next to Johnny. Steve says I would have your vote? Vanessa says oh yeah and I would make them understand how stupid it would be to get rid of you over Johnny. I've already been planting seeds that Johnny is the target. I think Johnny and I are favourites to win the next comp. It will be logical conceptual or physical. If Liz wins I will be able to influence her heavily. If Austin I will be able to influence him too. Steve says the problem is if Johnny wins veto. Vanessa says we just can't let that happen. Vanessa says if I win this f**king HOH I better have your f**king word that you will take my a$$ to final 3 no matter what! Steve says yes. Vanessa says because you have to realize how sh*tty it will be for me to have 4 HOH's. If I win you're the only one that is pretty much safe. Having Liz stay its so much easier to put Austin and her up. Are we the biggest joke if we keep Liz? Steve says its either a showmance or sisters. Steve says a really good end game strategy he heard was "f**k it!" It all comes down to luck. Vanessa disagrees and says there are a lot of decisions still to be made. Vanessa says she will continue to work on them showing them Johnny should be the target. Vanessa says that Austin is trying to say you're a threat in the final 4 veto. Austin joins them. Steve talks about how Clay interrogated him more than anyone in the house.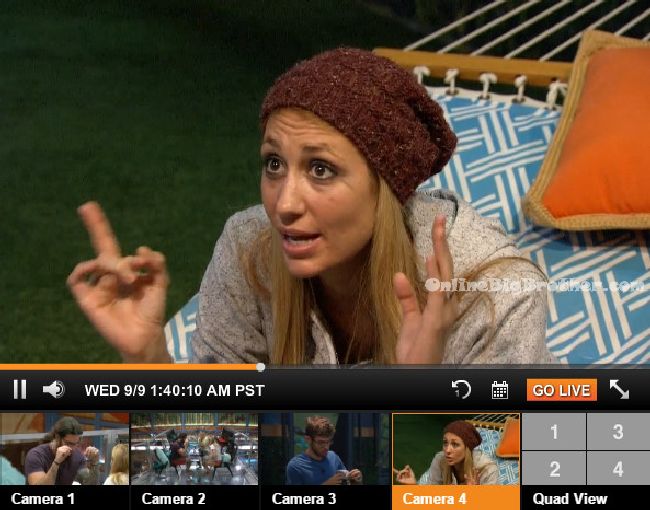 1:45am Bathroom – Liz and Julia are talking. Julia asks was that good what I told Steve. Liz says yes. Julia says Steve asked if you were coming after him and I said no. With fingers crossed behind my back. I said we understand what he did and that we knew he couldn't go to the final 3 with all of us and we love him like a brother. Liz says good. Julia says they're scared of you. Liz says this is the least Steve can do for us. Julia says Steve should be very scared .. and so should Vanessa! Austin joins them. Liz starts crying knowing her and Julia will be spit up. Julia tells her to stop. She tells her and Austin no more hickeys.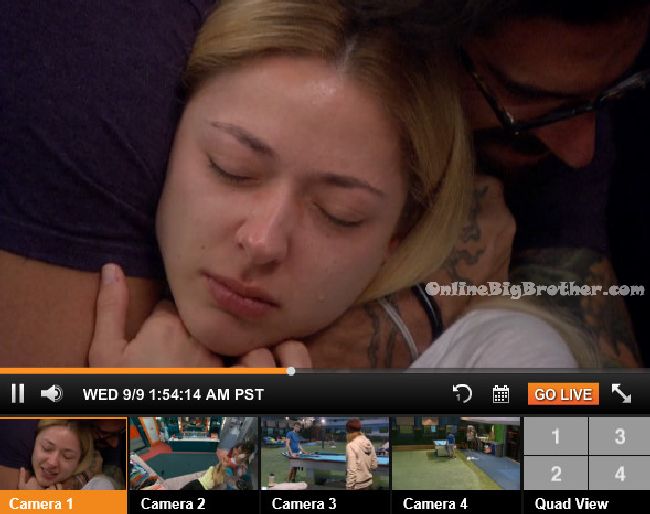 2:20am Austin tells Liz that Steve asked what he can do for him in the next couple days. And I told him whatever decision the girls make just make sure no one tries to flip it and which ever one stays you won't be angry. He said he yeah we would be fine. Liz says he asked Julia that too and she said we're not mad and love him like a brother. Austin says he tried hinting to me that we all know who we want to take out next week. It's just no one wants to say. Liz says she (Vanessa) knows if she doesn't win veto she will go. Liz says we need to Jedi mind drill! I need to do this for Julia. No more having fun.
2am – 3:30am Austin and Liz head to bed. Steve heads up to the HOH room. Steve starts talking to himself and says I would like to ask for one favour if you're HOH and I'm on the block going into eviction you break the tie in my favour. If you can't I understand, its just the favour I am asking. Steve showers and then reads his HOH letter. Steve goes to sleep.
9:45am – 11am Big Brother wakes up the house guests. Austin's telling me that I'm good. I want to make sure he knows. It make so much sense for Vanessa to want me to want Julia out. Steve goes back to bed. All the house guests are back in bed except for Vanessa who was called to the diary room. Julia is now the only house guest awake roaming the house.
11:45am All the house guests are sleeping except for JUJU. She works out on the elliptical and then makes breakfast. Vanessa wakes up and joins Juju in the kitchen.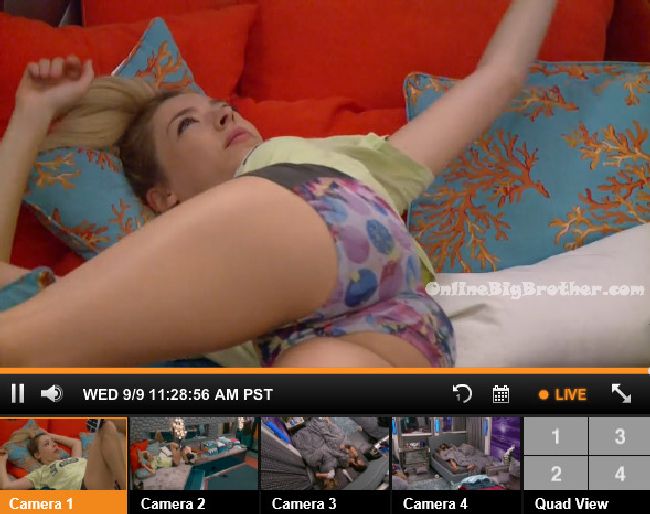 If you've enjoyed the spoilers please consider a donation using the drop down box below. Simon and I work 24/7 all season long to keep you updated on everything that happens inside the Big Brother house.
[polldaddy poll=9059938]

[polldaddy poll=9063299]