POV Holder:
Austin
POV Competition
Sept 5th
POV Used
Yes
POV Ceremony
Sept 7th
HOH
STEVE
Next HOH
Sept 10th
Original Nominations:
Austin and Liz
After POV Nominations:
Liz and Julia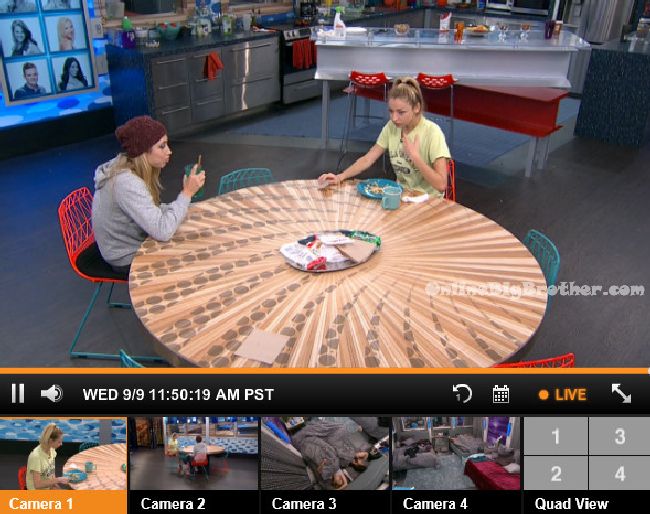 11:50am – 12:05pm Vanessa asks Julia how she's doing. Julia tells Vanessa that she wanted to get up and have a good day. I'm going to work on my speech. When I got up I saw Liz and my suit cases and it made me so sad. Julia says that she and Liz have been sharing makeup and will leave it for her because she's going to be on tv. Vanessa tells Julia that in the jury house she can request they get her things like makeup because they want you to be happy. Julia says she hope she gets to watch movies in the jury house. Julia starts talking about when Liz and her switched back and forth in the beginning and big brother blocks the feeds. Julia says she is sad she won't get to see if they get something crazy like Pandora's Box. Vanessa says you got to see lots of things like OTEV, Zingbot and Jessie (Godderz). Julia says my dying wish is that one of you three (Vanessa, Austin, Liz) f**king win because if its Johnny Mac and Steve at the end I am going to be depressed!! If its Johnny Mac or Steve at the end I will literally rip his throat. Vanessa laughs. Julia says nope this juror is not voting! Vanessa heads outside. Julia heads to the storage room and looks at her and Liz's suit cases. She says I'm pretty sure this one is mine! You got your twins wrong again buckos!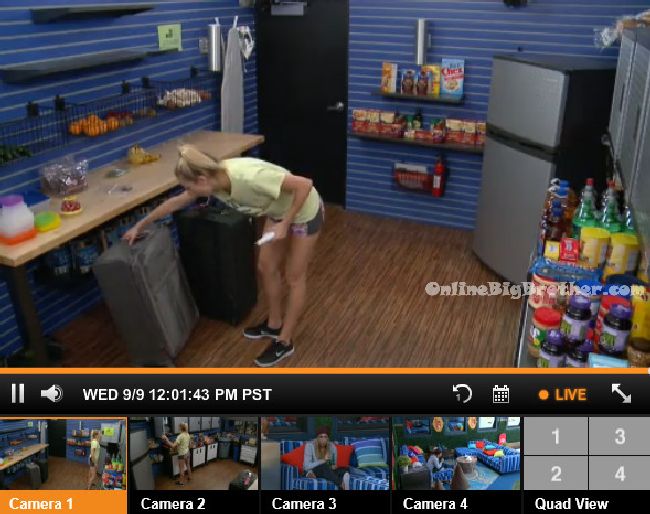 12:20pm Vanessa heads out to workout on the elliptical. Meanwhile in the kitchen -Johnny Mac and Steve join Julia in the kitchen. Johnny Mac asks do you think James has gone camping yet?! (camping is code for $ex in the house) Julia says definitely not. Steve says maybe with himself .. to which my answer would be 5 times a day. Julia says lord Steve! Julia heads outside to workout with the free weights. Julia says I am going to be so pissed if we have to wear athletic gear tomorrow. Julia asks aren't you an athlete? Julia says no, I want to look pretty!
Julia and Liz are in the backyard talking about their speeches. Liz says if we're in athletic clothes I am going to turn to you and say Julia this is not the outfit I wanted to stand next to you in. I am still in shock that we made it this far together. One of our goals was to just make it into the house together. And now we're top 6! We can't fool 15 other house guests that we are 1 person. I just want to let you know that no man, sorry Austin, or any amount of money could never come between us. And in my opinion true love is when you love someone more than you love yourself. House guests which ever one of us stays is going to fight for the other. Happy voting. Julia says that's so good. Vanessa joins them and starts helping Julia what she should say in her speech.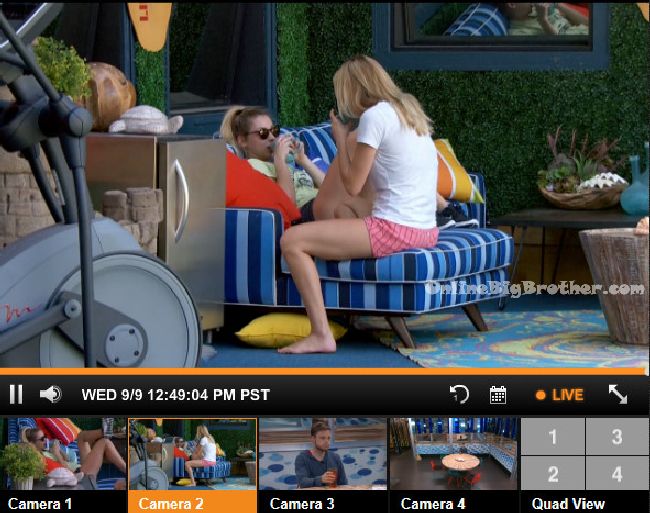 12:50pm – 1pm Austin talks to Johnny Mac about which twin to keep. Austin says Steve was asking what he could do and I said to just respect which ever decision they made because honestly you would just piss them off more if you go against what they want. Its a toss up with either one. Johnny agrees. Austin says it won't change too much people are still going to target the same people. I said that I would respect whatever they wanted to do. I am not going to sway it. I am out of the dog house and I don't want to stay there. Johnny says yeah I'm good with that. They chat about what the HOH competition might be. Johnny says I hope its physical. Austin says we're the favourites lets just get there. Johnny says I know its getting down to it, I know the people in jury and the people I can't beat. Becky told me if I go to the end with her (Vanessa) she is voting for her. I was like okay. Austin says she's made all the right moves. It's scary. I think I could make a good case. Johnny says its tough against a lawyer. Its going to be tough for me to beat Steve because he's more friendly with everyone.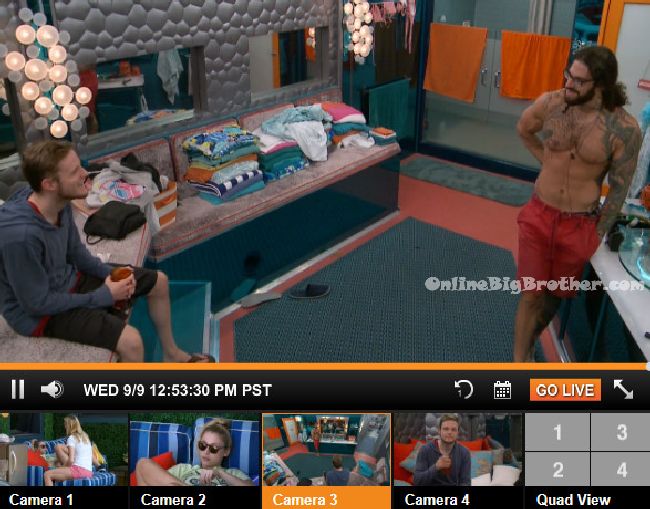 1:20pm In the kitchen – Liz, Austin and Julia are making food and fooling around.
Liz throws raw egg dipped beef at Austin @bigbspoilers #bb17 pic.twitter.com/MEwMZNQFkT

— Dawg (@DawgsBigBrother) September 9, 2015
1:35pm – 1:40pm Johnny mac tells Vanessa we just have to win it. Either we win it or we die! Vanessa says obviously I'm giving it a 1000% but if it comes down to me and you, I am giving it to you. Johnny says okay, thank you.
1:55pm – 3pm Austin tells Liz that Johnny told him about how Becky said if he is in the finals with Vanessa she is voting for her. Becky is smart, she did everything she could to get Vanessa out of the game and when she couldn't she told Johnny Mac that so he wouldn't take her. Austin and Liz start "jedi mind drilling" the days / events. Steve joins them and he and Austin talk about past seasons of big brother. Austin scares Julia by covering himself with the Audrey blanket, going into the comic room, shutting off the light and grabbing at her legs. (See gif below) After Austin goes back to studying with Liz. Liz says I can't wait for our first real date. Austin asks what do you want to do? Liz says eat good food and get drunk. Austin says we have to make time for each other if we get all booked up and have a crazy schedule, okay?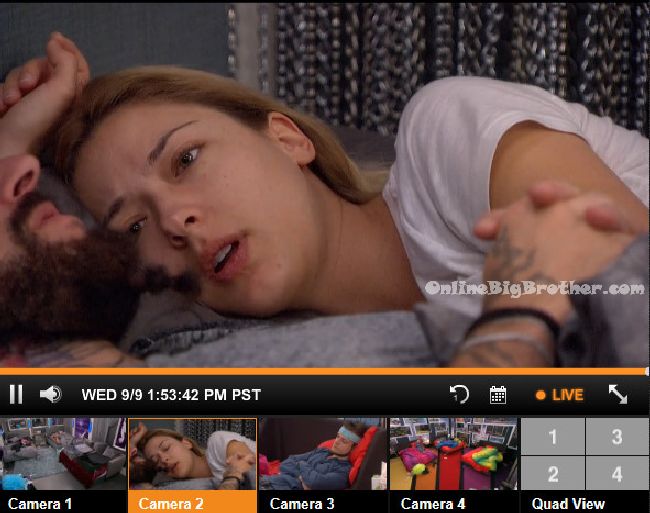 Austin "Julia, Julia…" JUJU "AUSTIN STOPPAAAAHHHH!!" @bigbspoilers #bb17 pic.twitter.com/9PN8aERM29

— Dawg (@DawgsBigBrother) September 9, 2015