POV Holder:
Austin
POV Competition
Sept 5th
POV Used
Yes
POV Ceremony
Sept 7th
HOH
STEVE
Next HOH
Sept 10th
Original Nominations:
Austin and Liz
After POV Nominations:
Liz and Julia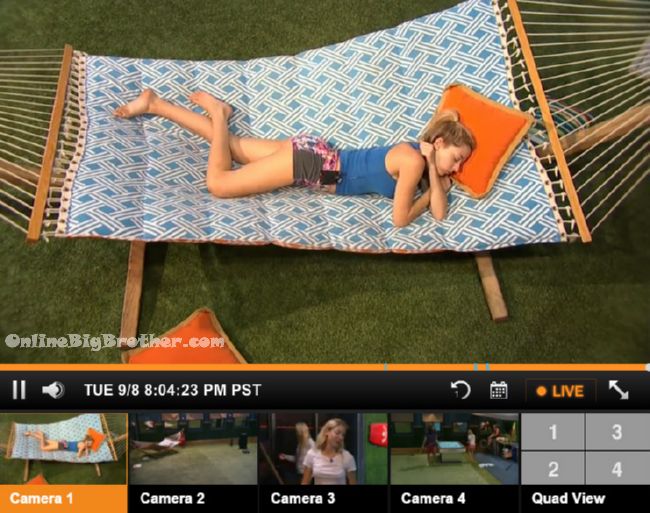 They got Chinese food from the place that serves mediocre Chinese food.
8:04pm Hammock lounging and Pool chit chat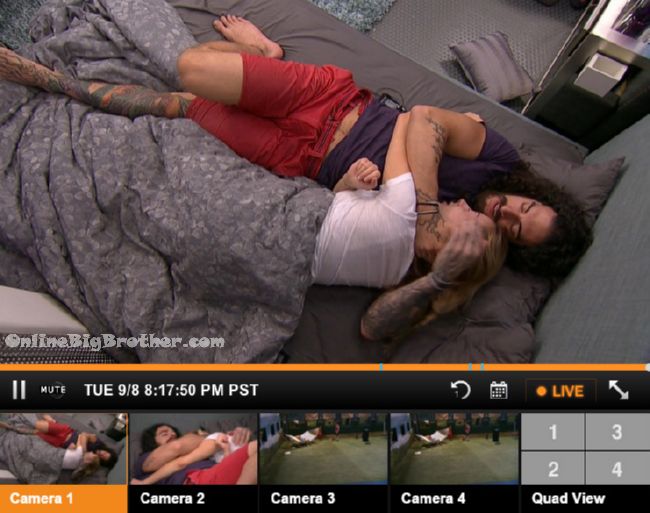 8:15pm there's some more of this going on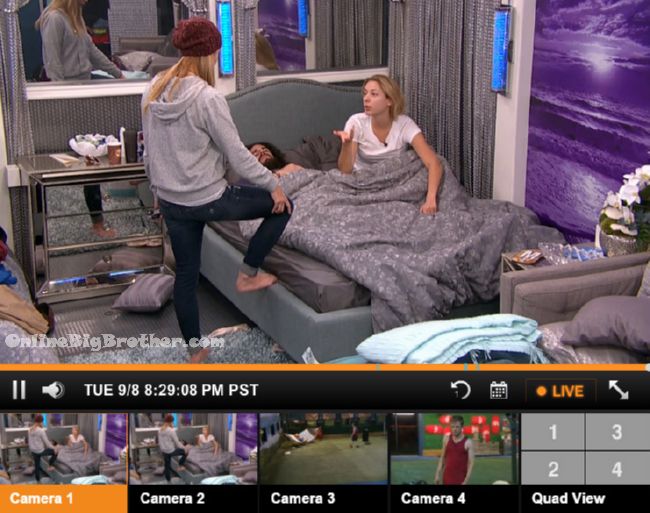 8:25pm Vanessa, Austin and Liz
Vanessa saying she would rather Jmac go to final 4 with them over Steve. (Altering the original deal outlined in the last post)
Austin – If we win HOH this week we are in the final 3.. this is our push right here this week.. iof Jmac wins it we're f***.. we're playing for broke this week.. I feel strongly about it.. we're all peaking at the right time.
They agree Steve f***ed up winning the HOH he should have let Jmac win it.
Vanessa – he went against Scamper and that's what got him here..
Austin says he wants to send Steve out
They agree Jmac knows he's safe next week unless Steve wins the veto
Liz – you know who i'm going after
Vanessa – His ass is up with Johnnymac
Austin- Steve drinks all the milk he's gotta go
Austin- They have to go them in final 4 together is terrible
Vanessa- Steve will Jedi mind drill with Johnny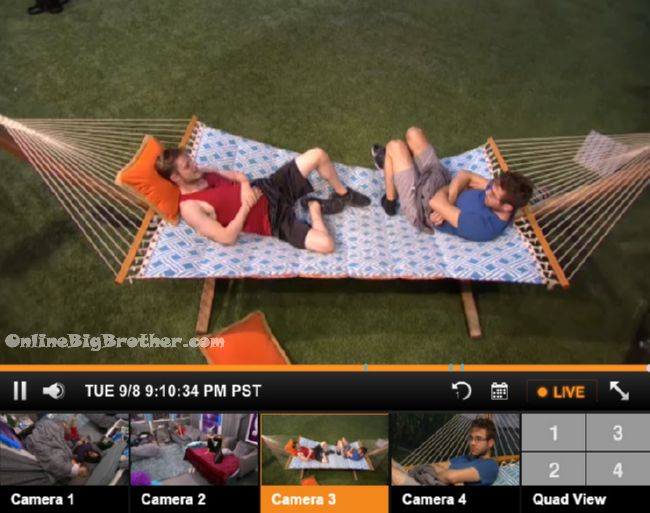 9:23pm Hammock Jmac and Steve
Jmac – the twins want Liz to stay.. you hear that
Steve – no.. I didn't what do you think
Jmac – It's a physical comp Julia did better in midway
Jmac says he didn't know if he should have told Steve or not But Vanessa told him her twins want Liz to stay
Jmac – doesn't matter she'll tell you
Steve – or not
Jmac – If it's a shovel competition Julia has better balance
Jmac – I don't think Julia fell in Midway, Liz fell a bunch of times.
Steve – what do you think moving forward
Jmac – If I won I would put Austin and the twin up .. that's what I have to do right
Steve- they would stick together no matter what
Jmac – I know what you are thinking how long will Vanessa stay loyal to us
Steve – I didn't say anything
Jmac – right now it could change like the wind you know
Steve – right
Steve says there was a name to the alliance between Liz, Austin, Julia, Vanessa and him. Steve doesn't tell him the name.
Jmac – if this game went the other way I would be in your position but with the other side
Jmac – You would be me and I would be Vanessa in rankings (If the goblins remained and not the Austwins+Vanessa power block)
Steve – have you been talking to Austin at all
Jmac – he doesn't want to talk much about it
Steve guesses the final 5 eviction will be Tuesday
Steve – it's a good week for you to win
Jmac – Especially with Vanessa saying I'm turning into a Victoria
Steve – Because you've never won HOH
Steve will organize a hammock date with Austin and him later tonight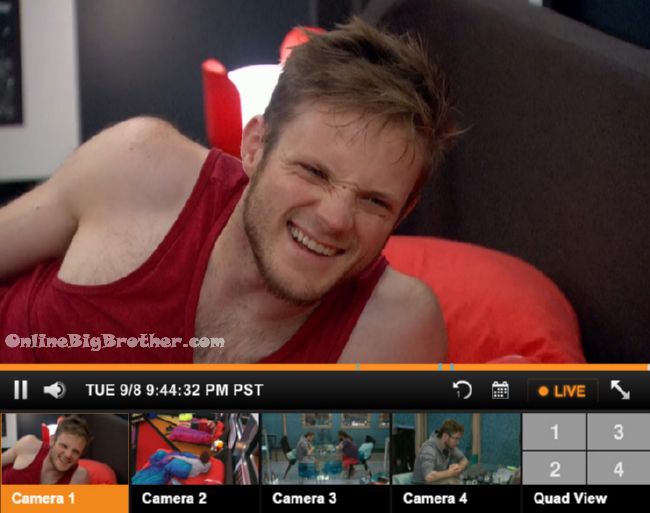 9:40pm Vanessa and Jmac
Vanessa tells him the two of them Vs Liz/Austin is a good play for them because they can beat those two in competitions.
Vanessa- Not Keeping Julia in the game f***s all the incentives up
Vanessa – why piss people off necessarily
Vanessa – I tried to to the math on it it's so break even,what do we tell Steve.
Vanessa – the piss off factor isn't worth it.. we should just tell them Fine we'll do what you want
Jmac saying if the Competition is balance and physical Liz will do poorly
Vanessa says the HOH's Liz won she didn't earn other people were throwing it. Brings up the last HOH she won she was trying to throw it to her sister.
Vanessa – she's not as strong as she looks on paper
They go on and on about how Liz is worse in competitions than Julia.
Vanessa – we gotta go with the odds.. either way we're OK
Vanessa says if the surviving twin wins the HOH they just have top pray Steve doesn't win the POV.
They agree to vote out Julia it's not worth making Austin and the twins enemies
Vanessa asks if Steve will get mad if they vote out Julia
Jmac doesn't think so
[envira-gallery id="132787″]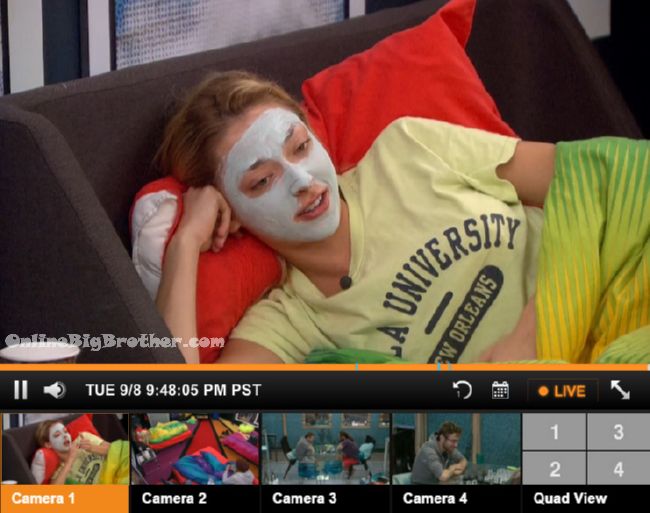 Julia comes in
Vanessa- we talked about it and we're cool we'll all vote to keep your sister
Julia – I saw Zing bot
Julia is fine with leaving.
Vanessa – in a way i'm jealous .. and you still kinda get to be in it.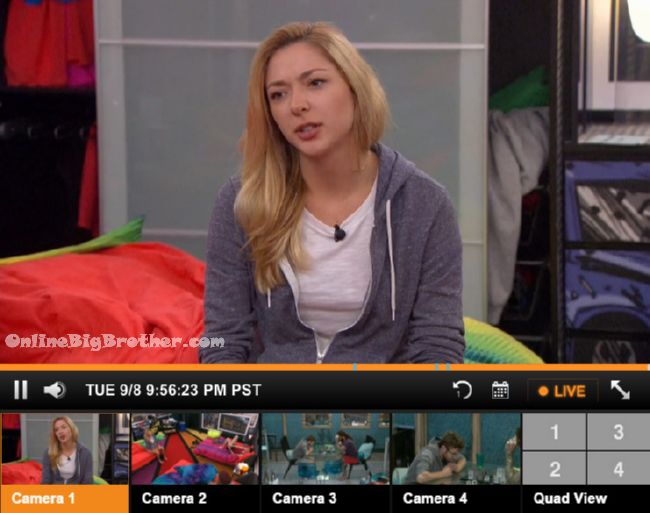 9:55pm bedroom Liz, Vanessa and Jmac
Vanessa and Jmac liz the twins they are voting the way they want
Vanessa- I just hope Steve doesn't get mad
Jmac – I don't think he will… I don't think he cared.
Liz – it means so much you guys are honoring our decision.. it was the hardest thing and it really means a lot
Liz – It's just a game it's just a game but It's something I have to live with for the rest of my life
Vanessa ays she'll tell Steve voting to keep Liz is the 'Human" thing to do.
Liz – I had my Audrey moment now I'm over it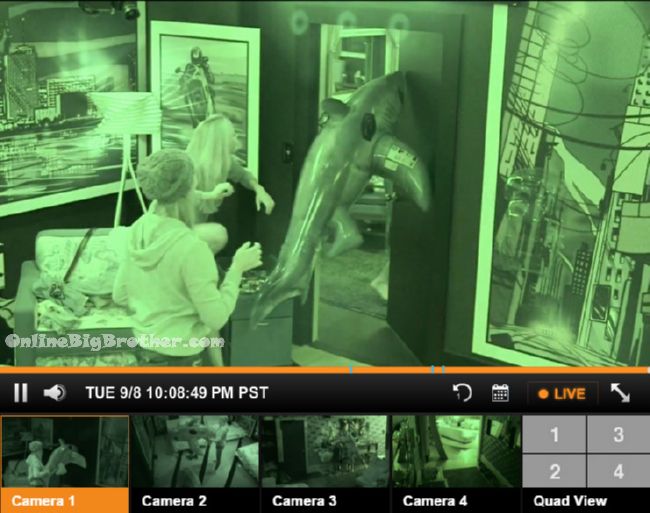 10:10pm A failed attempt top scare Julia
"We failed Liz"
Failed Shark attack on JUJU #BB17 @DawgsBigBrother pic.twitter.com/VPtX8KnKhm

— OnlineBigBrother.com (@bigbspoilers) September 9, 2015
10:14pm hammock
Liz talking about vanessa 3 demands for her vote this week. They laugh at how ridiculous Vanessa is.
They Agree Vanessa is making deals with everyone she's playing all sides of the house.
Julia says she walked in on Johnny Mac and Vanessa whispering
Liz says Vanessa showed her hand when she asked Austin and Liz so much for the vote. It's obvious to them now who she's been making deals with.
Julia asks if her and Austin agreed to it.
Liz – Yeah, I'm not following through with that sh1t
Austin joins them. Julia tells him Vanessa and Johnnymac were whispering. They told her they will vote out Julia but they need to make sure it doesn't piss off Steve
Austin wonders why they care so much about pissing Steve off.
The twins call vanessa a traitor saying she's playing both sides of the house.
They agree Vanessa's "Wheels are spinning hard"
Austin says Steve wants to have a hammock date with him and Johnnymac. He's thinking it's about vanessa.
Julia – Austin you need to blow her the f*** up, the fact she going behind our back and making final 3 deals with them is shady.. her and Johnnymac mortal enemies and they are whispering..
Ausit n- I'm really curious what they have to say… If we can rewire Johnnymac Circuits.
Liz tells Julia to blow vanessa's game up before she goes
Austin tell the twins to hold tight and wait until he talks to Johnnymac and Steve. They start talking about Vanessa's deal, they agree Vanessa showed her hand with that bathroom deal.
Austin mentions how he always thought Vanessa was down with following the twins wishes. The twins said yesterday she was.
Austin explains that this was all a setup from the beginning Vanessa had plans on getting rid of Liz but now that the house is flipping she's changing gears and making it sounds like it's a big deal she's saving Liz.
Julia says all vanessa talks about is game, 'She's such a good manipulator" brings up Vanessa trying to tell her she hasn't talked Game with Steve in 2 days and she was up in the HOH with him for hours talking game yesterday.
Liz brings up how Vanessa is telling them her voting to keep liz is proof to them she's loyal to her and Austin.
Liz says they've been working with Vanessa since week three the reason she's saying that is she's got something to hide "she's sketchy as sh1t"
Austin leaves.
The twins are certain Vanessa has made final 2 deals with Steve and JOhnnymac
10:33pm Bedroom Austin and Jmac. Austin says if he wins HOH he's taking Jmac final 4. Jmac will do the same. They shake on it.
Jmac brings up what Vanessa did in the veto.
Austin – it was shady
Talking about their hammock date tonight. They'll sneak out once everyone is sleeping.
Jmac and Austin Final 4 deal #BB17 @DawgsBigBrother pic.twitter.com/Fn379eKjpr

— OnlineBigBrother.com (@bigbspoilers) September 9, 2015
10:34pm Hammock Austin and the Twins.
Austin brings up his conversation with Jmac says he's onto Vanessa. They shook on it Jmac will not be putting him up if he wins HOH next week. When Vanessa did that thing in the veto it raised red flags for Jmac.. "I don't know we'll see what he says later he's going to scamper out here.. I want to know what Steve has to say"
Julia says Vanessa played her during the POV competition.
Austin – plays are to be made especially with him shaking my hand like that
Julia wants Steve out before Vanessa.
Austin tells them they have to educate the jury how bad Vanessa has been.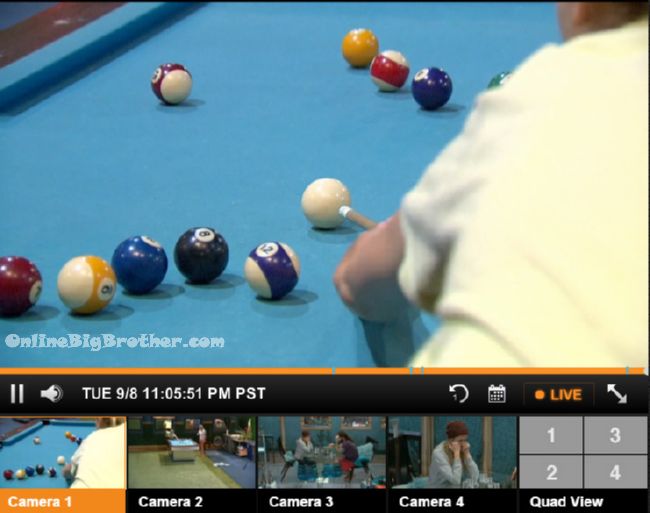 10:56pm Twins playing pool
Julia says Vanessa has probably convinced Jmac and Steve that getting rid of Liz is the best play.
Julia says Vanessa thinks she's taking her to final 2.
Julia – No more funny business liz.. we have 2 weeks.. every night (StudY dates).. its really crucial, this is for me.. No more pranks we've had fun get down to the brass tacks.
The twins are nervous about what America thinks of them.
Julia – HAs Austin told you he's taking you to Final two
Liz – Yeah.. it was the night I asked him if he had a final 2 with Vanessa.. he said everyone does.
Julia – Austin has a really good chance..
Julia says they should have voted out Vanessa not Shelli
Julia says Vanessa manipulated her during the POV.
The twins agree they want a girl to win so they will vote Vanessa over jmac and Steve.
Julia – you and Austin have to take Johnnymac he's not going to win it (Final HOH)
Julia – and who knows maybe JUJU got fan favorite
Liz tells her practice speech for Thursday.
Julia – this is like the ending of frozen I'm going to cry… we are frozen
They hope everything about Vanessa gets outed.
11:21pm Twins in the Hot tub. They agree Vanessa has been orchestrating Liz and Austin going up.
Julia regrets Doubting Austin
Liz – He loves me you can't doubt someone that loves me, Her, (Vanessa) she probably doesn't give a sh1t
Julia – I'm so curious what she's goign to exposed about Vanessa.
(Save to assume that Vanessa game is slowly blowing up.. once Steve and jmac talk on the hammock tonight we'll have a better how bad it is for her. 4 out of 5 people have expressed a huge distrust towards Vanessa. )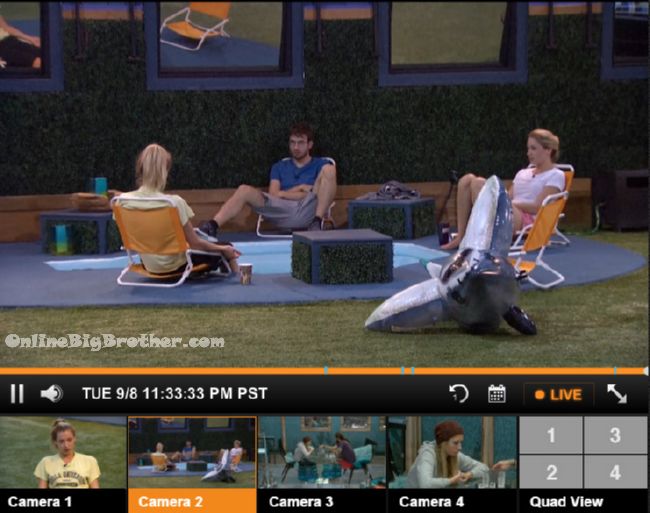 11:33pm Hot Tub the twins and Steve
The Twins say they want Liz to stay.
Julia – I will be departing on Thursday.. give us the grace on that
Steve- oh you had that conversation
They've talked to Vanessa and jmac and they have their blessing.
12:02am Austin and Vanessa playing chess.
Out in the hot tub Steve and the twins are chit chatting about the season. They agree Jason was the biggest gossiper and talked shit about everyone.
If you've enjoyed the spoilers please consider a donation using the drop down box below. Simon and I work 24/7 all season long to keep you updated on everything that happens inside the Big Brother house.
[polldaddy poll=9059938]

[polldaddy poll=9063299]