POV Holder:
JohnnyMac
Next POV
July 13th
POV Used
Yes
POV Ceremony
July 6th
HOH Winner Team 1:
Becky
HOH Winner Team 2:
Shelli
Nominations 1 :
Steve, Jason
Nominations 2:
Day, JohnnyMac
Battle of the Block Winner
Steve & Jason
Next HOH/ Next BOB
July 9th / ?
Original Nominations:
Day, JohnnyMac
Current Nominations:
DaVonne, Meg
Have Nots
Steve, Jason, James and Meg
TRY the Big Brother 17 Live Feeds FREE for 1 WEEK:
Click here to ensure your live feed subscription supports OnlineBigBrother.com at no extra cost to you.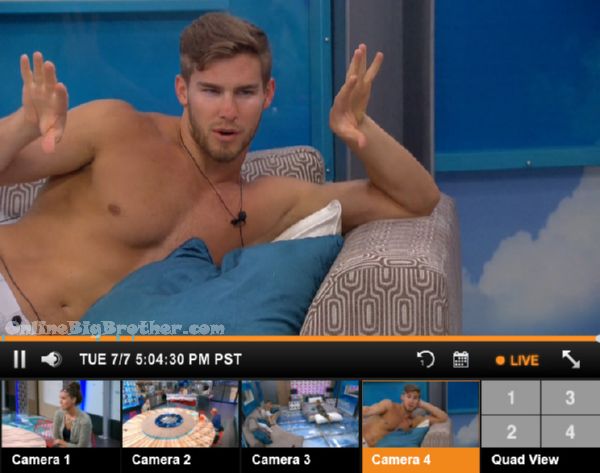 5:00pm Shelli and Clay HOH
Talking about Sleeper Cell and if Austin and Vanessa can be trusted with Audrey. Shelli thinks they can.
They can agree they would rather work with Austin's side. Clay wants to make it more official sooner than later.
Shelli thinks sleeper cell dissipated because the day after it was created there was the giant Audrey blow up.
Clay thinks they should hold up and wait to see who wins the HOH this week.
Shelli – I think Audrey is talking to steve more than she's letting on.. steve is the one that brought up there's a outside and inside and he feels more comfortable with the outside and that is the same thing Audrey is saying
Clay says James, Jeff and Jason will not work with Audrey so she has no options
They agree Jeff is in between the two sides of the house.
Shelli – james, Meg and jason may go after Audrey first or they come after me because I sent home Da and put up Meg
Clay thinks they'll use Shelli as a pawn to get out Audrey, "They'll have no remorse if you go home"
Clay – I really don't want to be with them.. now my loyalty to Jeff is up in the air"

Shelli says once the "Inside" numbers start twiddling Jeff will comes to them.
Shelli adds all the stories Audrey gives us about targeting Becky is BS Audrey knows Becky is after her and she's wanting them to target her
Clay – we have to be very careful at what she says she'll have her own motives.
Clay says they need more evidence to back up what Audrey says.
Clay wonders if they should pull Austin and Vanessa in first get a feel for them then pull Audrey in
Shelli thinks if they decide to roll with Sleeper cell they needed them all in the room otherwise trust will waiver.
She tells him Vanessa is harder to convince than Austin.
Clay – Becky and Jackie.. I know you like them..
Shelli thinks they are safe if Becky/Jackie win hoh, Shelli thinks they will both gun for Audrey and get closer to Jason once Da leaves.
Shelli says they are already seeing it happen Jason and Jackie getting closer.
Clay "Jackie, Becky, Meg, james, Jason… possibly Jeff.. that's 6"
Clay – "how many do we have Steve..
Shelli doesn't think the speculation will do them any good
Clat – what else should we do
Shelli – we have no idea who is HOH is we don't know who will win the second HOH wit you (lol)
Shelli – we still need to be careful with Steve
Clay – I agree
Shelli – don't tell him too much information he might be giving it to Da
Clay – Jason, James and Meg are the three we don't want to win HOH
Feeds flip to JohnnyMac and Audrey in the hammock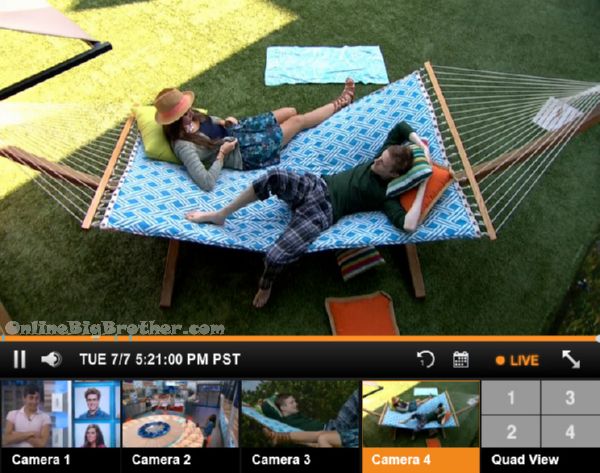 5:20pm – 7:07pm JohnnyMac and Audrey
JohnnyMac saying he pays 3000 a month on student loans so he can pay it off in 10 years.
Audrey – what did your parents do
Johnnymac – teachers, High School gym, swimming
Audrey asks him if he got in trouble at school
Johnnymac says all the time he got in trouble for drawing on the floor.
(chit chat about live outside of the house)
[envira-gallery id="119613″]
5:33pm Goofing around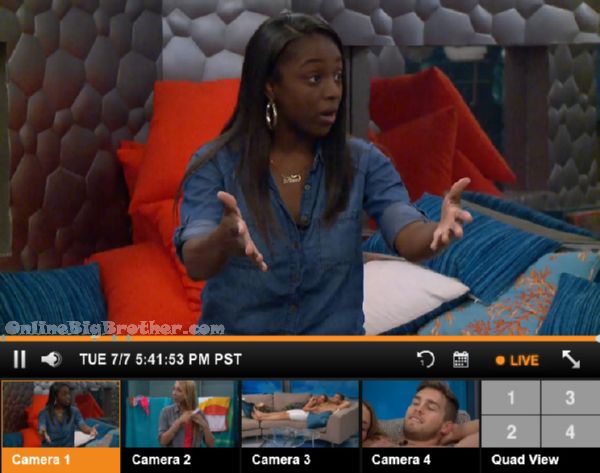 5:39pm Bathroom Vanessa and Da'Vonne
Vanessa asking if she's heard about anyone having the phone booth power.
Da saying she doesn't want to campaigning against Meg. Vanessa says she doesn't have to campaign against Meg just asks people what benefits them more Meg of Da.
Da – you could vote for me
Vanessa – yes
Da asks if she will benefit with Da leaving. Vanessa says it doesn't benefit her if Day leaves.
Vanessa says Meg hasn't asked for her vote
Da asks if they can persuade Austin.. She thinks she has Liz' vote
Vanessa says offer them something like you and Jason are going to keep them safe until Jury.
Vanessa says she doesn't have a target she just has people she trusts more than others.
Da points out Vanessa is rebuilding with Audrey. Vanessa says it's more of a hedge in case she wins the HOH, "Don't mistake that for my trust is back because it's not"
Vanessa says Audrey is a great person but in the game
Da says Audrey is a great PERSON
Da is pissed at Audrey in the game because she brought her daughter into the game.
Da is targeting Audrey wants Vanessa to help her to work in the background
Da – You gotta get Liz and Austin
Vanessa – then you're good
Da – hopefully hopefully
Da – the house kinda flipped against me when I called her (Audrey) out
Da says the only guaranteed vote she did have was Jason but whoever has the power will "x" him out.
Day doesn't have an issue with Clay and Shelli they are making a game move her target is Audrey.

5:53pm HOH Clay and Shelli
talking about Jejo and Brenchel. They go into a conversation about how sexy Jeff (BB11) is.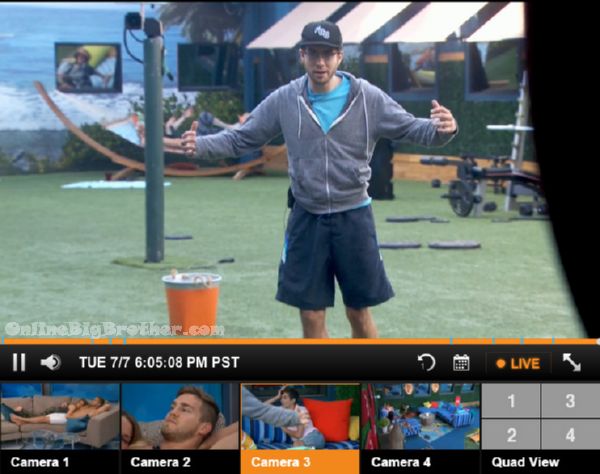 6:06pm Da, Jason and Steve
Talking about casting process and their love for Big Brother. Da says she showed her family the video from BB8 where Dick and JAmeka had a giant fight.
Steve showing them where the fight between D1ck and Jameka took place (See images)
Jason says he only watches Big Brother Hasn't watched a regular TV show since 2012
He's watched 15 UK, 12 Australia, 1 Africa and every year he rewatches all the American Big Brother seasons.
Steve says he's never met anyone that he could talk Big Brother as a peer.
Jason – I look down on Superfans I'm a historian
They talk about the Superfan term and how it's been loosely applied to people.
Steve says superfans watch the feeds and go on the internet etc etc..
They agree Ian was the last player on their level.
Steve says Brian Lynch (@LynchMgm) knows a lot about Big Brother.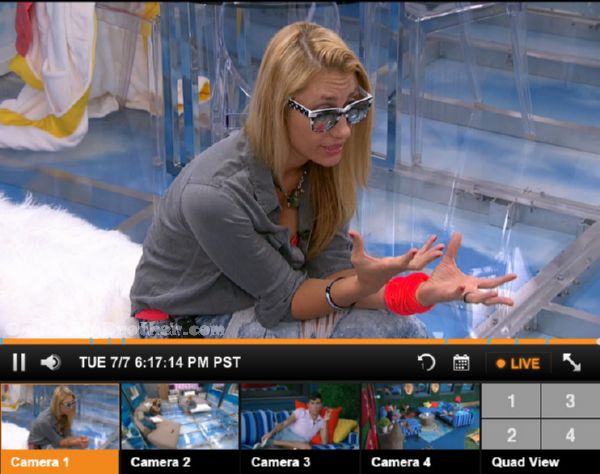 6:14pm HOH Shelli, Vanessa and Clay
Shelli saying they were going to have a sleeper cell meeting tonight
Shelli – we feel good about it how do you feel about it
VAnessa – there's a real possibility Audrey is the target next week.. not by any of us
Vanessa – I do not want Da to know at all I'm working with you guys
Vanessa brings up Da coming up to her and asked her for a vote. "I'm letting her think it's a possibility"
Clay asks if Da has a feel for who has a power
Vanessa says no
Clay and Shelli thinks Da has it Clay says it's rigged.
Vanessa – My loyalties are here with our group.. I trust us both .. the moves you made were very much in line.. strengthens our trust which is great.
Vanessa says her trust with Audrey took a hit, "I think she's a good player and I don't mind aligning with her to play"
Shelli says her and clay agree
Shelli – we've never expressed doubt in you at all
VAnessa says she's slowly building up trust with Jeff but has nothing with James and Meg.
VAnessa points out that Meg hasn't asked her for a vote
Clay says Meg, James and JAson are really tight
Shelli asks who she thinks is the target next
Vanessa says the easy one is if Da goes take out Jason "I've never talked game with him ever.. anyone that hasn't talked game is against me"
Vanessa – Jackie is another one.. I don't know.. I wonder if she doesn't like me
Shelli thinks Jackie is really good at not saying anything
Vanessa – Is she playing the game or trying to float
Clay says he's never talked to Liz and Jackie game or personal
Vanessa says Liz is easy to talk to she very real and blunt easy to get a read on
They agree everything is good with Sleeper cell. Shelli says Austin has made a real effort to talk to them.
Vanessa – He's a good guy not a bad person at all.. He's not very calculating.. he makes games move but there's people that are so calculating you can't have a genuine moment with them… he's completely not like that.
Clay wonders if Austin is telling Liz about Sleeper cell
Vanessa asked him that he said no.
Vanessa says she's noticing Austin likes Liz and he's been flirting with Jackie to make her jealous.
Shelli asks if Liz is returning it
Vanessa asked her and she said "He's not the type of guy I normally date all those tattoos but he's not your typical tattoo guy"
Vanessa thinks Liz is a really flirty person
Clay – do you think Austin will choose Liz over you
Vanessa – yes.. I think yes.. that's the way that works.. I'm OK with that doesn't mean I don't trust them
Sheli – how much do you tell Audrey.. She seems to like think we would be floating around because we haven't talked about Sleeper cell
They tell her Audrey is really pressing them to go with austin and VAnessa over James/Jason/Meg. they think it's strange because they are already with Austin and Vanessa.
Vanessa thinks Audrey really trusts her because Vanessa has always been straight up with her.
Vanessa says Audrey is super smart.
Shelli – there's no reason not to play with her
Clay – we're all for working with her but be very cautious what you tell her
Vanessa says she's being called in the DR all the time is because of medication
Vanessa wants to talk about levels of loyalty in the sleeper cell, Austin has Liz and Audrey can't be beat in the finals. She stresses she has no pair so she wants to be their third.
Shelli – You ultimately told me to put Meg up
Vanessa for my own personal game it's a tough spot.. Da is someone further down the line that will work with me
Vanessa adds she's loyal with their group she likes their group.
Shelli says "they" Set Audrey up (They = Meg, Da, James and Jason)
Clay – why were they setting up Audrey
Shelli – Da was uncomfortable that Audrey was close with us
They agree James has no issues lying to peoples faces, he's done it to Jace, Vanessa, Clay and Austin
Shelli points out that Clay is still feeling good with James.
Vanessa – you gotta go with facts
They agree one of the strengths they have is no one has a clue about Sleeper Cell
Vanessa saying Clay and Shelli need to start talking to other people and spend less time together. She suggests a fight or at the very least not sleep together.
Shelli thinks it should be a slow fad away no one will believe if they have a big fight out of the blue.
Vanessa – I really think it can happen the 5 of us will make final 5 I couldn't pick better people
Shelli says she loves Vanessa they will never let her go.
Clay says once Da leaves the other side of the house is swindling they need to kick them while they're down and take out Jason/James.
Vanessa warns that Becky will win a lot and she doesn't have very many relationships.
Vanessa wants to make a blueprint of the plan if the sleeper cell gets power that way if it's like last week where they had hours to decide they're ready for it.
Clay says he's already got people in mind doesn't think this coming week will be like last week because it was fourth of July. Clay says once they get the HOH winners they'll call in Sleeper cell and decide what to do.
They agree James, Meg or Jason cannot win the HOH. Vanessa says when Meg finally talks to her about her vote she's going to ask Meg for 2 safe weeks. Vanessa recommends Clay does the same, 'Why not"
They tell her when people come up to them and bring up Vanessa's name as a target they are going to say Vanessa is a waste of a HOH she's a floater and isn't allied with anyone.
Vanessa – I will never vote for Da to stay here.. I will let her believe whatever She needs to believe.. I'll tell her to fight..
[envira-gallery id="119636″]
Live Feed subscription gives you CBS All Access thousands of archived shows. Live Shows like Big Brother, all the Big Brother Seasons, and 24/7 coverage of what is happening inside the Big Brother House. Plus there's flashback that lets you go back to any second of the feeds and rewatch what happened. Simon and Dawg will index the season just watch the parts worth watching. All this for $5.99 a month try it out 1 week free. Support our efforts and get your feeds via a link on this site. Live feed subscription Sign up
[polldaddy poll=8961340]
Share it YO!!
Tweet