POV Holder:
Liz
POV Competition
Aug 15th
POV Used
No
POV Ceremony
Aug 10th
HOH
Liz
Next HOH
Aug 20th
Original Nominations:
Johnny Mac and Becky
After POV Nominations:
Johnny Mac and Becky
Have Nots
Vanessa, Johnny Mac, Steve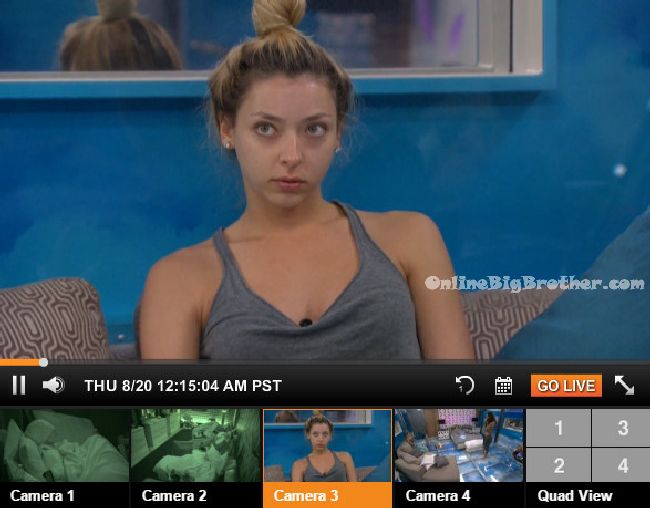 12:15am – 1am HOH room – Austin and Liz discuss what to tell the Goblins if they ask what happened. Liz says that Johnny Mac was just asking for our votes for tomorrow. Austin says no they'll want to know what Vanessa was doing up here. Liz says just say the truth that Vanessa was trying to guarantee that Johnny Mac wouldn't put her up. Austin says how about Vanessa wanted us to do her dirty work. She wanted us to bring Johnny Mac in the room. And made him promise not to front door / back door any one of us. Which basically screws Meg & James. Then Vanessa left and we talked to Johnny Mac and were like hey man, just to let you know that was all her you don't have to do it. You can take her out if you want to. And he was like good because I really want to take her (Vanessa) out. Steve was never in here. Keep Steve out of it. They go over what to say with Julia. Julia messes it up. Liz says this is serious. You can't mess it up. Julia says I know. Liz says you've done it before. Julia says I feel good about Johnny Mac. I feel like he will go after Vanessa. And Steve will too. Austin says she (Vanessa) thinks its in her best interest to throw it, but you never know she might just be saying that. Austin says the only thing is if we keep Steve out of this then Vanessa has that on us. She could flip and lie and start telling them Steve's been with them the whole time. Julia says I have a good feeling about Johnny Mac. She (Becky) has people if someone comes back. Julia asks so ideally who do we want gone next week? Vanessa. Austin says maybe. We will just need to talk about it. Julia leaves. Austin and Liz go to sleep. They lie there for awhile and then Austin says he has anxiety about tomorrow. I wonder if Vanessa is f**king with us. Liz asks seriously?! Austin says I wonder if she is trying to set something up like tell James and Meg we have a deal with Steve. Like what she did with the 8 person thing. Liz says yeah like trying to flip it.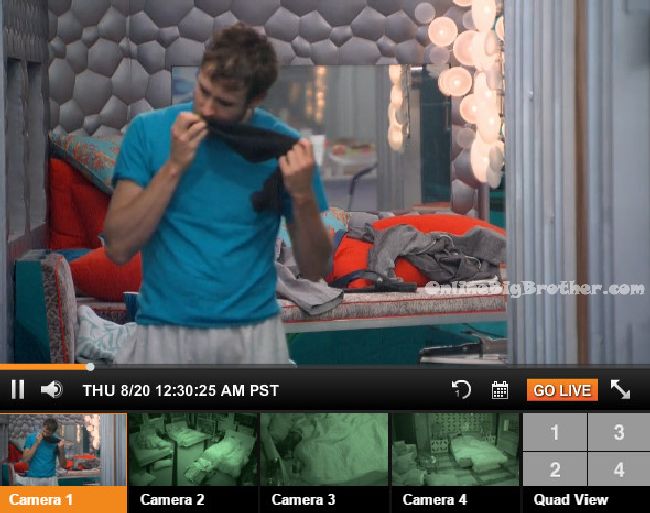 12:35am Kitchen – Steve is making something to eat. Vanessa joins him. Vanessa looks at the memory wall and asks how in a face morph competition would we ever tell Liz and Julia a part? Steve I thought about that and wondered how are we going to study Jace? Vanessa says I think we already had to. Steve says I missed that train. Vanessa says you looked at him. Steve says but not look at him, look at him. Vanessa asks and they always do the face morph around final 5? Steve says yes, typically. Vanessa asks if Johnny Mac talked to him. Steve says yeah I think that he liked that someone approached him, especially with him on the block. Vanessa asks how do you feel about our final 2. Steve says good.. I never fathomed making final 2. I always thought I would be juror number two. Vanessa says its impossible for you to be juror number 2. Steve agrees. Vanessa asks do you think Becky is playing up how bad her toe is? Steve says no. Vanessa says that's what I tried to tell them up there. Steve says the face morph is going to kill me. Its not a competition I will do well at. It took me a day to figure out the twins when they were both here in person. Vanessa says she misses how the game used to be. It used to be much more strategic and now its more social. Steve says there is no way I'm making it to final 5. What if James and Meg win HOH? Vanessa says they'll probably go for Me and John. And if John wins the veto it will end up being me and you on the block together which will suck. Other than than that, John will go. But you don't have to worry about Meg winning, just James. He wants to make a big move. Steve says and that's exactly what James did last time he was HOH. Becky gets up to get more ice. Vanessa heads to bed.
Watch the NEXT WEEK of the Live Feeds for FREE! Click here for your: 1 Week Trial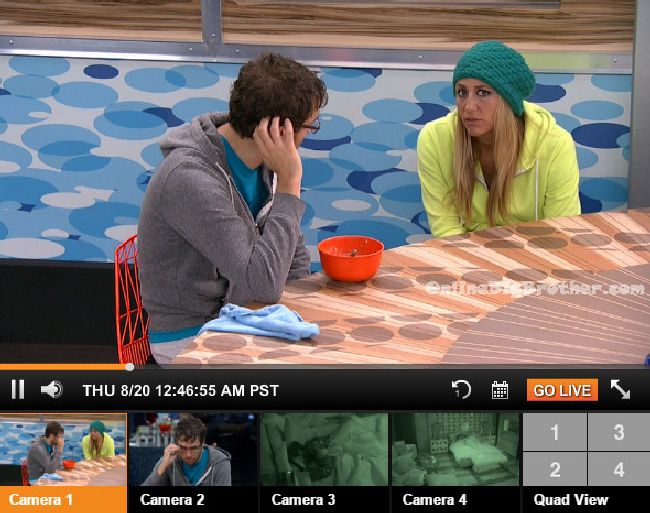 1:05am – 2:20am Steve and Becky head into the cabana room to hang out. Steve tells her he is really mad. I attempted to include muffins in your message (Goodbye Message) and I was shut down. Becky says there are two muffins in the kitchen and I got evicted. Steve says this game is a lot harder and worse than I thought it would be.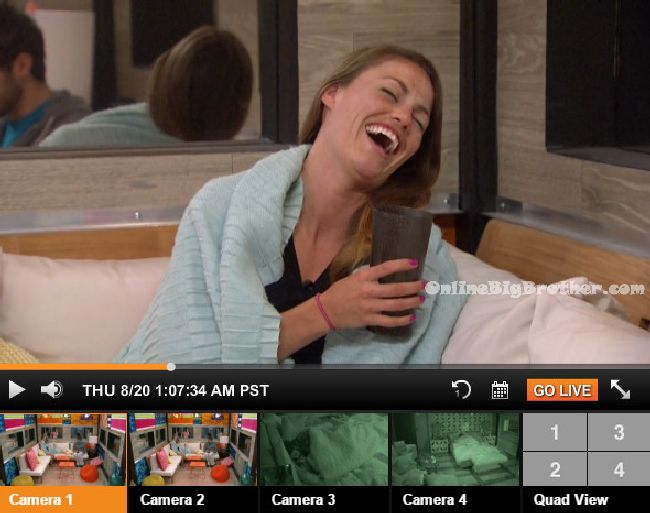 Becky says I've experienced different highs and lows I would have ever experienced. My job is about bringing people together and this is totally different. Steve asks do you want to take bets she (Vanessa) will want to style my hair for the live show tomorrow? Becky says if she made it to final 3 she would have my vote. She's done it by being an individual and has had so much to do with every eviction but gets no blood on her hands. Steve says she did when she was HOH. Becky says but she said her decision had to do with the house. Whereas I said it was personal. Steve says I made a fool of myself on national television. We both did. (During their HOH reigns.) Steve says its weird when the number one social need is to be accepted and this game is designed to take that away. Steve tells Becky he was really surprised they flipped on her. You kept talking them up and then wham they flipped on you. Becky says it was tough. Becky says that this week she realized that people are going to vote whatever is best for their game. The conversation turns to talking about their lives outside of the house. School, jobs, etc. Becky heads to bed. Steve runs up to the HOH room and looks under the door to see if the lights are on and then heads back downstairs.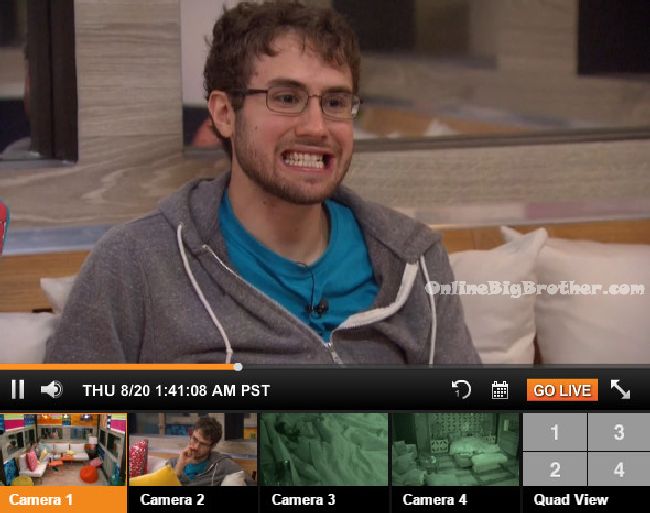 2:40am Steve wonders around the house and then goes to bed.
ALLIANCES:
"Goblins/Gremlins" = James and Meg
"The Generals" = anyone allied with Becky
"SOS" (Students of Sound) = Steve and Vanessa
Rockstars = Steve and Jmac
AUS-Twins = Austin, Julia and Liz
"Austin's Angels" = Austin, Liz, Julia, Vanessa
"Brass Tacks" = Gobins and Austwins
The new "Brass Tacks" = Aus-Twins, Meg, James + Vanessa
"Freaks and Geeks" "The Scamper Squad" = Aus-Twins, Vanessa, Steve
"The new Freaks and Geeks minus Vanessa" = Austin, Liz, Julia, Steve, Johnny Mac
[polldaddy poll=9025485]