POV Holder:
Liz
POV Competition
Aug 15th
POV Used
No
POV Ceremony
Aug 10th
HOH
Liz
Next HOH
Aug 20th
Original Nominations:
Johnny Mac and Becky
After POV Nominations:
Johnny Mac and Becky
Have Nots
Vanessa, Johnny Mac, Steve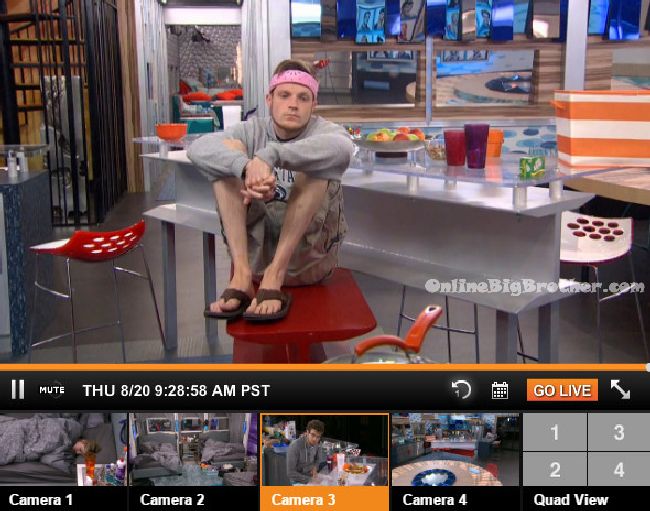 9:30am Steve tells Johnny that he talked to Becky last night but she didn't even ask for my vote. It was mostly just about life. Johnny asks you were up late last night? Steve says does a bear poop in the woods?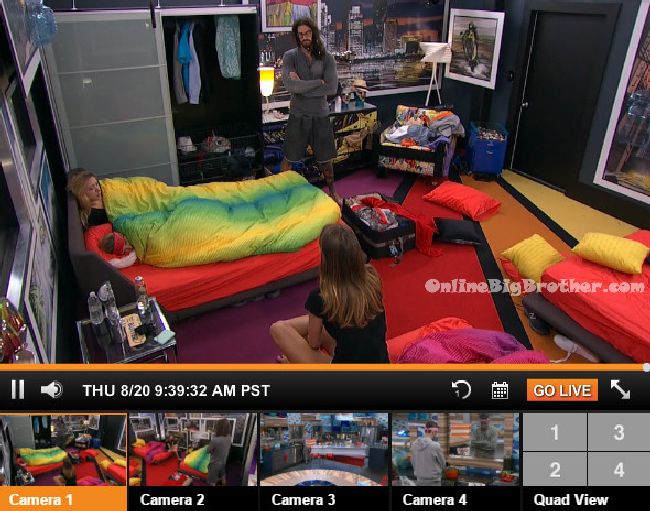 9:35am
Becky asks Liz and Austin if they know where they're at? Liz says thats what we wanted to talk to you about. Becky says that what she realized after her HOH she would definitely consult them if she stayed and won HOH. Becky says she leaned from her HOH. It would be horribly .. a complete detrament to my game if I didn't execute it perfectly. I ran a really sloppy HOH. Austin says its going to be a house thing. We're not going to go against them. Johnny Mac hasn't campaigned against you at all but he has campaigned a bit. The only thing he presented which was interesting is that he doesn't have a group or a team. There's no worry working with me because I don't have anyone else. Becky says him and I are in the same boat. My two people were Jackie and John. John walks out that door. I know that Meg and James are a duo and I'm the third wheel. Its like if you one of you were to walk out the door there are still two more. Am I working with these people yes but its no different than Julia or Austin. I had my two people but they will have been gone with in two weeks. Austin says one of them could come back too. Becky says I am hoping Meg and James… I mean I haven't talked to them but I assume the same thing is going down. The only thing I ask is if I can know by 5pm because I have my eviction dress and regular dress. Austin says okay.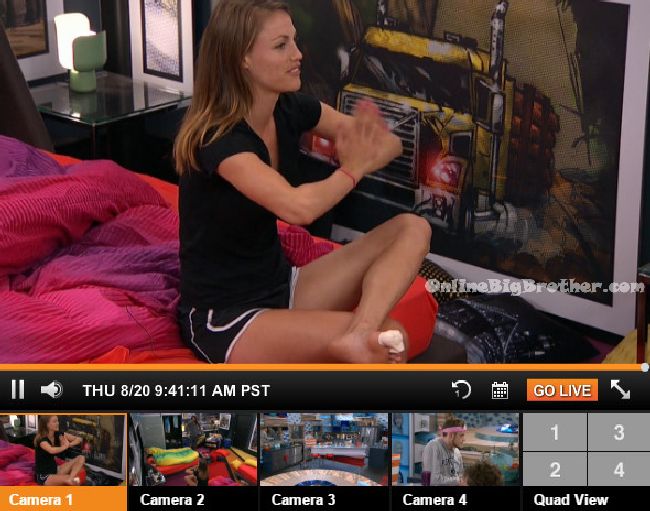 Watch the NEXT WEEK of the Live Feeds for FREE! Click here for your: 1 Week Trial

9:50am Liz comes over and talks to Meg and James and tells them they need to talk to them. Meg agrees and says they were going to last night but fell asleep. Meg says we woke up at 3am and said we're bad kids. Austin joins them. Meg says after HOH (lockdown) we'll talk. Austin says he talked to Vanessa and Johnny Mac last night and she got him to agree not to frontdoor or backdoor her. After she left and I told him its okay you can frontdoor and backdoor her. Meg laughs. Austin leaves. James says we're set. Meg says but we'll be on the block. If Johnny Mac wins we'll be sitting up on the block. James says that's why I am going to try and win too because pawns go home to at this point. Vanessa could be behind all a big plan to get James out. If its an endurance comp I know I've got to bring the heat. James ask how come she hasn't come to talk to us yet. Meg says she talked to me about brass tacks. She will probably talk to you before the comp. She probably feels secure because of the alliance. James says oh yeah. James says she's got to go. Johnny Mac joins them. Meg tells him we missed all of witching hour last night so we'll want to talk to you later today. We caught the gist of it though.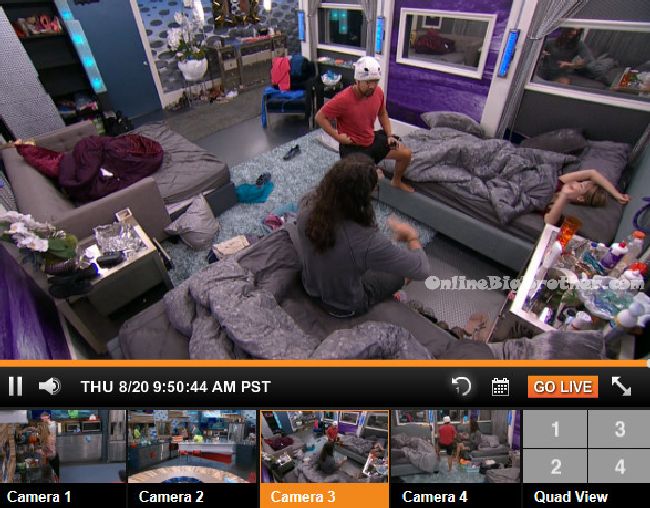 10:15am – 10:20am
Austin and James are in the kitchen talking about pranks they can do to Zing Bot when he comes in. We could throw chocolates at him. Austin says we might get a stop that. James says we could all have stickers and stick it on his back without him noticing.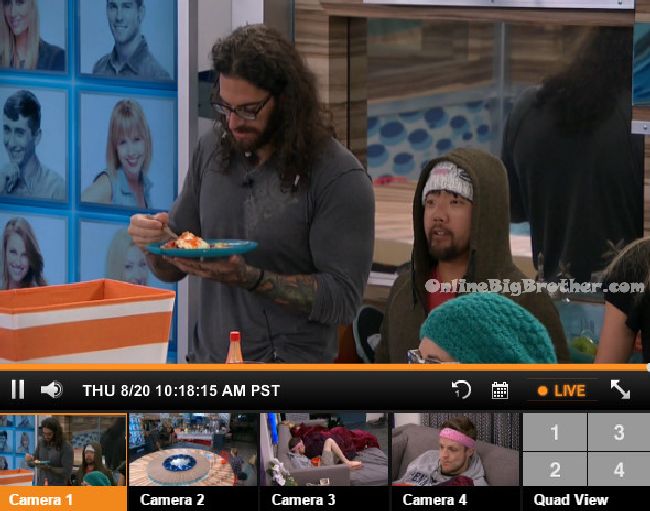 10:45am The house guests head up to the HOH room in preperation for the HOH lock down. Julia is dying Liz's roots in the HOH bathroom. In the HOH bedroom – Austin is asking pretend Julie Chen questions. He asks James… You and Meg have an interesting relationship will it continue to progress when you enter the jury house? James says I hope so!
10:50am Big Brother switches to the live feed highlights for the HOH lock down.
Help support all the live feed updates we provide. Show your support by making a donation. Any amount is greatly appreciated!