POV Holder:
Liz
POV Competition
Aug 15th
POV Used
No
POV Ceremony
Aug 10th
HOH
Liz
Next HOH
Aug 20th
Original Nominations:
Johnny Mac and Becky
After POV Nominations:
Johnny Mac and Becky
Have Nots
Vanessa, Johnny Mac, Steve
4:28pm Vanessa and Becky
Becky – I would slam moonshine, the bacteria is growing
Becky – I'm going to be remembered the patient
Becky gets called into the diary room for painkillers and antibiotics.
Feeds have been down for awhile.. They had an announcement about take out.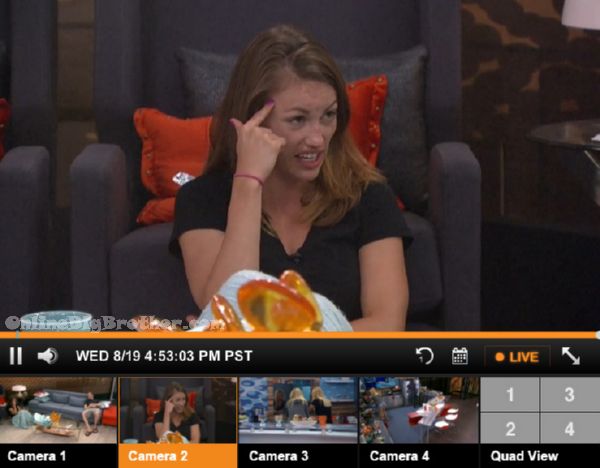 4:50pm Becky is happy now drugs have taken effect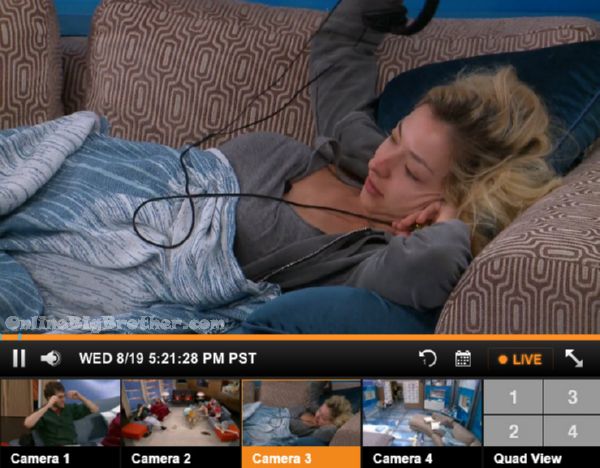 5:21pm HOH Julia and Liz
LIz – zero f***
Julia – not even one ounce of you feels bad?
Liz says if it was her toe she wouldn't make a big deal about it.
Liz – it's a f**** toe get over it
Julia says he's been creeping hard on everyone eating using the HOH camera . "Not even pregnant just eatin good"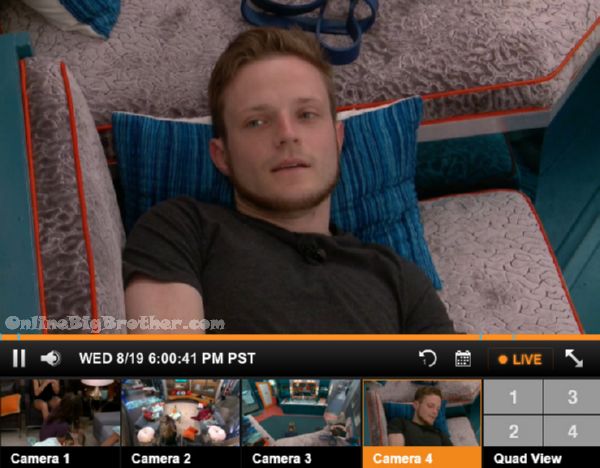 5:57pm Jmac and Vanessa
Jamc says he's out of his funk now he's either going home or staying he's cool with it.
Vanessa – like I said in the beginning of the week I think Johnnymac is going to be OK
Vanessa – what sent you into your funk
Jmac – when Clay and Shelli first went up.. I was like WOW the people I'm working with everyone is after
Vanessa – have you talked to people asked if you have their votes
Jmac – na, I don't want to campaign against her, I'll know by tomorrow evening where the votes lie
Jmac goes on to talk about his crushing student debt.
Vanessa talks about her time living in Montreal, "Looks like you're in Europe"
They talk about the debate that happened when the feeds were cut. Production asked them what they wanted for take out. Jmac and Vanessa wanted "In and out"
Jmac says everyone in the house is "So granola"
Chit chat starts…
Jmac – if the zombie Apocalypse happened I would be ready for that RRWwwwhaAAAAAA rwhHAAA
Jmac – I would need a six shooter and a sawed off shotgun I would need to know how to use them because I have no idea RRWwwwhaAAAAAA rwhHAAA
Vanessa- I would need a bodyguard.
Vanessa – I would need a mansion on the high ground so you can barter safety.
Vanessa says she wants kids by the time she's 45 she's going to adopt.
She's open minded about the age, "I feel bad to the older ones"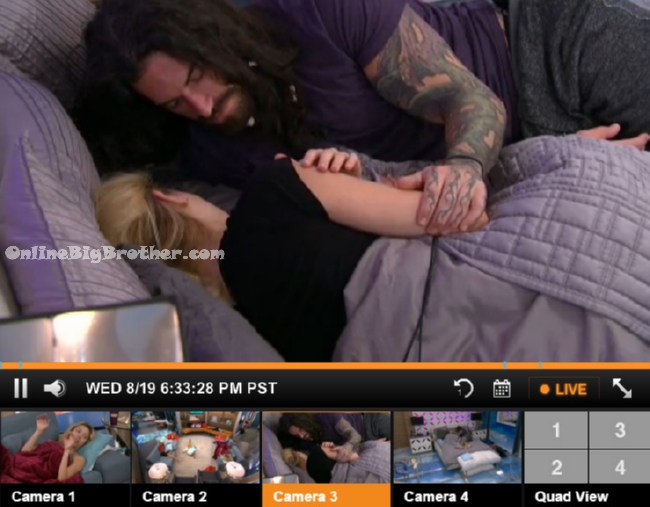 6:33pm Rubbing away but as long as we see their hands it's all good…
Liz looks up at the HOH screen "What the f*** Steve is massaging Julia"
(It's slow.. We have take out (In and out) and bowling coming up later tonight. I don't see any play being made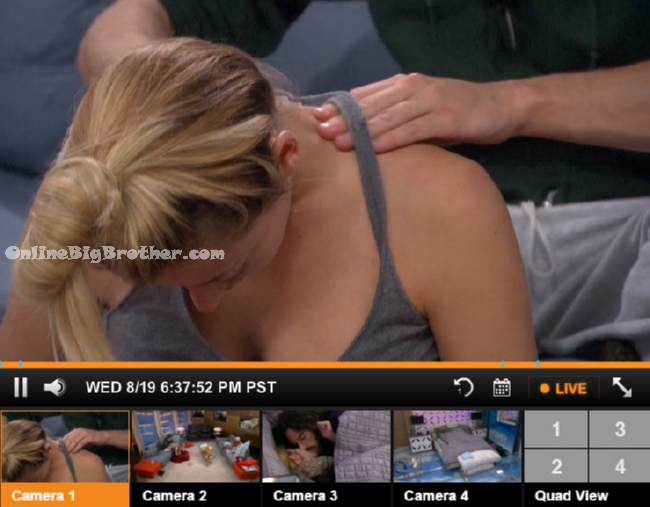 6:38pm the Massage
Steve tells them he asked production if the have nots can have a meal other than in or out. Just using the food in the house right now. They told him NO.
Steve goes to massage Julia's neck give her a tickle (See gif)
Julia "You should be treating me like a queen"
Sneaky Steve before a neck massage #BB17 @DawgsBigBrother pic.twitter.com/9hprRpcjYh

— OnlineBigBrother.com (@bigbspoilers) August 20, 2015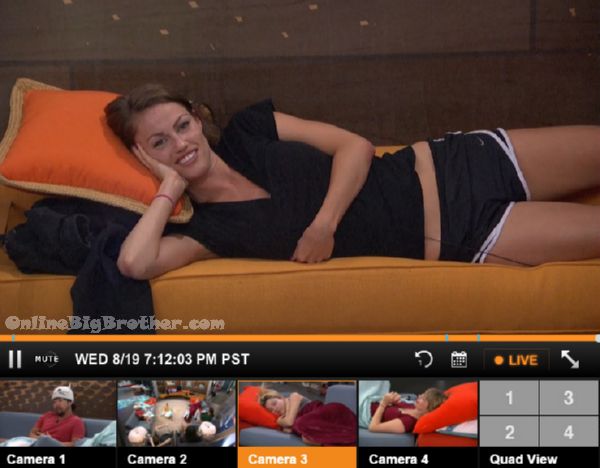 7:21pm Playing Celebrity 20 questions
James had no idea who Steve Jobs was..
They're wondering where the food is. Meg is really hungry but knows once she sits down it'll come
Austin – It's coming, In and Out takes forever
7:44pm Still waiting for their take out… (Slow)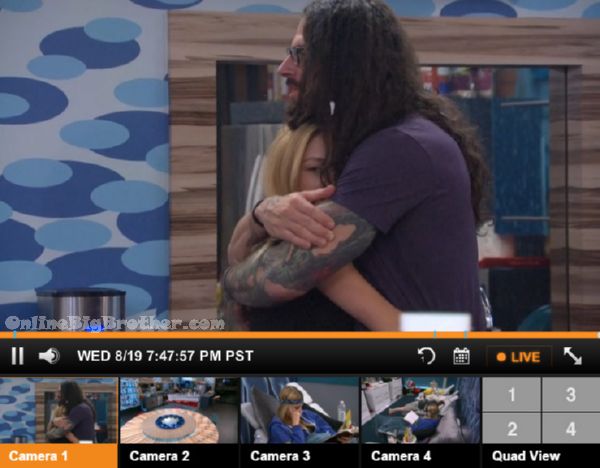 7:48pm Kitchen Steve, Liz and Austin. Steve "Bros don't let bros wear ponytail beards"
8:02pm feeds out probably for take out
8:57pm Feeds back it's BB bowling time
9:20pm BB Bowling
[envira-gallery id="129435″]
9:44pm The customary Chocolate battle after the bowling game.
Owned #BB17 @DawgsBigBrother pic.twitter.com/vdDQQmD2DY

— OnlineBigBrother.com (@bigbspoilers) August 20, 2015
"You wanted a war you got one" #BB17 @DawgsBigBrother pic.twitter.com/SN8naeqBkO

— OnlineBigBrother.com (@bigbspoilers) August 20, 2015
10:00pm Production told them to clean the house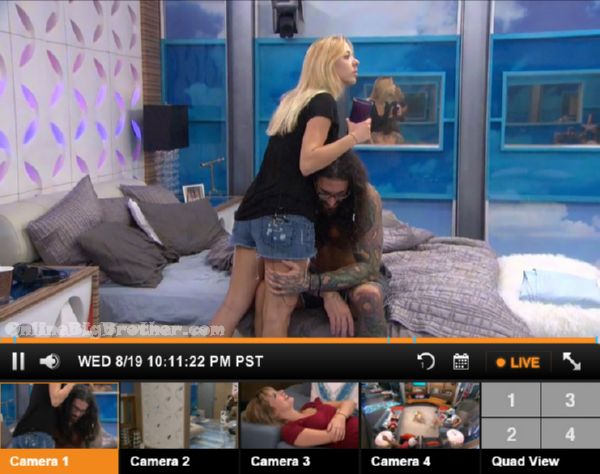 10:11pm HOH Liz and Austin
Talking about how Vanessa is "Starting again"
Liz saying the best final 5 is them with the goblins "We would have so much fun"
[envira-gallery id="129445″]
10:55pm Chit chat..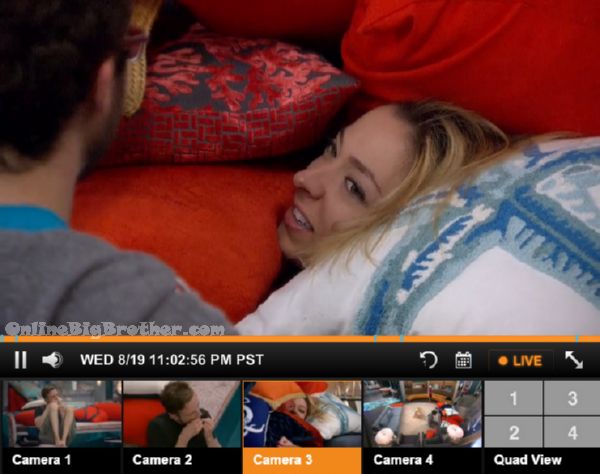 11:05pm
Steve and James bury Julia in pillows
Julia – STEVE I'm actually going to throw up
Julia- You can't sit on meeeeeeeeeeeeeeee
Julia- JAMESSssssssssss owwwwwwwwwwwwwwwwwwwww Jamessssssssssssssssssss
Julia – I feel like shit, thank you In-N-Out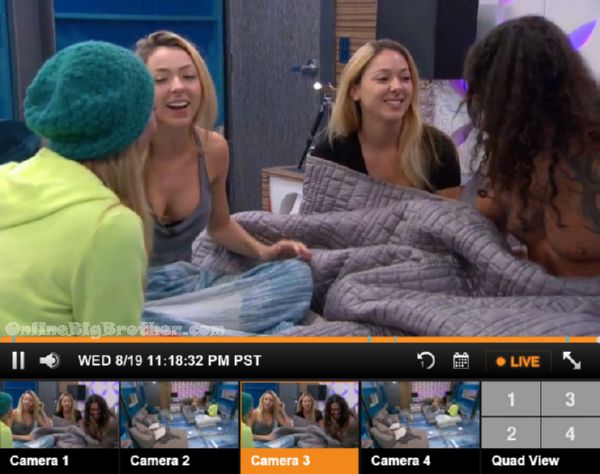 11:08pm HOH Twins
Julia says Becky Can;'r compete in the next HOH
Liz – She's targeting me
Julia – She annoys me
Julia- She can't play tomorrow
Liz – She on their side she's coming after me
Julia- I don't even feel like she's coming after Vanessa anymore
They agree Becky might not be able to win HOH but come Saturday she could be able to win Veto.
Liz – Johnnymac is not going to beat James
Vanessa joins them warns them that Johnnymac is outside playing chess with Steve.
The twins start complaining about Becky playing up the tow injury
Vanessa saying it might be the better play to keep Becky because she's not going to be able to compete physically.
Julia says she saw the toe "It's HUGE"
Liz says Becky is playing it up.
Julia says if Jmac wins HOH he'll put up Meg and James' and Becky will put them up "Becky needs to go"
Austin comes in, they form a goblin circle (See image)
Vanessa tells him Becky can't win the HOH competition.
Austin – if she recovers and Jackie comes back in
Vanessa thinks the toe is legit because she got antibiotics and Vicodin.
They're going to ask Jmac a deal to protect them all next week if Jmac wins the HOH. They have the votes to keep him.
11:13pm Bedroom Becky and James
Becky says her toe is sore… too sore to campaign.
11:30pm OH Twins, Austin and Vanessa
Talking about winning the HOH on Thursday not being the best play. Austin says if it's endurance it'll come to Jmac and James anyways. Austin had gone out to grab Jmac and Steve. 10 minutes pass and they still don't come into the HOH. Austin points out how funny it is that Jmac is on the block but won't come into the HOH to talk to them until after he's done his Chess game, "we have the votes right here to keep him"
11:43pm Vanessa, Austin, Twins, Steve and JMAC
Austin says Meg and James are probably going to vote the other way because Becky is hurt and can't compete. Austin adds they all want to keep Jmac
Austin tells him they want to make a deal they will not be front door backdoor targets.
Jmac- Ohh nice, ya, I'm down
11:57pm HOH Twins, Steve and JAmac
Telling Jamc Vaness had orchestrated that whole deal they just offered him.
Austin – she's throwing it tomorrow 100%
Austin – She (Vanessa) finally thinks everything is good
Liz and Austin say that Vanessa was bringing up flipping to keep Becky when she first came up to the HOH tonight.
12:08am Jmac and Steve leave..
Austin and the twins go over their stories so when the goblins come up they can explain what the conversation they just had With Jmac and Vanessa.
THey have to go over it many times as Julia is messing up.
ALLIANCES:
"Goblins/Gremlins" = James and Meg
"The Generals" = anyone allied with Becky
"SOS" (Students of Sound) = Steve and Vanessa
Rockstars = Steve and Jmac
AUS-Twins = Austin, Julia and Liz
"Austin's Angels" = Austin, Liz, Julia, Vanessa
"Brass Tacks" = Gobins and Austwins
The new "Brass Tacks" = Aus-Twins, Meg, James + Vanessa
"Freaks and Geeks" "The Scamper Squad" = Aus-Twins, Vanessa, Steve
"The new Freaks and Geeks minus Vanessa" = Austin, Liz, Julia, Steve, Johnny Mac
[polldaddy poll=9025485]