Finale Schedule
Sun, 9/20- 8p
Wed, 9/23– 9:30-11p Finale = Winner of Big Brother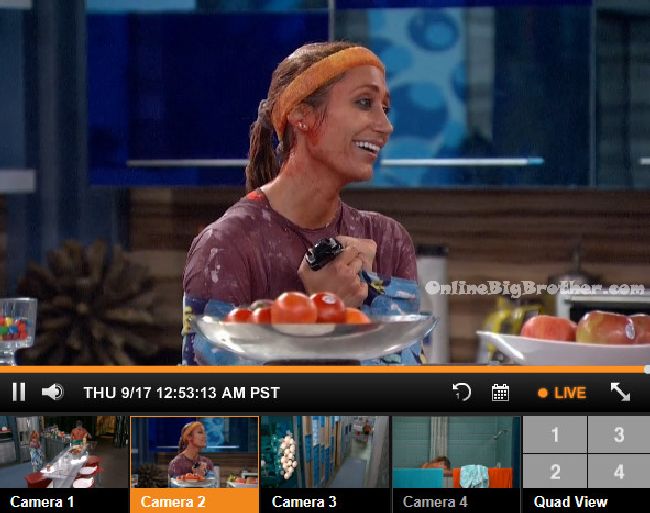 VANESSA WON PART 1 Of THE 3 PART HOH
Part 2 of 3 – Liz and Steve will compete against each other
Part 3 of 3 – The winner of part 2 competes against Vanessa

12:45am – 1:10amThe live feeds return from being blocked after Vanessa won part 1 of the 3 part HOH. The house guests are now inside the house. Vanessa and Steve are in the kitchen talking. Liz goes ot shower. Steve says this was the moment I was waiting for. I knew I wouldn't beat either of you. Vanessa says we made it almost 4 hours! Liz says we did amazing. Vanessa says I wanted it bad. I have no shot in the next one. I'm going to be bruised from head to toe. I'm wrecked! I will be lucky if I can walk on finale night! Vanessa says there will be no camping in my world for a long time! Steve says maybe for Mel. Vanessa says I literally can't move. Promise there is nothing else physical. Vanessa tells Steve he can win the next one (Part 2 – a physical/mental competition) Steve asks how do you know that? Vanessa says I know. Steve says I think we went longer than average for the final part 1 HOH. Vanessa heads to the bathroom. Steve whispers to himself and says we came in around 12:40am.. my answer would be just over 3 hours. (Part 3 tie breaker question) Steve joins them in the bathroom. Vanessa complains she is wreaked and will probably need a doctor tomorrow. "I need narcotics, I need Vicodin" I took some bad hits. Liz says oh my god my vag!n@ is bruised already! We're going to be so sore. Vanessa says all I know is finale night no bueno. Liz says Mel and Austin. Liz says my Vajayjay!!! Vanessa says I could have gone a lot longer but once I knew I was f**ked for the second comp I was not letting go.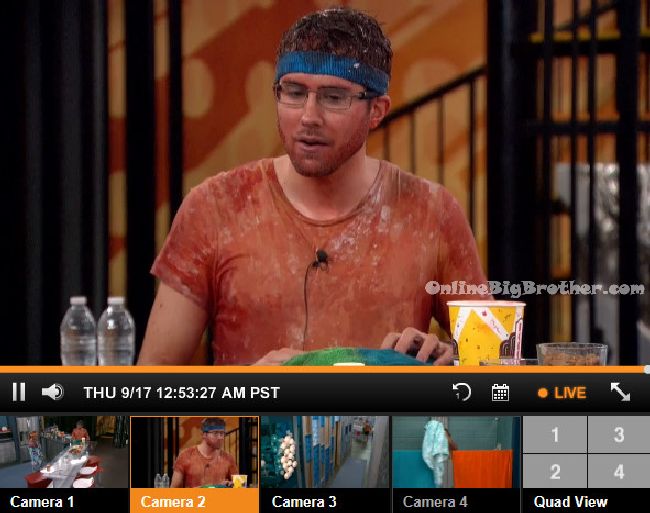 1:20am – 1:30am Steve goes to take a shower and asks if he's bleeding!? Vanessa says that's the red. Liz yells ewww that's the red. Liz says I just took 3 advils. Vanessa tells Liz – I would highly recommend you eat yogurt because that one was no beuno for us. Being dipped into that.. and second of all there was sugar, cake batter and god knows what in there. Liz says ewwww noooo!! Vanessa comments that when they took their showers it looked like they got their period. Liz says she was thinking the same thing but didn't want to say it.
Watch the last week of the live feeds for FREE: 1 Week Trial!
1:30am – 1:45am Vanessa whispers to Liz in the bathroom. Vanessa says you cannot tell Steve about our deal. Liz says she wouldn't. Vanessa asks I have your word? Liz says yes, you have my word. I haven't made any deal with him. Vanessa says if I tell him anything different, like if he goes around.. I would be lying. I lie to him. I have to. Steve joins them and the conversation stops. Steve heads to the diary room. Vanessa tells Liz that Steve cannot know we have a deal okay!? Whatever the f**k I tell him is not the truth. Liz says okay. Vanessa says okay listen to me.. I give you my word. I am going to take you. Liz asks but does he think you have a deal with him? Vanessa says no. If I win I will take you no matter what I tell him. Liz says okay. Vanessa says that's all I can offer you and I think that's fair. I just need you to keep your mouth shut! Obviously you know my word is good. Liz says I know. And I have no intention of making a deal with him. I literally only have you. I am not going to go around and pretend to him. Vanessa says that's why he was going around being depressed too. Liz says I'm scared though, he knows his sh*t. Vanessa says its more about physical and not so much mental. I think I am going to do very well in jury statements so its good to have me there. (To win part 3 and take her) Vanessa says if he asks if we made a deal the answer is NO! You dropped because you didn't want to be f**ked for part 2. If he makes a deal with me I am not going to keep my end. Remember how he f**ked me in the game before? My word is good with you and not with him. Liz says he is such a nerd he is going to make so much money in his life. Vanessa says I will keep my word to you as long as your mouth clenched. Vanessa says I need narcotics!! We need pain medication. Liz goes to check on the pizza in the oven.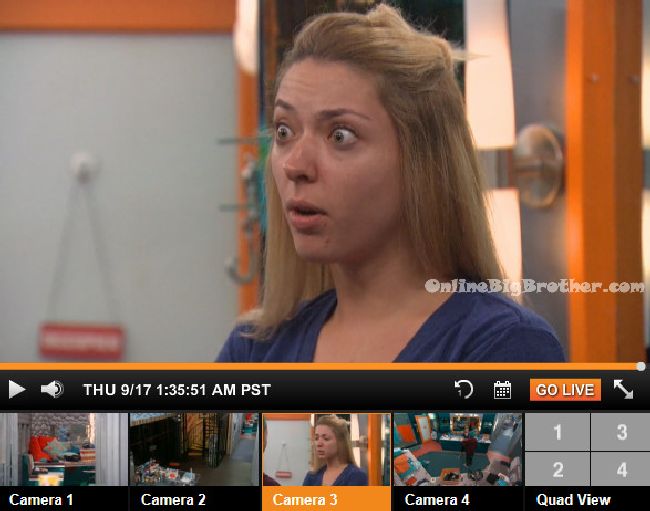 1:50am – 2:20am Vanessa and Liz are in the kitchen eating pizza and drinking champagne. Vanessa says trust me I am going to get us to finals. You have 75% chance of being in the finals. One comp down, one to go! Liz says and if anyone has that jury sh*t down its you. I have to win that. Vanessa says I will guarantee you we are going to get there. Don't worry believe it. Its meant to be. Two girls in the finals. Vanessa tells Liz that Austin had said he needed to make deals for himself and that he said he told you to as well. That's why I didn't say anything to you because I thought he told you. Vanessa tells Liz to f**king win this sh*t because I couldn't. After we'll just sit him down and say sorry dude. Vanessa asks do you know how many comps I've won? Liz says 5 HOH and 3 Vetos! Vanessa says 8! Isn't that sick?! Liz says it sucks what happened with Austin but I am not holding anything against it. He was doing things behind my back and I wasn't doing things behind his back. It wasn't against me but it wasn't necessarily for me. Vanessa says being a trust worthy person got you here and that's why I kept you over him. Liz says Austin definitely had something with Johnny Mac. Liz says I hope he doesn't have animosity towards you because if you didn't do it first he would have done it to you. Vanessa says she hopes he doesn't too and says she hope they can be friends for a very long time. Liz and Vanessa talk about Austin. Vanessa says if you had ended up with him in the end you would have lost because he would have gotten all the credit for the things you've done. Vanessa says we've been HOH for 50% of the time here. 7 out of the 15 weeks. I had 5 counting this one. Steve joins them and Vanessa goes into the diary room.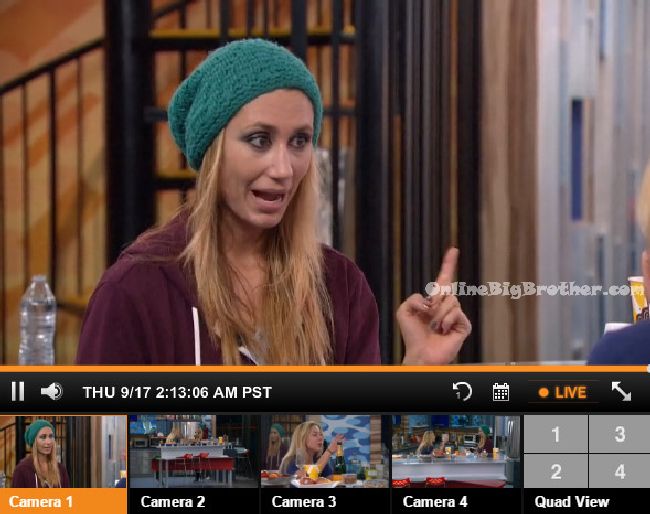 2:30am – 3:20am Liz starts doing her makeup for the diary room. Liz and Steve decide to head to bed. Liz knows that she'll have to get up for her diary room session but is too tired. Steve comments on how in his diary room session they said this was the longest the final 3 endurance has gone in the last 6 years. Liz says oh my god they told you that!? Steve gets up and goes back to the kitchen to eat. He then heads back to bed.
8:20am – 9am Big Brother wakes up the house guests. Steve gets up and takes his blanket and pillows up to the HOH room to take his position on the corner of the floor. Liz and Vanessa head up to the HOH room for a lock down. (They might be getting their final 3 breakfast this morning)
9am Big Brother switches the feeds to the live feed highlights..
10:35am The live feeds are still blocked.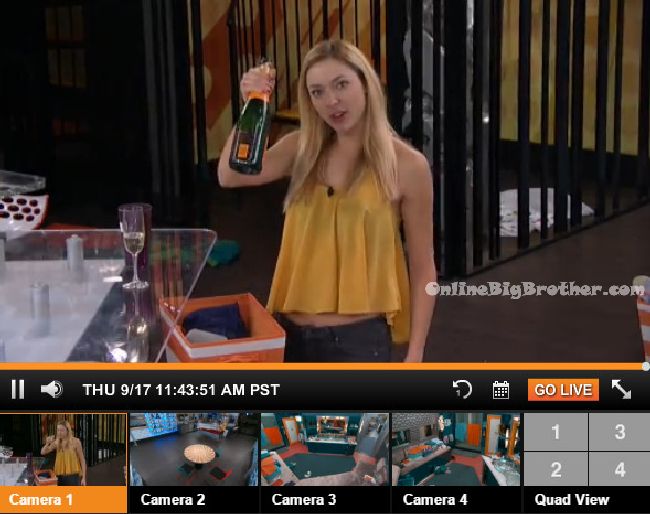 11:45am – 12:35am The live feeds return. All three of them come down from the HOH room. Liz comments on how there are only 3 chairs now. Liz says thank you big brother for the champagne we love it! Keep it coming. That was fun! Now we are going to go to bed and sleep our lives away! Sorry feeders! Steve says I'm happy I got to do reflections today though. Its a classic thing to do and I'm happy I got to take part in it today. Liz says I'm so excited to watch that episode and all the recaps! That was so cute! Liztin! Vanessa says I'm dead to the world now. Liz says goodbye everyone! Steve and Vanessa head to bed. Liz heads to bed and says slumber party!
The final 3 house guests are all napping.. Liz gets called to the diary room and then Vanessa.
Liz waving to the feeders @bigbspoilers #bb17 pic.twitter.com/LgSDtpFSlI

— Dawg (@DawgsBigBrother) September 17, 2015

1:25pm – 1:50pm They're all still sleeping..
The camera operators are keeping busy..
2:35pm Still sleeping..
2:55pm – 3:10pm Vanessa wakes up to eat. Liz, Steve and CoCo continue to sleep. Vanessa heads back to bed. Liz wakes up and Vanessa asks when they (Steve & Liz) will have the part 2 comp? Liz says probably tomorrow or Saturday. I hope it will be Saturday because I need another day to recover.