Finale Schedule
Sun, 9/20- 8p
Wed, 9/23– 9:30-11p Finale = Winner of Big Brother
VANESSA WON PART 1 Of THE 3 PART HOH
Part 2 of 3 – Liz and Steve will compete against each other
Part 3 of 3 – The winner of part 2 competes against Vanessa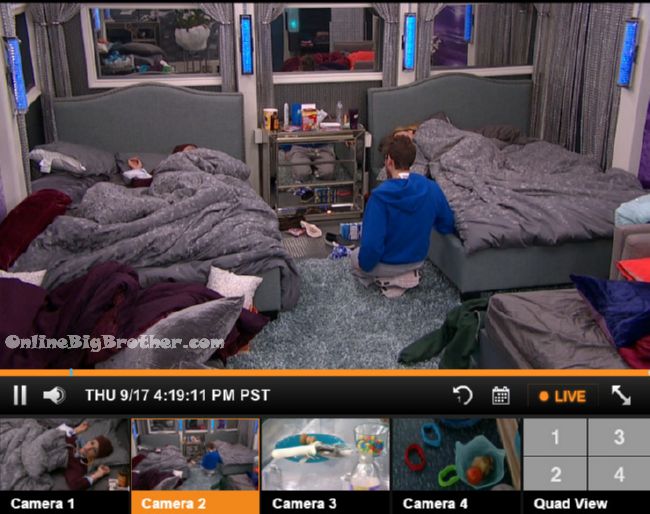 4:10pm Bedroom Final 3
Talking about Victoria and the rest of the final 4 from last season. The conversation is as exciting as BB16 was.
Steve says he's not looking at this show to be famous like so many other people do.
Steve brings up Aaryn and Ginamarie having some troubles outside the house due to their racial slurs. Steve says Amanda from from Season 15 is a mean person.
Steve- there was no bullies this year.. there was no Evel Dick, Amanda or Devon
Liz says Jackie never didn't do much
Steve – she was a goblin
Steve says early players sometimes affect the game, cites Nick uhaus and Devin both having lasting impacts on their season due to the alliances they had set up before they left.
Steve adds that Christine was only part of the detonators because of Devin.
The girls both comment on how Steve is acting much calmer now. They mention having having champagne and omelettes. Steve gives a shout out to Brian Lynch (@LynchMgm)
Liz says the only person that played a good game in season 13 was Rachel. Steve thinks Shelly also played a good game. Liz says Rachel was the boss.
Steve says Shelly and her family got death threats after voting out Jeff. Adds that Jeff and Jordan were campaigning during the finale to tell the JEJO fans to chill out it's only a game.
Steve- that was my biggest fear coming into the house.
Liz – it's a game bro, damn
Steve – Shelly, Jeff and Jordan got that some fans didn't
Steve – Vegetables here, I got it right there, I kept it to the left.. your's don't move to the side
Liz – it was rotten
Steve- endurance comps are supposed to be rotten
Liz goes to sleep. Steve continues to wander around. Vanessa is in the Diary room probably getting some meds.
[envira-gallery id="133834″]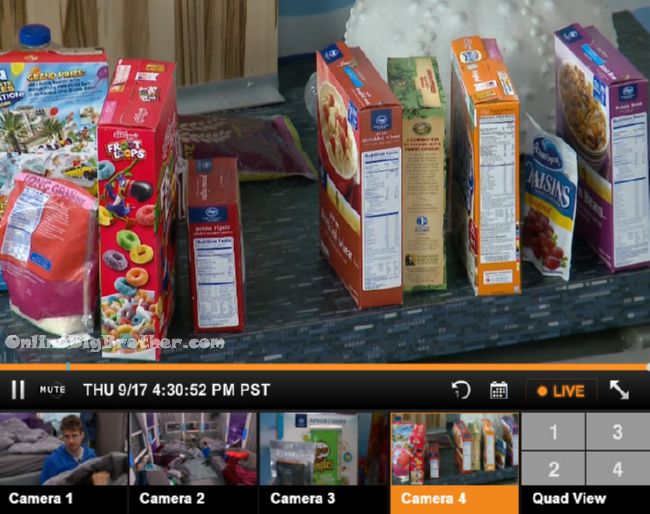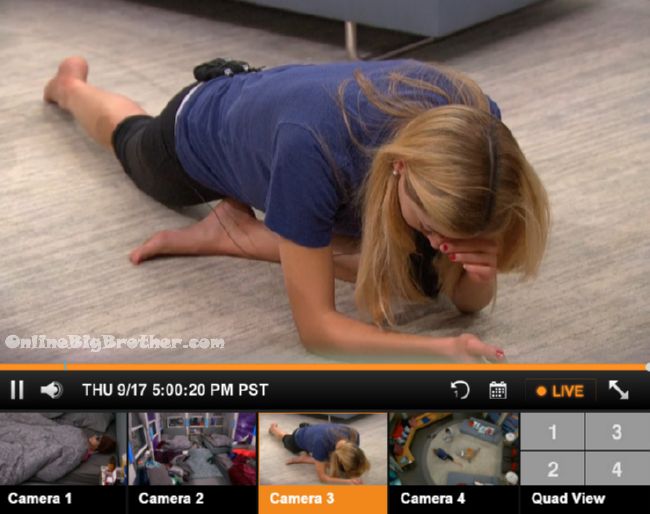 5:02pm Steve and Liz Austin's work out plan… he will make you sweet.
Liz mentions how production really hates all their Irish Spring endorsements.
Steve brings up Jace. Says he knew Jace was getting backdoored and was going to tell him but told him something to test him first to see if he could trust him. Steve told Jace to keep the conversation to himself he had something important to tell him.
Jace agreed and Steve went on to warn him that brotips him and Austin are doing are pissing everybody off.
While Steve was still in the room Johnnymac walks in and Jace said "Bro are people having a problem with Bro talk"
Steve adds at that point he knew he couldn't trust Jace anymore.
Steve – I really liked Jace as a person.. he's actually my favorite people in this cast.. I would totally be friends with him and hang out with him in real life
Steve says he got to really know Jace.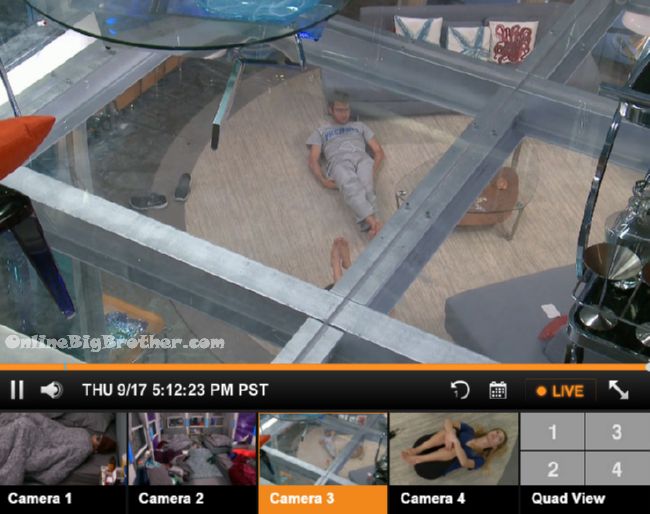 They start talking about all of Jason's trash talking. They agree he probably does a little bit of that outside of the house.
Steve says Jason came up to him and said 'the Cameras give us more privacy than you do"
Liz – what a rotten little boy
Steve – if that was game play that was bad game play.. but I have no animosity towards him.
Liz – the thing about Big Brother it's not good to do mean game play.. unless you're eval dick
Steve- Eval dick won because of America's player..
Steve adds that Eric would have won that season if he wasn't america's player.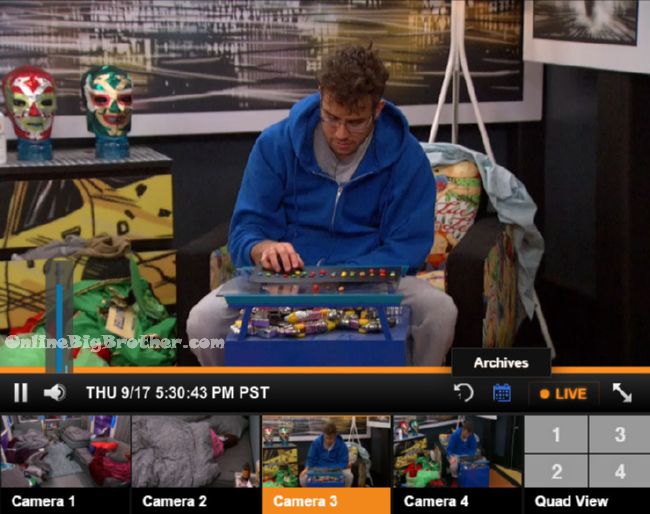 Studying…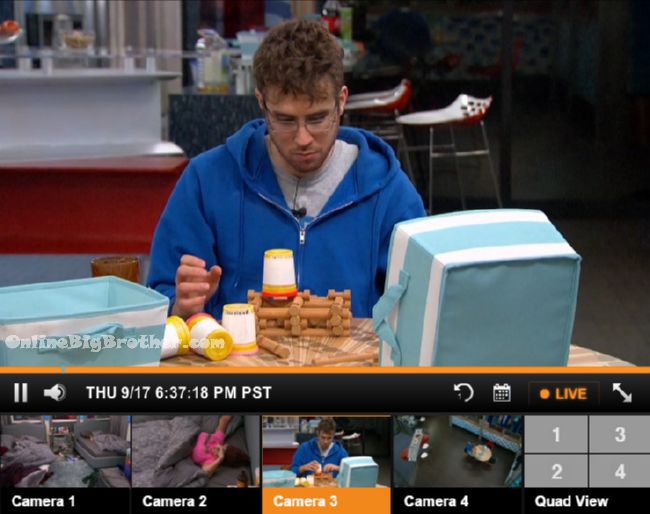 Toys..
7:04pm Vanessa now up in the kitchen complaining that she's sore says the bruises are getting bigger on her a$$.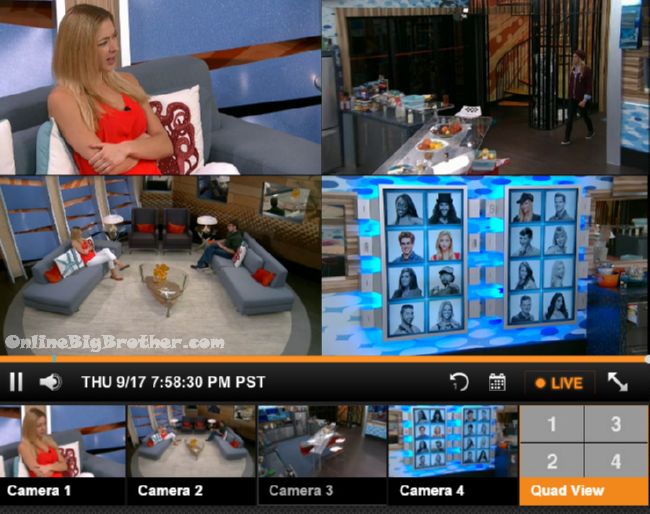 8:02pm Nothing…. everyone is very sore from the competitions last night.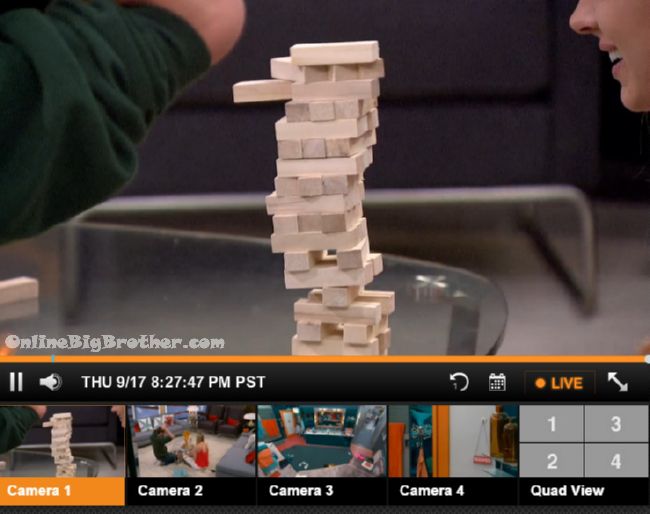 8:28pm Jenga
8:46pm Steve and Vaenssa
Steve is saying he "milked" the fact he's 1/16th native American. Adds he was given 110% the amount of Money needed.
Steve also got a scholarship because his dad is a veteran, "He served in Vietnam.. When my dad was my age he was in Vietnam"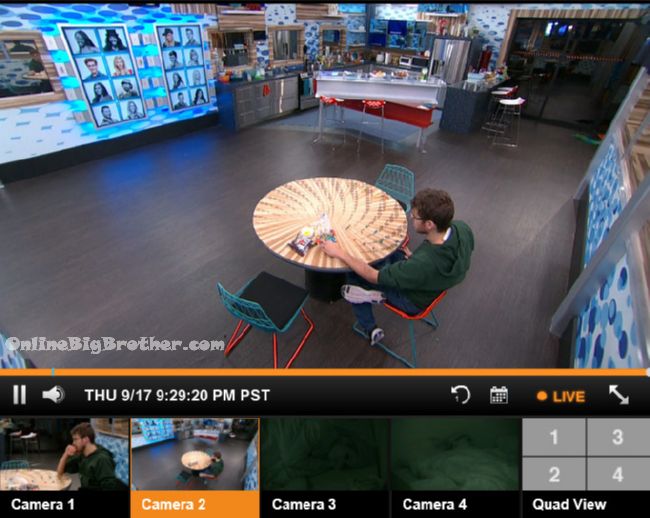 9:31pm Liz and Vanessa are both very sore from the competitions.. Liz says she needs one for her "VAG"
The girls are sleeping and Steve is scampering.
10:26pm Vanessa sleeping, Steve and Liz studying.. very little talk going on.
10:42pm Liz and Steve chatting. Liz says 7 days is long to wait when you want to "Camp" with someone.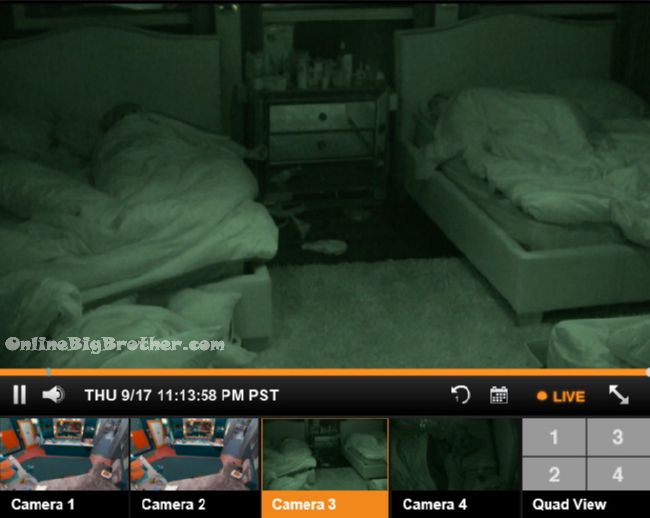 11:14pm Liz and Vanessa doing some power studying while Steve showers.
Vanessa starts talking about Austin, says he was as loyal to her as Liz. Liz says Austin thought she was more expendable than her. Vanessa says it was really sad getting Austin out it was her least favorite thing to do in the game. Vanessa says Austin is going to have money no matter what and he's initially was only here for the TV time.
Vanessa – That made is easier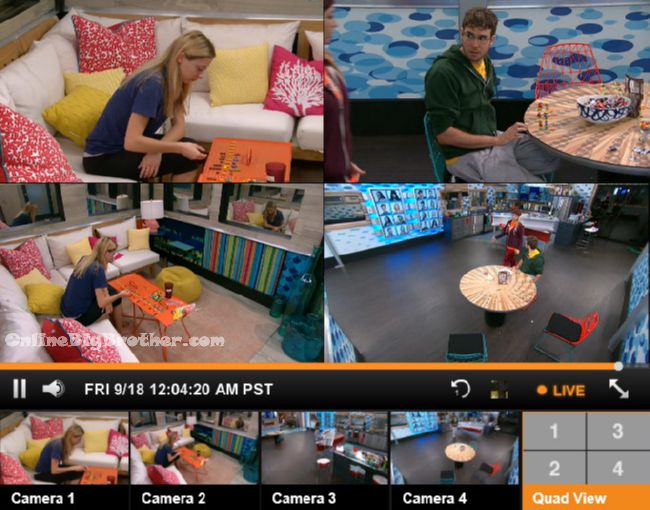 Subscribe to CBS All Access and watch over 6500 episodes for ONLY $5.99! Try it FREE for 7 days!
12:04am – 12:30am Studying. Steve, Liz and Vanessa head to bed.
12:50am – 1:15am Steve gets up to eat and scamper. He heads back to bed.
If you've enjoyed the spoilers please consider a donation using the drop down box below.
[polldaddy poll=9082767]
[polldaddy poll=9063299]