POV Holder:
Austin
POV Competition
Sept 5th
POV Used
Yes
POV Ceremony
Sept 7th
HOH
STEVE
Next HOH
Sept 10th
Original Nominations:
Austin and Liz
After POV Nominations:
Liz and Julia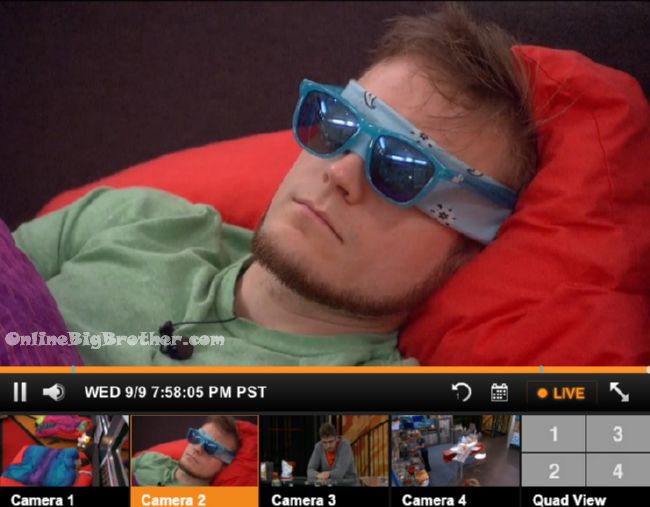 7:37pm bedroom Steve and Vanessa
Steve hopes he's positively received by the fans he doesn't care if he's America's favorite just hopes he's not hated.
Jmac joins them.. they start chit chatting about recording equipment.. Steve has a tascam with 8 analog inputs…
7:59pm Chilling (Image above)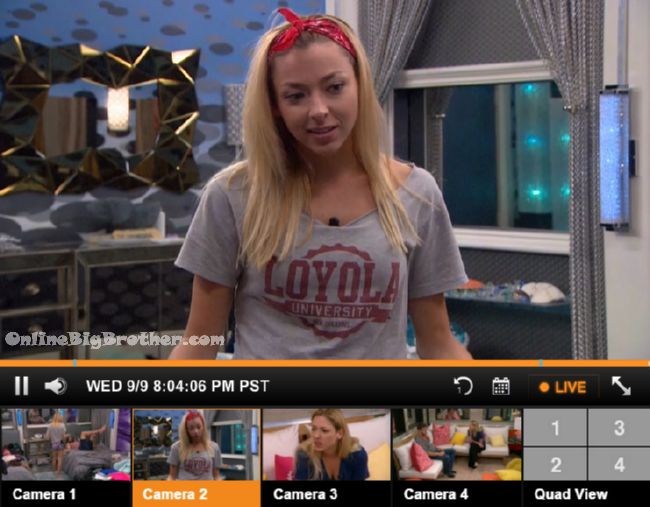 8:04pm bedroom Julia and Austin
Julia says Steve is acting weird.
Julia – is anyone flipping the vote
Austin – if she flips the vote she's f***g herself with us
Austin – Julia.. when are you talking to John
Julia – tomorrow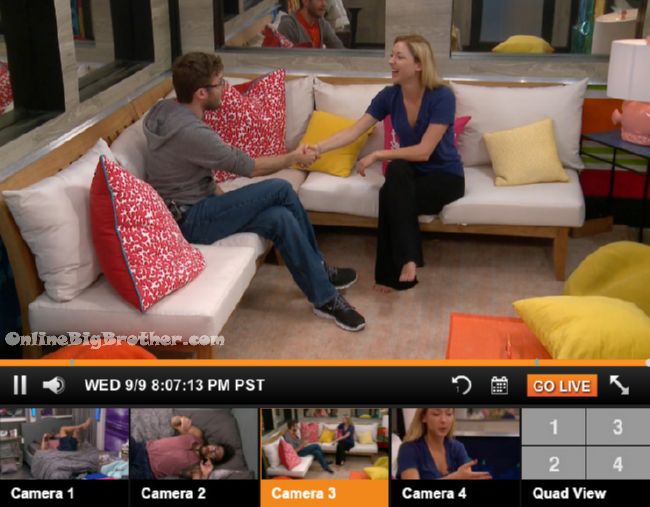 8:04pm Hammock room Steve and Liz
Steve asks for a favor if she wins HOH and he's on the block could she break it in her favor
Liz – Yes.. I was thinking something along those lines to
Steve – you have every right to be upset with me from a strategic level.. is that a reasonable thing to ask
Liz – that's a reasonable thing.. I'm not swearing on my family
Steve – I'm sorry I was delusional that morning.. I Should not have done that, that was 100% my error. i'm sorry I did that it was a result of me being delusional..
Steve says he understands she'll nominate him if she wins HOH.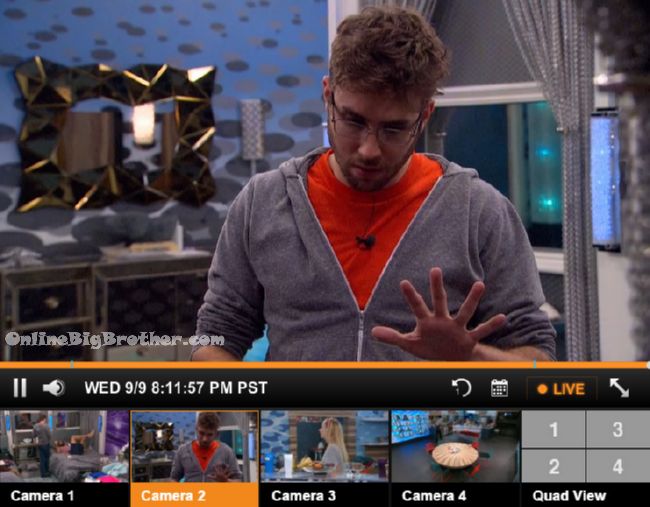 8:20pm Bedroom boy and Austin
Chit chatting about Vanessa and the POV.
Austin – She's really good, she's Going to win.. if she's in final 2.. I think she might.. She played an untouchable game, I'm applauding it.
Austin points out that before jury Vanessa held much of the power in the house. Austin stresses Vanessa is going to win this game.
Steve hopes Liz makes a decision based on game and not based on personal reasons.
Austin says she will be game focused with him in the game.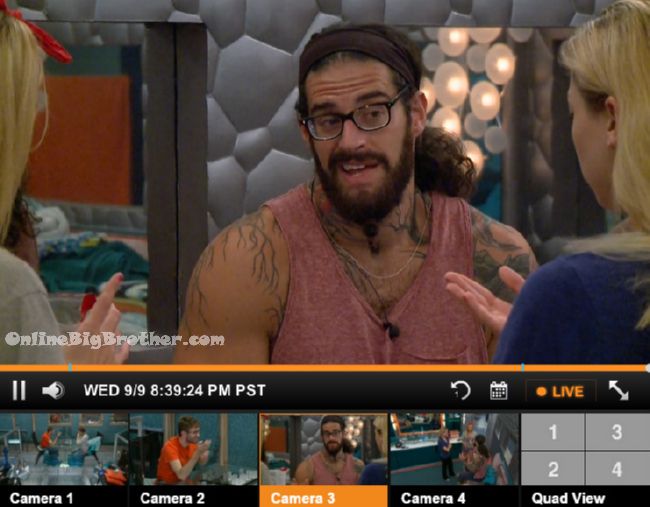 8:38pm Twins and Austin
Austin says jmac and Steve will say they're against Vanessa but if she wins HOH they'll be with Vanessa.
Austin tells them they have to play nice with Steve he can't play in the HOH but he might win the Veto.
Austin says they have to win the HOH.
Liz says Steve is terrified of her and rightfully so.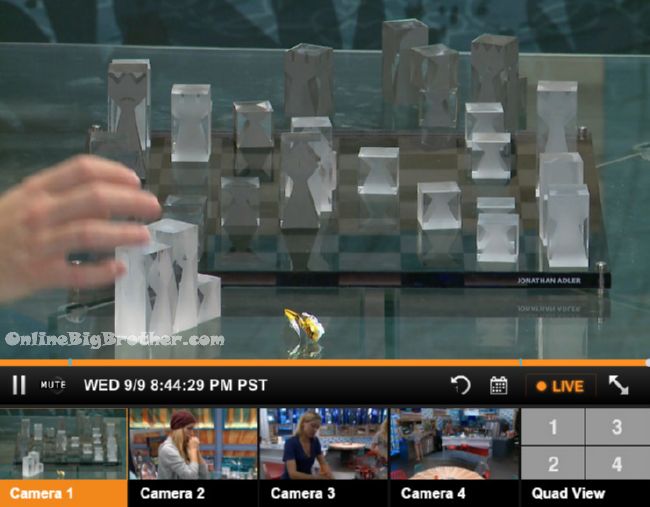 8:44pm Chess…
[envira-gallery id="132923″]
8:53pm Liz tells Austin she wouldn't be attracted to him if he was as tall as her.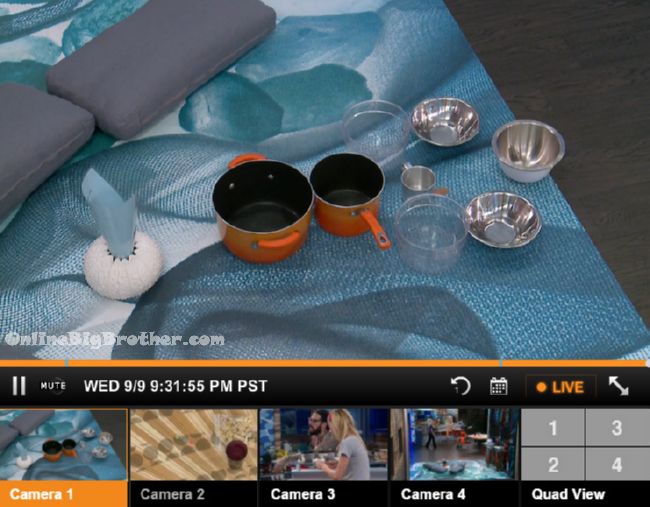 9:34pm Pot Ball Begins
10:13pm Pot ball ends. Team stiz wins.
10:22pm Boy and Julia giggling around. Steve chases her around grabs her and threatens to tickle.
Julia hides in the bed with Liz and Austin.
[envira-gallery id="132932″]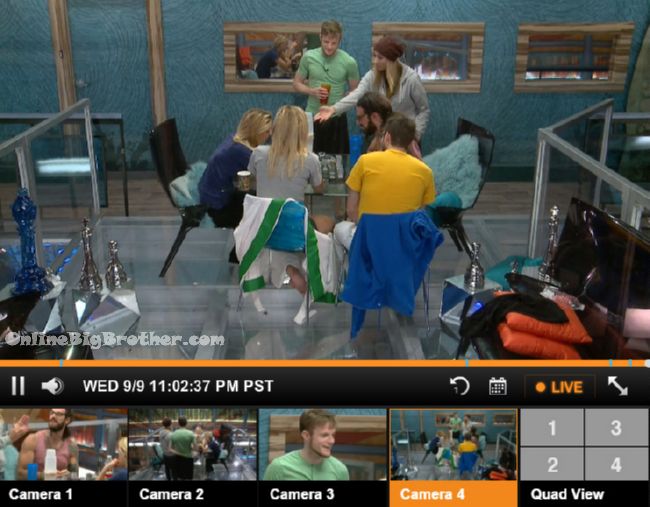 11:01pm major chess tournament winner gets a box of candies from steve .
11:20pm Liz and Julia beat Austin.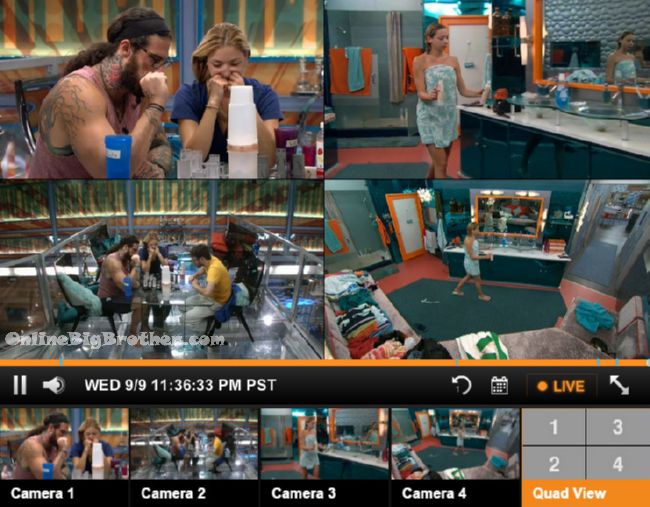 11:37pm CHESS!
11:51pm Twins practicing their speech in the Hammock room.
Julia wanted to say "Welcome to the block sissy"
Liz doesn't like that says she's not the block expert like Johnnymac and she hates "Sissy"
12:00am Austin beats Steve in chess.. the twins continue to practice their speeches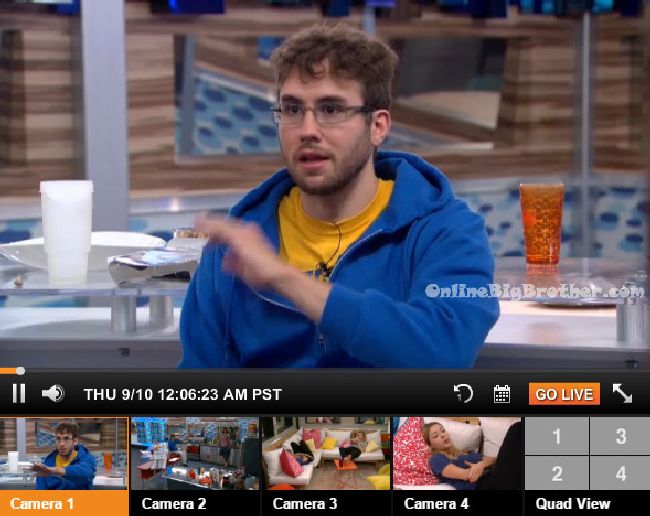 12am In the kitchen – Steve asks Austin you do understand why I had to put you up next to her right? Austin says because if I had won the veto and saved her. Steve says exactly. I'm pretty sure its the exact same reason you wanted to put me next to Johnny. Austin says yeah, its fine. Steve says we did it to each other. There's no betrayal of trust or anything. Austin says no, you told me and I told you. Steve says you know about the family thing I asked for? It was tacky and I don't even remember it. Its smart for what is going to get her further and not for vengeance. Austin agrees. Steve says I'm just nervous about the comps coming up. Austin says If Johnny Mac wins we can make it work the three of us guys. I think if Vanessa wins she still has to go for Johnny Mac. But who knows during her last HOH she wouldn't even put him up. Steve says I think she put up Julia only to make sure Meg went. Austin talks about how during the veto comp Vanessa told Julia to pick him. Steve asks you're worried she wanted you out this week? Austin says maybe, I hope not. I don't want to get paranoid and over think things, it could have been an honest mistake. Austin says I am not Clay. Don't get me wrong if I won I would spend lots of money on Liz. Austin talks about the he and Liz being an unexpected blooming romance. Steve says it was because she had a thing with Jace. Austin says he forced it on her. Steve says and Jeff. Austin says he forced it on her too.

12am – 12:25am In the cabana room –
The twins continue to practice their speeches but decide to sleep on it to figure out exactly what to say.
Sneaky Steve kisses JUJU @bigbspoilers #bb17 pic.twitter.com/95DW8DOPLY

— Dawg (@DawgsBigBrother) September 10, 2015
1am Steve, Julia, Austin and Liz are horsing around trying to scare each other and fooling around. Then Austin tells a "scary story" in the bedroom.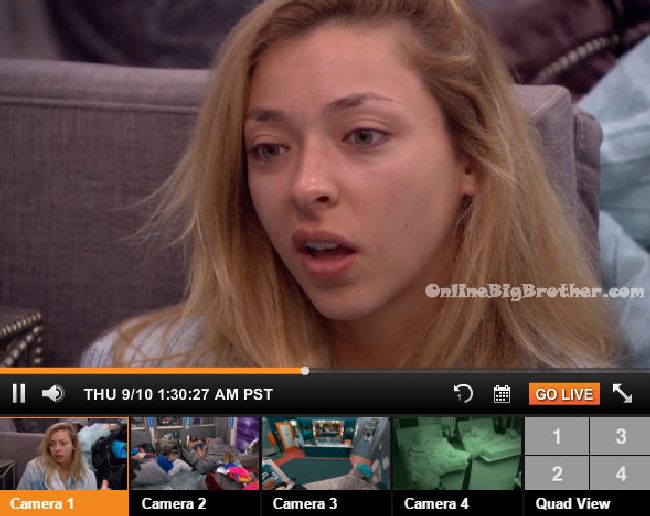 1:40am – 2am
They head to the bedroom and Austin and Liz start studying the days.
2:40am
All the house guests are sleeping
If you've enjoyed the spoilers please consider a donation using the drop down box below. Simon and I work 24/7 all season long to keep you updated on everything that happens inside the Big Brother house.
[polldaddy poll=9059938]

[polldaddy poll=9063299]