HOH: Tiffany
HAVENOTS: BIGD, Alyssa and Claire
Nominations: Alyssa and Xavier
Power of Veto Players: Xavier, Alyssa, Tiffany, Hannah, Azah, BIGD | Host : Claire
Power of Veto:
Power of Veto Ceremony:
Big Brother 23 Houseguest Rankings – – RANK THE HOUSEGUESTS –
View the previous day ranks on the – Ranking Grid
Big Brother Spoilers – Claire going up. They are going to say X is the target.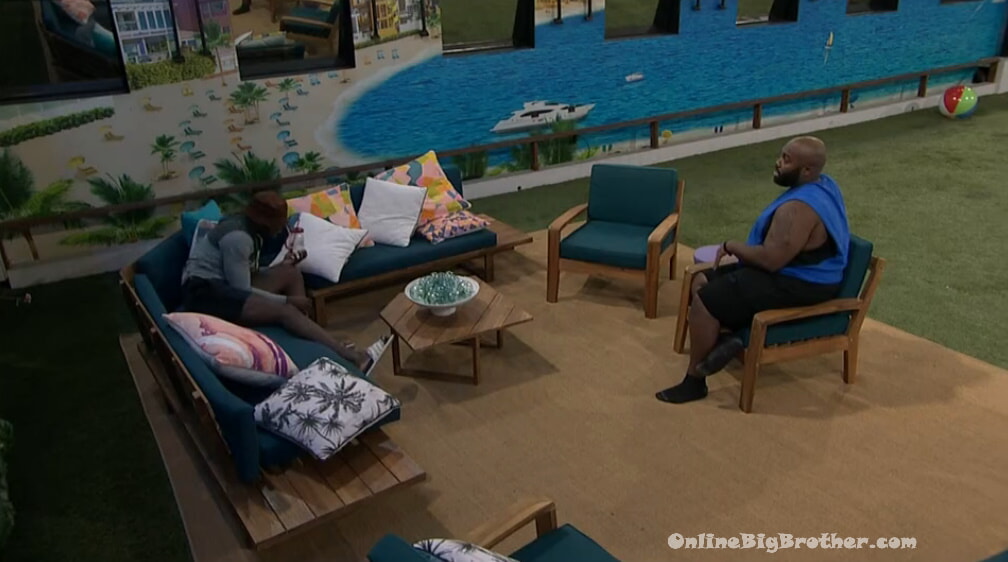 12:30 am Backyard Xavier and BIGD
Xavier is mentioning how Azah suggested the vote be 3 to 2. As someone on the block he doesn't want it to be that close just in case Claire caught on to the cookout and got Alyssa to flip.
X – my a$$ will go home it needs to be 4 to 1
DF – I'm not thinking about throwing Claire anything
DF going on about what he would do if he won HOH he would put Azah and Tiffany as a have nots so they are stuck together.
They agree putting Tiffany and Hannah as have nots would mean they would just Scheme.
X – 3 to 2 that's way too f***Ing close I was going to say 4 to 1 but really this shit should be unanimous
X – I'm done with people not willing to contribute
DF goes on about what he'll do if he wins HOH. Ky and Alyssa or Hannah and Alyssa.
Xavier – you know how many stories I've had to fabricate for hits cookout? To keep people off
DF – excoally us three. at the end of the day.. hannah's been good with giving information but Hannah at first had a big F***Ing mouth so that was her problem.
X – Hannah's come a long way
They agree Azah is more emotionally stable now that Britini has left.
X says he can't tell anyone this. Ky told him in secret. Ky said to Tiffany that X has been throwing competitions for the cookout since week 2. Tiffany's response "it was his own decision to throw competitions"
X – I was like DAMN BRAH.. that is when I got to the point.. tempted if I won this veto to use it on Alyssa to f*** her sh1t up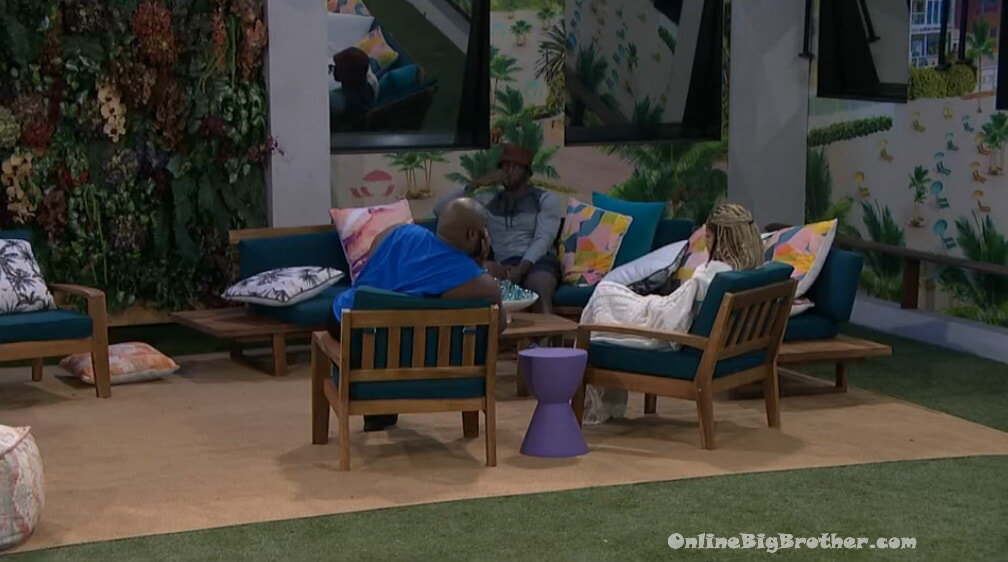 Tiffany joins them.
DF – we're just talking about life sh1t.. I feel that being in Philadelphia.. it's hard..
DF tells Tiffany he was "Sweating for her" and "I almost had it almost" (POV)
Tiff – it wasn't meant to be
X – everyone has your back
DF – we've been doing so good.. I hate seeing you know any of us in the position where they got to put their friends up
Tiff – the hardest part will be telling her.. I'm more of an up-front person. I have to be comfortable enough to bullshit her and I'm SO not a bullshiter.
Tiff – If I could just tell her HEY look you were going to go home this week and I was trying to not have you go home so I won this HOH but you have to go home anyways.. I could do that but I'm not. I can't
Tiff – I have to go all the way around it that is the hard part for me.
Tiff – it's not the vote I'm concerned about it's keeping everyone else concealed. I don't like to hurt anybody and under no circumstance would she ever nominate me so I have to make it make sense to her why I'm nominating her.
Tiff – I don't believe myself so it's not easy for me to get her to believe me.
Tiff – I know the plan.. I know she has to go. I just wish she knew she had to go anyways.
DF says he could give two sh1t now if everyone figures out the cookout.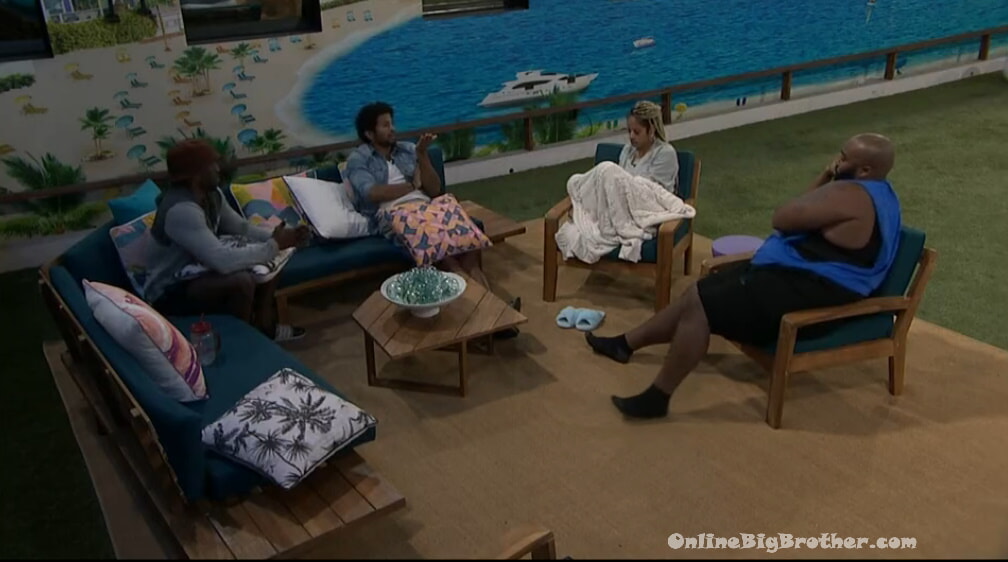 Kyland joins them.
Tiff – I did this myself this is no one else doing. Nobody has to take the fall but me. I stand on my own sh1t.
DF tells her to say what she has to say "At the end of the day they'll all find out when they get to jury"
Tiff – It's classic Big Brother you are my ally and friend I need you to be a pawn. She knows there's so many other scenarios we can run through for someone being the pawn
Tiff – if it was me I would be talking myself outta that.. It's a no it's a HELL NO
Tiff – at which point will she me like why the F** does it have to be me
Tiff – Claire ain't f***ing stupid
They start talking about what are the deals Tiff will say she made that forces her to put Claire up as a "Pawn"
Tiff – we have to start with who are we (her and Claire)) are being targeted by
Tiff – I put you and Alyssa on the block so I must have felt targeted by Y'all. Unless you go home I will have both of you guys after me in this house I need to make a deal with both of you to keep me safe. Both of you have ample reason to come after me.
Tiff – I made a deal with you and her.
X – this week or last week?
Tiff – couldn't have been last week cause I put you guys on the block
Tiff will say that Derek wants her gone but she made a deal with him. She will keep him safe this week if he keeps her safe during the double.
X – Azah is attached to BIGD
Tiff – I made a deal with them when I won HOH that I would not nominate them.
Ky says that leaves Tiff with Hannah, Claire, and Ky as people open to being nominated.
They talk about saying if Ky goes up against X then Ky will likely go.
X – the narrative is the best way to get me out is to put Claire next to me. That's the best angle.
They talk about telling Claire that X will have BIGD, Alyssa's vote. Claire will have Ky and Azah's vote
X – I will go home.
Tiff – Azah has to be onboard with telling her she has her vote when she doesn't
X – I've already told Azah that
Tiff – what did she say
X – I said you probably have to do some lying this week.. straight up. She was like I'll do what I have to do
Tiff – I just have to make ya'll lie.. I just don't want it to be a crazy a$$ four days. you all have to convince her she has the votes to stay.
Ky – won't be him and Alyssa
Tiff – what will Alyssa think?
X – I already have that covered Alyssa will think I am the target.
Tiff – when does she realize she's going home
Ky – when do you want
Tiff – that's not just a decision for me.
Tiff doesn't want them all promising Claire their vote then they burn a jury vote when Claire gets evicted.
DF points out that if they get to final 2 will all have lied it'll balance out.
X – we lied to every single person in that jury.. they have to vote for one of us
DF – they'll have no choice
X – someone black will have to win you'll have to deal with it.
Tiff says she's never told Claire she was safe last week "I jumped up and down told her she was safe"
Tiff says she'll tell Claire she made a deal with DF and Azah they would not touch the block this week if she was kept safe during the double.
Tiff – in order to keep me safe I promise you two you would not go one the block
Tiff – If X or Alyssa stay in this house I am f**ing screwed I need X to go home and I cannot play around with putting anybody on the block that will go home over him.
X – that's why Ky's not going up
Tiff – Ky does not have the votes to stay Ky will go in a heartbeat
Tiff will add that Hannah is "Sneaky" and she suspects her working with Xavier.
Tiff adds that BIGD, Azan doesn't trust Hannah. Alyssa will never vote against X so she can't put Hannah up as the pawn.
Tiff – you (ky) will leave for sure and hannah will leave for sure (against X) and I cannot go back on my deal with Azah and DX.
Tiff – you Claire have the votes to stay, Hannah, Ky, Azah will keep you in this game.

Tiff – when does she realize she's going home?
Ky – we see how the week plays out. the swing vote will be me I'll let her know right before me
X – I say Thursday
Tiff – that's fine..
X – that's when DX found out that's why Sarah Beth..
Tiff asks when will she find out that Claire is leaving
X – at the vote she'll probably tell you
Tif – am I panicking am I freaking out what do I tell her?
Ky – we can talk in the backroom in storage. say we're having a long conversation you are trying to flip me back
Tiff says she can't cry because Claire will know it was even more fake after she figures out the cookout.
X- I cried over Christian those were real thug tears
DF – I cried over being f***ing fat
X – so it'll be 4 to 1 possible 5 to 0
Tif – no I thought it was going to be 3-2
Ky – she'll think it's 3-2 but it'll be 4-1 because X is up there.
X – I would feel more comfortable with a 4-1
Tiff – just in case
DF – everyone gets a one. Sarah beth got a 1, DX got a 1.
Df – we have to make sure Hannah knows (the plan)
Tiff – Hannah is down for whatever, Hannah is a f**ing thug
DF and Tiff do some role playing to practice Tiff telling Claire she's going up as the pawn
DF – Tiff, what are you going to do about these nominations?
Tiff – I'm f**ing screwed if X does not go home this week I have X and Alyssa two people I just told I am plainly targeting them coming after me. So under no circumstance can X stay in this house. The only thing I can do is put someone on the block that guarantees he goes home. I can't use Ky everyone will send Ky home. Even if you vote for him. You will be the only person voting for him. DF will send him home. Azah can't stand him. I know Hannah is closer to Xavier than she is to Ky. Ky doesn't have the votes to stay and that will put us in a messed up situation.
Tiff – Hannah can't go on the block either. Hannah will go home and then me and you will have nobody but ourselves. We
Tiff – Derek is going to f**ing go home, Azah will go home to. I have played these scenarios in my head
DF – why do you think BIGD or Azah will go home.. TIFF..
Tiff – if BIGD touches the block and he doesn't go home people will realize he's this ultimate pawn. BIGD you already know you and Derek were debating sending him home next to Britini. DF touches the block we all know he has to go home.
Tiff – in my one on ones with them I made them at deal I wouldn't put them on the block.
Tiff will add that her whole goal when she was in the endurance was to win the HOH to keep them safe. "We've been targets for the last three weeks" (even the week when they were HOH's.. lol)
Tiff will tell Claire she has Ky, Azah, and Hannah's votes.
Tiff – I know this week is my fault. It is a tough spot to be in. I'm not asking for anybody to do it for me. I will fully handle this myself I would however like to ask whatever goes on next week with having to get whoever you plan on getting out I do not wish to be the pawn in that situation.
Ky – you are talking about Alyssa
Tiff – YES. I don't want to have to go up to get Alyssa out. I'm as stressed in this game then I've ever been. You win you are going to have to put someone else up.
Tiff – I will not expose the cookout. I'm not trying to give away anybody's game. I am going to handle this situation with Claire solely on myself. For that, I would like to ask I don't be the nominated or the replacement nominee
DF – OKAY
X – I can't win
Df – it's really just me and Azah.. and Hannah (So just Hannah)
They start talking about how to get rid of Alyssa. Do you put her on teh block to start?
Ky doesn't know. DF says yes.
Tiff – I did that this week and she came off
Tiff says if X is on the block and Alyssa wins Veto she'll pull him off
X – so I have to go on the block a fourth time?
Tiff – you know you aren't going home
X – so I am on the block the fourth time and she's not sitting next to me?
X – she wins the veto and chooses ..
Tiff – she has nobody else she will safe you
X thinks it's best to put Alyssa up with a pawn. If Alyssa wins Veto a cookout member is leaving
X – if you want to put her up next to me that's something I would be open to. I don't really want top see the block for a fourth straight week but she is my person I will do it again.
Tiff – this is your first week be nominated..
X – I've been on the block 3 weeks in a row. Nobody nominated you last week and nobody nominated you the week before.
Ky – he's not talking about resume he's talking about discomfort
Tiff – ohh I understand that. you saying you're on the block like you've been nominated to be on the block
X asks at what point does he get a damn break from being on the block.
DF points out Hannah, X, Ky, and himself have all been pawns. The only two that haven't were Tiff and Azah.
DF – I feel that the fair route.. that's just me looking at the fair route if we're all trying to be fair to one another. One of you two should go up as a pawn.
Tiff – you're ok with putting Azah up as a pawn
DF says he is he's told her she might have to go up as a pawn.
Feeds cut to Azah in the bathroom with Hannah saying "There's no other options"
cuts back to the backyard.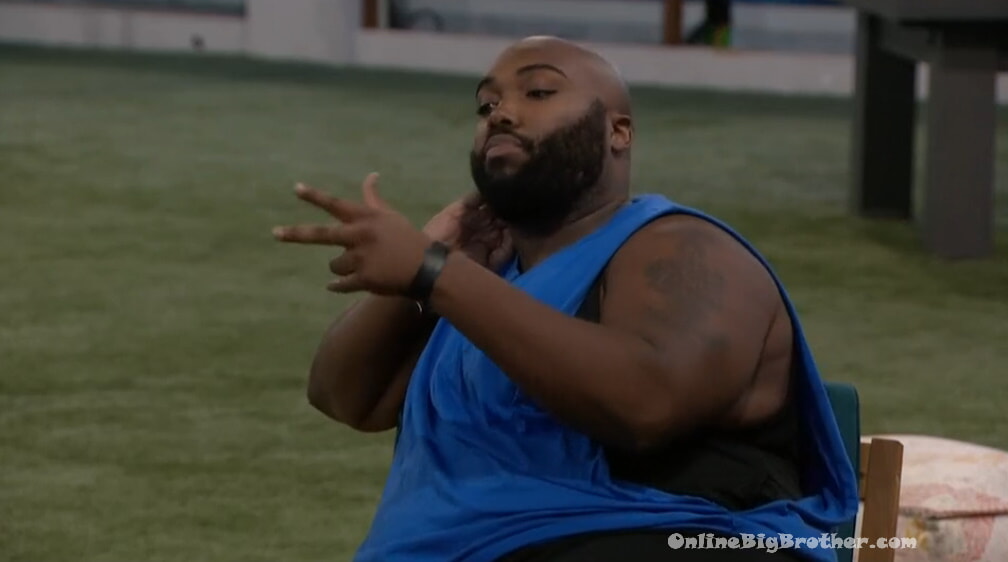 2:24 am DF, Azah and Xavier
X – why is Ky up in Tiffany's room after we had this long a$$ discussion?
DF – I dunno. She's probably worried cause I said I would put her up next week
X leaves..
Df – me and you have been in this game together. I've had your back and I've looked out for both of us. I hope you know what. If you don't feel that way tell me.
Azah – I've had your back as well
DF – I've been doing the lying and manipulating for the both of us. If you want it to be 3-2 then talk to Tiff and X. He's the one sitting on teh block.
Azah – I have talked to X already about it.
Df – let me talk right now gamewise.. everyone in jury right now is sitting in jury (game)
DF – you have Britini, DX, SB.. okay.. they are all sitting there trying to figure out why they got there. then Claire walks in.
Azah – don't you think they will be confused with a 4-1 vote.
DF – we can do 3-2 I don't have a problem with that.
Azah – it seems liek you have a problem this was about the vote and it turned into something else. So get off your chest whatever you feel that you.. like anything that you feel like let me know we can talk it through.
DF – Azah, I love you and you know that I will always have your back. I don't feel no type of way. This is how I feel. I feel as though.. we are at a point now in this game where.. lets say you played an honest game to this time. You made it to the final two saying I played a honest game I kept everything honest. But you rode on my cocktails to get there cause I lied and manipulated everybody. (yes he said cocktails)
Azah – okay that's how you feel
DF – that's not how I feel.. I'm painting a scenario
Azah says she's been saying for the last two nominations they should come clean about the cookout.
Azah says she would rather not lie to Claire. "Put it out in the open and let us all get the blood on our hands"
DF goes on about everyone playing their role in the cookout.
DF – I have to lie and if I don't lie baby the plan doesn't get executed.
DF – if I didn't care about you why did I sit my a$$ on the block for you. You could have sat next to Briniti.
Azah – BIGD I appreciate that with the bottom of my heart I was ready to go on the block.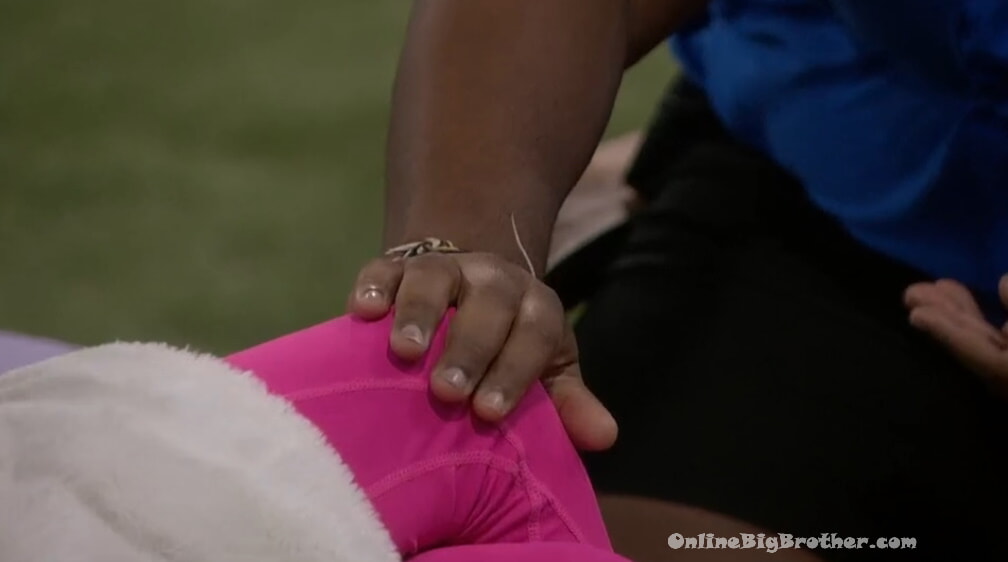 Azah starts to get a bit heated.
Df tells her he's been with her since day one and plans to finish the game with her.
DF – I know you've been doing work I'm not saying you haven't. What I'm trying to get is that I'm trying to figure out.. I have your best interest at heart always.
DF says outting the cookout right now takes away from the two people at the end to have the chance to say "this is what it was"
DF tells her about the plan to get Alyssa out next week. He doesn't feel X should go on the block again. "For me personally I would rather Tiff sit on the block next to Alyssa"
DF – hey girl you didn't do what you were supposed to do last week so sit on the block and play your roll like the rest of us"
DF – I never said YOU have to go up I said you two were the people that haven't had to go up.
DF says he's putting Tiff up next to Alyssa.
DF now says "I put this team together and because I put it together I have to lead by example and show everybody HEY it's okay to be a pawn. Be a pawn and trust your numbers. that is why I did it the first time"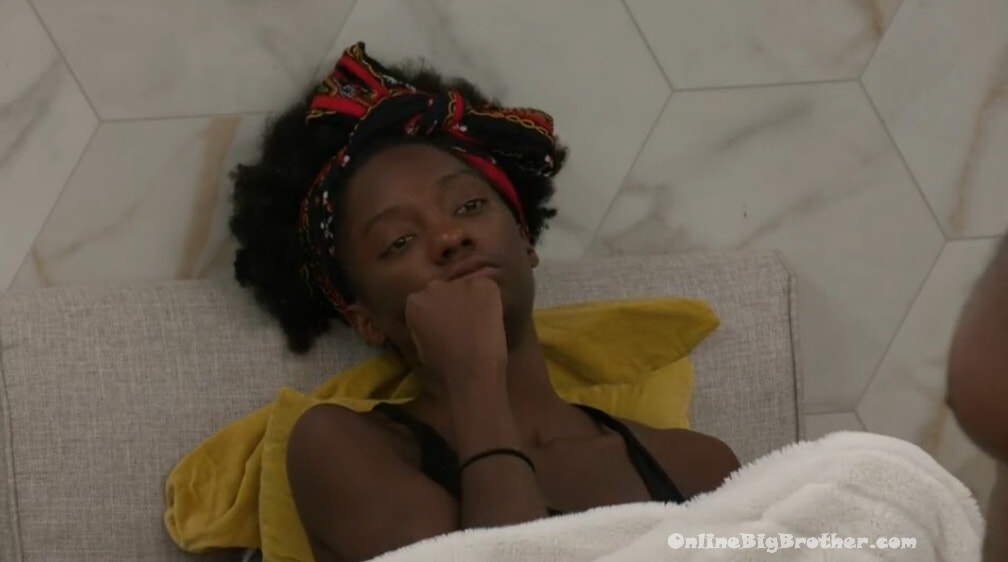 They head into the bathroom.
DF goes on about how Tiff F**ed up this week. Next week it's not fair for X to go up. The fact that X is willing to be nominated and take one for the team makes him think that other members of the cookout should play their parts.
Df again mentions the cookout was his team he put together.
DF points out that Tiffany is still HOH so they can't just sit here and tell her she needs to take teh fall they have to play along with her.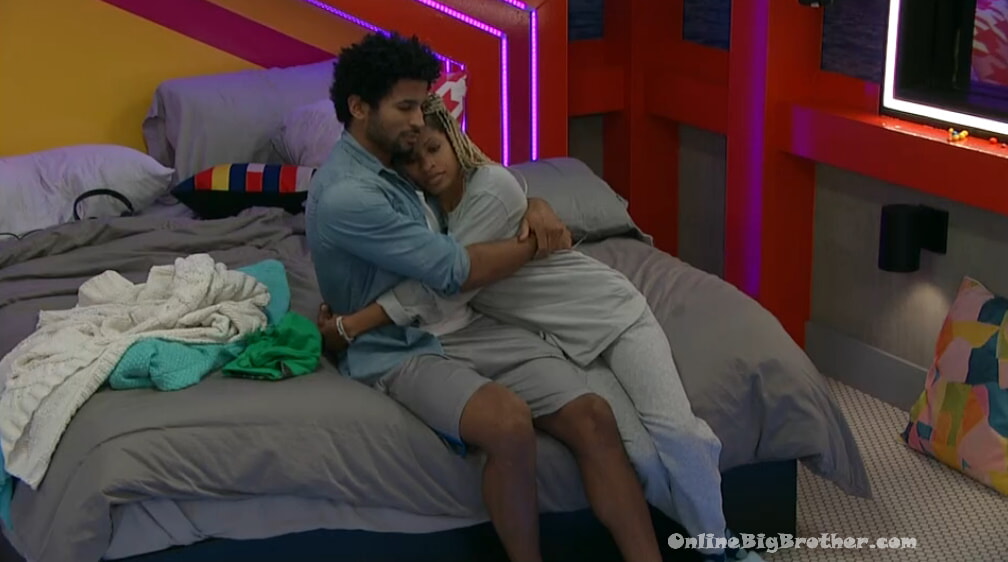 2:21 am – 4:00 am Kyland and Tiffany
Snuggle time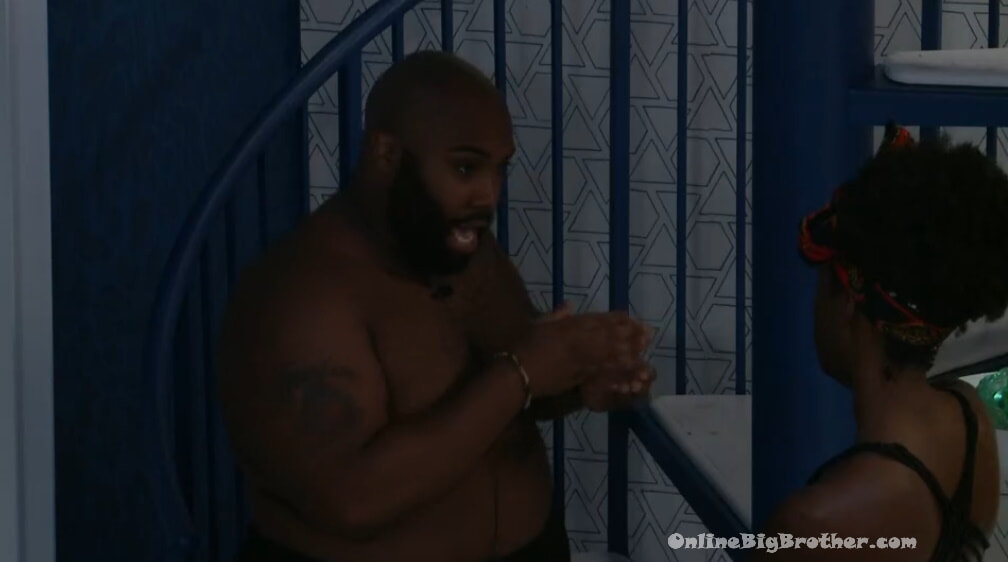 3:37 am BIGD and Azah
BIGD says Tiff making the move she is this week was good because it reminded them why she has to go first.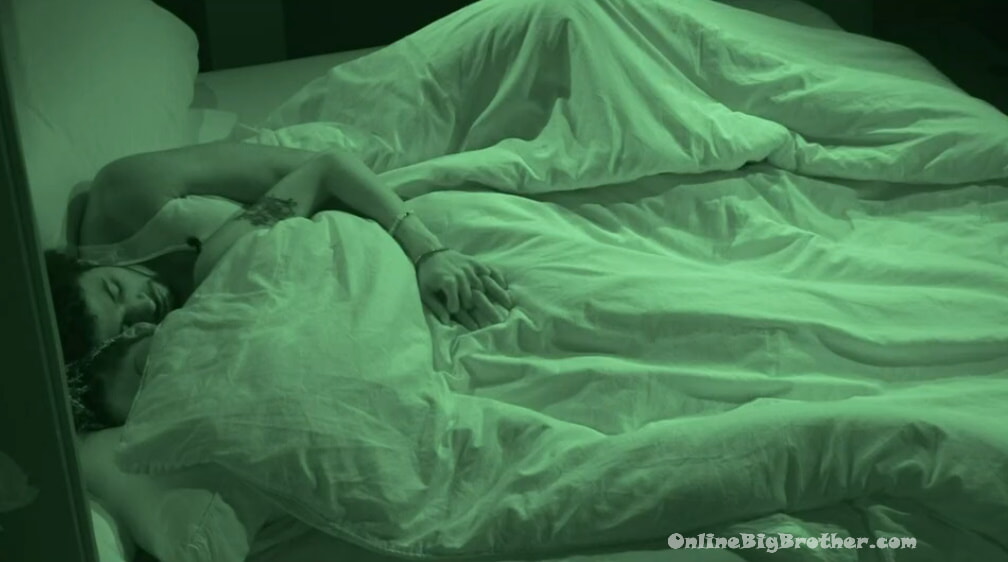 4:15 am Tiff and Ky
Something was going on..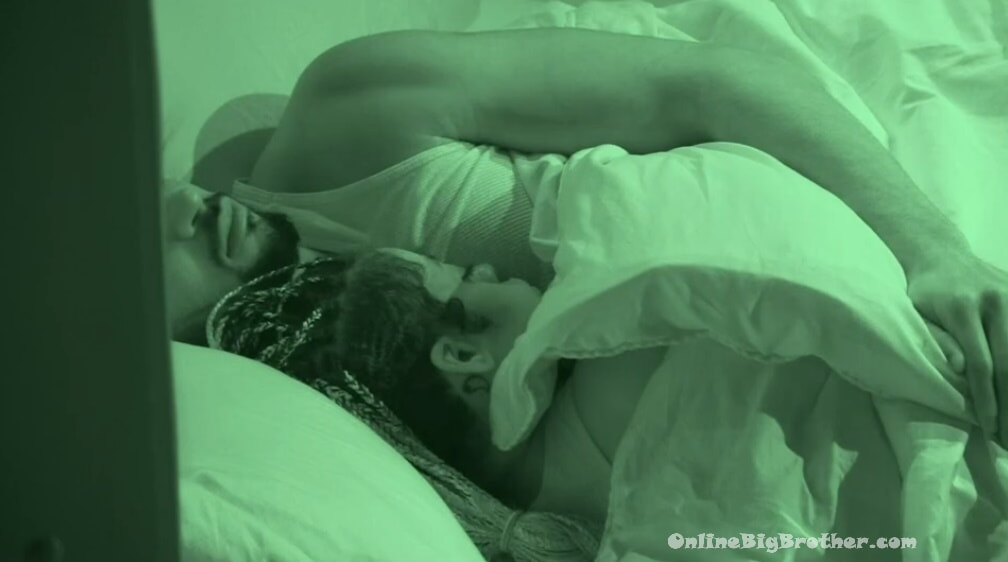 4:00 am Ky and Tiff finally go to sleep.
7:07 am zzzzzzz
9:19 am zzzzzzzz
10:25 am Houseguests getting up
Please consider a donation to keep the madness going.