HOH: Tiffany
HAVENOTS: BIGD, Alyssa and Claire
Nominations: Alyssa and Xavier
Power of Veto Players: Xavier, Alyssa, Tiffany, Hannah, Azah, BIGD | Host : Claire
Power of Veto: Alyssa
Power of Veto Ceremony:
Big Brother 23 Houseguest Rankings – – RANK THE HOUSEGUESTS –
View the previous day ranks on the – Ranking Grid
7:13pm HOH room. Hannah and Tiffany.
Hannah – what did you think of X's plan? Tiff – I had already come up with that. Its cool if he had come up with something different but I mean .. informing her that I would need someone to be a pawn .. I mean that happens in this game. You're my ally, I need you to be a pawn for me. I need you to make sure my target goes home. That is classic Big Brother. I thought he had a golden coin or something.. another veto or something. Hannah – as far as Alyssa is concerned.. what if we let Alyssa think that she is the one that came up with this plan to use Claire as a pawn. And you're going to think that Claire is just the pawn and X is going home because that is your objective for the week. But I flip, keep X and Claire goes home and this way she isn't coming after you. And then the four of us could solidify a final four. You, Me, X and Alyssa. Obviously that final four wouldn't hold weight but.. Tiff – sounds good. I am more so thinking of myself for next week. Me having to be in the position that nobody else in the house has to be in which is to nominate their person to go home and to send them home. I am only asking that I am not nominated next week. I am not to become anybody's pawn to send Alyssa home. Hannah – MMMmhhmmmm. Tiff – however they got to send Alyssa out of this house.. they will have to figure it out. If I go on the block I am not remaining loyal to anybody except you .. unless you put me on the block. Hannah – I will not be putting you on the block. Tiff – whoever puts me on the block .. is my target! I don't care what kind of pawn I am. I did put myself in this situation but my loyalty to the six should be in front of that. So however they got to get Alyssa out next week, just like however I've got to get Claire out this week… is on me… that is on them. Hannah – fair enough. But right now I kind of see the Cookout as being divided between me, you and Ky … and X, Azah and Big D. Because at the end of the day those three aren't coming after each other. I am not coming after you or Ky and you're not coming after me or Ky. And hopefully Ky isn't coming after me. Tiff – no Ky is not coming after you. Ky wants me, you and him in the final 3. As loyal to my word that I have to get Claire out .. I am loyal to my word that you are my final 2. If this doesn't show anyone that I don't keep my word .. then I don't have anything else to offer. What I don't like about X's pitch was that if I don't do it I lose 5 or 4 votes… like it was never an option for me to send out someone in the six. So you don't have to convince me of jury votes to get me to nominate Claire. I said what I said because I meant it. I said I am in this position if I f**k up and Alyssa comes off the block and I have to nominate Claire then I have to do what I have to do. So don't nobody got to hang jury votes in front of me to get me to consider what I said I was going to do in the beginning. He could have kept that part to himself. Hannah – I didn't know that was part of his pitch.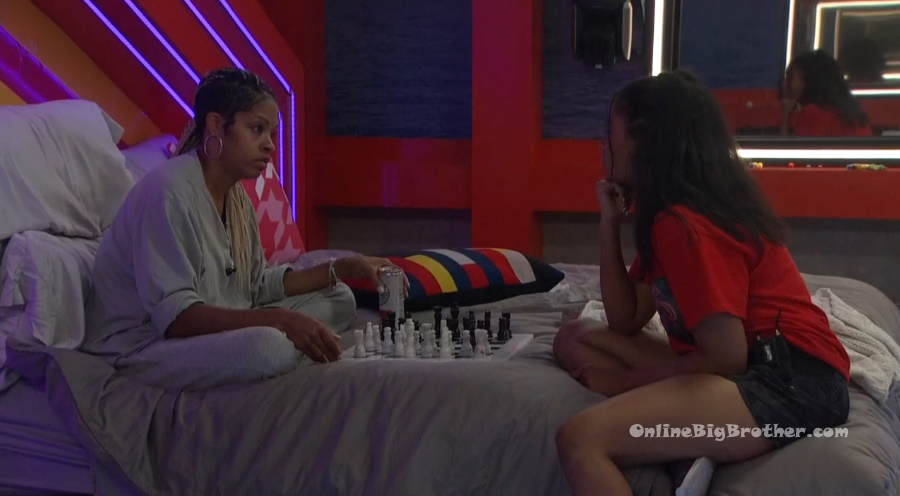 7:35pm – 7:53pm Dinner time..
8:13pm Bedroom. Xavier and Azah.
Xavier – She is moping around like she got nominated. Azah – who? Xavier – Tiff! Azah – I know! Xavier – I don't know.. its hard to have sympathy when you did it to your f**king self. I spoke to her earlier to tell her an idea I had that would help her. Azah – what idea. Xavier – just to put up Claire … that is the best shot she's got. Put up Claire and tell her that out of everybody in the house you're the only person I could put next to X to ensure he goes home because right now Claire thinks that Alyssa and I are the target. Put up Kyland and Kyland would go home next to me. Azah – she is going to say one of us. X – this is where you're taken off the table. She made a deal with you and Big D she would not put them up because shes afraid of the double. And because doubles happen so quick she wanted to make a deal with you, Big D. And they would take a shot at Alyssa and Ky. I think this is the best way that she can frame it to still receive Claire in jury and also not expose the Cookout.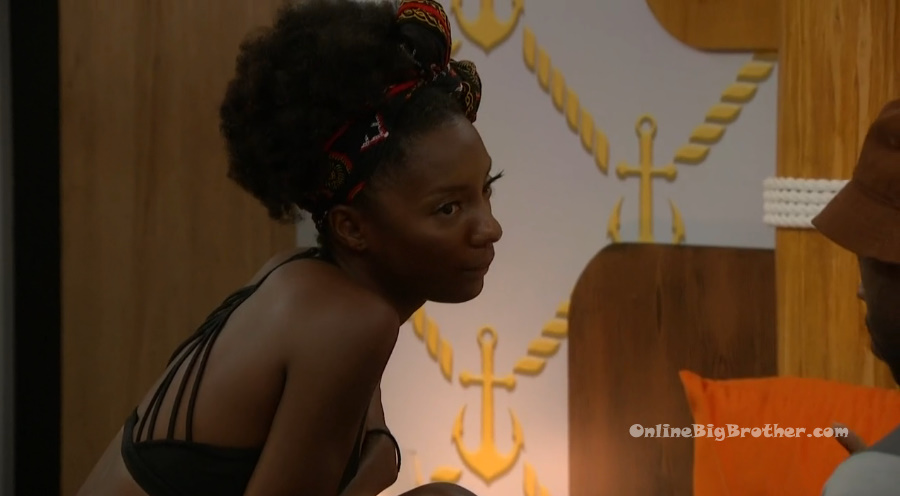 8:50pm Kitchen. Claire and Hannah.
Hannah – would going to the end with Ky be something that you're interested in or no? Claire – not really. I could see him winning. I don't want to go to the end with Ky but its hard to know jury votes. Hannah – Does Ky take a shot at …. lets just say we were to take out Alyssa in the double. Does Ky take a shot at Azah and Big D before he turns on us three? Claire – I think he takes a shot at potentially Azah. Hannah – and he puts up me but I would have the votes to stay. Claire – yes. Hannah – if Alyssa stays she goes after Tiff and Ky. And I would hate for you to end up on the block next to Tiff. Claire – the two of us on the block next to each other is worst case scenario.. anything else we would have the votes. Hannah – we just have to take out Alyssa because Azah is more likely to do that. And Alyssa's proven to be a strong competitor. Claire – I could see Alyssa trying to work her way in with Azah. I don't think Azah really trusts Alyssa but I could see them working together to get out Ky. Hannah – but at the end of the day we have Azah. Claire – yes. Hannah – she has her allegiance to Big D but if you take out the head X… then she has no choice but to align herself with us.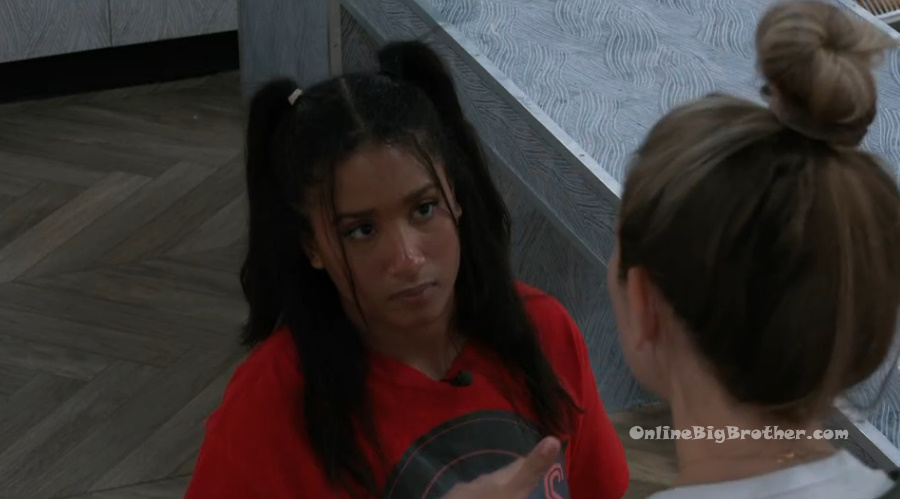 8:56pm – 9:05pm Bedroom. Alyssa and Azah.
Alyssa – when Tiff talks to you.. I think she wants X out which is fine but we want to make sure you two don't go up because then we would have 3 votes for X. If you guys are wanting to keep X. I can guarantee you that I am not coming after you and Big D. And I can guarantee you that X is not putting you guys up at all. I swear on everything. Ky cannot say that. Claire cannot say that. Hannah cannot say that. Tiff cannot say that. If you guys could go to Tiff and say I don't want to see the block. I want to break up that strong duo of Alyssa and X… It really doesn't matter who X sits next to.. I don't want to be on the block. You have my and Big D's vote against X. If you put up someone else, we have the votes regardless. That way she doesn't put you two up and she will probably put up Kyland thinking that she has the votes. And then its me, you and Big D's vote to get Kyland out. We all know that Kyland would put you and Big D up or one of us honestly. Azah agrees to talk to Tiff tomorrow. Alyssa – and then its four against two going into a possible double. Azah – no yeah, I am down.
9:25pm – 9:40pm Hammock – Alyssa and Hannah.
Hannah – congratulations on the veto! Alyssa – thank you. How is Tiff doing? Is she stressed? Hannah – I think so. So here is what I have been thinking. You and X are my best chance at getting to final 3. Alyssa – you don't think its Claire and Tiff? Hannah – not after this week. I think Tiff will be taken out and I am not sure Claire would want to work with me because if we sit next to each other in final two we are splitting DX, we're splitting Tiff, and who knows who SB votes for. You and X are strong enough competitors to get to that point and to be able to take one more person with you because between the three of us we could probably win every single type of comp. And once we do get to that point I could see X taking you and X taking me for different points. Hannah brings up if Tiff put up Claire as the replacement. Alyssa – Tiff wouldn't put up Claire. Hannah – she would if she thought she had the votes… unless I flipped and blamed it on Azah or Big D. I wonder if there is a way to get her to put up Claire in order to make sure X goes home. Alyssa – it has to be her idea. Maybe talk to her after she talks to Azah and Big D. Hannah – I think if someone could steer the conversation in a particular direction.. to her feeling safe enough to put up Claire.. Alyssa – that's why I went to Azah and Big D .. and told them to not focus on anyone in particular going up just that she has their votes if they don't go up.
9:43pm – 10:15pm Alyssa and Hannah. Alyssa – are we making this official? Final two? They shake on it. Hannah – what should we call ourselves. Alyssa – our number one's left .. what would we call ourselves. Hannah – the women scorned, two pigs in a blanket, the fri-enemies.. Alyssa – we're each others sloppy seconds. Hannah – that's kind of funny. If we are able to get Claire on the block then maybe on Monday you, me and X sit down. If not then.. you know where my vote lies but if its Azah or Big D .. then X goes home. So then Azah and or Big D really need to sell it tomorrow. They are the most crucial part of this. Alyssa – I know. That is scary! Hannah – X's fate is in Big D's hands. Do you know how terrifying that sounds?!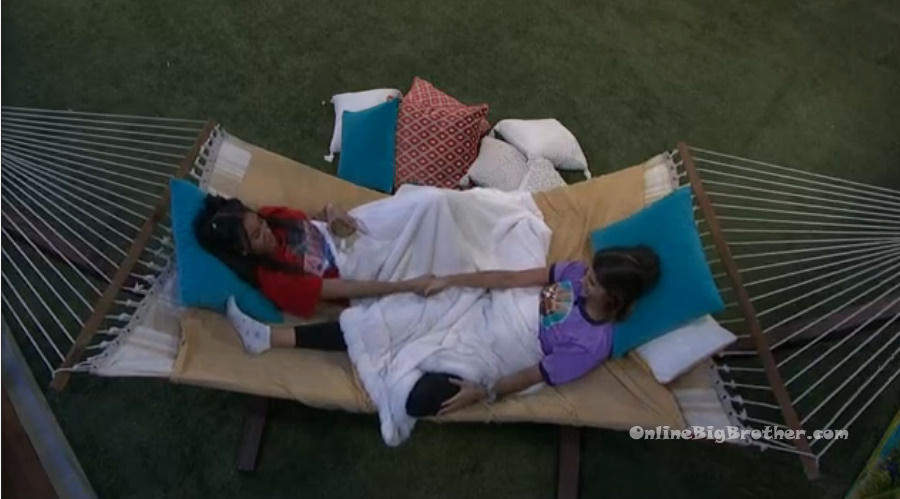 9:50pm – 10:15pm Bedroom – Xavier and Azah.
Azah – y'all don't want to just rip off the band-aid? Xavier – what are you talking about? Azah – alright here it is .. all the black people are working together. Here we go! Xavier – are you serious right now!? Ummm let me ask you .. if Brit was here would you have said that? Azah – let me ask you Brit was the last one, I would have. Xavier – you would have been we're all working together. Why the f**k would you do that?! What?! What in the hell!? What show are you on!? Azah – weren't we considering doing that when Brit was here? Xavier – that was show our cards.. not all the ****** are working together.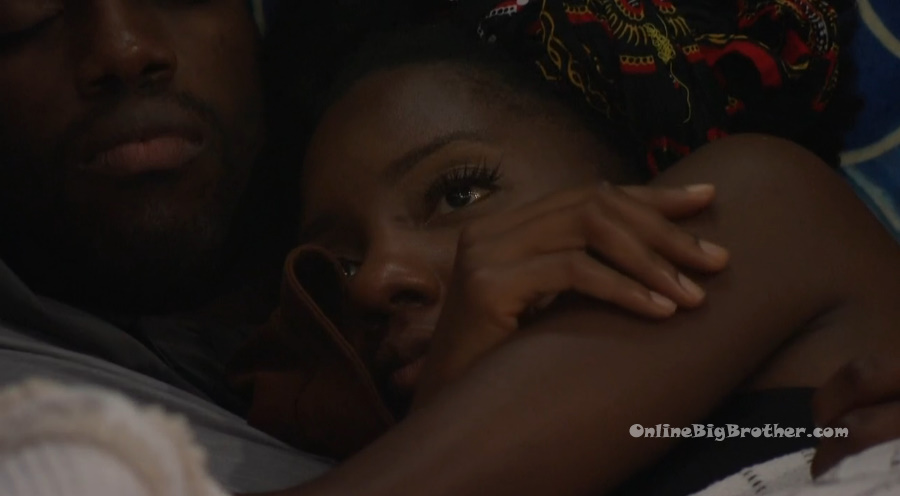 10:17pm Bathroom – Hannah and Claire.
Hannah – what did you learn from Ky? Claire – I think that X. Hannah – why do you think that? Claire – because he told me that. They both laugh. Claire – he is pretty sure that he is going to hit the block this week. Hannah – that would be a stupid thing to do because right now Ky is probably Tiff's biggest shield. Claire – yeah. They run through possible scenarios for next week. Hannah – okay be honest who do you think are the two people that are most likely to get to the end? Being completely transparent. Not what we want to happen. Claire – I think Tiff goes out before then. I don't see a world where Tiff makes final 2. Hannah – I don't see a world where Ky makes final 2. Claire – they would have to win it. Hannah – and I don't think its ever been done before. Claire – no. I think its a shot that its some combination of you, me, Azah, Big D and then one of those. Claire – Tiff will go at the double and if not then at six. I don't think I will ever have to target Tiff. Hannah – I don't think so. The two that sit in final 2 are not going to be the two dumbest competitors or the two biggest threats or targets. Its going to be a battle kind of like season 17.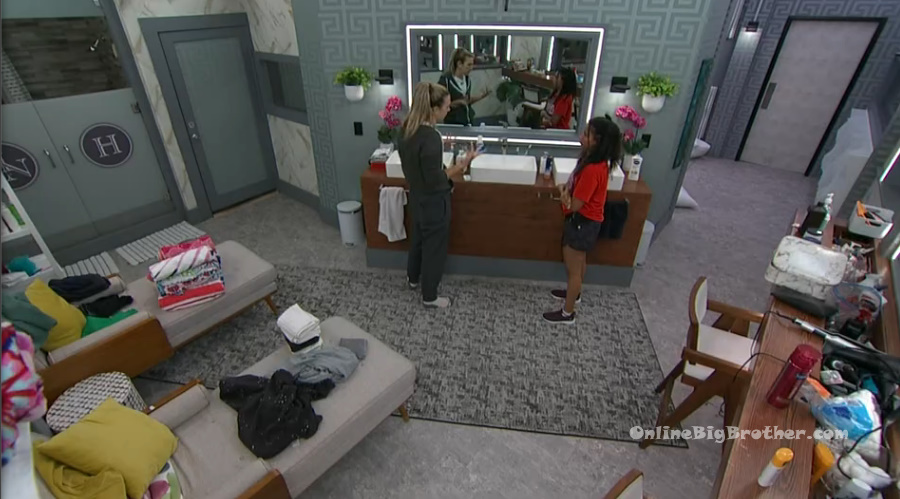 11:15pm Living room and Kitchen. The house guests are chatting about random things.
11:40pm – 12am Backyard – Kyland is quizzing Big D on the days / events of the season.

Tip jar 😉 Without your support this site and these spoilers wouldn't be possible.
Please consider a donation to keep the madness going.