HOH: Tiffany
HAVENOTS: BIGD, Alyssa and Claire
Nominations: Alyssa and Xavier
Power of Veto Players: Xavier, Alyssa, Tiffany, Hannah, Azah, BIGD | Host : Claire
Power of Veto:
Power of Veto Ceremony:
Big Brother 23 Houseguest Rankings – – RANK THE HOUSEGUESTS –
View the previous day ranks on the – Ranking Grid
Big Brother Spoilers – Claire going up and is the target. The maneuvering within the 6 is in full force.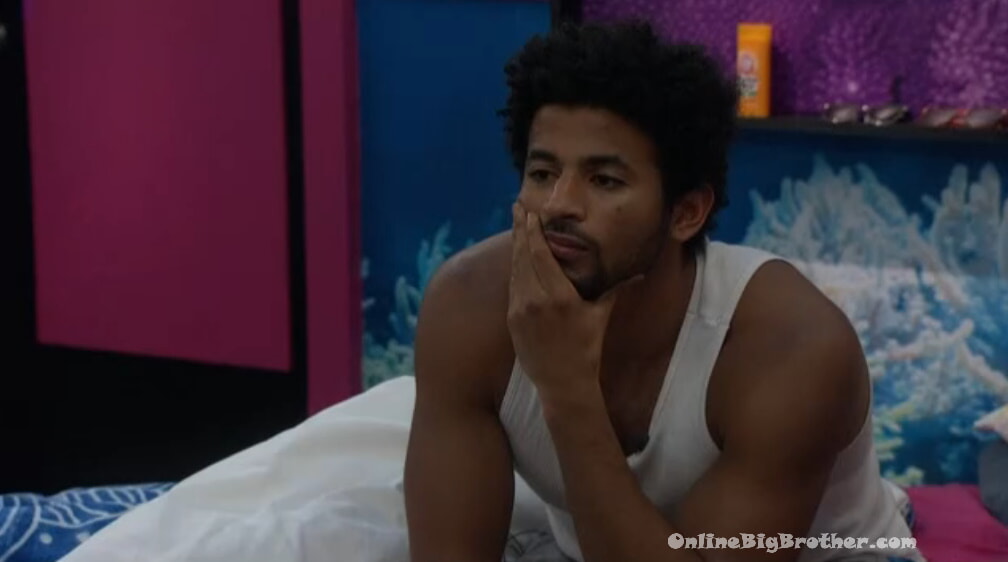 10:20 am X and Ky
X says Tiff is in no position to make demands. Citing the one she made the last night about not going on the block next week.
X says Tiff has two options She sends Claire home and take the jury vote hit or sends a member of the cookout home and be guaranteed there is no chance she'll win.
X – making demands last night when you haven't seen the block.
X says if Alyssa wins she'll put up Tiff and Hannah.
Ky says the vote would be 2V2
X – Tiff's going home
Ky – no if it's Tiff and Me
X – Tiff's still going home
Ky says Azah dislikes him and Tiffany equally. he's worried about him going up with Tiff.
X – I told BIG this right now we have to tell her whatever it is she wants to hear cause she has to put Claire up. After that I don't give a f***
Ky – this week has been.. we're good on the Claire thing.
X says the plan they came up with last night was the same plan he had figured out but they had to talk it through with Tiffany because she wanted to take credit for coming up with it.
Ky – some of the things she said have made me feel… I don't trust people I trust people to know who they are.. Not who they are. I trust people to be who I know them to be. This has highlighted things and so I am trying to understand.. with you I would love to know what do you see right now as a preferred order after next week.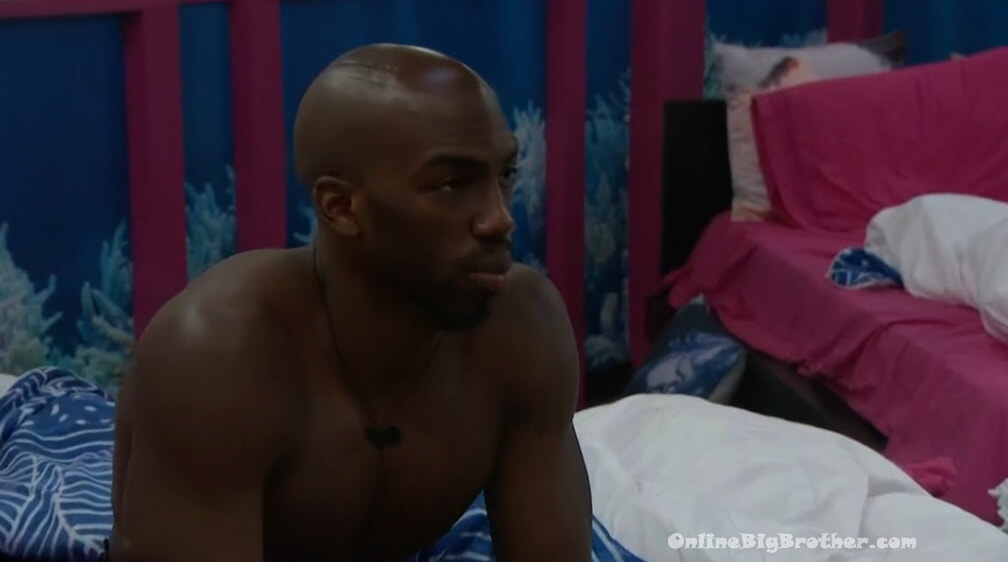 X – the first chance Tiffany gets she'll take one of us out
X – after this week if Claire goes on her HOH I don't know if she'll have the Jury votes she's had before.
X – so it might be beneficial to keep her around but after this week I'm like f*** it if you want to play that selfishly.
X says Tiffany's explanation why she went for the HOH "Doesn't make sense" she "did this to herself"
X – BIGD brought up some good points. When there are fights and drama she's involved..
X – IF Alyssa wins in the double Tiffany goes home.
X – If Alyssa goes and Tiffany doesn't win that next HOH .. If Tiffany or Hannah don't win that next HOH then she should be the first to go.
Ky – What if Tiffany wins the veto.
X – Hannah then you but I won't lie to you that you wouldn't be on her radar.
Ky – Tiff is 6 then from there?
X – Hannah has proven herself to be strong. If we want to ensure you, me, BIGD make it to the final 3 then we bring Azah.
X – You, me BIGD make it to the final three.
Ky – if it ends p being the three of us we can essentially build it like BIGD is more JC than Victoria
X – If Tiff wins 6 and she takes one of us out her incentive to take the other one grows
Ky says he wanted to be the first African American winner of Big Brother. Says after the 6th week he realized that an African American will win.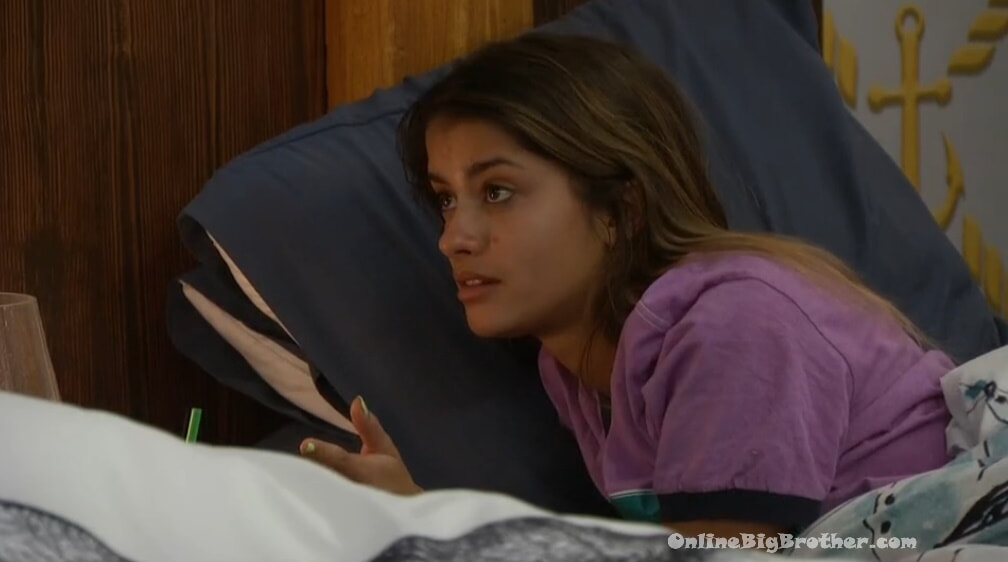 10:55 am X and Alyssa
X says they should try and make a deal with Tiffany.
Alyssa – why would she put up Claire. YUs making a deal why wouldn't she put up Ky?
X – if we make a deal with her and she puts up someone she thinks I will go home against she'll feel she's covered all bases in the event I stay.
X says if she puts up BIGD or Azah
Alyssa says Tiffany thinks X is leaving. "I gave her a sweet deal about me not coming after her next week and her having four votes her way in Jury and all she had to do is to convince one person to win this game. She didn't care. I think Ky is her Shield. I don't think they have a deal. The Jury hates Ky the only vote she would have against her is SB
Alyssa – I think Ky will go home
Alyssa goes on about having the jokers sell to Tiffany that they want X out so she puts up Claire.
Alyssa – she really needs to sell the fact she wants you out.
X – it's believable because of the ZINGbot sh1t she'll want to keep her distance from me it was rather embarrassing
Alyss – if she puts up Claire.. knowing Tiff she might.
X – she's been in power for two weeks shes thinking her sh1t don't stink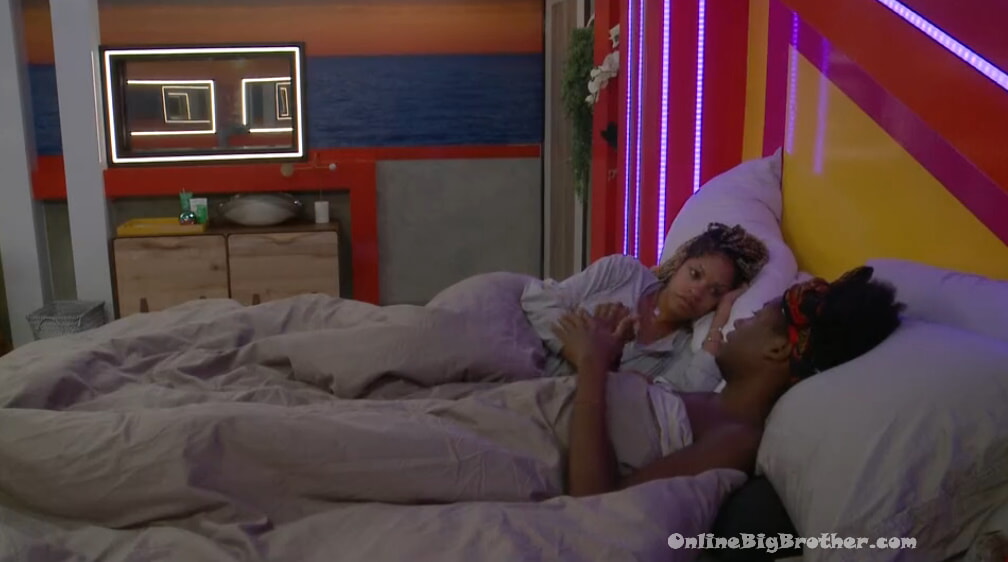 11:20 am- noon Tiff and Azah
Tiff – it can't be my decision to tell Claire.
Azah – everyone has to agree.. I'll talk to DF more
Tiff says when she walked in and say the cast she knew they had to stick together.
Azah – same thing.. X said you see how many people are in here right? I said absolutely. I remember saying if someone is on the block absolutely not I know what I need to do.
Tiff – If Derek wants to take credit for us all working together that's fine but.. All of us have had a part in us coming together and sticking together. this was not easy.
Tiff – it was not easy to move covertly it was not easy to put our personal game aside. Britini would have rolled with you to final 2. Claire would never have considered putting me on the block. We can have our people but we all .. I am putting Claire on the block and sending her home for this
Tiff – I might be right after her. I could easily sit in Jury saying I should have just kept Claire. If Alyssa stays I don't see X putting.. I don't know if his personal game is still on the side after that.
Tiff – if he get to ride with Alyssa than I get to RIde with claire.. sh1t she's still here.
Tiff – my goal is to get us as close to that 6 as we can.
Azah – Same.. everyone wants to sit pretty. Me included. In this next HOH and no one really wants to go for it because everyone is salivating about going after each other.
Azah – Kyland don't want to go for it. I Don't want to go for it. X is back and forth
Tiff – he would have to put her up the same position as me.
Tiff – this next HOH everyone got to gun for it.
Tiff – I'm f***Ed I'm probably going on the block.
Azah – if I win you won't go up
Tiff – the risk of everybody, not gunning for it and the risk of her winning.
Tiff says she's been hiding in the HOH because she doesn't want any questions from Claire, "I know she knows something is wrong"
Tiff's speech to Claire (Prodivded the Cookout votes to allow it) "Claire, you've been a target for the last four weeks. Ky put you on the block at six. SB put you on the block at 7. I won at eight you know you weren't being put on the block. If I hadn't won you know you were going on the block and you were going home. I wasn't supposed to win this HOH but I was trying my best to keep you safe. I have tried for the last 2 weeks to keep you as safe as I could. Now that Alyssa has won the Power Of Veto. I don't have any options because. I have made a promise to Xavier, Kyland, Azah, Hannah, and DEREKF that I would not put two of them on the block at the same time.
Tiff – I was never trying to send you home I won because I wanted to keep you safe. Alyssa was my sole target to get out of this house. If that means I am working with everyone else. I am working with everyone else.
Tiff – she's going to know the truh anyway.
Azah – people we got to get on board are X and Kyland.
Tiff – Claire has been my right hand like Brit was yours. If you had to put Brit on the block how do you explain that to her. (yikes)
Feeds cut.. When we're back.
Azah talking about torching Jury votes for the cookout at this point of the game is stupid. "All the votes you thought were going to you will go with the other person"
Azah – Brit will be like F** Azah.. sh1t I hate Kyland but let me vote for him.
Azah – X thinks he has Alyssa, Alyssa will be like F*** X
Tiff – as loyal as she's been to him.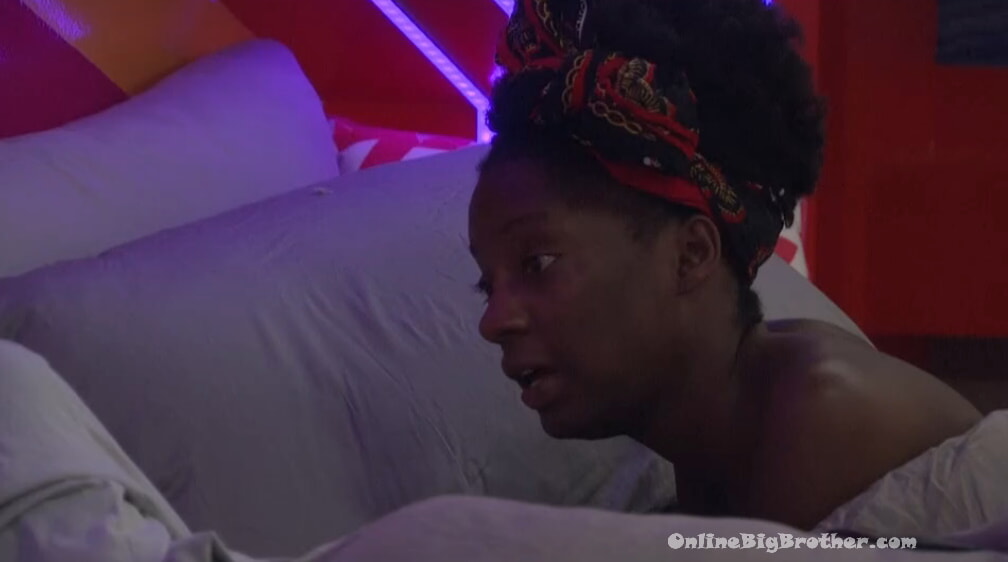 Azah brings up how X's plan to make Alyssa "fake" be part of the cookout then they "Doublecross her next week"
Azah – that girl has been double-crossed four times that's why they call her dim-witted"
(Alyssa's Zing mentioned her being Dimeitted. Azah's zing mentioned her lusting over X. X likes Alyssa or at the very least is not romantically interested in Azah. Azah loves X)
Azah – she got double-crossed by DX, Frenchie the clown the first week, you know..
Azah – I want to win this game. I do.
Tiff – if we promise her anything and she stays X has a guaranteed person. us at Six really have nobody.
Tiff says X is going to end up in the final 2 with Xavier. "He was so happy when she won yesterday"
Azah – I know, Even if he chooses her actually you can get her out.. get one of them our then the other (Jillian and Emmette BBCAN1 won out)
Tiff -that's not true they can be Holly and Michie (Yuck )
Tiff – he can win and she can too.
Tiff says Claire is going to ask when she made the promise to them all not to put two people of them up. "Claire thinks we have a final 2"
Tiff – me trying to weave this web of lies to her (Claire) is not going to work when she's starts to unravel them I will start to unravel.
Tiff says she would rather go home than be the person that sends CO member home. She's not ok with Alyssa still being in the house and someone sending out a six.
Please consider a donation to keep the madness going.