HOH: Kyland
HAVENOTS:
Nominations: Hannah and Tiffany
Power of Veto Players: Everyone
Power of Veto: Kyland
Power of Veto Ceremony: ?
Big Brother 23 Houseguest Rankings – – RANK THE HOUSEGUESTS –
View the previous day ranks on the – Ranking Grid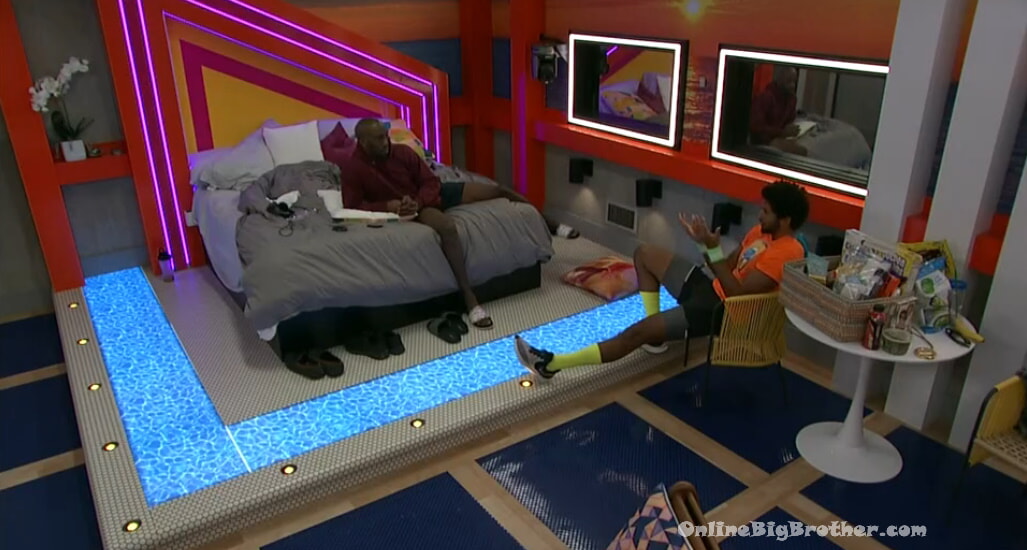 1:40 am Kyland and X
Kyland – what I would say is that.. how high is your concern about being backdoored
X – not high at all. I have zero concerns.
Ky – I want you at zero that is the purpose of the nominations.
Ky – after Tiffany leaves
X – people will pressure to come after you?
Ky – not pressure it just has to do with.. I do believe that any sort of tension from the revelations from the none cookout members will be pretty Subsided.. there's no one that will forgive me that will also forgive you. the effect will be minimal. I feel like as competitors we will be pretty close. It will probably lean to you. We'll see with the final HOH if we can get there. With Tiffany gone the only person that would have a chance sitting next to you even.. I'm taking you..
X – What is your concern?
Ky basically says his concern is X not taking him in the final 3.
They go on about how they are good. Their name is the "The gentleman" if that is taken they'll use "The gentleman's club"
X says he wasn't to beat someone that he knows played a good game. "plus if I lose to you I know I'm still getting a cheque I'm not going home broke. I can still do things for my nephew with 75K"
X – my biggest incentive to take you I don't know what the Jury will do with BIGD
Ky – that is another thing
X – if I take BIGD it will either be a landslide or it'll be ..
X – I could never take Azah to the final two she's the only person that has played honestly
Ky – Hannah said abotu Azah.. I think her role in the cookout was crucial but you should play more of the game to want to win. That is more likely to be a win over BIGD, to be honest.
X says Azah was able to play a honest game because the other members of the Cookout weren't.
X – I am assuming you are keeping nominations the same
Kyland – I am thinking about it.
X – pull Hannah down to get in her good graces?
Kyland – that's where I'm leaning
X – put up who?
Ky – who would make sense in your head
X – Azah
Ky – I think BIGD.. I'm thinking from this perspective. At the end of the day, I want to make sure you and I are getting to the end.
Ky says Hannah has a better chance to win the next HOH over BIGD he needs to make a deal with Hannah to keep him safe then he could put BIGD up.
They go back and forth if they have the votes with BIGD on the block because Azah has been talking a lot with Tiffany.
X says worst-case scenario is Hannah and Azah vote out BIGD and it's Tiffany, Azah and Hannah VS him in the HOH "I can beat them but it does decrease our chances.. it's 3 vs 1 and in the veto, it's 3v2. we lose our numbers if BIGD goes out"
Ky – that is the risk
X – I wonder if that risk outweighs..
Ky – I can always say to Hannah we have the votes.
X says if they can get a deal with Hannah for next week without using the veto that will be their best-case scenario.
Kyland agrees.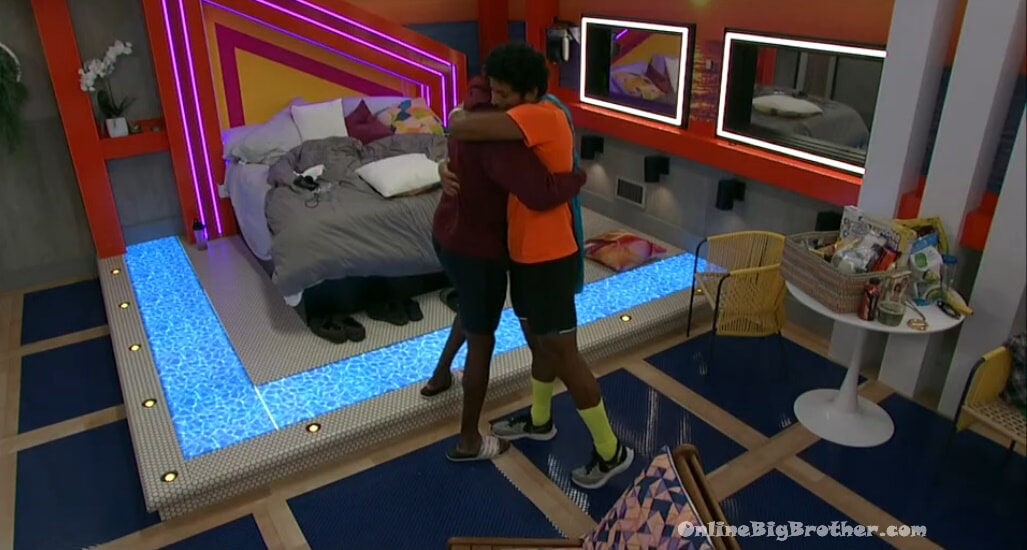 They hug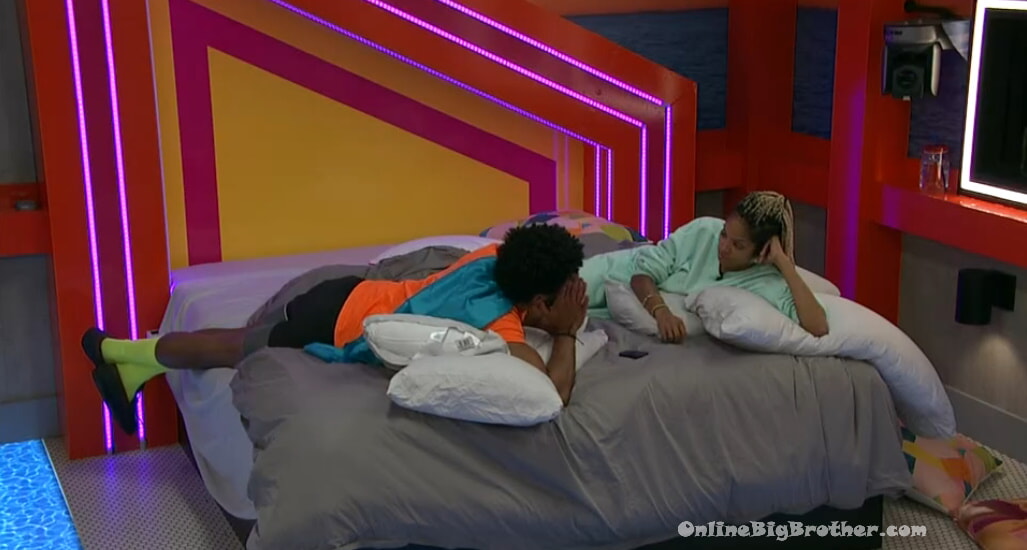 2:20 am – 4:00 am Kyland and Tiffany
T – There are so many things in my head I'm going to try and organize them.
T – my mind has been all over the place. Yesterday I felt like my life in this game is over.
Ky – pre veto
T – yeah I felt like.. you were .. I don't want to say I felt like you were the only person I had. I felt like if I didn't have you I didn't really have much in this game. Yesterday after the ceremony I was like I completely lost him. Not that I quit I was just accepting I'm going home
T – Whatever happens, it's supposed to happen if I win I win if I don't I don't
T – I did some self-reflection.. how did I get to this point. In the house things happen very quickly your come back to happens very quickly it's not like that in the real world.
T – I knew I lost I was supposed to lose.. I needed to be humbled I thought about what are my chances at staying in this game.. the only chance I have staying in this game is you.
T – my ego was in the way, my pride was in the way when I lost that was god going let me humble you real quick. In the real world I don't need anybody I don't want to need anybody. I will be cold I will starve I will be homeless I will suffer to not need anybody. Today I realized I can't make it like that. I've learned a lot of things in this house
Tiff says the one question she's been asking herself "was she was supposed to trust him or was she never supposed to trust him"
Tiff – maybe it's not.. maybe it's not that you trusted the wrong man it's that you didn't trust the right man.
Ky – It's not that you trusted the wrong man it's you stopped trusting the right one.
Tiff – I was talking to America and saying Maybe I was wrong. It's hard for me to admit that. I started thinking about why did I stop or doubt and so I'm like I took the game you played in this house and I watched you with people and then I wondered is he playing that same game on me?
Tiff – I never question your character. You mean what you say you think about it. I respect that.
Tiff says she needed to be humbled and losing the veto "humbled me bad.. at 40"
Tiff – the lesson I needed to learn is I do need people. I need to be able to recognize that. I need to accept when I'm wrong and I need to apologize cause I was. Things you expected and wanted from me was loyalty and trust my loyalty and trust and you had not done anything for me to not. I do realize that up until that point none of us owe anything from the six we never had to go and be saved. This is the first time I had to fight for myself in this house and it's a humbling experience.
Tiff – I was going to leave and go home but this is a conversation I need to have. This conversation Is me totally setting my pride to the side and my ego to the side.
Tiff – My game in this house is over unless you save me.
Tiff – if you save me I would have no obligations or loyalty to anyone else you are my only lifeline in this house. I have not gone to anybody to ask them to save me I've not asked for any votes and I am not. I don't want to owe anybody anything. I don't want to be here.
Tiff – you have the power to keep me and that's it to do that for me you have my unconditional loyalty and respect.
Tiff – I don't care who walks out that door unless it's not me. There would be no way I will go against you not a vote, not on the block. Not making a decision without having your input and talking about it because I know the chances of me going home on Thursday are way greater than me staying here
Tiff – I want to work with you and only you I don't have a choice I know I have put myself in front of some decisions I have made maybe claire.. that was still myself. My life in this game is hanging by a thread. No one is offering me anything
Tiff – I have to ask you for loyalty and to trust me again.. if I am here I will back those words up with actions
Tiff – I don't want to play this game alone and I don't want to play it without you
Tiff – I need you to keep me here I don't have anyone that can offer me that. You can just take these as words.. I am a woman of value I could not lie to Claire. Not only that my son is watching me, Mamma Pat is watching me. IF i lie to you if I break my promise to you I cold lose a friend in the house. I have disappointed my family. I have let my son down. I have broken something that I would have to work way to hard to get back outside this house.
Tiff doesn't want to embarrass herself and her family by going back on her word with Ky, "I feel that I have embarrassed myself enough"
Tiff – the game itself is not that important to me if I go home I go home but this conversation was something I needed to get off my chest.
Tiff – keeping me I am totally indebted to you.. I will gladly take a second-place prize over leaving Thursday. I know you said you wanted to take a competitor to the end and today I might have been not out of the competitor's list (She did poorly in the BB comic comp)
They laugh
Tiff – you will never have to question me and I will never question you. I feel bad that I did cause I know that .. I know you are a great guy you are a person that says and does what he means. I have watched you in this game move strategically like I have.
Tiff – I don't know if it's a option for you to keep me in this game. I do know there is no one else willing to turn their game over to you and trust you in what you do and to always have your back moving forward none of us owe each other anything.
Tiff goes no about being truthful to him. "you said to me love me or not just be loyal"
Tiff – I know what that means.. I'm not just saying that I will always back that up with action. I don't have anybody in this game. I don't want to move forward with anybody in this game.
Ky – I can make a direction I can't make a final decision on anything until I have all the conversations I need to have and I think that I am someone that evaluates all the options.
Tiff – if I am in this house I am still everyone's target
Ky – if you have an opportunity to better yourself at one point near the end..
T – no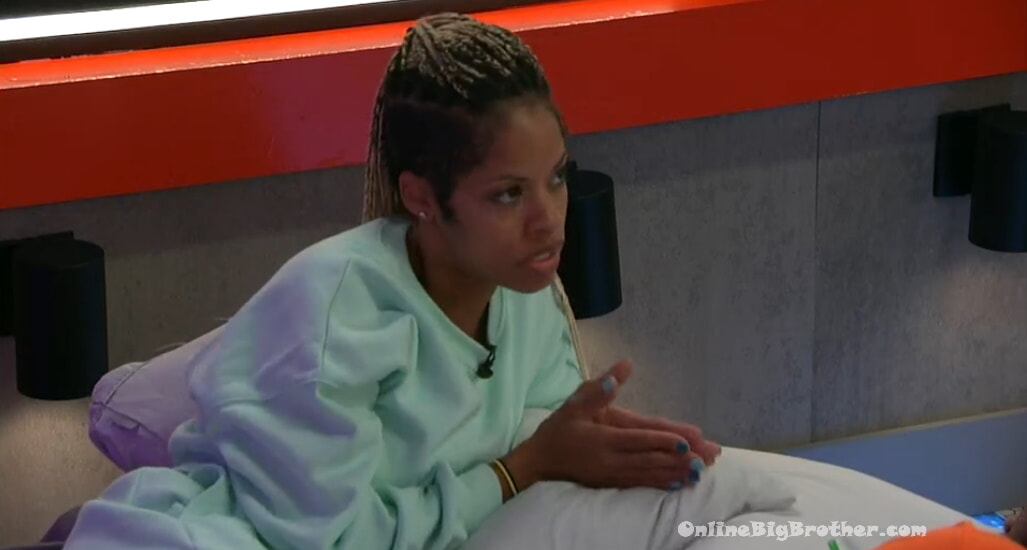 Ky – those are within the rules of the game so you are not disappointing anyone
Feeds cut When we're back
Ky – I fully believe it. the question would be what can be said that makes us not Dan and Frank from 14?
Tiff – if you keep me for one week and you don't see that I am loyal to you and that I am working strictly with you have whoever wins put me on the block you can make the nominations you can run this entire thing I just do not want to give up my game because I didn't trust what I already had.
Tiff – you can send me home anybody can send me home next week. I am not asking anybody for a vote. Little Hannah I love little Hannah that's my baby. this ain't BIG LOVE. I Will never choose Hannah over you. I will never choose X I will never choose Azah I will never choose Derek.
Ky – what about Tiffany? 3:10
T – I will never choose myself.. doing that got me here.. Unconditional respect. Unconditional loyalty. That means under any condition we are doing things together. I will never choose my own personal over what I have promised to you
Tiff – keeping me in this game you have somebody that is 1000% with you and only you nobody in this house will be able to get me to do anything for them.
Ky – one concern in this conversation is people in this house will vote the way I want them to that is a misperception.. that doesn't have confidence.
Tiff – I do know if you wanted to keep me here I would stay
Ky – it would be helpful if you.. can start evaluating what moving forward will look like both with me using the veto on you and not using it on you.
Ky – the view you are expressing is very limited in terms of the actions of last week have affected everyone and so me campaigning in my speech and using the veto on you changes things in the house and so I need to.. It's great that you are loyal to me and then not if we're sitting on the block together. Where things are right now in this very moment this very second if we're sitting on the block together you would leave. If you are sitting on the block together because I kept you here it would be me in some scenarios. Those are the scenarios that are not being accounted for in this conversation.
Tiff says she doesn't want to damage his game by being in the house but she believes keeping her in this house is beneficial to his game.
Ky – you are a target in this house regardless if you have the support of someone else or if you are alone. You might think you have support but I don't think you do. I know you have mine. I am willing to fight for you all I can do is ask for the opportunity to show you that. If keeping me here ruins your game I don't want that. It's not worth it.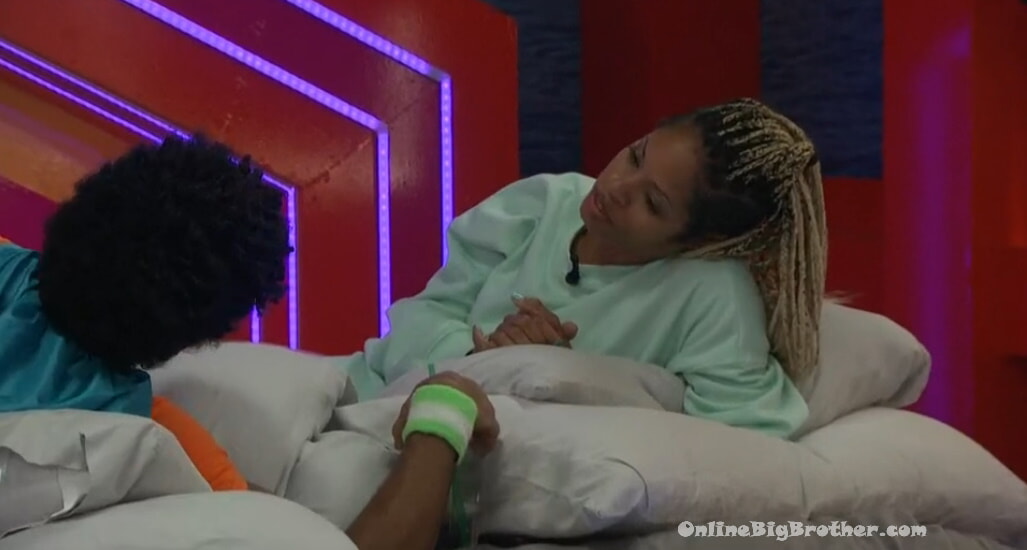 Tiff – I want you to go further and I want you to win if keeping me prohibits that then you can't keep me and I understand. I also don't know if not having me ensures you stay any longer. If I'm here and they want you out that buys me another week.
Tiff – anybody will keep you long-term. I don't think anybody will keep you at three and have to choose between anybody else and say I will take Kyland. I would but we have to get there.
Tiff – I'm sorry. I know people want me gone and they will always want me gone. But they want you gone too If there is one other person with you that will agree with you to save me one more week that buys you one more week.
ky – I know you would stay loyal to me in this game. I am 100% open to those options right now the easiest way for me to do that is if you know of options that .. and of course.. I'm going to do this with everybody tomorrow.
Ky says he's going to meet with everybody tomorrow and part of his question will be "hey is there a scenario where you can support Tiffany saying what's the scenarios where you can support anyone saying"
Ky – that question is a consideration in what you are asking me because if the conclusion is not then I don't know what to do with that. It's like you said you being here is worse for my game. I have to evaluate what's true and what's not. those are considerations we all have to make at any given time in this game.
Ky – your loyalty as an individual may not be enough to move be forward
Ky says he needs to hear from two people that they support Tiffany staying
Tiff says she can have Azah and Hannah say that.
Ky – I need to hear that from them.
Tiff – If I made a deal with BIGD maybe he would support m staying X I don't think so. I don't even want to have a conversation with X.
Tiff says she's not going to have any conversations until Ky tells her to go start having conversations.
T – I want to be loyal to you I owe you that I will vote how you want me to vote. I am offering my game to you
T – I respect your decision I'm sorry that I got us here and that you have to choose between me and whatever other option you had and I was the choice. I know I am the choice because I didn't choose you I chose me instead. that is a hard lesson for me to learn. It's one that comes back full circle in this house quickly. if that is what's supposed to happen that is what happens.
T – I don't want to ruin whatever you have keeping me ruins what you have than don't
Ky – It's not about what I have it's about the overall impact moving forward with everyone in the house
Tiff – I know that you wouldn't put me up without the votes to send me home I know the votes you need are there.
Tiff – I'm not going to BS you I will just go home. the last thing I want to do is lose your respect. lose whatever friendship we have. I know this is a game. but for me my bond with you is genuine. I am not going to BS you
Ky – you've always had me outside of this game.
Tiff says he needs to take Xavier out if he wants to win this season. "he's playing a phenomenal game if he gets to the end it's going to be tough"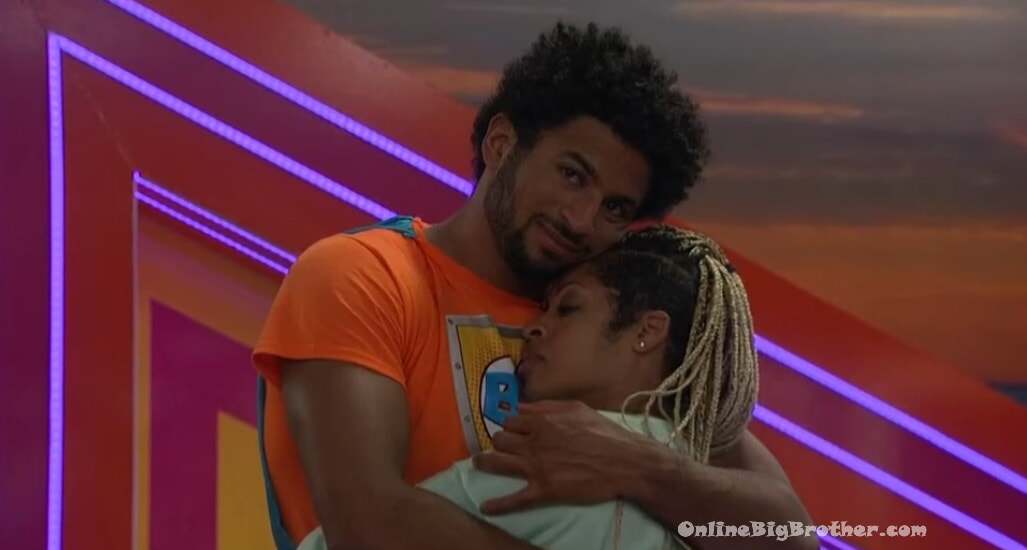 They hug
"I'm sorry I'm the most difficult to work with I promise I will give my best effort to not be. I won't be hard to work with I promise I will be a good girl I promise"
4:00 am – 5:30 am
DF and Kyland
DF – Tiff goes out, Hannah goes out, Azah goes out that leaves us three.. then I'm hoping either you or I win then it's guaranteed you and me are in the final 2. I want to make sure we're keeping our word to each other and whatnot. I'll go with whatever you want to go with. You know moving forward it's just I know it's very guaranteed that next week X will win then we'll be good. The following week either me or you need to win
Ky laughs that they have no idea if X will win they don't know what the competition will be.
Df – I've had my tough times and sh1t with Tiff. but that Saturday with me was all I needed. That was the nail in the coffin for me. I felt like damn she ain't just coming me. She's coming for Ky, She's coming for X and then just not trusting you enough to let you win that HOH. put us all in this situation where we could have potentially could have lost one of us early. That could have happened. It was too close to the end to be making a selfish move without us discussing it.
DF – I'm always here to help you.. what can I do for you I ride with you this long. What can i do to make sure you are comfortable and whatnot..
DF – Ky to be honest I'm not expecting to win this game. what I do expect is my a$$ to be in one of those seats in the end. I do expect that I put in as much work as everyone else maybe in different ways
Ky – yeah we all have.
DF – we all have. I feel I did so much and been good to everyone I feel like I deserve at least a seat and I deserve at least second place that's how I feel. (lol)
DF – I went to bed going.. Ky deserves to win this game. That is me coming to the reality that you've put in the work the time and the effort.
Ky – the game is not over there are cases for multiple of us to deserve to win this game.
DF – I get that..
Ky – there is a case for you, X, and Tiffany to win this game.
Ky – I will never for the rest of this game be as vulnerable as next week.
DF – I get what you are saying. .what are your concerns
Ky – anything.. the concept of umm.. I feel that .. uhh.. the… I feel like everyone… the reality is that uhh.. you, Azah, Hannah, X.. maybe not hannah. you, X, Azah can work with me next week by choice and Tiffany or Hannah would.. especially Tiffany and she's not.. this is something I came up on my own before I talked to her. Tiffany uhh.. has to work with me if she stays.. And I think that I still believe that it's my better option to send her home but that is the crazy part is. Now I am banking on people who I believe want to work with me VS someone that I know would have to work with me. Also she knwos that everyone else would send her home..
(God get the words out)
DF says next week him and X will protect Ky "we're on the same team"
Ky – if I were sitting next to Tiffany for example.. if she stayed. azah's voting, I don't know if she's voting for me to stay
DF – if you are sitting next to Tiffany. her and Tiffany have a close relationship
Ky – I know
DF – I don't think it's smart to keep Tiffany
Ky – I agree
DF – she's voting for Tiffany to stay and you know that's a vote against you. You have to get out the people that are not voting for you to stay. You have another powerful person that can go for the HOH next week that is good at a lot of things.
DF – If I win I'm putting up Hannah and Azah.. Straight up.. boom boom.
DF – anyone sits next to Azah, in the end, she's winning.
Ky – I would never bring her to the end I don't think any of us would.

6:00 am – 10:00 am zzzzzzzzz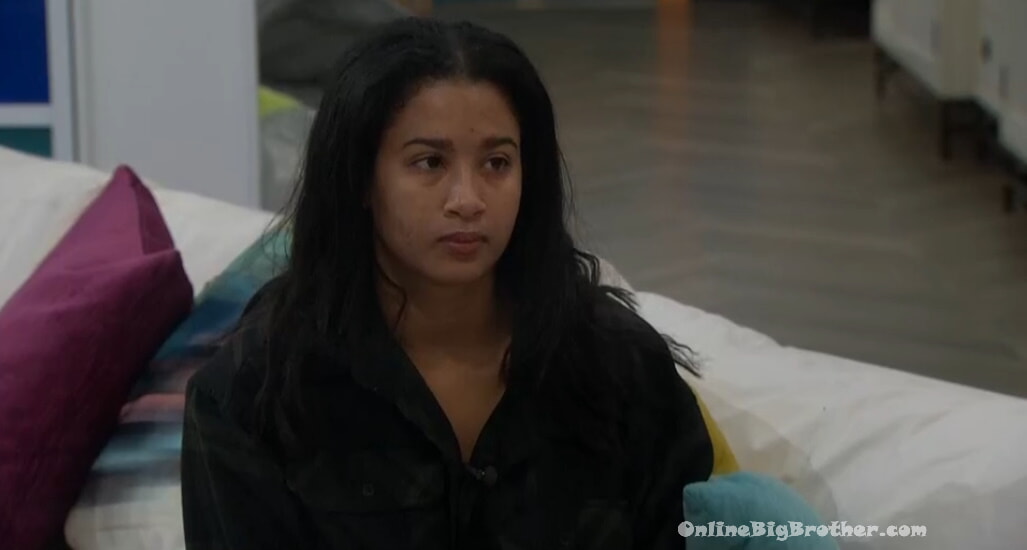 10:30 am X and Hannah
X – How are you feeling about your one on one today?
Hannah – umm
X – who you are dealing with is Ky, Best case for you will be if you get pulled off. The second-best scenario you're sitting next to Tiff. If Tiff comes off you will be sitting next to someone you'll go home against. Ky is adamant that he wants to keep competitors. You've shown you are a competitor so that gives him the incentive to take you off. Umm but so is Tiffany. Between you and Tiffany he wants you to stay. When I was going to bed last night she was up there so she's either trying to make a deal to come down and he puts somebody else up . If he wants to keep competitors he's not going to put me up he's putting up Azah or BIGD then you might be in trouble.
X – Between you and Tiff I THINK it's in my best interest to keep you because you haven't done anything to go against me. I don't think you would.
X – your best angle.. He loves that competitor sh1t
Hananh says Ky doesn't count specialty comps so technically her and Tiff have won the same number of competitions.
X – if he pulls you down you can be with im say HEY if I win the next HOH i'm not coming after you. If gives you some safeguard. If he leaves it the same you can make a similar deal.. HEY I'm not coming after you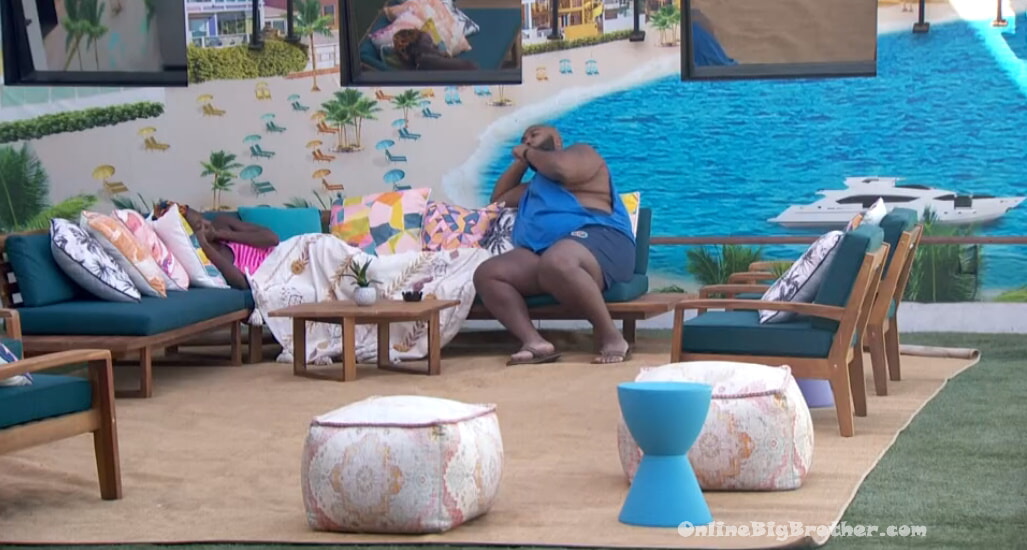 10:47 am Azah and DF
Azah – And y'all don't have a guys alliance?
DF – a what?
Azah – Guys alliance?
DF – NO
Azah – Okay
Hannah joins them.
DF – HI
Hannah – how are you
Azah – Good morning
Hannah – do you want me to give you guys like 5 minutes
DF – NOOOOOOo
Hannah – why did you say it like that
DF – I hate when people say Do you want me to give you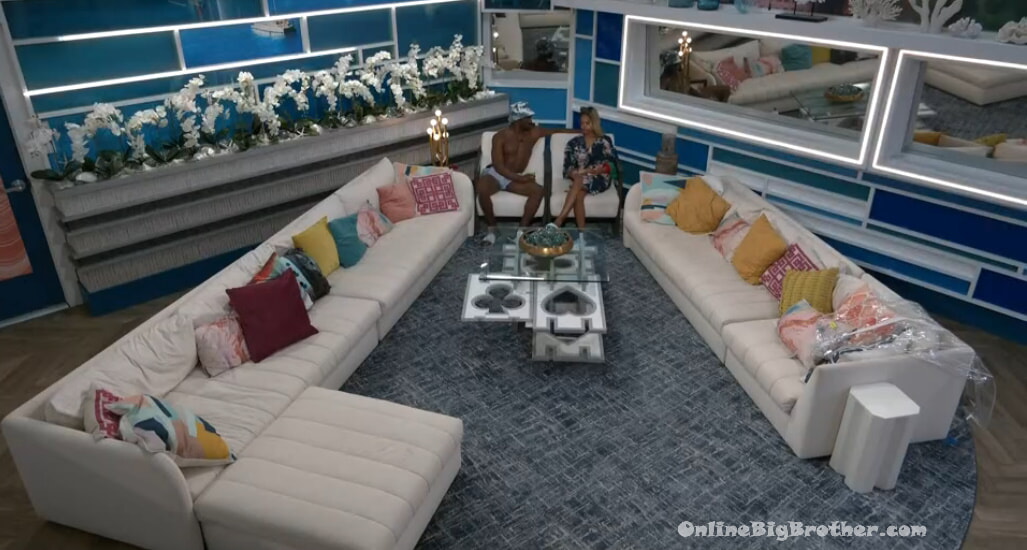 10:56 am – 11:40 am Tiff and Xavier.
Tiff saying this was a humbling experience for her "If I can do things differently than I would"
Tiff says she doesn't like to be seen as hard to work with. Xavier says other than that one bump in the road they had he doesn't think that's the case.
They go over the season and how they're not mad at each other. Tiff goes on about how much she respects Xavier.
Tiff- the humbling conversations are having the ones I want to run away on like this one.
Tiff says that Claire was ready to do some crazy sh1t to stay in the house. Tiff had to tone her down. Points out that through all that Claire never had anything bad to say about Xavier. Tiff doesn't think there is anything bad to say about Xavier.
Tiff – "your character as a man is phenomenal.. the principles you stand on are very firm"
Feeds cut when we're back Tiff is going on about how great Xavier is.
Tiff – you have displayed such integrity I am so happy that my son, my family, young men that have watched this and seen you, and kyland, and Derek as somebody they can identify with and look up to. people who are not familiar with our culture can hopefully have a more open eye and acceptance of who we are that we have good families where we come from
X – that was the key this season not only showing people that there are different shades of being black.. Each of those types of shades is respectable, is someone to admire someone to appreciate, and someone to love.. that is what the six represents because we're all very different.
X – We've all had to lie deceive and manipulate there is one group that I would stick to my word no matter what and that was y'All after that it was my team. After that, it was Alyssa, Sarah Beth.
Tiffany – you are such a team player..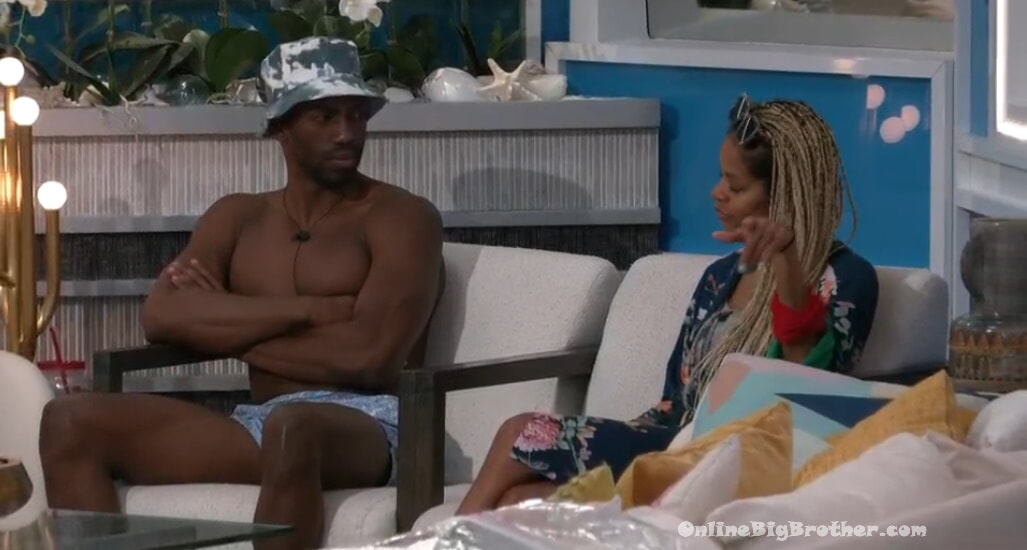 Tiff – I've gained some wisdom that is far more valuable than one win in this house. I think there are other conversations to have with other people just because… I don't wanna leave anyone umm.. unknowingly uhh that I have an understanding of the things that have occurred and how I may have made people feel (Points at BIGD peeling potatoes)
Xavier – it is Sunday.. and the veto meeting is tomorrow I think first focus on your game. You still are in this game. You still have to do that first after the veto meeting I think you can have those conversations. until then you're still tippy toes the only black female to win two back-to-back HOH'S you still got to fight You still got to do what you gotta do after the veto meeting.
X – I know you're fighting it may somehow involve me too it's the game.
Tiff – I am not saying any names I'm only fighting for me I'm not fighting to get someone else out of here
Tiff – I would love to stay. I would love to leave here with something. I would love to show that I am loyal to the people that help me get here.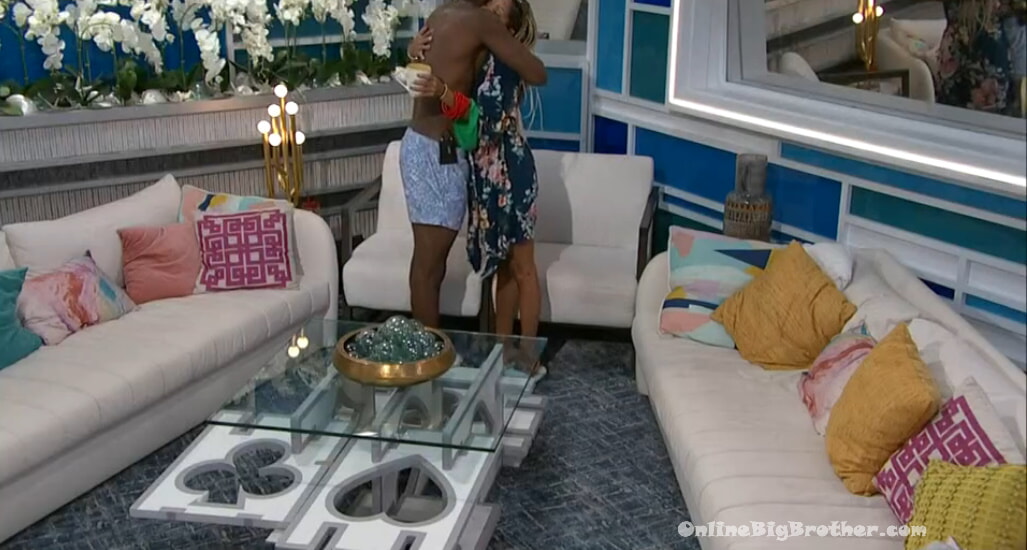 They hug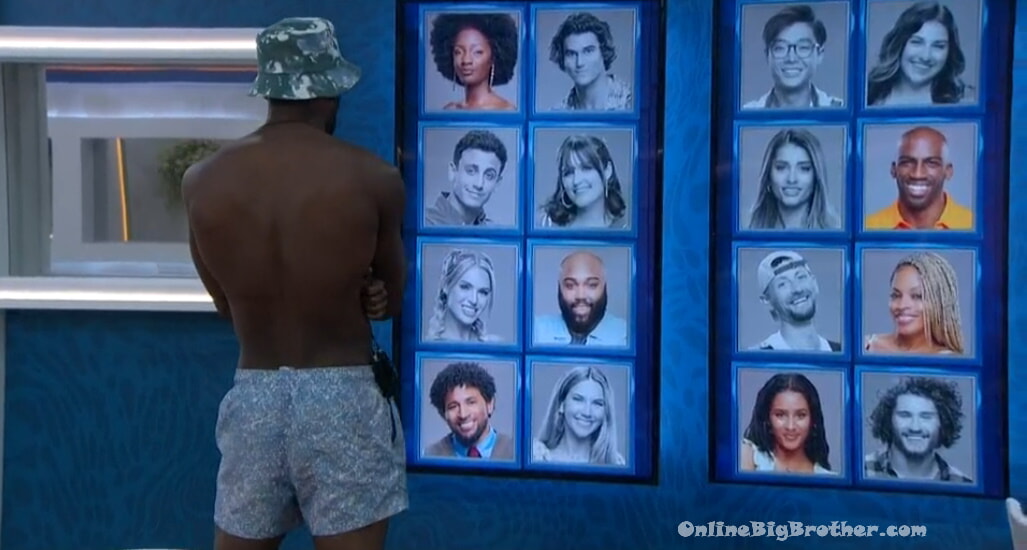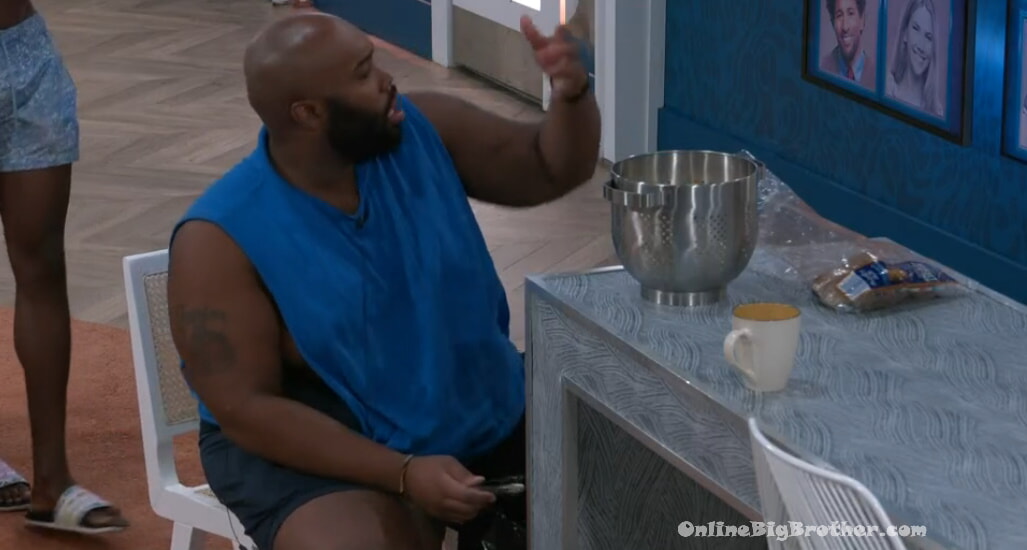 11:45 am Peeling potatoes chit chatting with Xavier. (he does a lot of the morning cooking for everyone)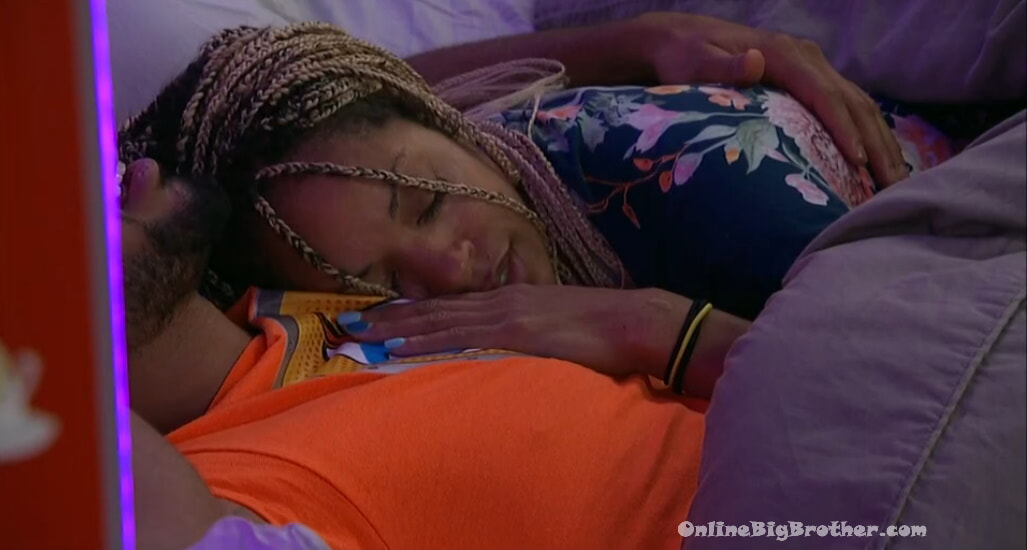 11:55 am getting that veto used
Please consider a donation to keep the madness going. Thank you to all those that have contributed 😉