HOH: Kyland
HAVENOTS:
Nominations: Hannah and Tiffany
Power of Veto Players: Everyone
Power of Veto: Kyland
Power of Veto Ceremony: ?
Big Brother 23 Houseguest Rankings – – RANK THE HOUSEGUESTS –
View the previous day ranks on the – Ranking Grid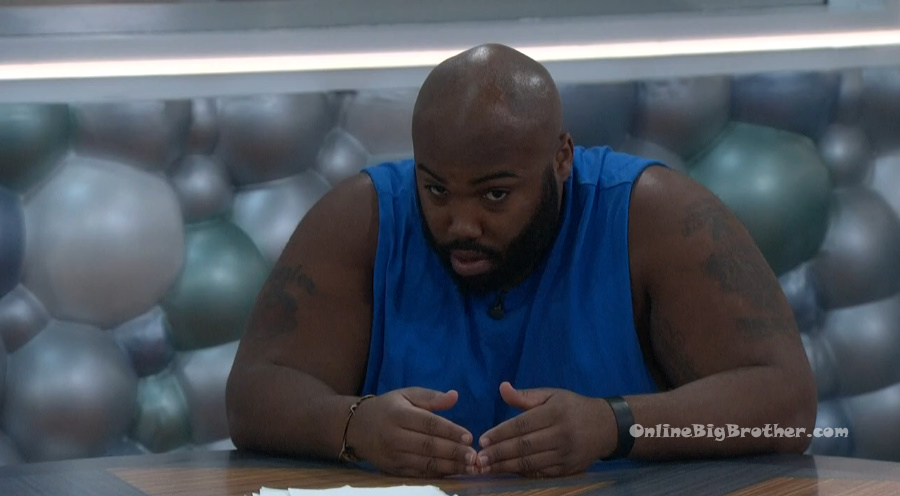 12:35pm Kitchen Table – Big D and Azah.
Big D – if I look at what is left, I need to win the next comp and if not I don't know if I can win the following comp. Azah – What needs to happen is Hannah can't win the next week unfortunately. Big D – no, no, no, no… or the possibility of you or me going home. Azah – no, it will be Ky or X going home. Big D – that is too much for me. Azah – and I don't want to make that decision. I told Ky next week if he is on the block I wouldn't vote for him… so I can't go against that and so that is a much better decision to make if Hannah is on the block next to him because I haven't made any deal with Hannah. Big D – so either X or me need to win.. or you. Azah – its honestly better if its me or you because X will definitely go after Ky and Hannah will definitely go after Ky. Final four is you, me, X and Ky. I can't imagine X not going after Ky.. so if its Hannah or Ky on the block you and me are still able to vote and can make the decision. Big D – I would send Hannah home. Azah – At this point I would too. I am sorry but based off the pact we have right now. Big D – I need to figure out what comp would be next. He thinks it will be the seesaw comp. Big D explains how the seesaw comp works.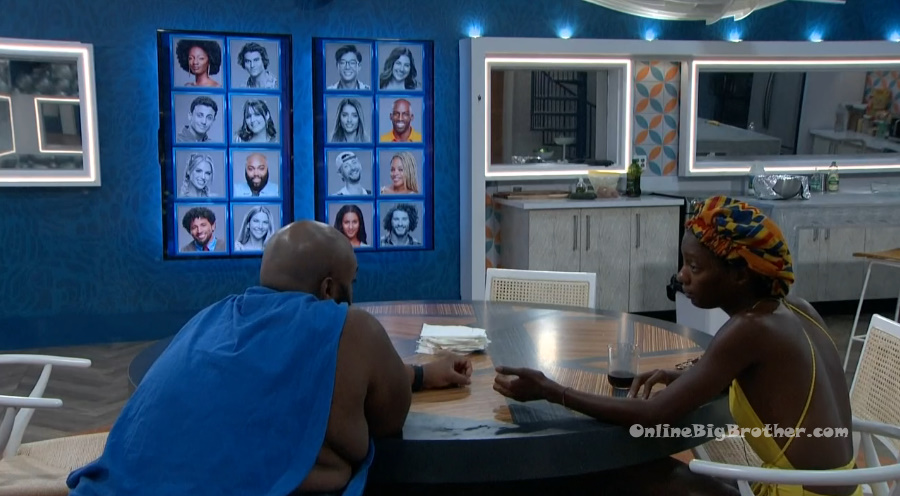 12:55pm – 1:15pm Big D and Hannah head to the living room to chat. Big D – you know the only angle that I would work if I was in that position (Tiffany) is.. Azah – she only got two options. Ky or me, you and X. Big D – right. I think she is trying. She is going to say whatever she needs to say. She will probably say that I am a manipulator. Don't fall for my tricks. Whatever! Azah – you're too loud. Your voice carries. Do you know how to whisper. I don't think I've ever heard you whisper in this house. Big D – no, and look how far its gotten me. I tell the truth. The thing about it is Tiffany is either going to work .. she only has two angles .. she is either going to say you need to get out X or you need to get out Big D or you need to get out both of them because they're working together. She will say something along the lines like that.. but you have to understand from me .. my resume over the course of this season shows how I've been over this entire time so there is nothing you can do at this point. I put in the work at the beginning to avoid this at the end. She is the one coming to me saying we can't trust Ky. You think that he ain't find that out?! He found that out. People told him. What do you expect!? Azah – Tiffany apologized to me yesterday for how she was treating me. Big D – oh that's nice! Azah – I knew you were going to say that. She said that she doesn't like to apologize.. she said that god really helped me yesterday and this entire week because I've never had to apologize for anything. Big D – she didn't apologize to me .. and I don't want it. If she says it I will say thank you. I appreciate it but its because you're on the block. Mmmmhhmmm.. NO! Hannah joins them.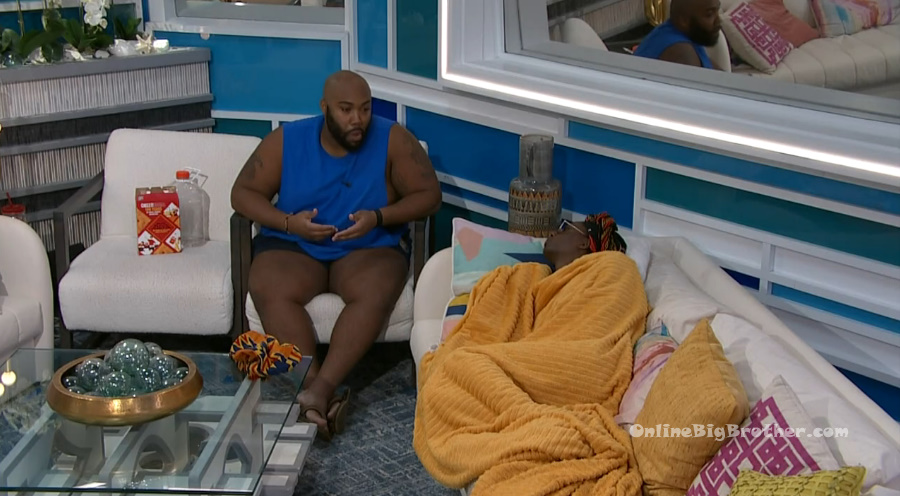 1:36pm – 1:46pm Living Room – Big D and Azah.
Azah – do you think Ky is going to change his mind? Big D – I don't know. For me I am all about consistency. You know.. She made a selfish move. She didn't care about what we all discussed. You were supposed to win, Ky was supposed to win .. and for me it was annoying because things could have went a whole different way if she wasn't selfish but she didn't care. She wanted to make a decision for herself. When I had my one on one she was like I don't regret what I did. I know the responsibilities. I did what I did. So its like Okay. Ky has also made a selfish move but I think .. I feel like it should go in order. Tiff made a selfish move, she needs to go. Ky I would like to say around long but if he needs to go, then he needs to go. That's how I feel.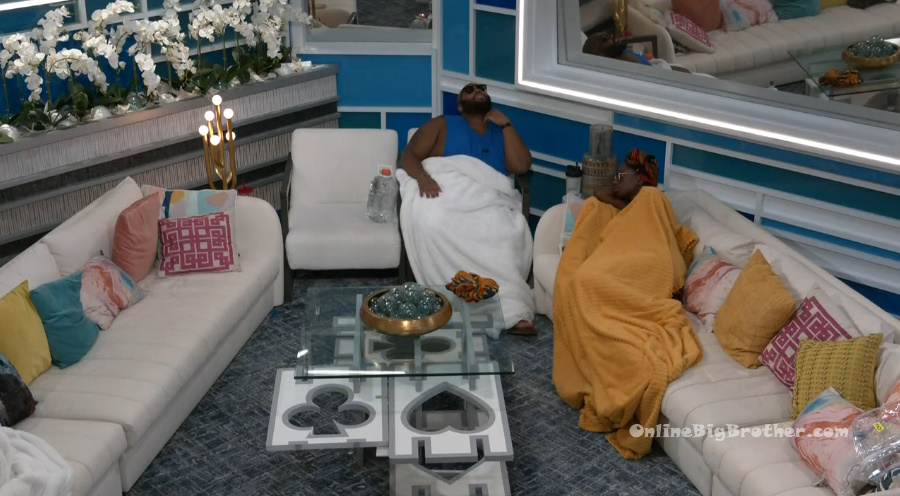 1:56pm Big Brother blocks the feeds.
2:19pm Still blocked.

2:35pm – 2:45pm The feeds return to the house guests chatting in the living room. Tiffany is doing the dishes.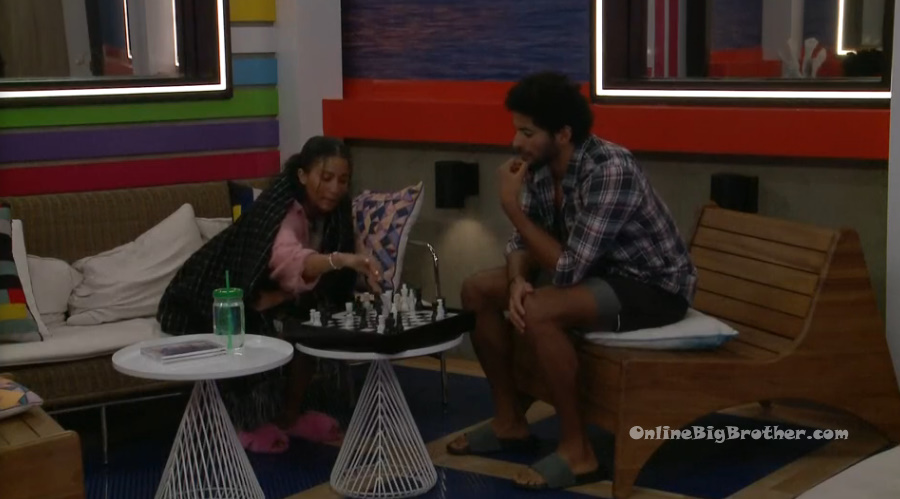 2:51pm – 3:05pm HOH room. Hannah and Kyland.
Hannah – Congrats on winning the veto. The clean sweep! Ky – I think that like that was definitely .. that was such a crazy experience. That was my favourite veto. Big Brother blocks the feeds. When the feeds return – Hannah is using the chess board to explain where she sees everyone in the game.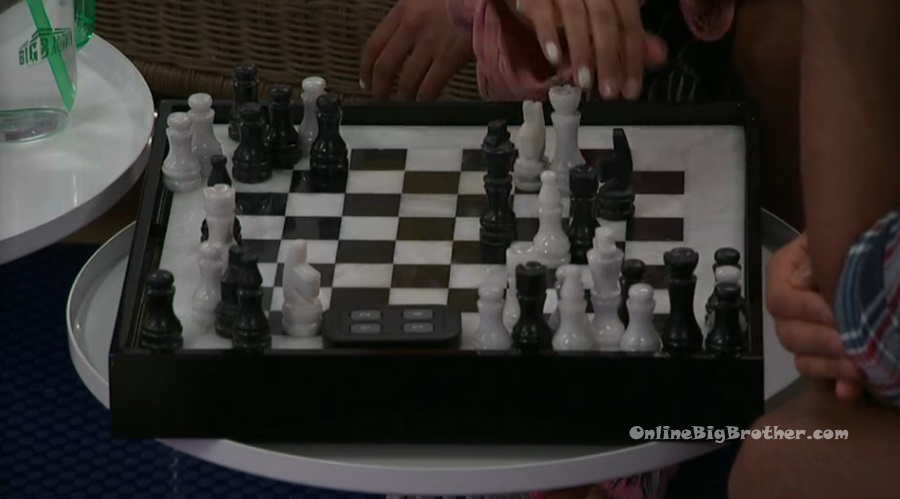 3:15pm – 3:40pm Kyland – in the next HOH, I obviously can't compete and if we take out the outliers of this week.. I think the most likely people.. some combination of this person and either one of you two people being here… either one of you would win. So then it is just who wants to work with me. Hannah – who has incentive to keep you here. Ky – yes. That is something I am trying to process. What I am wondering is not just incentive to keep me but .. someone that wouldn't take Big D or Azah. The thing I am wonder is .. is there any scenario of you being on the block on Thursday next to anyone other than Tiff and staying? Hannah – if its me next to X .. it would be Tiff, Big D, Azah voting. Tiff would probably give me her vote. Big D would probably give X his vote… and Azah .. I don't know. I think she would probably give X her vote because their relationship has reached a lot farther back in the game than mine with her. And Azah does play a loyal game and maybe she does feel indebted to X for being her protector. I have heard her reference as such. If I was next to Big D. X would be the swing vote and I don't know what he would do. I see Big D staying over me. Next to Azah, I feel maybe I would stay. But my best chances of staying would be against Tiff. Ky – and what about Tiff in those scenarios? Hannah – I think hers would be different. I think she would go home next to anyone. I think Azah is in a very complacent place in this game. I think she just wants to sit back and let what happens happen. I think for her honesty and loyalty trump everything. Out of all the girls here I have won one HOH and one veto. I think I have proven myself to be a pretty formidable competitor. I think with me there is slightly more predictability and consistency. I don't believe I have given you a reason to distrust me. Other than throwing the veto to Alyssa and the misunderstanding we had. And you haven't really given me a reason to distrust you. For me moving forward in this game I have no incentive to keep Big D and Azah in this game. I've begun to have the realization that the winner should be someone that actively worked to bring the Cookout to this part in this game. Azah and Big D have never won anything in this game. What I can offer is that I will not come after you next week. Whoever the HOH is will have four people to come after and 50% of those people are going to end up on the block. And in the event that you find yourself on the block, I will use the veto on you and take you down. If I can win. And if I am the final veto holder at final four then I will use that veto on you to bring you to final three. And even if you don't use the veto on me this week and I stay on the block, I will still use the veto on you next week and I still want to work with you next week. Ky – what's the difference in those two offers? Hannah – if you used the veto on my and I got a vote .. I would vote how you wanted me to vote. Ky – and if it was you next to Azah? Hannah – then the offer still stands and I would still want to work with you. But I don't think I would stay next to Azah. Ky – okay. I want to think things over and talk with everyone before I make up my mind. Hannah – you don't have to share the answer but .. do you have some idea of what you want the outcome for this week? Ky – For next week I want to be in the best strategic place. I don't like leaving you feel uncomfortable or scared. They hug and leave the room.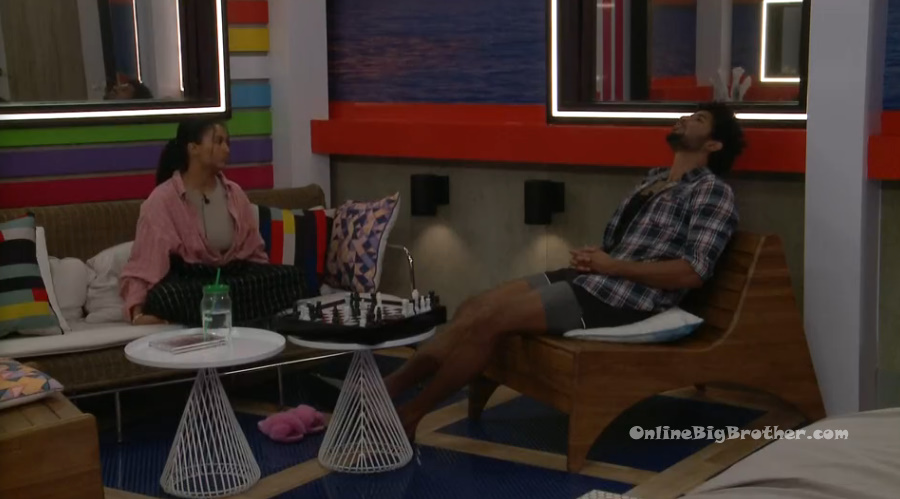 4pm Ky is helping Azah cook / bake.

4:20pm Big D "reading the bible" aka sleeping..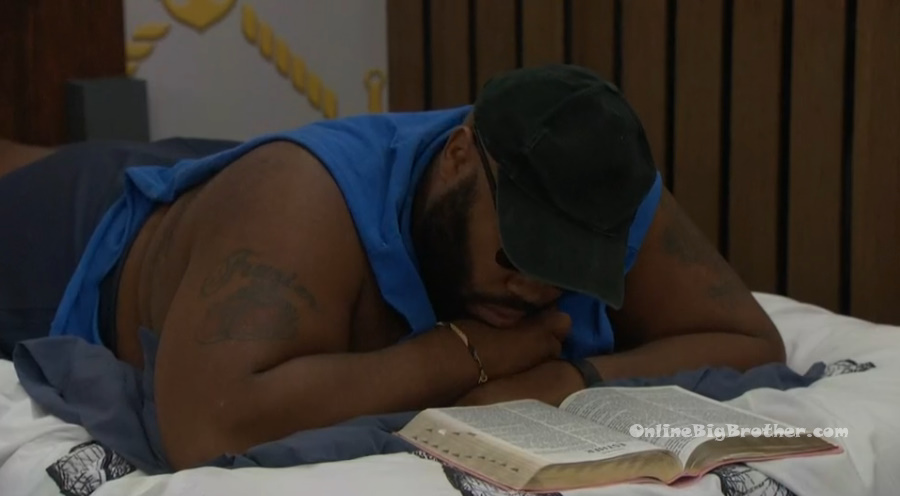 4:40pm – 5:10pm Kyland and Azah talking about their schooling experiences..
5:03pm Bedroom. Xavier and Big D.
Xavier – I just want to see how tomorrow is going to go. Big D – are you nervous? Xavier – no, I'm not nervous. Well I wouldn't say I am not nervous because both you and I are nervous if Tiff got to him and sh*t. But I would say thus far with the nominations he hasn't given us any reason to feel any other type of a way. I do feel these meeting will determine if he uses it on Hannah and if he does then I don't know who goes up. And I don't know if he wants to put up Azah and give her more reason to target him. That's the thing I don't know if Azah would make a deal with him and be like okay I won't come after you. She is the type of person that would honour that no matter what. Big D – you're never going to be fully comfortable. I've been telling everyone that I think I am going to get backdoored this week and if that doesn't happen and he pulls Hannah down .. then Azah should be going up. Unless he makes a deal with Azah, she probably will still target him. Unless they make a deal and she feels good. Big D – but she wouldn't do that to me and you. Xavier – I don't know if she realizes what he is doing.. like trying to be nice and helping knead dough. Big D – I think she knows. She's not stupid. Xavier – he thinks he is being a master manipulator and people see right through that sh*t! Kneading dough .. like what do you think you're getting at dawg!? I am not going to try and abuse your feelings towards me for game purposes. That's just not me.
5:20pm – 6:45pm Bedroom – Tiffany and Big D talking about past house guests / past events of the season. Tiff – I love X to death but I know he will mop the floor with any of us. Big D – I know. Tiff – but I don't know what y'all have and I ain't trying to know either. I just want you to know that I have always considered you. Big D – I appreciate that. For me it is so hard. I am very happy from not a game side that we have been able to have this conversation. I appreciate you being vulnerable. Tiff – you told me we ain't doing nothing once we get to six. I was like damn! Big D – I told everyone that.. even Azah. Tiff – I really just thought you were telling me that. I thought you were letting me know that you ain't want nothing to do with me. Big D – not saying I don't need people but I didn't ever want to be in the situation where I made too many deals where I couldn't make a decision on who to vote out. I wanted to work together to get as far as we could get. Tiff asks Big D to see where Ky's head is at. Big D – everyone thinks that I am aligned with Ky but I am really not because you have to think about it this way. He is literally his own person. He makes his own decision. I would love to be able to control him but he doesn't allow me to. That is why I like him so much. I will talk to him and see where his head is at. Tiff – I would owe you. Big D – I will take it into consideration.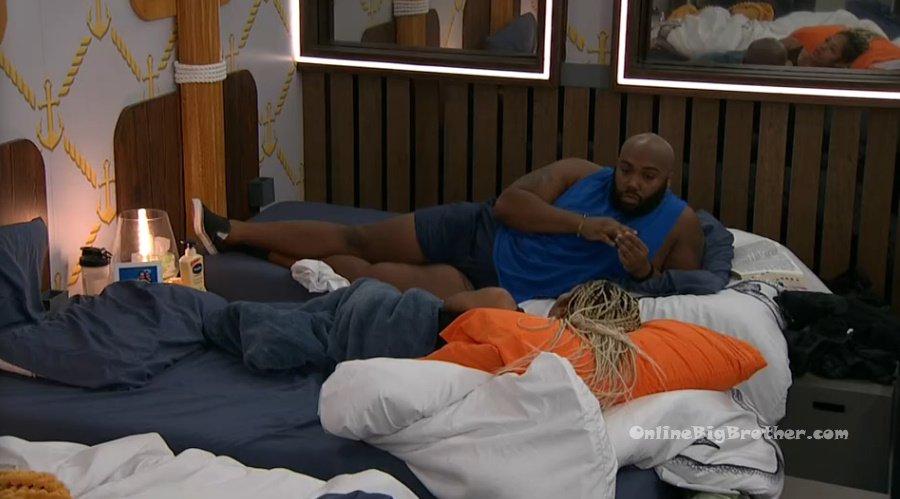 7:30pm Backyard – Big D and Kyland chatting. Ky is talking about cop stories. Xavier and Tiffany are playing pool.
8pm Backyard – Hannah, Big D and Xavier are talking about past Big Brother seasons like BB13 with Brendon and Rachel.
8:53pm Dinner time. Azah made fresh pizza and cinnamon buns.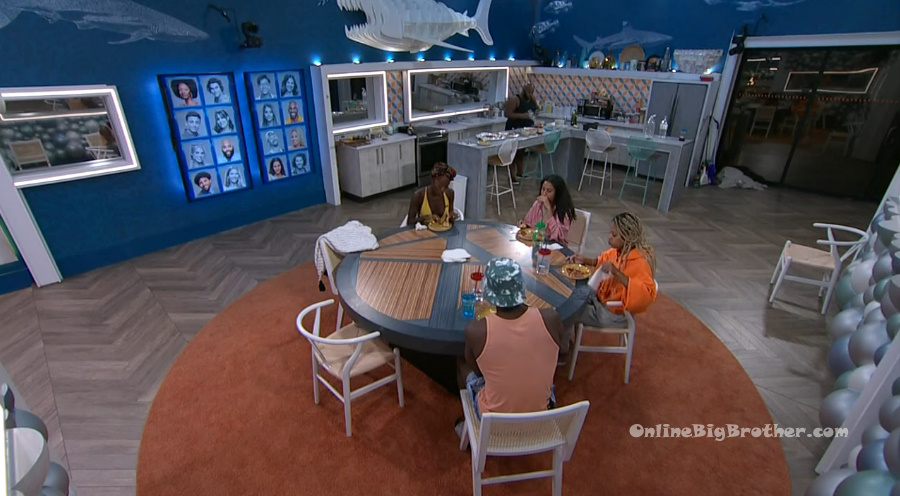 9pm – 9:55pm HOH bathroom. Kyland talking to himself.
Kyland – alright quick dinner and then the hard conversations … on a night when everyone probably wants to go to bed.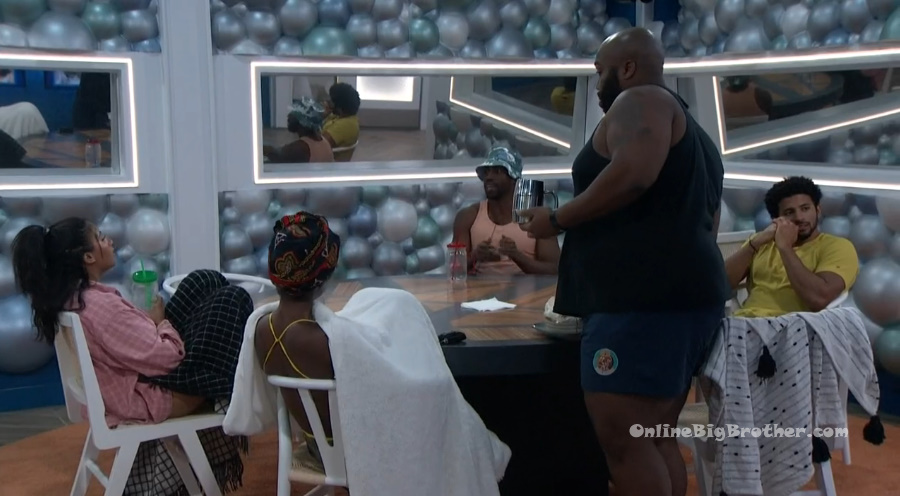 Please consider a donation to keep the madness going. Thank you to all those that have contributed ;)