Head of Household Winner – Dani
Have nots – Da'Vonne, David, Ian
Nominations – David, Kevin, Ian and Tyler
Power of Veto Players are – Ian, Kevin, Dani, Tyler, Enzo, Da'Vonne.
POV Host: – Nicole
Power of Veto holder – DaVonne
Power of Veto Ceremony – Da'Vonne used the veto on Kevin. Ian nominated in his place.
Powers – Christmas, Dani, David
Live feeds —-> Grab your Live feeds here. Try it free.
Rank the houseguests —-> Big Brother 22 Ranking
8:22pm The live feeds return.. Memphis and Christmas in the lounge area outside the HOH room.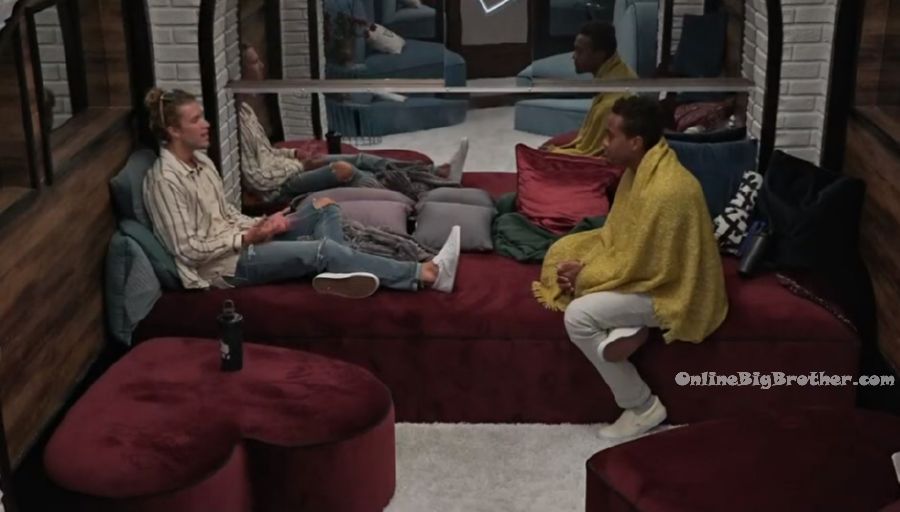 Lounge room. David and Tyler.
Tyler – Kevin said he's feeling good. David – you're feeling good. Tyler – about me staying. Yeah. Tyler – I haven't talked to Day yet. David – I'm scared of you Tyler. Tyler – You're scared for me or of me? David – of you. Tyler – you should be. David – I literally told you ..the words out of my mouth were I want you and Bay to be cool … and then you got her out. Tyler – I DIDN'T F**KING get her out!? Who got her out? David – you were part of it. Tyler – BRO SHUT UP! No I wasn't! Don't start that sh*t. David – its the truth! Tyler – don't start that now that I'm on the block you're going to give me a reason?! David – na listen! Tyler – I thought I was and I tried to fix it. David – by that time the game play had worked. Tyler – I know and I didn't get her out. F**King it wasn't me! David – it wasn't you directly but it was you indirectly. Tyler – and who tried to leave because of it?! So it wasn't indirectly. David – none the less you're here. Tyler – are you giving me a reason why you're voting me out? David – I am talking to you. Tyler – yeah and the first thing you start with is a reason why you want to vote me out. David – the first thing you should tell me is a reason why you should stay. Tyler – because I f**king had you since the beginning of this game even when you threw my sh*t out and tried to f**k me up in this game. David – I didn't try to f**k you up. You know my intent was not to f**k you. David – when I came to you telling you I want Bay to stay ..you never had a follow up conversation with me. Tyler – I had a follow up conversation with her and everyone else to see if we had the votes to stay. YOU voted her out too! David – I did but none the less you never came back to me to follow up on that conversation. If I am your guy .. you would come and talk to me. Tyler – BRO you never came and talked to me! David – I initiated the conversation. Tyler – are you voting me out or are you voting out? David – are we going to have this conversation? Tyler – I am just asking Bro! I'm your f**king guy! You know your my f**king guy. I didn't treat you like this when you f**ked me over! Don't be coming in flexing on me. David – I'm not flexing on you. I am trying to figure out why things went a certain way and why there was no communication. Tyler – because I wasn't worried about you! I was worried about f**king Bay! I'm worried about how Day is going to feel about me.. That is why! You're one vote. David – why at various points in this game have you not come to talk game with me? Tyler – we voted the same way every week. David – why would you have at least not come talk game? Tyler – I've wanted to go home the last two weeks! Big Brother cuts the feeds. Tyler – I'm on the block now because of you and your power. And I'm the one that told you to start telling everyone that it was you because everyone thinks it was you. And you're over here lying saying you're playing chess.. you're playing F**king checkers BRO! You're playing f**king hopscotch! Everyone knows that sh*t was you.. You better start f**king telling everyone it was you. And I'm on the block because of you .. and you're coming at me like this. You're voting for me or not!? They continue to talk it out and then hug it out.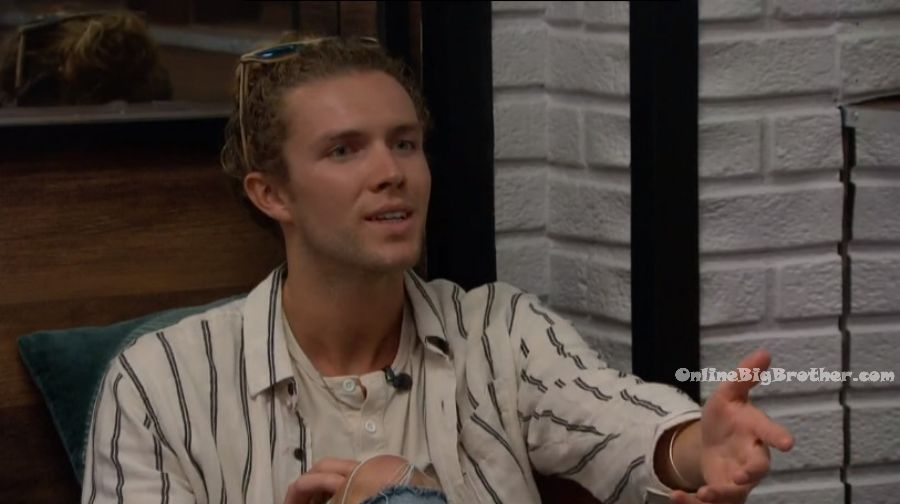 8:30pm – 9pm HOH room. Dani and Day
Dani – Oh no like I am so worried Day! I just don't want him looking dumb. Don't! Don't Ian! Like how do we prevent this from happening?! Because I just don't want you to look dumb! We all like you and respect you. He is so worried and keeps talking about how he is going to be so embarrassed and this is going to prove to people that he's not a good player and I am like Ian .. you won this game and you beat DAN! Day – Done PERIOD! Dani – I keep telling him he is one of the best big brother players of all time. That is my true honest opinion. He is so good at this game. He is like the way I am going out and I am going out now .. this is humiliating! And this is going to prove to everyone that I'm not a good player. I'm like this is all stars and when you go out .. this isn't prejury. He is losing it and I am so scared of what he is going to do tomorrow .. for himself .. you know what I mean?! Big Brother cuts the feeds. Day – are you going to use your thing.. the thing thing? (Power – to play in the HOH) Dani – I don't think so. Day – WHY not!? Dani – Because I don't want to be up here again. Day – but it protects you. Dani – I don't want to be up here again to be honest. This is what I am thinking. If I don't use it this week. Because I need to get out of here and get the spot light off of me. Depending on who wins next week .. tomorrow… what if I f**king use it against them. Sabotage them because it will be a whole David thing .. where they are like I didn't do it .. I didn't do it. So they look like a freaking liar and an idiot .. it would just build a huge target on someone .. it would be hilarious. Depending on how it is. Don't tell anyone. Day – that would be great actually. Dani laughs about how funny it would be to do it to David. I wouldn't do it to you or Nicole unless you wanted me to. I am afraid of Christmas ..she'll strangle me in my sleep. Who would you put up if you get it? Day – Kevin would kill me but he owes me. Dani – he would kill you. You wouldn't put him up. Who would you put up Kevin and Tyler? Day – probably. Maybe Christmas and Kevin. Dani – you're crazy!!! Day – he owes me! He owes me! Like I told you there is no agreement between me and him.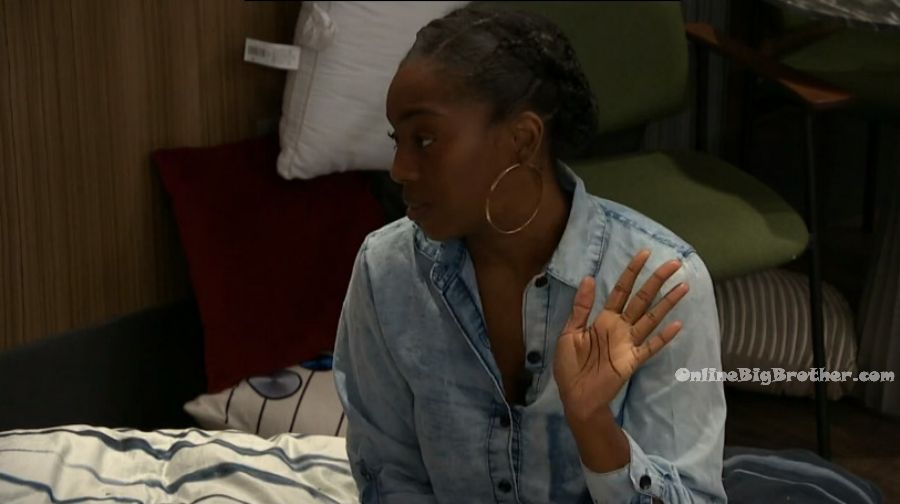 9:15pm Lounge room. Tyler and Enzo.
Tyler tells Enzo about his conversation with David and how he came at him. Enzo about David – YO Day wanted you out! Tyler – I didn't even tell him that. We had your back and you screwed me. I was like are you voting for me or not?! He wouldn't answer me and then talked to me for another 20 minutes just to waste me time. Tyler – Day knows too much .. she has to go. I don't want it to be 4 – 4. Enzo – it should be 5 – 3. Tyler – did anyone else tell you what they're doing? Enzo – Day won't tell me. David is up in the air. And Kevin won't talk to me about it either. Tyler – I would be careful with that Ian sh*t. She might be up to something.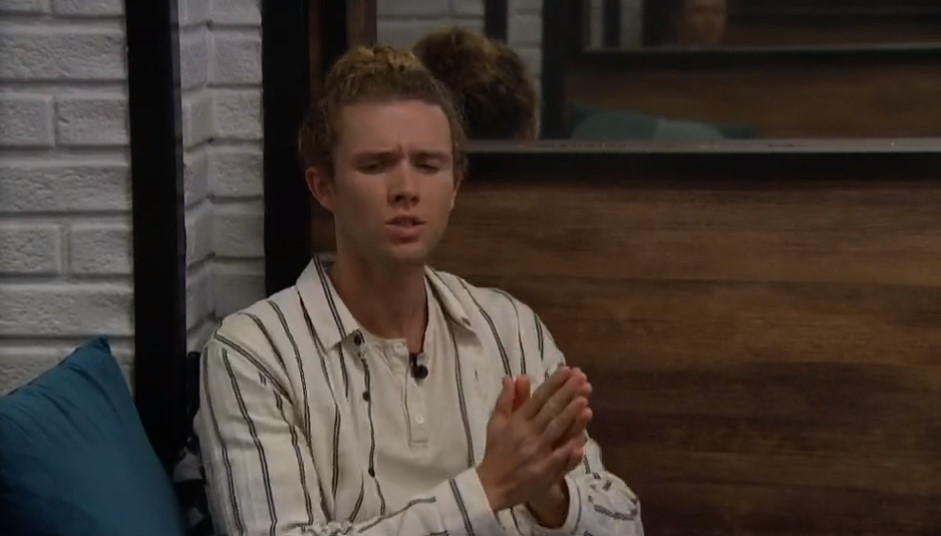 Bathroom. Ian and Cody.
Ian – I think I can get the votes but I need you. Cody – who do you have? Ian – as bizarre as it is I think I can get DaVonne. I think I can get Kevin. I think I can get Nicole. Let me have the four vote and then let Dani f**king break it. I don't care where the f**king four votes come from. I don't care if David votes for me.. he told me he is 60/40 for me. I don't know what the deal is and if you have something with Tyler. Cody – you know I have a good relationship with him. Ian – I can get four votes but I need to know that I can get you and obviously Nicole. No one is going to know where the four came from. Lets just go. Cody – how confident do you feel with Day and Kevin? Ian – Fairly confident. They said they are 100% but that they don't think the votes are there. This is the pivot week. The house doesn't know what the f**k its doing. The house is changing its mind every 30 minutes from what I can tell. Please! Please I want to f**king stay here. If I f**king lose .. yeah I will go to jury .. and yeah I'll sit there and vote for the best player to win. I ain't going to f**king die. But I WANT TO BE HERE! Its not just about winning its about going far. I want this sh*t! Keep me here! Don't forget the four prime. Cody – yeah. Ian – if I tell Day and Kevin that you're voting to keep me .. then they won't. If you truly want me to stay you tell Enzo .. that you're unsure but leaning a certain way.. then an hour before .. tell Day, Kevin and Enzo that everyone is voting to keep Ian. Cody – you don't think if I tell them last minute .. they won't flip? Ian – no.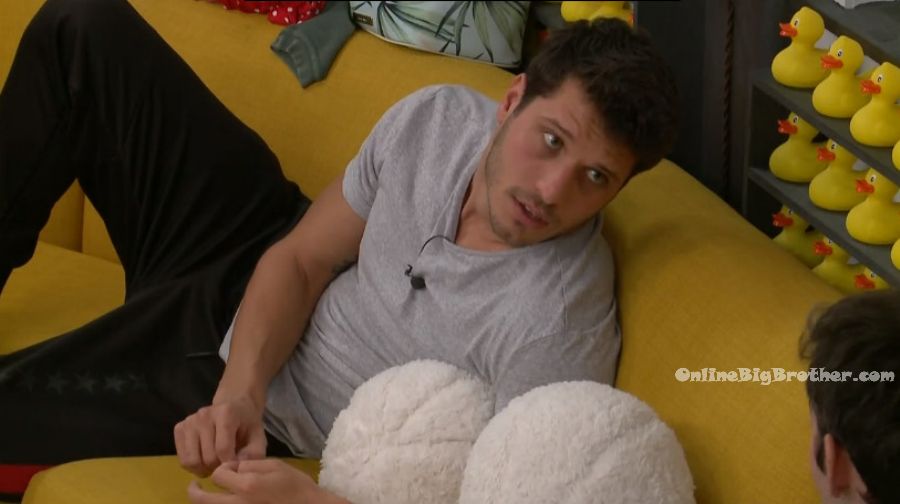 9:38pm HOH room. Nicole, Ian and Dani.
Ian – here is the thing.. I need four votes! I don't give a sh*t where they come from. If I have to get Kevin's vote .. or .. I don't f**king care! Dani – you need two votes. Ian – here is the thing… Day and Kevin don't think I would have Cody's vote ..which is a good thing because they don't want to do what Cody wants to do. But I know I have Nicole and Cody's vote but I can't say that outright. I need them to vote for me but I need someone .. basically I need to have 5 votes because Cody's vote they won't want to go with. By getting their vote .. I lose the other two. I am not going to roll over and die! I do not want to go to that F**King JURY HOUSE! Do you have a better idea. Nicole – I don't think Day and Kevin will vote to keep you. Ian – do I roll over and die then? Dani – no, do you want me to talk to Cody? Ian – I already did. I can do this .. please just don't lose faith in my ability to stay here. Dani – no one is losing faith .. she (Nicole) is just sad. Ian – I can do this! Dani – don't get frustrated. We're all in it together. If there is a way .. we will find a way. David is for sure out .. don't waste you breath on him. He said he wanted to vote you out to spite me. Nicole – he did say that to me. If you want his (David's) vote tell him that you're going to go after her (Dani). Dani – this is getting crazy. Ian – obviously that wouldn't be true.
9:50pm Big Brother blocks the feeds..
10:09pm The feeds return..
10:10pm Havenot room. Day and Tyler.
Day – I feel like you deserve to be here. I will definitely be giving you my vote. Tyler – I appreciate that. Day – and I will talk to Ian. I've heard he's been freaking out lately.
10:20pm Bedroom. Nicole and Dani.
Nicole – everyone is voting him (Ian) out. If I don't give him a pity vote he is going to scream stuff as he goes out. Dani – he said this? Nicole – he 100% will. Dani – no, no he won't. Nicole – yes he will. Dani – you literally think he would do that to you? Nicole – yes. It doesn't even have to be me .. if someone just votes to keep him.. he will think its me. Dani – I am going to yell at him tomorrow. I am going to say stop talking and threatening Nicole. I am sick of this crap. Its childish and selfish. Like I am not going to go to jury. Then why did you come here? The only option you has was win or go home? No you're bing a sore loser. And why did you come here if you thought your only option.. to win or go home? Nicole – he (Ian) is so angry and ready to take his 40K and leave.
10:45pm HOH room. Ian and Dani.
Dani – I will talk to Cody and Enzo okay. Ian – I don't know ..maybe I can do it. Dani – we're all fighting for you but you really need to be easier on Nicole. She was like crying to me. Ian – I know. Dani – I understand your position but Nicole is doing everything that she can. Ian – I know. I know. It hurts her game. Dani – you can't do that to her though. You have to respect that you can't tell her to do things that are going to hurt her game. That's not fair. Ian – I understand. Dani – she is literally crying because she is like I don't know what to do. Nicole has your back more than anyone is this whole house. She would never do anything to screw you over. We're all fighting for you. Ian – I'm going to pull people into the storage room before Rich calls us in. Dani – everyone? Ian – everyone. Dani – together or separate? Ian – separate. Ian sits and pouts for awhile in silence then leaves. Nicole joins Dani. Dani tells Nicole about the conversation she had with Ian. Dani – Ian is being the biggest poor sport I have ever seen!
11pm HOH room. Tyler and Dani.
Dani – Ian is driving me insane and really stressing me out. Please know that no matter what happens I will put myself in the freakin death line and I will vote out Ian. If need be .. if it comes to that. I don't think it will so don't stress out. Tyler – I am not stressing out I swear. I am fine either way honestly. Dani – you freaking new to win HOH. Like its do or die! I am so nervous for HOH. Tyler – if he says that Comity when he leaves then we have a problem.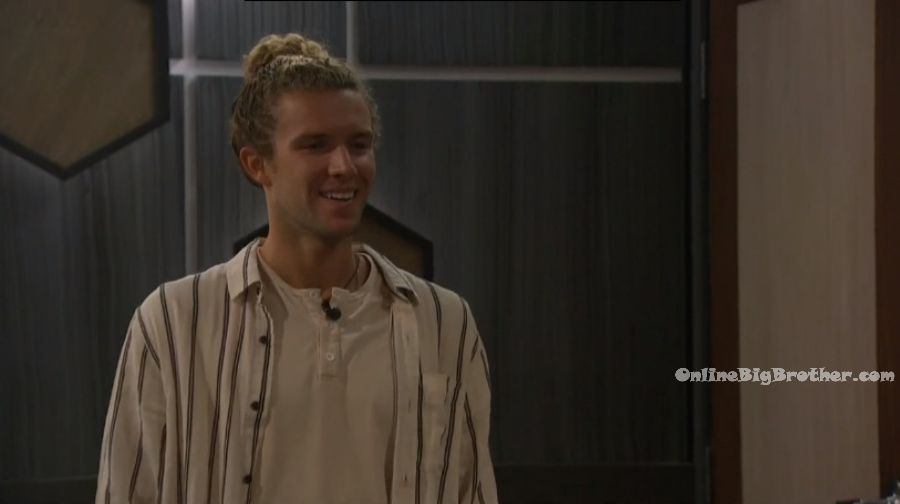 11:30pm Lounge room.
Ian to Cody and Enzo – I am going to put the full court press on David. I know that inaction is going to do nothing. Me sitting on my hands is going to make me the first juror. And I'm going to be wasting the next 6 weeks of my life painting and doing garbage sleeping. The harsh reality is I ain't going to bed tonight till I get David to say yes. I am staying up with David. Me and him are talking ..and I am going to make sure he votes for me to stay. If I can flip him.. I come to you tomorrow and I say I got him flipped would you vote for me. Cody – would you believe he wouldn't just say yes. Enzo – see what he says .. I think he will tell you. Ian is relentless yo! Cody – I know that.. he is going to do whatever he has to .. I respect that.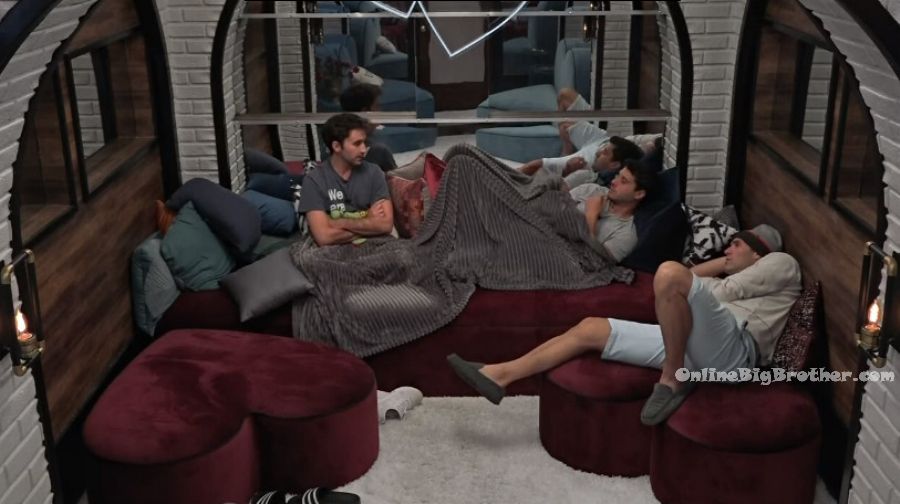 11:45pm Lounge room. Ian and David.
Ian – I need votes. I don't want to go to that jury house. I don't want to go. David – you've had a lot of people say yes? Ian – I've had more people than I need votes say they're a maybe. Memphis told me that I will not get his vote. Ian – you remind me of me playing with other players and returning players. If its me and you in the end you're getting 500k. And I wouldn't even fight that hard for it. I want to go deep in this game and I want to go deep in the game with you. I am willing to shake on final 3 as a minimum and final 2 we ca revisit at a later date. That means if I win HOH .. complete protection. If you're on the block and I am not and I win the veto I will pull you down. YOu'll have a vote to stay .. unless the situation that maybe maybe you're up against Nicole. And that's just a maybe because I don't know that I could even beat Nicole in the end because she is super well connected and came in here with more friends than anyone. All you have to do is tell Enzo that you're keeping me. I am a loyal guy and right now I need votes and you need an ally. It feels like you're just fighting week to week. I don't think there is a better story than me and you. You take home the big cheque and I take home the medium big cheque. We make this happen and we f**king run this thing deep. Ian – lets keep this rolling. David leaves. Ian – you still got it Ian.. you still got it! Come on lets f**king do this man!
12:37am Living room. Enzo and David.
David – What do you want to do? I think the house is keeping Ian. Enzo – keeping Ian .. I don't know man?! I think Ian is gone yo! I don't care who goes. I don't give a f**k yo! They're not coming after me so I don't care yo!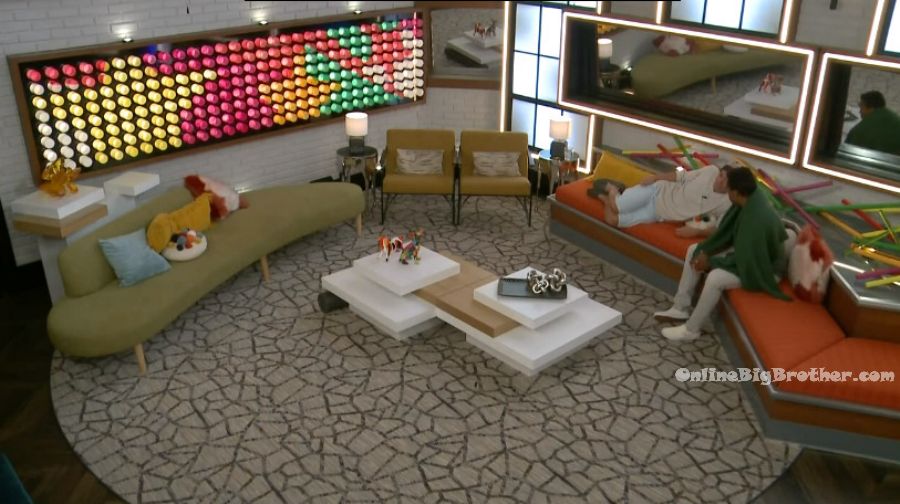 2am All the house guests are sleeping..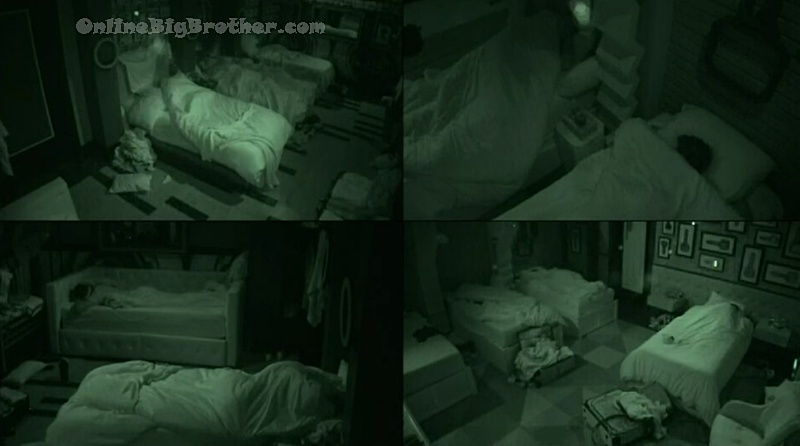 7:47 am Sleeping yo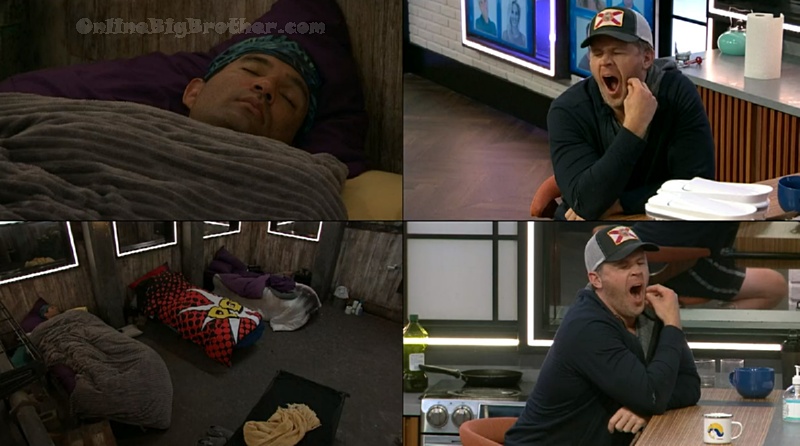 10:25 am some housguest are up.. mostly chit chat
Show your support by making a donation.
If you're enjoying our live feed updates this season, please consider donating.
Any amount is greatly appreciated! Your donations go directly to paying the fees required to run this site.