Head of Household Winner – Dani
Have nots – Da'Vonne, David, Ian
Nominations – David, Kevin, Ian and Tyler
Power of Veto Players are – Ian, Kevin, Dani, Tyler, Enzo, Da'Vonne.
POV Host: – Nicole
Power of Veto holder – DaVonne
Power of Veto Ceremony – Da'Vonne used the veto on Kevin. Ian nominated in his place.
Powers – Christmas, Dani, David
Live feeds —-> Grab your Live feeds here. Try it free.
Rank the houseguests —-> Big Brother 22 Ranking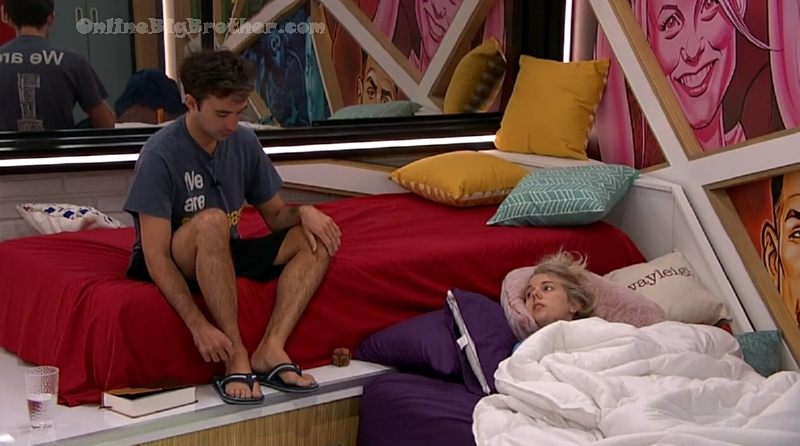 11:25 am Ian and Nicole
Ian – do I have the votes?
Nicole – I have no idea, I haven't talked to anyone about that today.
Ian – If I go because of white wine coolers I'm going to be pissed.
Nicole – you have to talk to everyone..
Ian – I need, Cody, Enzo, You and Christmas that's it.. And Dani.. is Dani mad at me
Nicole – I haven't talked to her I don't know
Ian – If I go because of these f***ing wine coolers I'm going to have a kanipshin conniption
feeds cut
When we're back
Nicole – tell her you are really sorry you didn't mean that stuff…
Ian – I should know better than to say something like that to someone that has been drinking at the same time..
Nicole – thats how you felt I get it
Ian – F***Ing white wine Coolers
feeds flip to Dani, Shitz and Enzo in the photo room. then feeds cut..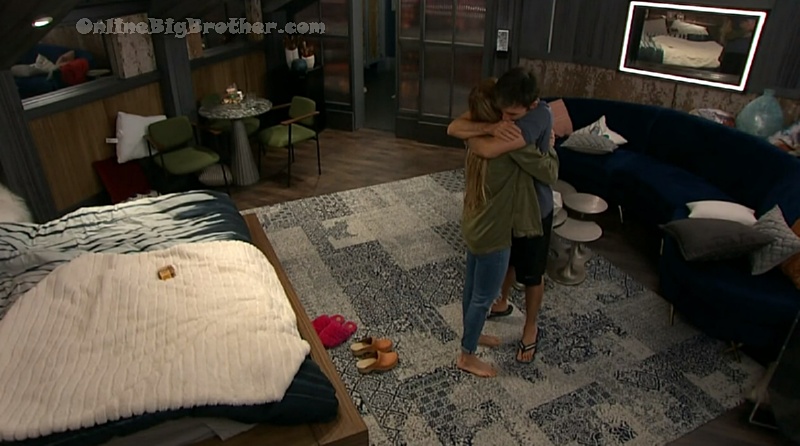 11:30 am Dani and Ian
Dani – I'm so sorry I genuinely care about you if I didn't care about you I wouldn't care like so it affects me that's all.
Dani – I'm not mad at you at all i'm really sorry..
They hug.
Ian – I care about you a lot..
Dani – it sucks.. there's a lot of people in this house that wouldn't care and this really affects me. everything you said is right
Dani = what's going on with Kevin
Ian – F*** Kevin.. F*** him
Dani brings up Kevin being snippy to her this morning "Whats wrong with you"
Ian – he's been acting weird. He thought something happened
Dani – you're not going to ask me what happened you hate me now
Ian – Its f***ing Kevin he's a f***Ing a$$hole.. F** that guy we don't need his vote. We need four and you
Dani – yeah
Ian – as long as we have Nicole, Cody, Enzo .. we have Enzo right
Dani – as far as I know
Ian – and Christmas which I think we have it's all good we have nothing to worry about.
Ian – If I stay there's two people in there that have really pissed me off in the last 3 or 4 days. BIG TIME. I offered David Safety in exchange for voting for me to stay he's continue to kick the tire. If I stay I'm putting his a$$ up his power has already been used and he'll f**Ing go.. Or Kevin! I would be thrilled with Kevin going really.
Ian – he's really pissed me off
Dani – he's shady as hell too
Ian – he's super shady I don't even want to deal with him.. I'm tired of his F**ing petty.. I've had it..
Ian says Kevin is "trying to play cute and he's trying to f*** you over because he hates Cody"
DAni – and he hates me now apparently too, If he wins he's putting up Cody, Nicole and Me..
Feeds getting blocked a lot as Ian explains if he gets booted "i'll fight like hell and demand to see my cont…. " Feeds cut.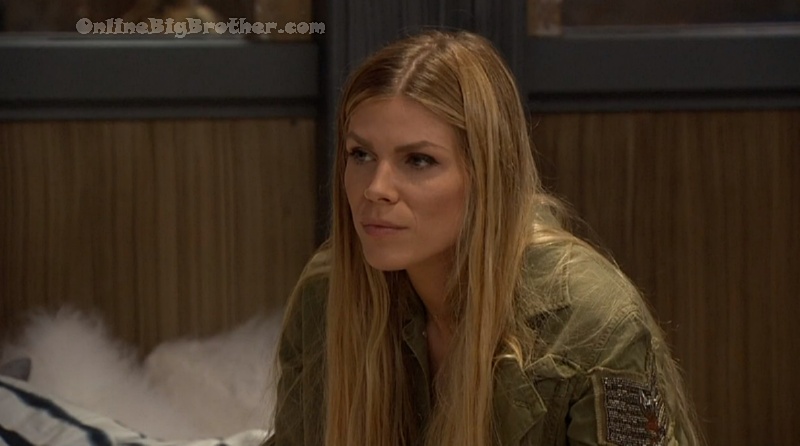 11:50 am Memphis and Dani
Dani says she feels like she' the number one target with the people on the other side.
Memphis – I feel the same way
Dani – only David..
Memphis – not the way Da'Vonne has been acting.. I think everyone right now.. (Thinks they are going up)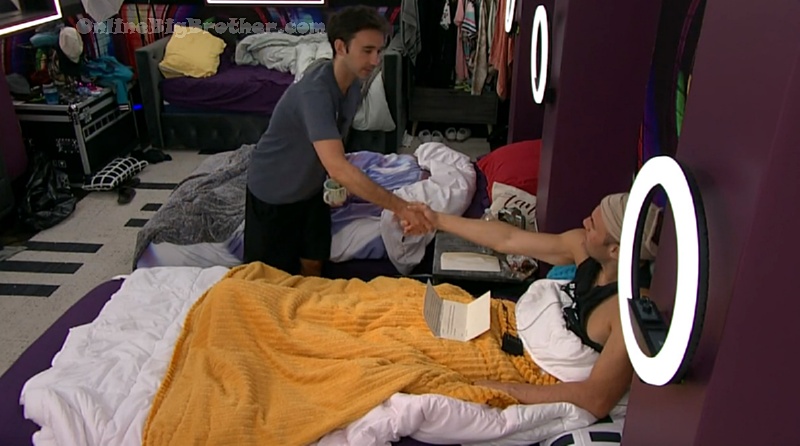 12:11 pm Ian and Enzo
Ian says he's smoothed things over with Dani.
Enzo – it came out of left field you going on the block.
Ian – I know man..
Ian – I need your vote.. I need your vote for sure. Dani will break the tie in my favour.
Ian says they have no beef they have their final 8 deal we're good to go.
Enzo – did you talk to Dani
Ian – she will break the tie in my favour. the reality is i have a good relationship with you I hope you would vote for me to stay. If I were to win HOH you are no where near the top of my list..
Ian says he's targeting the people that are "tire kicking" (not telling him where they are voting)
Ian – you are not even in my top 5 or 6.. the people that are in trouble are the ones that said or shook on voting for me to stay and then they go back on it. they're a$$es are going up
Ian – I feel like COdy is probably on my side. I think Nicole will be
Enzo – I'll talk to Cody too see where his head is at
Ian – Christmas said she would vote for me to stay. Day also did and Kevin did but I hear Kevin is getting a little bit skittish
Ian – anyone that flips on me that's who I am coming after..
they shake "that's my pitch man"
Enzo – it's too much in this house YO
Ian says once they had alcohol it went off
Ian – Dani said she would break the tie in my favour we're Gucci on that front.
They agree to just chill today
Enzo – I'm staying out of trouble..
Ian says he can't trust Kevin.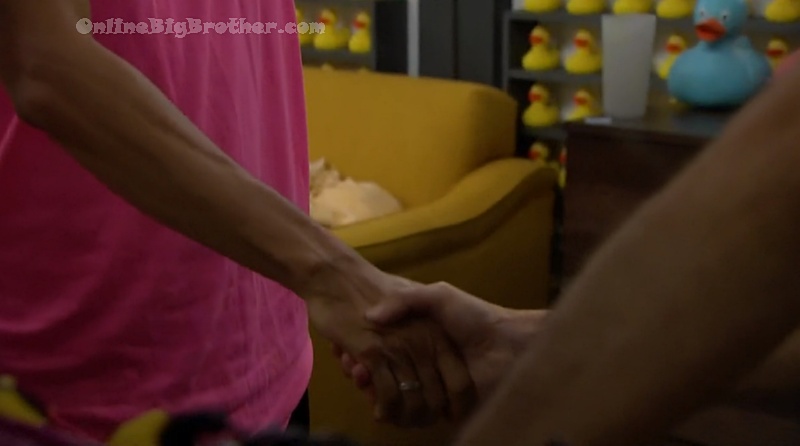 12:30 pm Ian and Kevin cam 2
Ian – I'm going to ask for the handshake
Kevin – you need it from not me
Ian – I know I need to have some basis
Kevin – are you in an alliance
Ian – if I were you think I would be up right now?
Kevin – nows the time to go to your people
Ian – I wish I had people
Kevin – you need to join an alliance after this
Ian – I need to stay in order to do that. I'm working on it OK
Kevin – the people you think are close to you are the people playing you
Ian – I know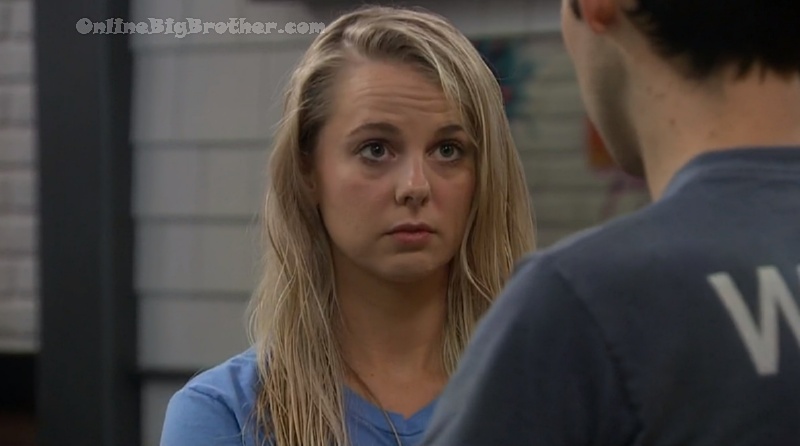 12:47 pm Ian and Nicole
Ian – I talked to Kevin, He's saying that People you think are close to you are playing you .. I think he referring to you and Cody he's trying to throw you under the bus
Ian – he hates you both remember that
Ian – I'm trying to play it that I'm distant from you a little bit but I'm 100% with you.. he'll go up if I stay
Ian – he's saying I'm being set up to go
Nicole – that makes me so mad
Nicole asks if she can tell Cody what Kevin said that.
Ian – the other thing he said to me is Tyler is acting way too comfortable.. people are campaigning on his behalf.. David probably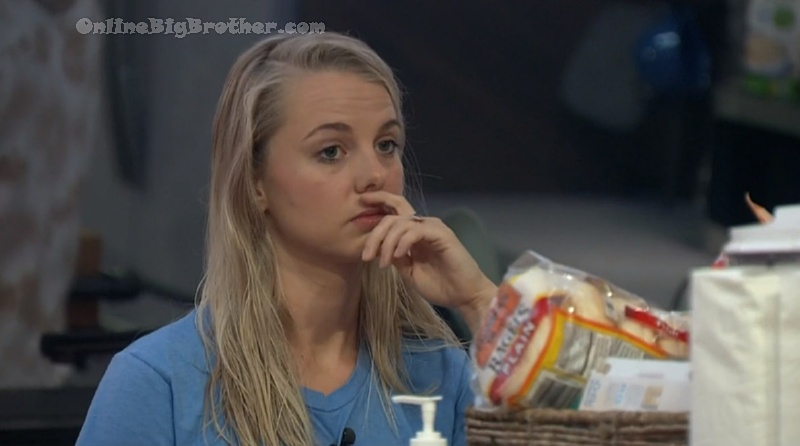 12:51 pm Nicole and Cody
Nicole brings up what Kevin told Ian.
Cody says he's going to call out Kevin
Nicole – they are going to vote him out it'll be 8 to zero (Da'Vonne, Kevin, David)
Cody says Kevin is proving he's F***ing clueless.

1:36 pm Cody and Dani
Dani – so did Nicole talk to you.. apparently Kevin said..
Feeds cut.. When we're back.
They're talking about having a ton of proven people that win competitions in their group.
Dani says Nicole will be shook tomorrow.
Cody – you have to use your power
Dani says she won't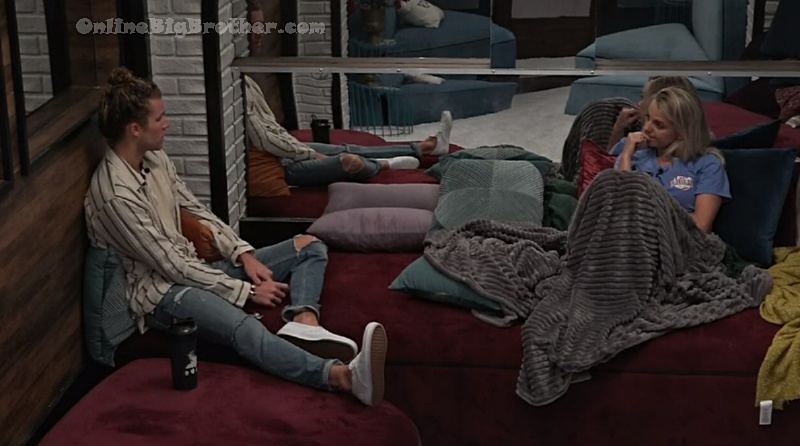 2:15 pm Nicole and Tyler
Nicole says she's voting to Keep Tyler "This week Ian is leaving he's the one person I'm closest to in this house"
Nicole – I am going to have to lean on other people now I want to be closer to you. Work with you closer. I want to mend that little mishap
Nicole – it's good that people think we don't talk. Please trust me do not throw me under the bus. If you throw me under teh bus again
Tyler – then we're done
Nicole says Dani made it seem like he was throwing her under the bus.
Tyler – I absolutely was not I swear
Nicole – I was like he knows we're close and it would get back to me I'm confused…
Tyler – what would be the point i'm up on the block.
Nicole – why would he say something bad to me about you .
(Feeds are blocking every couple seconds to every couple minutes)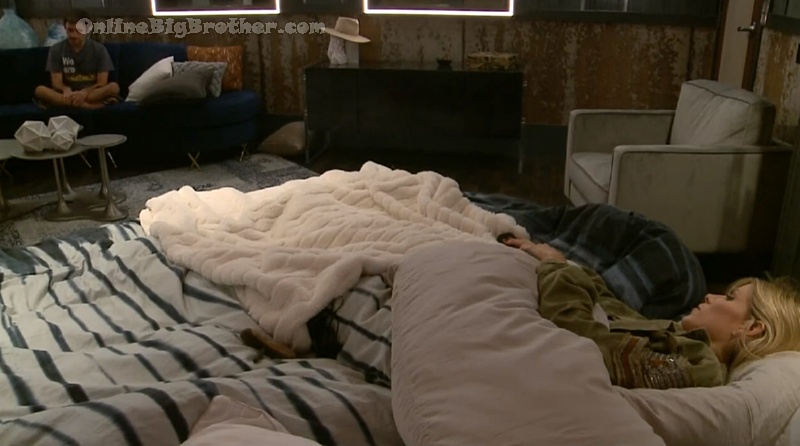 2:59 pm Dani and Ian
Ian says he's excited to sleep in a non have not bed tonight.
Dani – I hate those cots everyone tries to say they're no big deal.. I hate them
Ian – really
Dani – they hurt my back (A marble underneath a mattress probably hurts Dani's back)
Dani – I woke up in pain every day
Ian – compared to the ones on 14 they are luxury living
Dani – it is nicer than the one we had in 13 to.
Ian says on season 14 they had flimsy IKEA mattresses for regular beds. Says they're not far off from what they are using as have not beds this year.
Ian – they got the cheapest..
feeds cut..
3:03 pm Kevin and Dani
Dani – why are you mad at me
Kevin – I'm mad at you
Dani – Kevin stop.. don't play
Dani – when I walked down the kitchen this morning.. I was like what did I do..
Kevin says he had he was just up early "I had heard the tea there was some drama last night and was wondering what's wrong with you"
Dani – it was a bad night.. Ian got really upset. I just didn't want to hear it you know what I mean. I called him up here this morning.. I said I got really upset with you last night because everything you said is true and I didn't want to hear it. I don't want to be told I'm a piece of crap
3:05 pm Feeds cut.. when we're back
Kevin – are you cool with Christmas
Dani – I'm cool with her
Kevin asks her if the plan is still keeping ian. Dani says yes, "If Ian goes this week is a complete joke"
Kevin – that wasn't your intent?
Dani – for Ian no..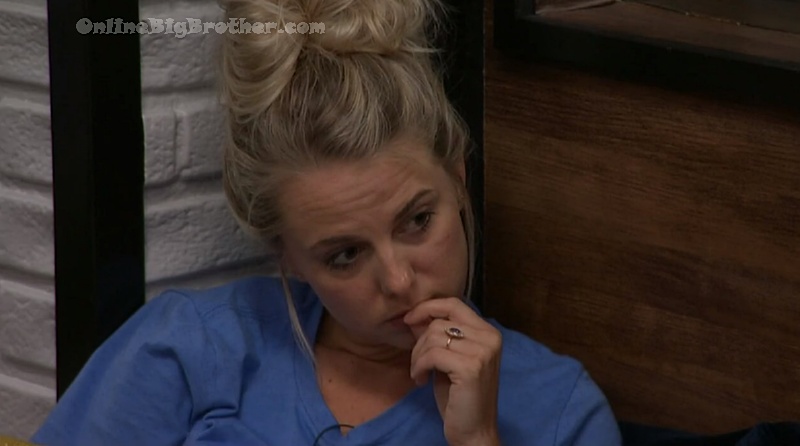 3:16 pm Nicole and Ian
Ian – if I go home on someone elses blunder.. like..
Nicole – how much time do you have left to campaign?
Ian – a day. Let me ask you this. Right now do you think I have the votes?
Nicole – I think you could potentially get four votes
Ian – so I don't have them
Nicole – I don't know..
Feeds cut for over an hour.
4:50 pm Ian is campaigning to Christmas conversation around David being a liar. Cody, Dani, Enzo and Tyler Broing out
Enzo – Highschool was a blur I was f***ing blazed ..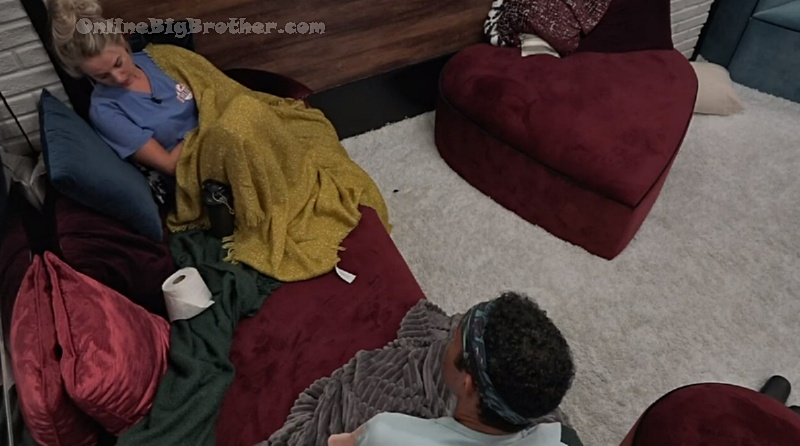 4:53 pm Nicole and Kevin
Nicole saying that Memphis already told Ian he's voting him out.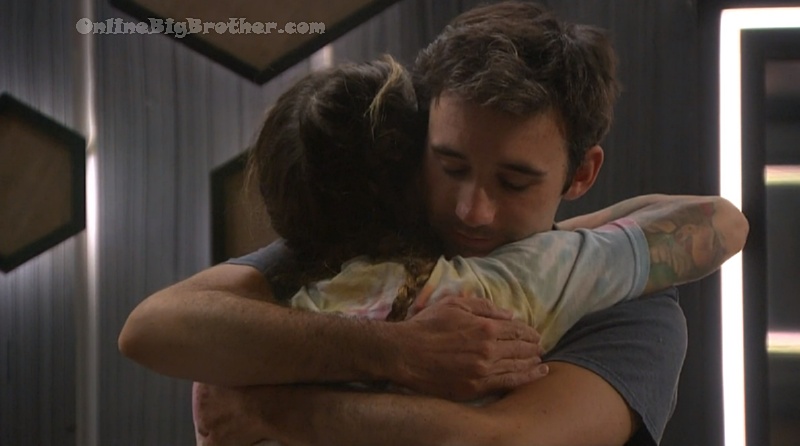 5:16 pm Christmas and Ian
Christmas mentions to Ian that they get a party today "yay"
Ian – I really really hope that I'm hear tomorrow
Christmas – I do to
Ian – I want to win HOH to keep you safe.
After Christmas leaves.. Ian looks at the camera "I'm probably going home"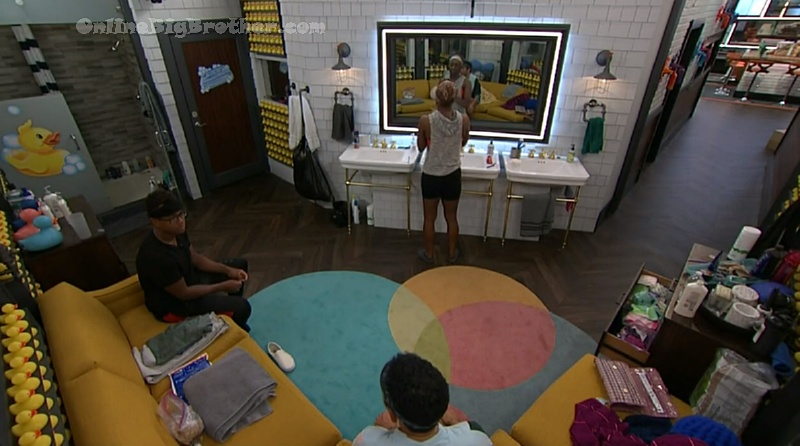 5:30 pm David, Kevin and Da'Vonne
David is saying the only way they can disrupt the house majority is to win HOH. Kevin says there's other things they can do they can not do what the house majority wants. They can win POV and make the other side make tough choices.
Kevin thinks that the other side wants them to think Tyler and Dani are at odds.
David says without HOH there's no way they can do anything without numbers.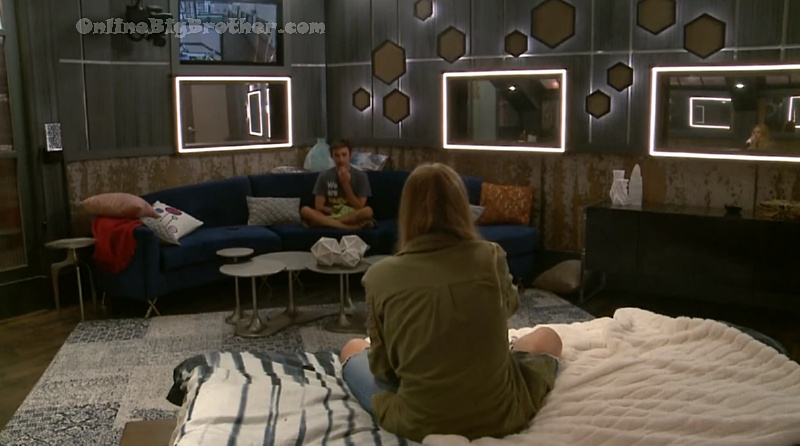 5:45 pm Ian and Dani
Ian – I'm pretty sure my game is over.
Dani – why are you saying that
Ian – I had a game talk with Christmas and I don't thin kit's going my way.. very vague.
Ian – she said yesterday I was good but I thin it's flipping
Dani – did she say why?
Ian – she didn't confirm.. I could just tell
Ian – heres the thing.. I'm not going to panic I still have 24 hours to turn this sh1t around.
Ian – I will try zany sh1t to stay (I'm down for that)
Feeds cut.. when we're back
Ian – i'm pretty sure i'm going tomorrow
Dani – have you talked to Day
Ian – I haven't talked to Day. It's really David and Kevin that are the ones making this push and Day is going with them.
Ian – I've made it very clear my targets are Kevin and David
Ian – I'm about 85- percent to 90 – percent sure (going)
Ian – I need Nicole, Cody, Christmas and Enzo to stay. Memphis has said no we know where David and Kevin are they're the ones spearheading this whole thing
Ian – honestly I would prefer I am getting played this whole time
Dani – played by who?
Ian – like if you Nicole, Cody and Tyler were playing me the whole time I honestly prefer than going out by accident by the hands of F**** Kevin and David.
Dani – how
Ian – I'm being fastidious. The way this feels I Feel like I'm getting ganged up on by inferior players.
Ian – I'm getting ganged up on by shitty players.
Dani – you gotta talk to Day
Ian – I'm gunna
6:22 pm Feeds on pound puppies for the 1/2 way party. Apparently they are getting alcohol so no feeds for you.
6:57 pm no feeds 4 u