Fake double results
Jed was evicted 3-0
Ty wins the HOH nominates Tera and Beth
Breydon wins Veto doesn't use it.
Tera evicted 2 -0
Tera and Jed now compete to see who comes back.
Tera returned and Breydon won HOH.
NO FEEDS UNTIL MONDAY NIGHT
10:20am Thursday 22nd Bathroom Beth and Tera.
Beth – the end is near. Tera – no matter what whether you're here or your there .. two more weeks. Beth – yup! I know. Isn't it weird in normal times we would be looking forward to seeing our families in the audience? Tera – its really weird that there is no audience. Beth – it would be really cool if it was like Ellen and they had the screens with the audience? They've got to do something. Like when the winner walks out .. it can't just be the jury that hates you. She laughs.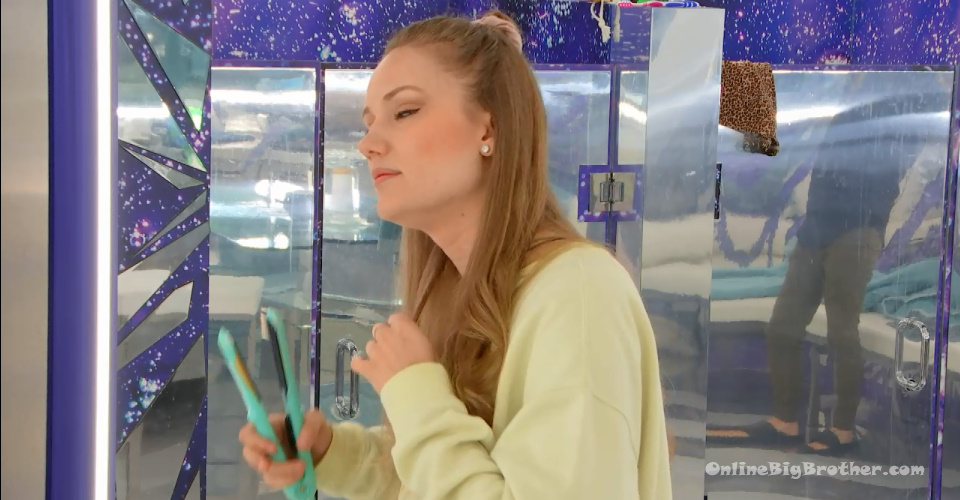 10:40am Bedroom. Ty, Jed, Beth and Keifer.
Jed – this is going to be a move that is regretted .. like it doesn't have to be done. Like I am going to go the jury and explain this story and it is just going to look so bad. Like it just doesn't look good. Like they're going to be like ..WHAT?! Vic is going to be like told you so! Did the same thing to me .. KARMA! You know what I mean? She's going to be like oh Tera got you out. She said she was going to get you out the whole game. Beth – Keif, I did just say that straight up this is not to be pinned on your two. I have been in every conversation. I have been deliberating with you guys. I am telling Jed that straight up. Ty – you two are trying to convince us that you're not coming for us? Beth – I just want you guys to know moving forward .. that Jed isn't fully with me if he stays. That I am telling you .. and Jed straight to his f**king face that us three have been in rooms… I have been in rooms with Keif alone .. I have been in rooms with you (Ty) alone. And we have been talking about keeping Jed or sending him to jury. I don't want you guys sitting here thinking Jed is going against Ty. Or Jed is just going against you (Keif). Jed – no it literally is not the case. Beth – I have never been that player here. I have always been straightforward. I have 100% been talking about getting Jed out this week. Jed – yup. Beth – because I just said it .. your memory is f**king unreal! LOOK AT YOU! I can't beat you. Jed – yup. Beth – you win the game. Jed – Mmhhmm. And I understand that. I know. Ty – I think if you stay after making this move.. there is a really high chance you win the game. I think I could beat you BUT I think I could lose too. Jed – I mean you could lose to anybody. Ty – I could. Jed – but it is like.. Ty – what does having you here do for me? Jed – moving forward? Ty – yes. Aren't you going to come for me? Jed – right now? Ty – why not? Why wouldn't you? You're going to wait a week to come for me? Jed – no. I've literally pledged my loyalty and allegiance to us to the end of this game. I've never faltered from that. And my move is weak if I haven't shown that and I don't know what would. Like literally. Like I literally thought it would be us getting to the end and then at that point someone wins. Whoever wins, wins at that point. I thought that was the goal ..hence why I made this move. Like it was a move for us. If I didn't want to make this move and I wanted you to go home .. I would have just used the veto on myself. And then pushed for people to sway and get you out ..but I didn't do it. You didn't want to go on the block so I made sure you didn't go on the block. I didn't want you sitting beside Beth because I didn't want one of you going home. I made it happen. So if that doesn't show that I didn't want us to go after each other then I don't know what else would. You know what I'm saying? Beth – I know. Jed – anyone can be beaten in this game. Like I can be beaten. You have all beaten me in memory comps and before/after. I am not unbeatable. Ty – No one is saying that. No one is calling you unbeatable. Jed – well it sounds like that's what it is. It sounds like you guys don't believe in yourselves enough to beat me. I feel like any of you guys can beat me. Ty – I just think the consensus among the group if I am not lying.. if I could speak for everybody.. if you're not here.. we all have a better chance of winning. Jed – is that the way you want to win?? Ty – what is the way you want to win mean? What does it mean anymore? We all aimed at each other at one point. We know its inevitable. We know we're going to have to .. its a matter of when. But we already did so it makes me question whether we aim at each other going forward or not. I don't believe we don't and there is nothing you can say to change my mind. I don't believe it.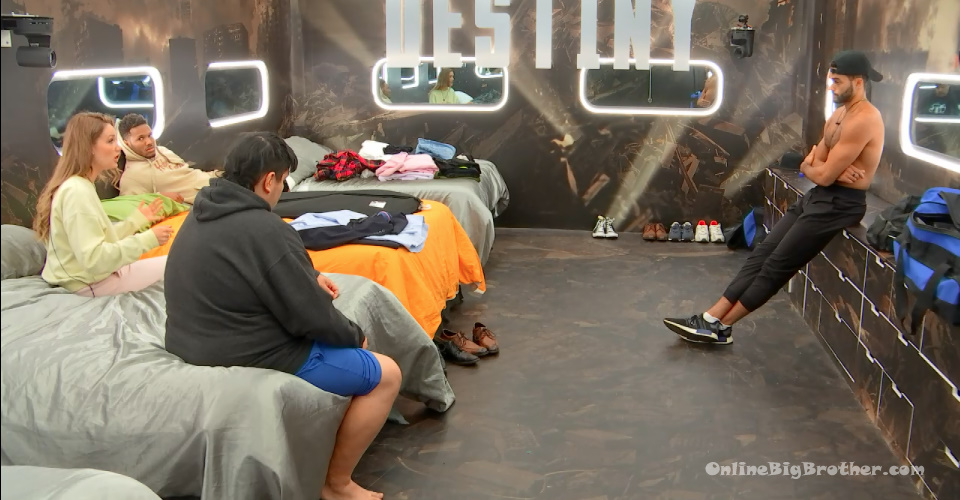 Keifer – in 16 days I am going to be on a plane to my family .. if I get second or first place .. my life changes A LOT more than yours. If I win first place I can help my mom get out of debt, I can pay off my sisters student loans.. big brother cuts the feeds. Jed – ..I wasn't the only one that put you on the block. Keif – but you're the one up right now. Jed – at that point, don't bring your family into it then. Don't bring your kids into it. Keif – its too late. Jed – because that's dark. Keif – its dark as f**k. Jed – that's all I have to say.. Keif – poor people have always done crazy sh*t for money Jed and that is never going to change. Beth – don't bring that sh*t into it Keifer! Jed – the life of your kids.. Big Brother blocks the feeds again. Jed – that sits weird man. Ty – so Keif swore on the life of who? Jed – he swore on his kids that if given the opportunity to save me .. he would. Ty – you? Jed – yeah. Ty – just you? Jed – yeah. So moving forward I don't know what you guys are going to do .. it seems like all bets are off at this point. There is no such thing as loyalty in this game and I would find it hard to trust anybody in this house at this point. I wouldn't have any best case scenarios to win other than yourselves honestly because look what happens.. I thought I was with a solid alliance in this game. I literally put my life on the line for you guys and this is how you repay me? Just for some money. That you're not even guaranteed. Beth – it is absolutely disgusting. Jed – like this game clearly isn't for me because this isn't how I do things. This isn't how I live my life. I don't do this kind of sh*t for money. Like these are relationships that I wanted to have.. Ty – you still do. You don't have to be done with us because we cut you in a game. We're going to have to cut each other anyways. Jed – yeah but this is different. This is personal. This really is personal. Beth gets called to the diary room. Jed – The way this is going on .. its literally like a personal attack so now its like how do I get over this? Keifer – you humiliated me last week. Jed – how?! Keifer – you put me on the block. This move wasn't made for me.. You said I was never touching the block. This isn't a loyalty thing for me. I was never going to touch the block. I felt is was the only thing I could do .. and I was only going to do it once. And I got permission from my girl to do it.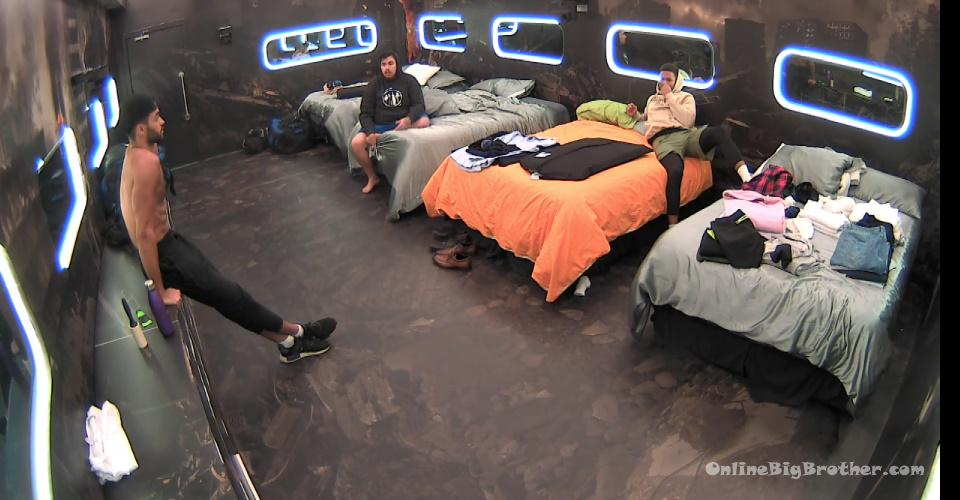 11am Thursday 22ndBedroom. Breydon is practicing his eviction speech with Tera. He then talks about how Beth told him it was such a hard decision. Breydon – so if I was going it would be so easy for you?! Tera – yeah. I didn't like the way she said that. I don't like how our feelings have always been discredited. Breydon – its like we're not even here. I think that is the thing that I am most annoyed about with Jedson. I am not even mad about him campaigning against me.. what is irritating is he keeps saying that I don't deserve to be here. I didn't play the game. That is the part that I am annoyed with. Tera – I would hate that too because I hated it when people said that about me. Just because I didn't want to play with you doesn't mean I am not playing. Breydon – that's what I am saying. The fact that you take it there. Tera – just know that its not true. Breydon – oh I know. Big Brother cuts the feeds.
2:55 pm Thursday 22nd Still blocked. Feeds will be blocked till after the eviction episode..
9:00 pm Thursday 22nd Feeds have been down