Results from what we missed
Tera won the competition vs Jed and returned to the game.
Breydon won the Head of Household
Nominations are Beth and Tera
Have nots are Beth and Kiefer (Skip the dishes)
Power of Veto winner: Breydon did not use it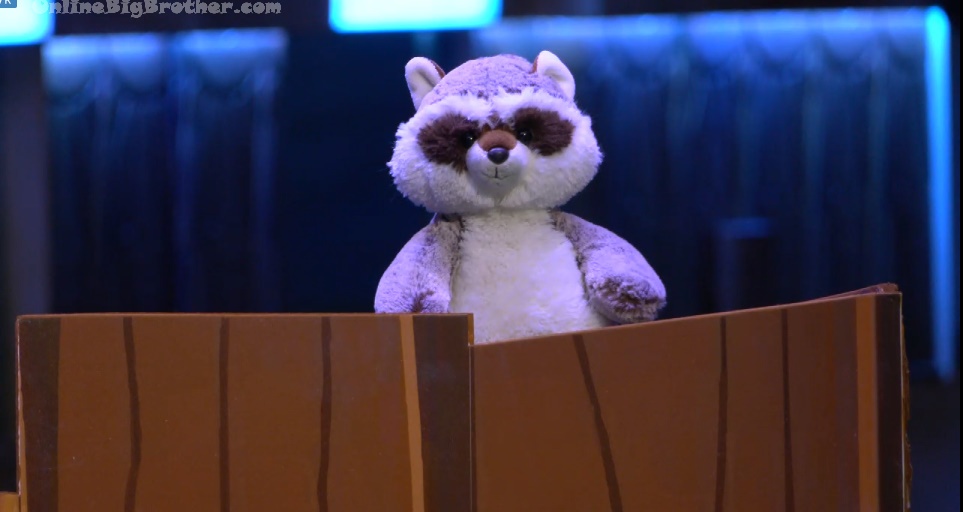 10:00 pm Kiefer and Beth (this may be a punishment. Racoons pop out from the props. Sounds like they are counting as part of a punishment)
K – you guys were in the HOH for 2 weeks in a row you know
Beth – I got V out that's the best thing I ever did. No regrets
K – I got put up 4 days after a double
Beth – Jed wanted to make a big move that's all he wanted, he was jealous of my big move that's what I think. He wasn't happy Tina on his was going home on his HOH then he realized it was a stupid
Beth wonders if she goes straight to the hotel on Thursday.
They talk like Beth is getting evicted on Thursday.
Kiefer – there's nothing clean about this game.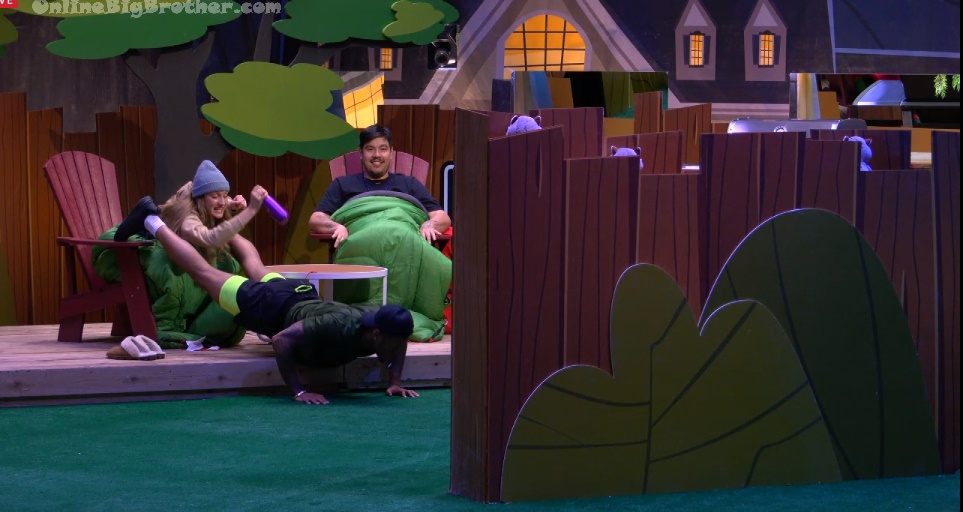 Ty works out in front of them.. lol
TY – why aren't you being my friend
Beth – cause you are voting me out on Thursday

10:50 pm just chit chat….
Breydon and Tera jumping with the raccoons While Kiefer and Beth try to count them#BBCAN9 pic.twitter.com/cRPLNfJjb2

— OnlineBigBrother.com (@bigbspoilers) April 27, 2021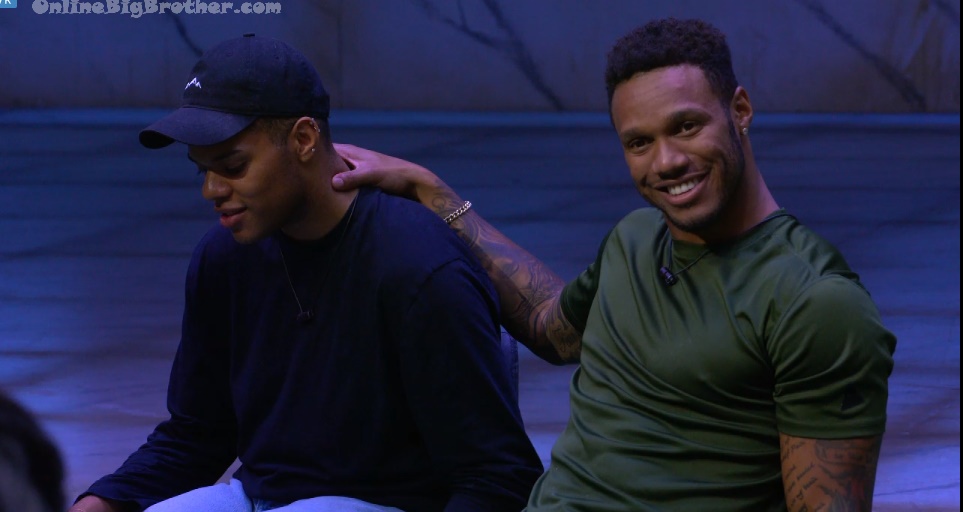 11:03 pm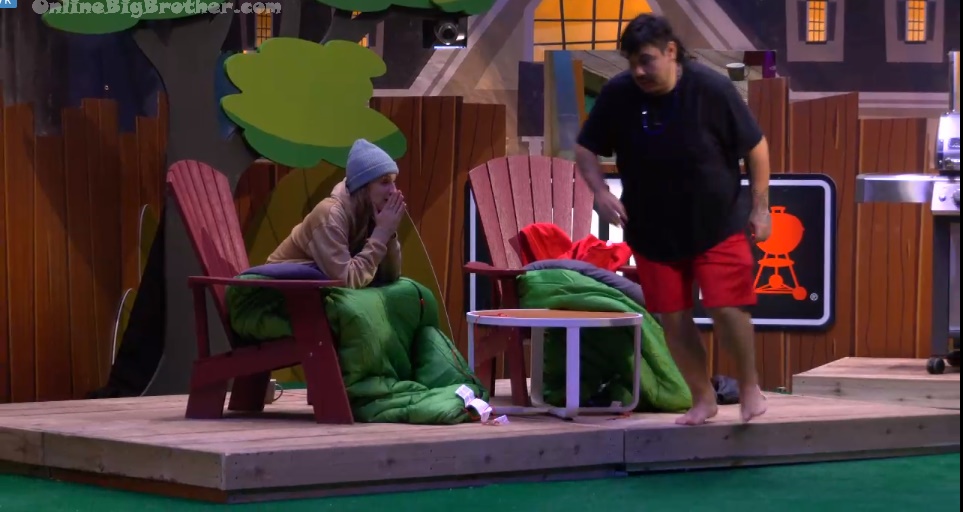 11:30 pm Beth and Kiefer
They have to count the jumping raccoons. Kiefer has to go to the bathroom.. Runs for it as Beth's nervous she might lose count. They can jump pretty quick.
Kiefer says he needs to use the washroom
Beth – you're going to leav3 me now?
Keifer – Can you handle it?
beth – Run.. 414.. run Keifer I'm begging you.. KIEFER!
Kiefer is back.. 470 ..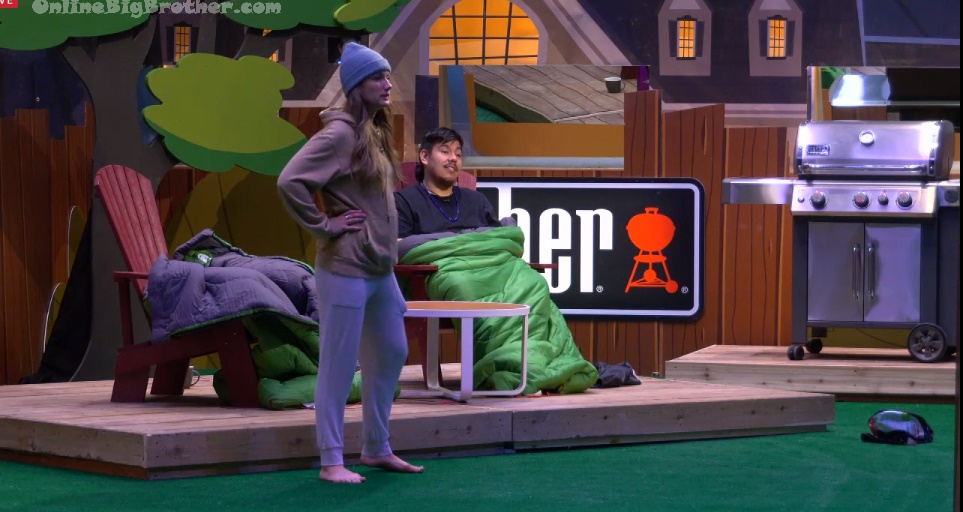 11:50 pm
All cams have been on the backyard centered around Kiefer and Beth. Sounds like Tera, Breydon and Ty are in bed. Kiefer and Beth continue to count Raccoons
Beth – 515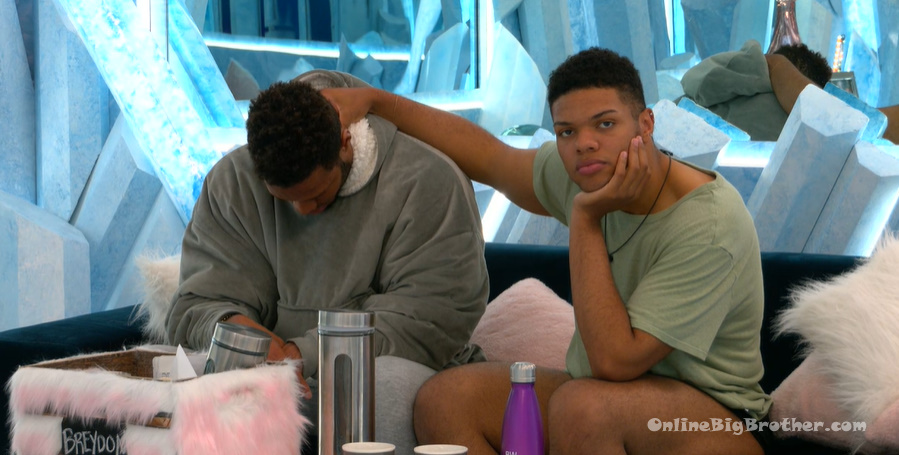 12am HOH room. Keifer, Beth, Ty, Tera, Breydon.
Beth – welcome to big brother paranoia. Breydon is rubbing Ty's back and arms. Ty to Keifer – so did you win the money? Keifer – what money? Ty – the BBQ. Breydon – it wasn't for that. Keifer – its for a BBQ. Like for all of us. Ty – I pictured when you said a BBQ .. I was like oh you win a BBQ. Keifer – no. Breydon – Keifer would have been going wild! Keifer – that's why I was wondering why you guys were trying to distract us. We're trying to win this for you too.. even though you just ate steak. Ty – who me? I wasn't trying to distract you.. I just wanted to hang out. Keifer – when am I going to be on the right end of those?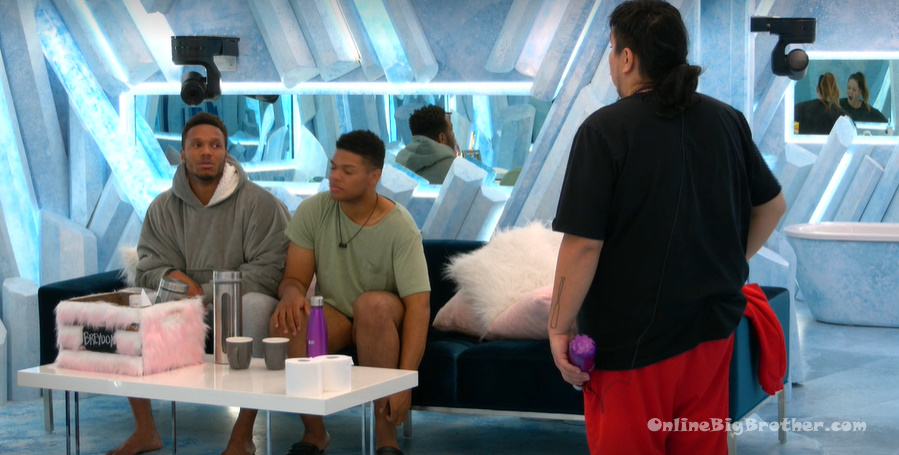 They head to the Destiny room. Keifer talks about how they get a BBQ tomorrow. Beth – If we don't get a BBQ tomorrow .. I'm eating (she's a havenot). Keifer – don't matter to me .. I'm already on slop.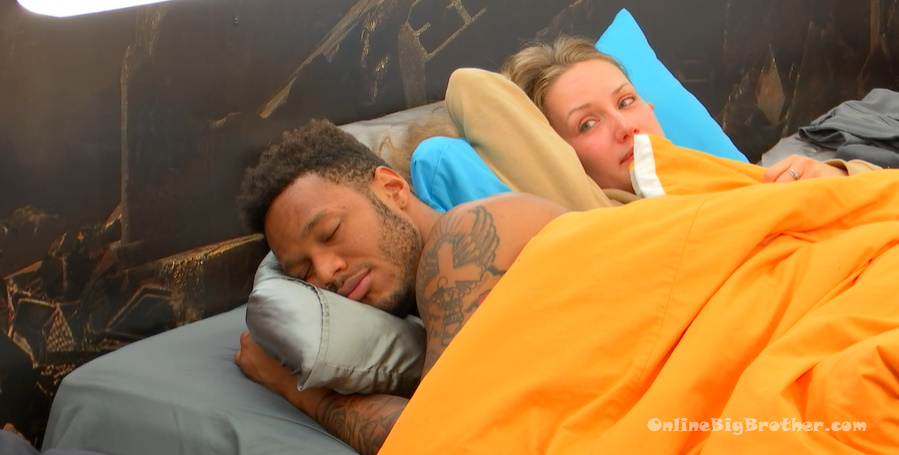 9:40 am Tuesday – houseguests are waking up. No updates planned until tonight.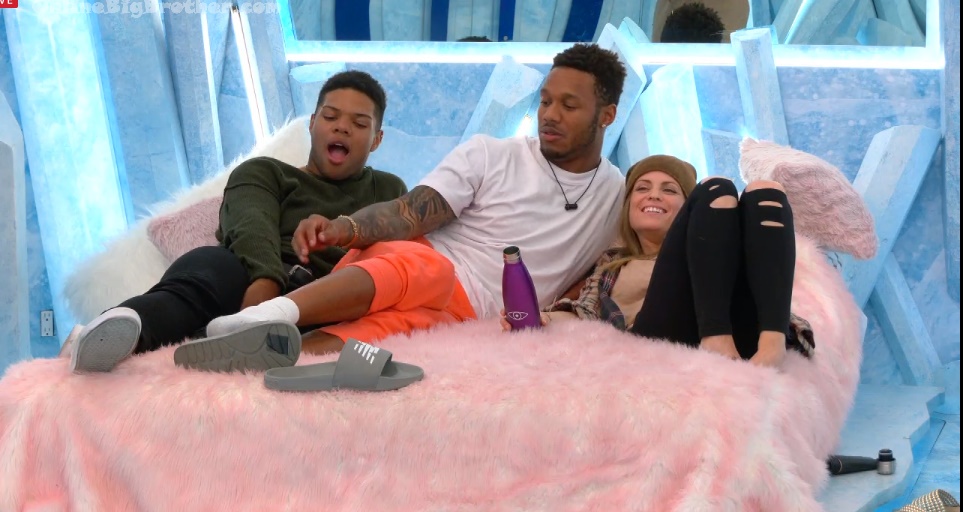 6:17 pm Just turned the feeds on… Chit chat..