HOH Part 1 Of 3: Monte Vs Turner Vs Taylor
Part 1 Winner: TURNER
HOH Part 2 Of 3: Monte Vs Taylor
Part 2 Winner: ?
HOH Part 3 Of 3: Turner Vs Part 2 Winner
Final HOH Winner: ?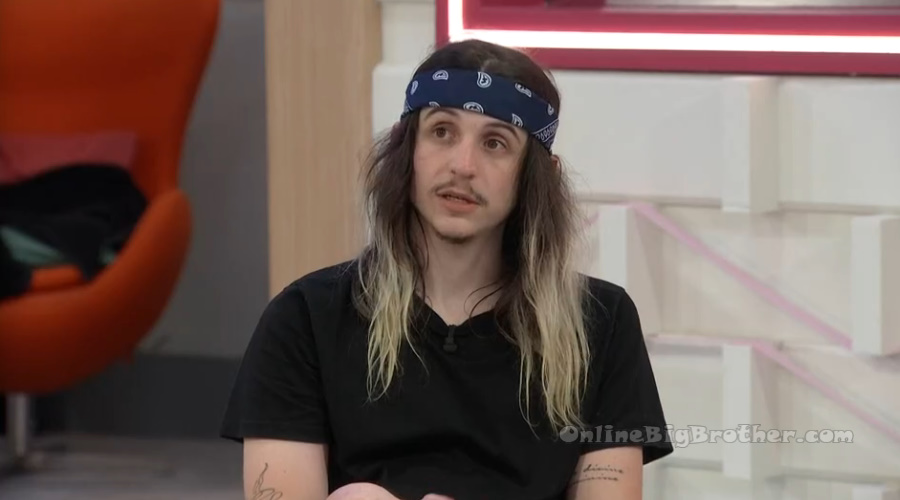 11:40pm The live feeds return – Turner won part 1 of the 3 part HOH!
Taylor – oh my god! That was just really crazy ..to one be a part of and two to watch you guys. Turner – I can't believe I won the one spinning comp we had.. I just figure that is f**king insane! Monte – yeah. Taylor – that was a big grip one. Monte – I think it was yeah more grip .. I think it spun for a little bit. Turner – the toss was way harder. Taylor – the toss was ridiculous! Turner – the spin was not bad at all. Taylor – the spin was chillin'! I was like oh a break! Monte – I know right! Turner – there was one part near the beginning that I thought was tough.. the hang.. I was like this can't keep happening!
Taylor – oh my god picking up a fork and a knife is difficult! Wild f**king day! Turner – I thought going into that just like the wall.. I thought you were going to take that because I thought Monte might have been too big and I thought you were just fit on that thing. Taylor – yeah.. but once it started bucking it was just.. Turner – if that whip didn't happen do you think you could have had it? Taylor – yeah. Turner – f**k it .. got tomorrow (part 2 against Monte). Taylor – got tomorrow! Got tomorrow! F**K IT! I was definitely like Monte is too big for this. I thought the spinning was going to be too much for you. Turner – yeah. That sh*t was disrespectful! The bucking! Turner – I do wonder how Brittany would have done in that. Taylor give him the look below. Turner – I know she wouldn't have won it. I would have just wanted to see how someone with a build would have done in it. Turner – I feel like in my head I can picture all scenarios what jury vote would go where but I have no f**king idea what Terrance would do with his? I feel like he has no affinity towards me, you or Monte. Taylor – it would go to Monte.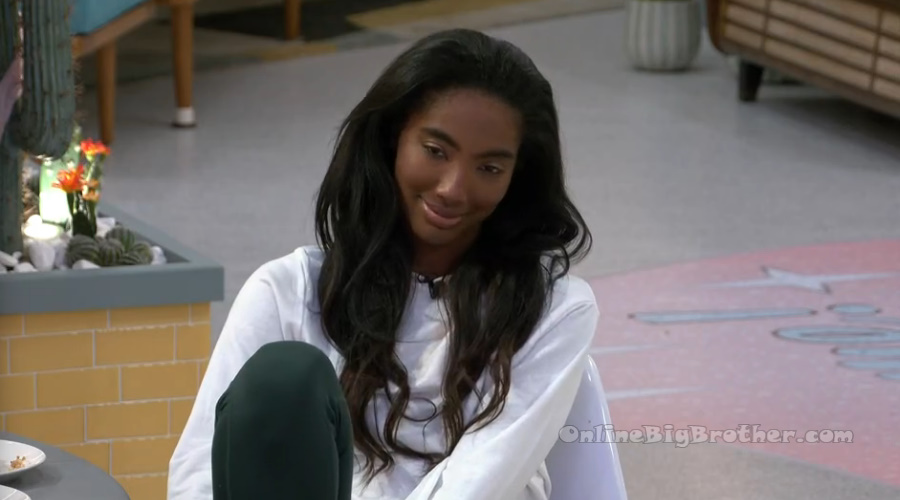 Taylor and Tuner talk about how the final episode will go. Taylor – Two comps, third live comp, eviction, then the 9th juror goes out and meets the jury, then you have to do the whole speeches, and then vote, and then don't they do the whole here is what happened this season, and then reveal the vote. Turner – and then America's Favorite Player. Taylor – YEAH… Michael. Turner – do you think so? After that whole Brittany, Michael, Kyle thing?! Taylor – AhHHHHHAHhhhahhh… Turner – I really don't know. Taylor – Joseph then. But the cheers that Michael got when he went out. Turner – those were huge! Taylor – massive!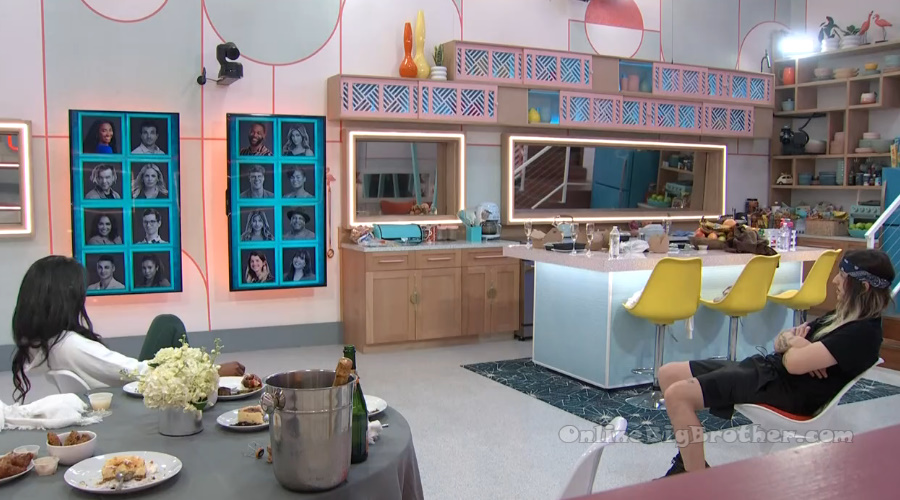 12:15am Kitchen – Taylor and Turner.
Taylor – she (Brittany) admitted to the vote. Turner – oh really? When? Taylor – when we were back there talking for a while and you guys were playing cards. Turner – what did she say? Taylor – I said that you guys were trying so hard to convince me that you were the vote.. can you believe that!? And she was like still Wow .. I can't believe it. I told her what the worst thing I said about her.. it was before we knew what her job was and we were like what is she lying about. I was like who would wear their wedding ring.. like is it real, is Steven real?! I told her I said that and she laughed. And then she was like you know I really hope we can watch back and still be friends because we both had to say somethings to get where we are but it was always going to be to protect you. And then she was like there is going to be something that you are really not going to like and I was like oh you voted me out didn't you and she nodded and said yeah. And I just cracked up because it is f**king funny. Turner – I am glad she admitted that. I am very happy she admitted it. Did you have any doubts it was me? Taylor – I did. I was over analysing EVERYTHING!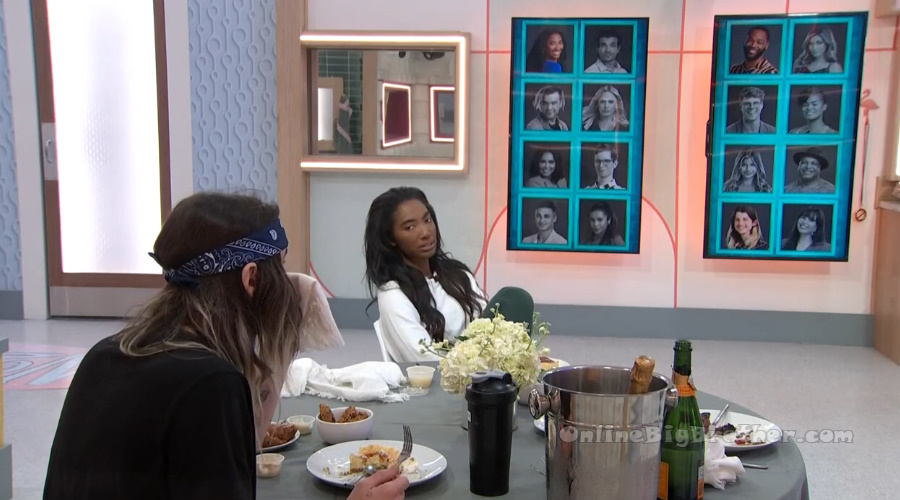 12:30am – 12:56am Turner tells Taylor about how he wants to steal the cat tray in the bedroom. He thinks everyone should take something. They head into the other bedroom and look for the snow globe. Taylor thinks Brittany took it. She said that Michael wanted something and she thinks its the snow globe. She said that Brittany is planning on giving it to Michael at his wedding but said she will have to have a conversation with him first to make sure they're still friends. Turner and Taylor head back to the kitchen and chat about random things and past events of the season.

Without reader support this site and these spoilers wouldn't be possible.
If you've enjoyed our updates this season consider send us a tip to show your appreciation! 😉
Any amount is greatly appreciated!