Quick Big Brother Spoilers
Head of Household:  Taylor
Nominees: Turner & Brittany
POV Players: Taylor, Brittany, Turner, Monte
POV Winner: Monte
Veto Ceremony:
Lock your ranks in before midnight
5pm Hammock – Turner, Monte and Taylor.
They chat about random things. Turner heads inside. Monte – what were we talking about before he came out here? Taylor – ah final twos. I told him (Turner) no we (Monte and Taylor) do not have one. I asked if you two have one and he said no. And I was like you two scare me. And I was like you two scare me too. Monte – no to hell with it .. lets just all make it to next week and figure it out from there… the two of us. Taylor – yeah lets figure it out from there. Turner joins them again. Big Brother asks them to raise the outside awnings. Turner – I was just about to say before this f**ker interrupted .. I love you guys!! Taylor and Monte – we love you too. Turner – so now that you two are officially in the final 3, would you consider a big brother tattoo? Taylor – I am still thinking about that sword. (Back in the beginning when Taylor was really down, Joseph told Taylor all the time to not to give up and said that she not a shield, she's a sword.) Monte – If I find something similar that I like I would. I don't think I would get BB24. Turner – I like those two heads (backyard mural – see below image). Taylor – that's not really big brother specific… Turner – it is to me.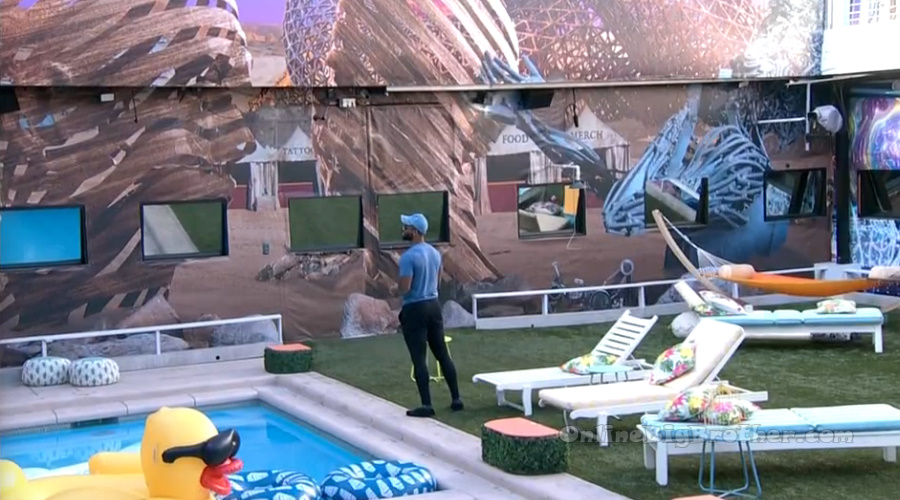 5:20pm – 6pm Backyard – Monte and Brittany.
Monte tells Brittany that Taylor is thinking about getting the tattoo of a sword. Monte – which I think is really cool, its more than just a #BB24 tattooed on you. Is there anything that you take away from this summer thus far? Brittany – I think for me .. that's a good question. I think it has called into question the type of person I want to be and the life I want to live. How do I want to show up for people? That has been the biggest.. like what kind of friend do I want to be .. what kind of.. Monte – wife? Brittany – yeah what kind of wife and just me individually… just coming to the show by myself. I keep thinking about how much I can't wait to get to know each other outside of the house in our real lives. Even just talking with them (Production) I feel like I am my best self with Steven. We're all out best selves when we're with the people that brighten out days. Like I want you guys to know that Brittany. Monte – that's what I am looking forward to as well. Brittany talks about past events of the season and when she went to get info from Turner to bring back to Michael and how Michael used that against her. She figures the only reason he did that was because he knew he was in trouble. Brittany then reveals her lie about her job. Brittany – I am sure this got around to you when he said that everything about me is a lie .. and that includes my career. Everything about me is not a lie but I will say that I have made a recent career change that I actually think I have been dying to tell you about. Monte – okay. Brittany – you would love it. So you and I share something in common way more than we have ever had the opportunity to talk about before. Monte – really!? Brittany – Say I had just recently left a job about market research .. what job do you think I would have gotten into? You recently got certified in something .. say I did.. Monte – life coaching? Brittany – actually a certified clinical hypnotist. Monte – what?! Oh my god! I did not see that coming?! WOW! That's what's up! Brittany – and why I haven't shared is not .. well casting wanted me to be this (she does hand gustures for being a puppet master). And literally I need to tell Taylor and we might as well tell Turner too. I wanted to share with you because of the mindset stuff. Its something I had shared with Michael. And I didn't share with the house because of the mindset stuff. Monte – well congrats! Brittany – I just wanted to clear the air and I know I wasn't a good friend and Ally to you .. so I just wanted to opportunity to explain that to you. I wanted to clear the air. I wanted you to know me. At the very least I wanted you to know that nothing was malicious and that I gave myself too much to one person. Monte – I always knew in terms of mindset and life in general we were right here (on the same page). Monte – I am glad I have another sister in the fight and someone with an entrepreneurial spirit.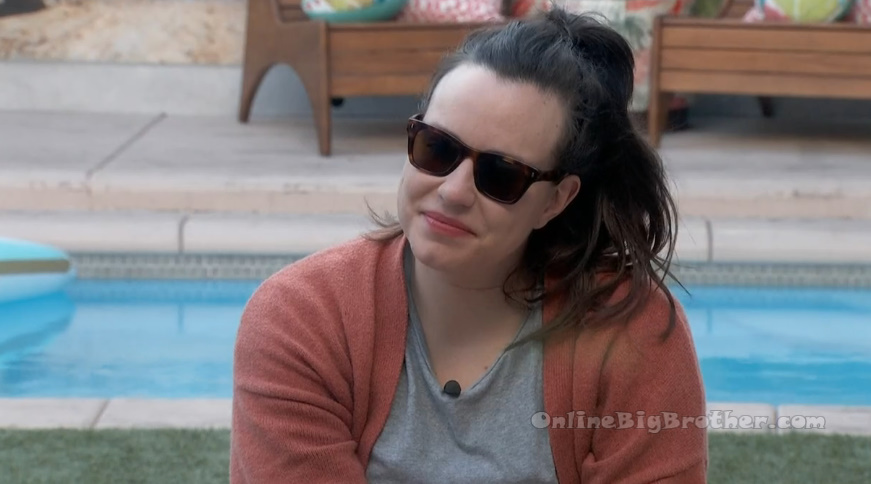 6:08pm Backyard – Brittany and Taylor.
Brittany – if I didn't do my actual job what do you think I would do? Turner – work at NASA. Brittany – I am a clinical hypnotist. Turner – that's what Joseph was saying. He said it when we were doing the group meditations. He said you were too good at it. Big Brother switches the feeds. Turner – that is dope! Thanks for telling me. I wonder if anyone else has a different job. Thank you for letting me know that. Brittany – of course. Turner heads inside.
6:23pm Kitchen – Monte and Turner.
Turner – I too just got the hypnosis chat. Monte – I do somehow believe her because of all the meditation stuff she does. Turner – HHmmmhmmm. Monte – I guess she figured this is the end of my time. Turner – I think that she thinks if she shows honesty to people that she has been dishonest with it will make up for it. But I liked hearing that. Monte – yeah. Best bet at this point.. like if you just continued to lie .. it is just going to kind of make things worse.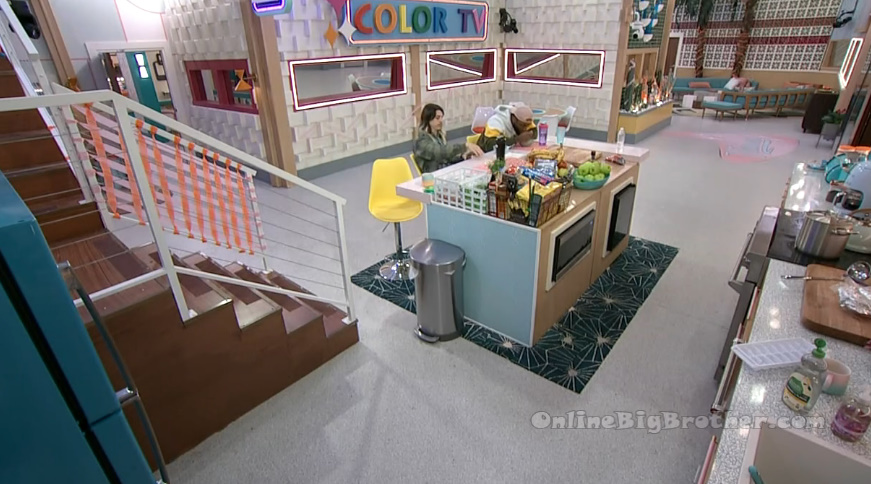 6:33pm – 7pm HOH room – Brittany and Taylor.
Brittany tells Taylor about how she cleared the air with Monte about her and Michael. When I thought Michael was trying to save me he was actually betraying me. Brittany then tells Taylor about her real profession. Taylor – oh my god.. what?!!? What is it?! Brittany – if you had to guess? Joseph guessed it right. Taylor – Therapist? Brittany – I am a clinical hypnotherapist. Can I just apologize. Taylor – I get why. Brittany goes into the back story again explaining why she kept it hidden. I shared that with Michael and obviously in confidence .. and then he used it against me. That I am still reconciling with. I just wanted to let you know because if there is any doubt .. your mind creates its own narrative which is a lot scarier than the truth.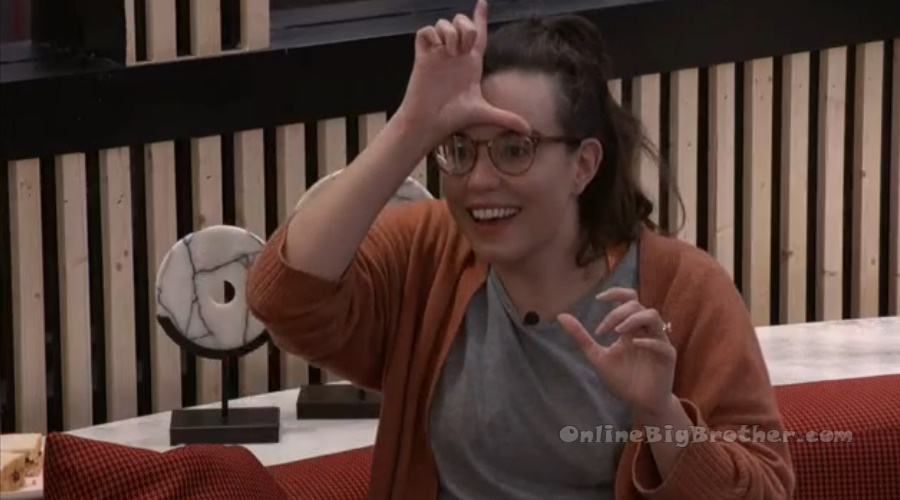 7pm – 8:14pm Its a quiet evening in the BB house. Turner and Monte were playing pool. Now Turner is trying to seep in the hammock. Taylor is sleeping in the HOH bed.

9:38pm – 11:54pm HOH room – Monte and Taylor sleeping. Brittany in the back bedroom thinking in silence. Brittany comes up to the HOH room and breaks up the love birds. Monte moves to the couch. Brittany leaves and Turner joins them. Turner falls asleep and Brittany comes back to chat with Taylor. Brittany talks to Taylor about being a hypnotist.
Without reader support this site and these spoilers wouldn't be possible.
Please consider a donation to keep the madness going.
Any amount is greatly appreciated!