Quick Big Brother Spoilers
Head of Household:  Taylor
Nominees: Turner & Brittany
POV Players: Taylor, Brittany, Turner, Monte
POV Winner: Monte
Veto Ceremony:
Lock your ranks in before midnight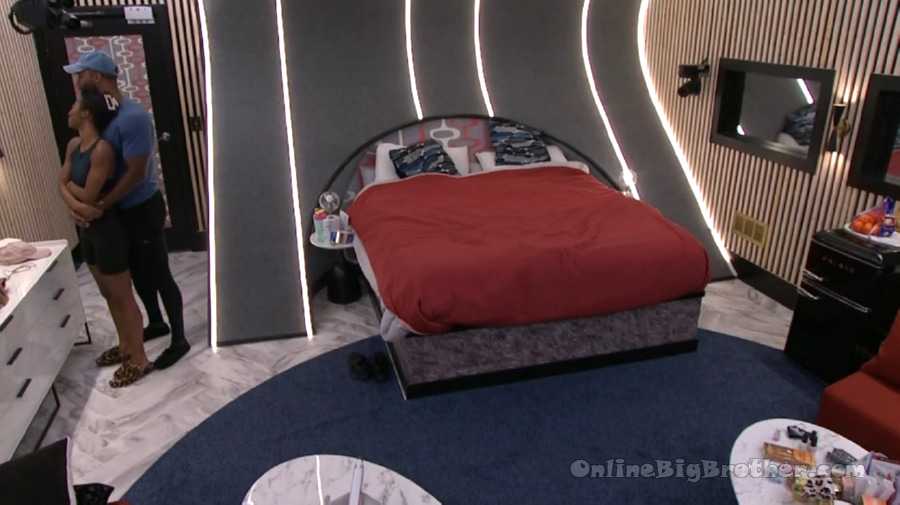 1:30 am Monte and Taylor
They start kissing Monte mentions that Terrance always wanted it to be a "Family reunion"
Monte – some uncles don't get the invite
Taylor – some uncles get banned
They briefly talk about their game history together and how they were on opposite sides.
Taylor – we were playing against each other from the JUMP
Taylor – it's wasn't only you gunning for me
Monte – it was the circumstances with Girls girl and everybody not liking you because you were a pageant girl
Taylor says with Jasmine is was because of that one girl she knew in High School "I don't look at one version of a person and extrapolate that to everybody"
Monte – yeah it's one experience. I think people are just too lazy in their thought process that they settle with whatever is easiest to believe. It's a challenge to beleive there's more people that are better than the people you've met.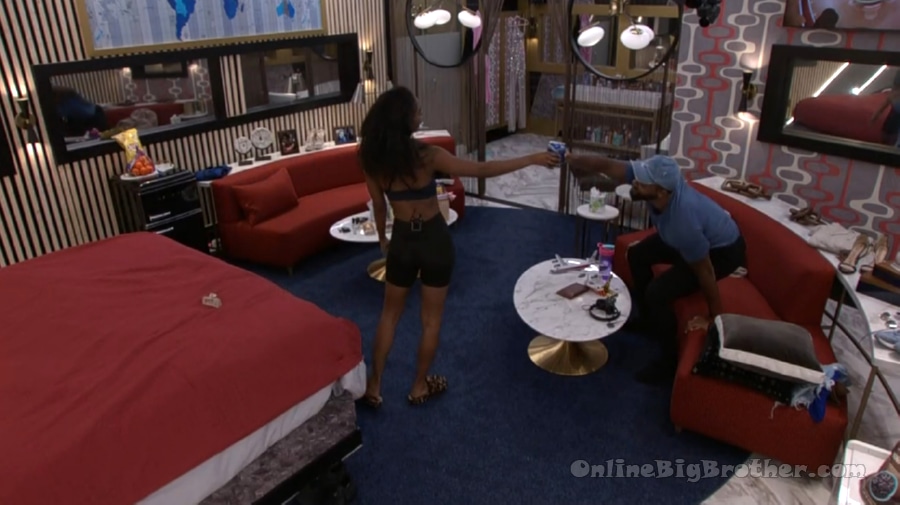 They crack open a cider "Cheers final 3"
Taylor – we were literally at each others necks at the beginning of the game.
Monte – I love that I love doing what people don't expect.
Taylor – you can call it beauty and brawn we naturally should have been locked in. Ameerah got there first
Monte – That was because of Paloma and ALyssa wanting to work with us
Monte says he never proposed any alliance to them. "I've always just had some brought to me"
Taylor says she had something with BRittany and Michael before the leftovers.
Taylor says it sounds like now that she wasn't as in with Michael and Brittany as she thought. "We weren't as lockstep as a trio"
Taylor brings up Brittany going to Turner that one night to get "Intel" Blew up on her.
Monte – yeah
Monte about Turner – he doesn't have a bone in him to create stuff and elevate it to something it is not. Every time I've had a conversation with him it's been pretty clear cut whatever it is it's always fresh off the press. I can always tell when he's lying. Everyone can tell when Turner's lying.
They start going over the last month of Brittany's game.
Monte says Turner and Michael were telling him Brittany is doing something suspicious he thought if the two people closeted to her are saying this she must be doing something "Off putting"
Monte – and for the following week during my HOH for her to come in here and…
Taylor – MOB BOSS you?
Monte – not even that even the night before when I mentioned all of this stuff she didn't deny anything she just said she didn't think it was worth sharing because it was all fluff
Taylor – she told me the same thing
Monte – she was sitting here threatening me and on top of that bringing up personal shit and solidifying how you feel fine winning second place against me. All that stuff was super sketchy
Taylor – she told you today all of that was so she could protect Michael's game which doesn't make sense.
Taylor does feel for Brittany a bit after having Michael throw her under the bus. She had a similar thing happen to her with Joe.
Taylor – I am still having a hard time believing that the person I knew since day 2 in this game has run around intentionally trying to set up final 2's and try to throw me under the bus..
Monte – people in this game setting are willing to do whatever they need to. Just like Kyle I never thought Kyle ..
They talk about Kyle would say some of the most "Laughable shit ever"
Monte – Kyle you've seen Terrance telling you directly he's coming for me.
Taylor – the number of ours I sat in this room talking about them coming for me.
Monte – and Jasmine/Indy both Told Michael they wanted me out. what else do you need to see?
Monte – I would have never expected that from Kyle until the week of your HOH when he wanted to keep alyssa..
Taylor – that is when we started talking game.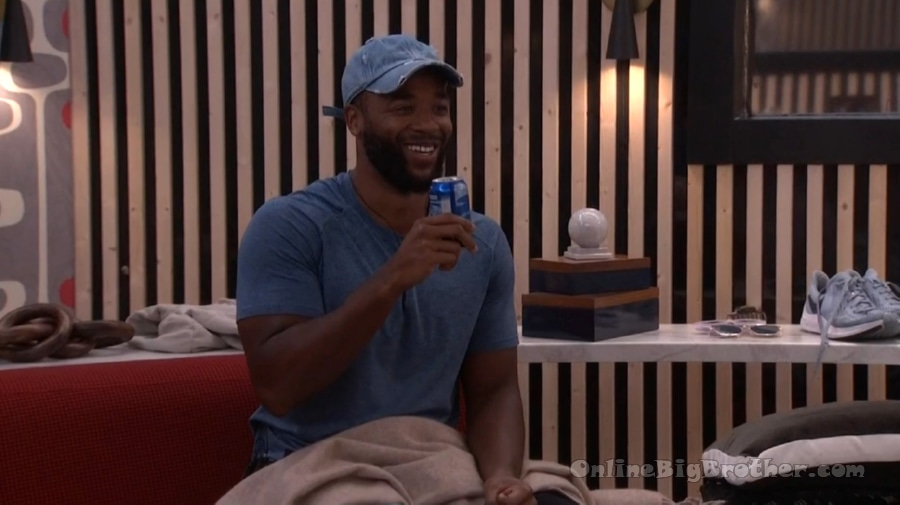 Taylor says that Alyssa had no game. She could have been in the same spot but she wasn't. Taylor brings up the "Hot girl trope" and how they usually get taken out early or are dragged to the end.
Taylor – Unfortunately Alyssa..
Monte – she got dragged into that
T – it's hard to see.. really hard to see that is not how I want to women in this house to be. She deserved better
Monte – it's about being naive
T – she's a naive girl.. she knows that. Believes in Santa until she was 15
Monte – Kyle is a STUD I don't see anything wrong parlaying with him but at the same time?
Taylor – All your eggs in that
Monte – the language she was using made me so sad.. You are depending on this man to make sure your game..
Taylor – it was interesting she was a fan of Big BRother. Alyssa very clearly loved the love stories all the love stories. That is all she talked about all the showmances and how she loves them and follows them.
Monte suggests ALyssa try and be single for awhile "just love yourself"
Taylor agrees "get a great viberator if you are going to be single for awhile you will need it"
Monte – she said she had never been single for longer than 4 months it made a bunch of sense why you continue on this trend
They talk about jury votes. They are sure Joe will vote for them over Turner but Terrance is a toss up.
Monte grabs another cider from the fridge.
they talk about The Kyle incident. Taylor thinks people will forgive Michael easier than Kyle.
Monte – to me dependent on what is shown from those conversation between Michael and Kyle depending on what is shown with the conversations between Michael and Brittany when they are going to share this information.. That could be a very criminalizing thing for both of them.
Taylor – I debate on whether to tell you this. Michael wins Veto and we know that it is doomsday. You are going to go up instead. I go in the back and I am talking to Michael in the ballroom. I'm like you know that game I play I don't lie in this game. I stay quiet if I feel uncomfortable. I go to Michael and am like this might be it this might have to be when we come up with a lie to get Kyle on the block. Get someone else on the block.
Taylor – I was like I don't know what lie we can create to avoid Monte going up or me going up or whatever the f*** is the case. Me going home or Monte going up. so what do we have?
Feeds flip to Turner sleeping (Ohh of course) When we're back.
Taylor – they were like we need to talk to you immediately we go up stairs and have that conversation
Taylor – it never sat right with me knowing I talked to Michael the night before and I was like what is there that exists that can come to light.
Monte – they were willing to go to the grave never telling anybody and they said that very directly in the living room. If Kyle went home that week we didn't feel there was a need to share it.
Monte – what! this wasn't a morale thing
Taylor – the only thing I will say to defend that if you in some capacity believed that racism has not been fully brought into the game you don't want to be the one that brings it into the game.
Feeds flip to Turner sleeping. When we're back
Monte – what he told me from week three his HOH he had to apologize to family members how much he stood up for Black lives matter.
Monte – and his girlfriend is of another ethnicity (Turner)
Taylor – I love that kid.
Monte – I am very happy for him.
Monte called to swap out his Microphone. When he comes back Taylor is saying if Brittany doesn't get to final 3 she will be seen as a 'bad woman'
Taylor – I'm the only woman to win two HOH's and both times a woman went home. It's highly likely my closest ally since a week ago is going on my HOH I am going to be the bad women of the season
Monte goes over all the girls games this season, Nicole was emotionally bat shit crazy, Ameerah was playing bully ball and everyone was a pawn to her, Indy didn't like Taylor because she thought Taylor was pursuing Monte, Alyssa and Brittany weren't playing their own games. Jasmine said things about Taylor day one.
2:50 am
They decide to take a shower together and "Condition his beard" Feeds cut.. then flip to Turner sleeping for an hour.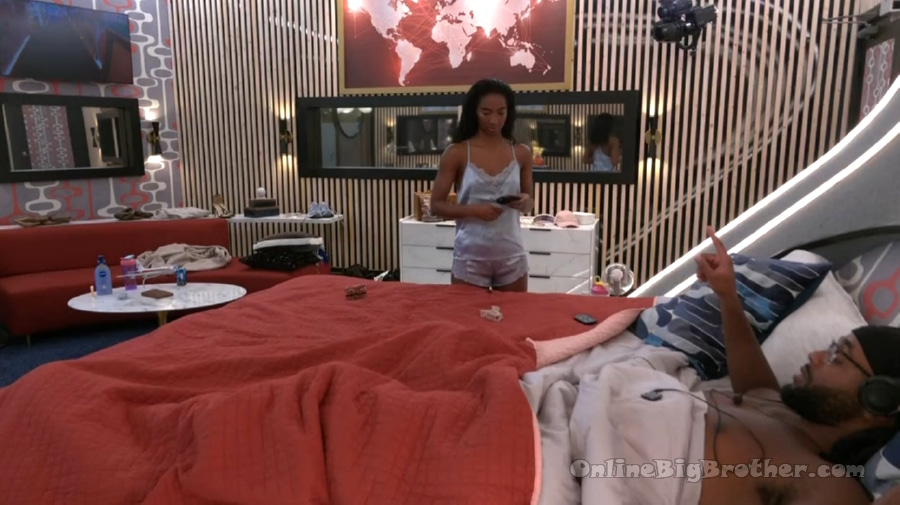 3:51 am bedtime
4:00 am zzzzzz
7:11 am Zzzzzz
10:00 am ZZzzzzz but lights are on downstairs.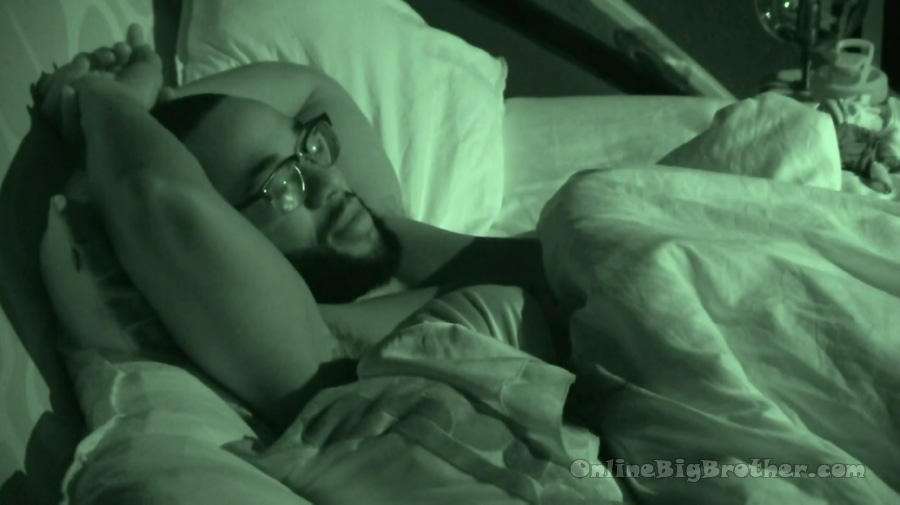 10:18 am Monte and Taylor in the HOH
They're talking about getting Michael out
Monte knew he was going to slip up eventually "he's not perfect"
Taylor – I hate that the belt broke but… it worked out for us
Monte – I still don't see .. that's a …
Taylor – he broke the belt
Monte – he broke the belt and it's not like the thing malfunctioned on it's own. The fact that they said that before the comps started means there was a potential for that to happen so running out and yanking at the belt or yanking the rope probably wasn't the best idea. I think he was you know a little frantic as well with everything
Taylor – you know I had a speech ready if I had won that veto
11:20 am Brittany has been coughing a lot.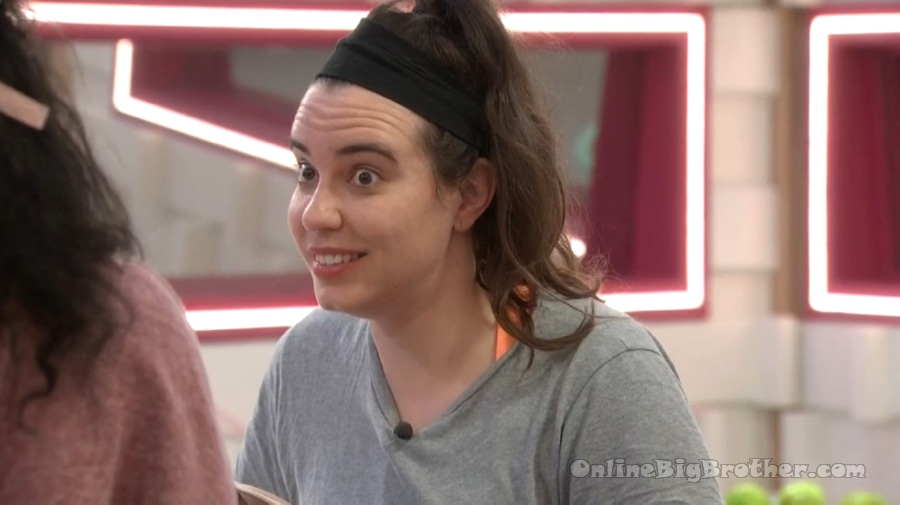 11:26 am Brittany and Taylor (Brittany talking like a crazy person)
B – you are set in stone it's either Monte, You, Me or MOnte, You, Turner.
B – if he plans on bringing you in that scenario .. if he wants to bring you to final two which I think is a great thing for him to do you guys have a relationship, you're friends it makes sense to him. WHY wouldn't he just statiscally make easier to be able to bring you to the end?
Taylor – I know
B – He's literally just making it harder on himself if you were the plan to bring to the end. If you're not the plan to bring to the end
T – There it is
B – There is it
B – I started looking at the MATH it's STUPID MATH if you look at the past competitions how much of a sure fire thing it would be getting to the end competing against me than Turner.
B – he's got two BIG MOVES..
Brittany goes on about how Monte made no big moves in the game. (veto win during the double?)
B – where are Montes? he has the opportunity NOW (to take out Turner)
Brittany says if he takes out Turner and wins the final HOH he'll win the game. "No matter if he brought you no matter if he brought me"
Brittany goes on about how Monte hasn't done anything Big compared to Turner. Turner was HOH during Ameerah, Kyle and Michael's eviction.
Brittany wants to talk to Monte to explain to him his best chance to win is to take out TUrner.
Taylor – Take your time with it. we have all day we have all week take your time with it.. massage it.
B- I want to have that objective commentator conversation with him
T – he'll love it you know he wants to be a podcaster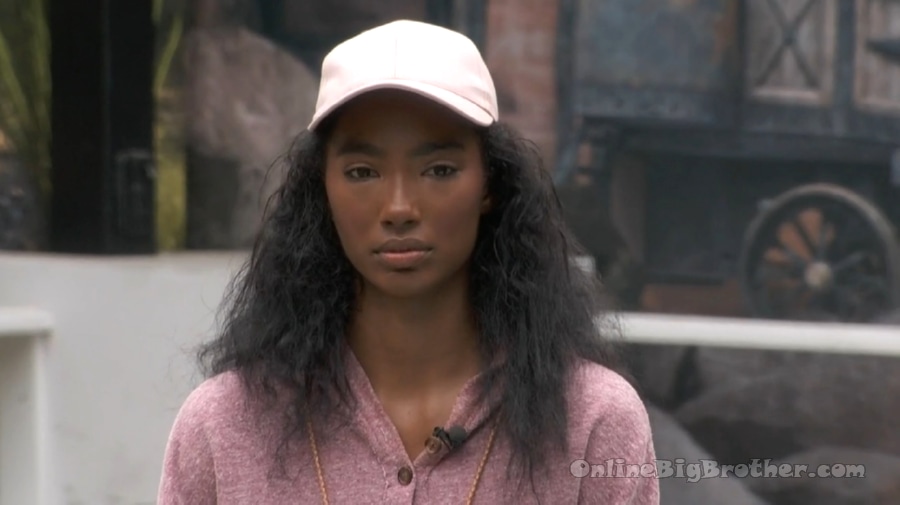 11:55 am Taylor outside with Monte.
Something Brittany said definitely got Taylor thinking.
12:10pm Backyard – Monte and Taylor.
Taylor – the fun we've been having.. Monte – oh the two of us? Taylor – yeah. It will be interesting how .. I was just thinking about that. Monte – yeah I don't know if I am looking forward to that.. but that is why I am just not going to be on BB twitter. Taylor talks about her HOH letter and how her mom / friend were texting every day. She wonders if they've been watching the last week. Monte – people have to understand what this environment is. Taylor – yeah, can't flirt, can't date, can't f**k! Monte – yeah that is just unnatural.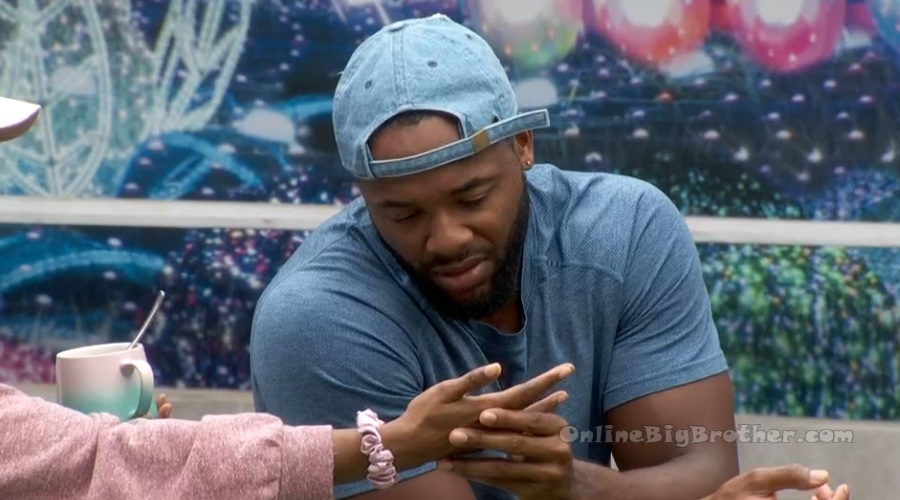 1:50pm The house guests are lazing around in the backyard.

2:40pm Suntanning and working out..

3:20pm Taylor playing solitaire. Turner listening to the HOH music.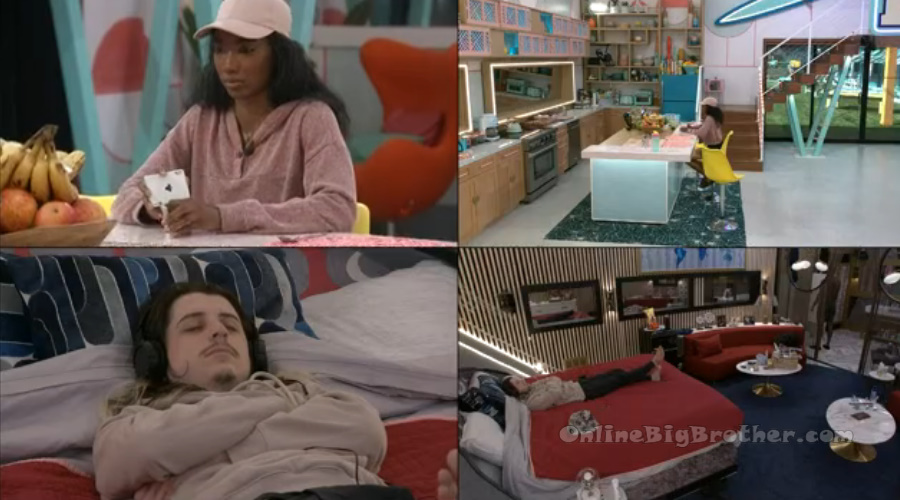 3:46pm Bedroom – Brittany studying the days/events/comps with M&Ms.