POV Holder:
Victor
POV Competition
Aug 13th
POV Used
NO
POV Ceremony
Aug 15th
HOH
Victor
Next HOH
Aug 11th
Original Nomi1nations:
Paulie AND Corey
After POV Nominations:
Paulie AND Corey
Have Nots
Michelle AND Nicole
Watch the next week of the feeds for FREE – 1 week Trial!

@ 3:57am Paulie, Victor and Paul (we missed this last night.. use flashback to catch the whole conv.)
Paul – did you, complete..
Paulie – ya
Paul – how
Paulie – in cog..
Victor can't understand how that goes down in the house it must have been hard.
Paulie says they did it in Bumper cars and the Tokyo room, "Took skill and flexibility"
Paul – wow
Paulie – fairly simple to literally be done.. first time second time was like (Clicks fingers)… Third time (Clicks fingers).. fourth (Clicks fingers).. last and final was pretty solid
Paulie says he and Zakiyah never got yelled at by production because it just looked like they were cuddling/spooning.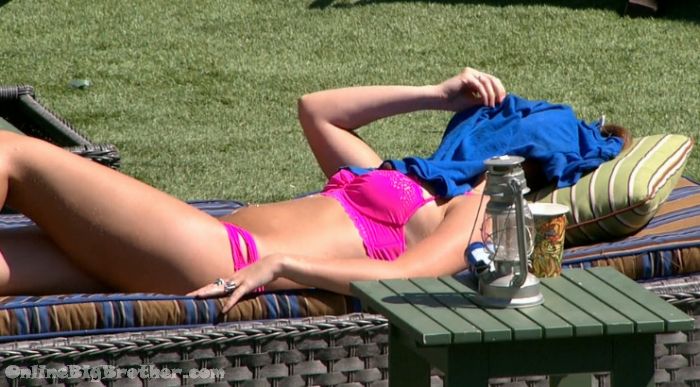 10:40am Meech outside studying dates.. starts to talk to the cameras
Strategy going forward..
Right now I feel like I'm in a pretty good spot, I'm with Victor, Paul, James and Natalie. The plan is to get Paulie, Nicole and Corey out.. back to back to back.. so we can be final 5.
I feel really good about it because I'm going to try and ally myself with Paul and victor because i'm really good with them. So they will go after James and Natalie first.
I do think they want to take a swing at James first which they got my vote.
Also.. I've been slowly trying to piss off a lot of people.. trying to do a Evel Dick like strategy. where people will take me to the final 2 because they think everyone in Jury hates me.. So i'm hoping that will work
That's why I always say everyone hates me just because I want to enforce it into their brains so that if one of them does win and I am final 3 they will take me because then they would have a better shot at winning against someone that is hated rather than someone is well loved. I'm hoping that strategy works out for me.
Worked for him, I'm wondering if Natalie is really genuine if she really has forgiven me.. Who knows.. I hope she has but if she hasn't that's fine.. I just hope people realize it's just a game.. some of that stuff was strategy some of it wasn't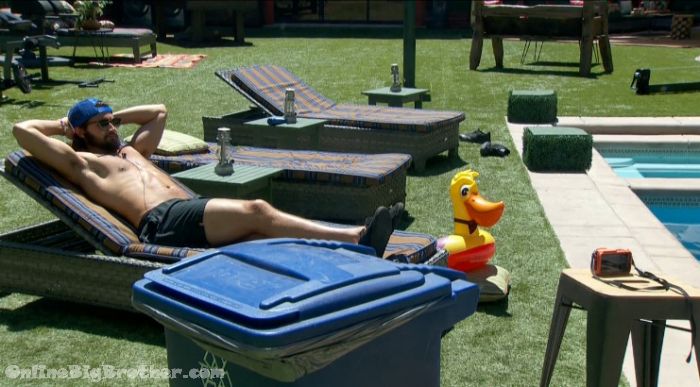 12:15pm HOH pictures Victor and the duck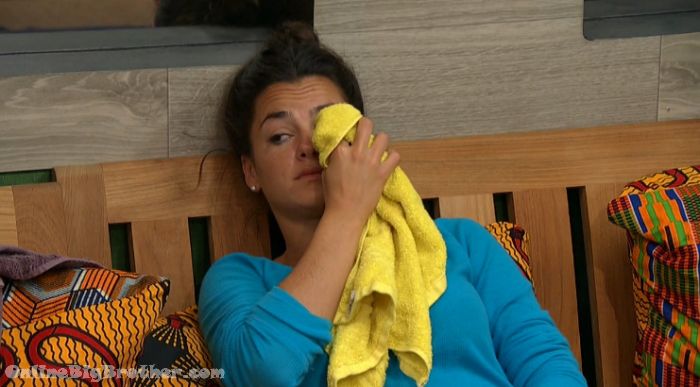 12:37pm Natalie feeling sick in the Safari room. last night she was complaining of a sore neck then around 6am she started puking.
Natalie – I really don't want to be here right now.. I feel sick.. I feel like I'm goign to throw up again.. I have cramps now I have my period after 2 months..
Nat – I can't get a good sleep.. every little thing wakes me up.
Natalie says she very embarrassed she made a mess of the bed.
James offers to was the sheets for her.
Natalie – I'm miserable with my neck like this.. I will not be able to compete Thursday.. I'll never win a HOH.. why am I here
James – you're not a quitter your a fighter
Nat – I'm a fake Jersey Girl
James – no you're not
Natalie says is hard to be sick in the house.
James – in 12 hours your neck will be better
nat – I've had this a few time.. it happens every couple years..
James- i know you're hruting and everything sucks think of all you've been through.. you're really close..
James – I think people aren't goign to put you up.. both sides.. Me, Paul, Corey, Nat and Victor have the biggest shot to go up.. so .. just think about that though.. I know you're hurting stay the course you're almost there..
Natalie feeling sorry for herself says she can't win the mental comps can't host competitions because she messes up all the lines.. etc etc..
James tries to make her feel better saying she played a great social game they have made it far
James – I thank you for that.. you got me here.. I need you more than you need me.. I don't need you tapping out
James – your such a little strong nugget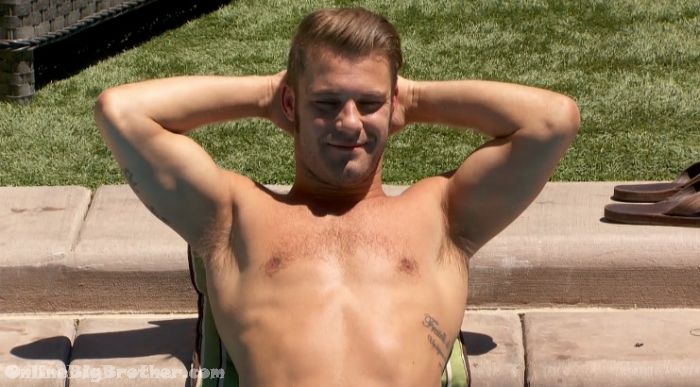 1:01pm backyard Mihcelle, Nicole, Corey and paulie
talking about all of Victor's HOH pictures being of Victor and the Duck.
Nicole – it's hiliarioussssssssssssssssssssss
Paulie – nobody was awake to take pictures with him.. that's what it was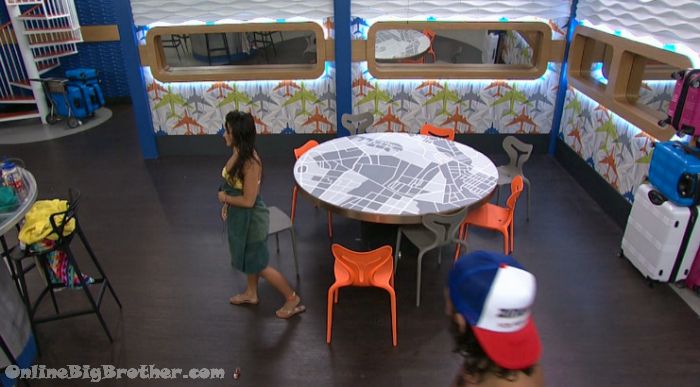 1:57pm a smaller table
2:20pm Paul is patting people down doing the security sweep.
Finds James hiding in the storage room "Get out with your hands up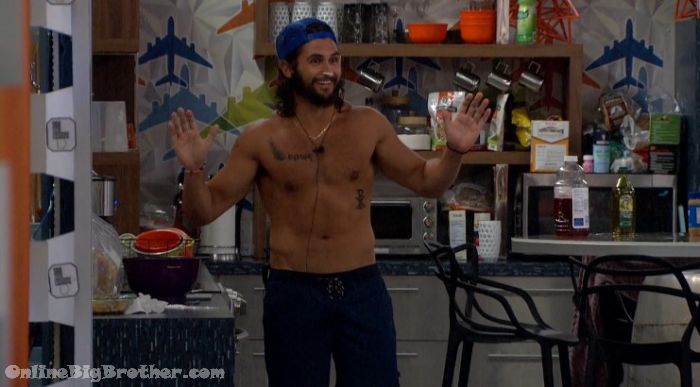 Victor throws some flour on his nose and makes lines on the table to pretend it's cocaine.. "I swear it was here when I got here"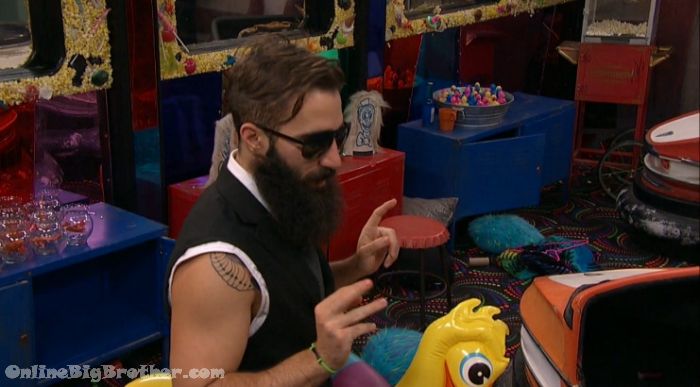 2:26pm Paul and Michelle in the Have nots
Paul – whenever I go into a room it's either paulie and Nicole whispering or Paulie, Corey and Nicole whispering.
Meech – I know
Paul – what else is there to whisper about
Meech – I know.. oh my gosh.. i'm sick of it
Paul – has he campaigned to you
Meech – no, you
Paul – no, he wants to convince everyone to open their cards.
Meech – what the heck
Paul – are you on f****g drugs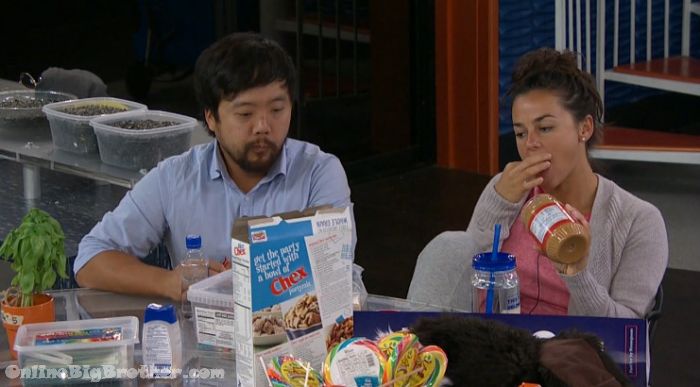 3:05pm
Natalie asks James if he's getting pissed at her for being so negative.
James to Natalie – If I can't stand you at your worst I don't deserve you at your best
3:43pm everyone sleeping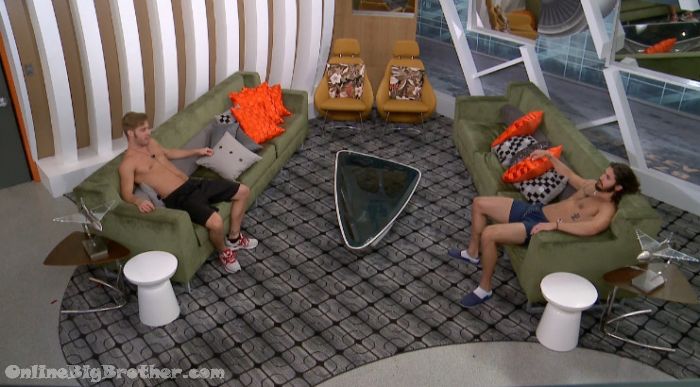 4:55pm Victor and Paulie are the only ones up walking cruising around the house with their shirts off
Victor asks him what he's doing when he gets back to Jersey.
Paulie – I'm goign to play around with my dogs..
Vic – what kinda dogs do you have
Paulie – 2 German shepherds.. my dogs are beasts.. They are monsters they can hang
Vic says he has a dog, "I hate him.. it's a love hate relationship his name is Gizmo and he's a b1tch .. he's a cool .. he's a lap dop…. he doesn't do sh1t"
The other camera shows Sleeping houseguests..
5pm – 6:10pm Paulie and Vic sit in the living room talking sports teams/players. Paulie goes to take a nap. Vic heads up to the HOH room to shower.
6:30pm Kitchen – Paul, Corey, James and Paulie are eating and chatting about the live feeds. Big Brother plays the zingbot "O say can you zing" – Its time for Paulie to make a pie. Paulie checks the basket and finds its full of apples. He says I'm going to be making a lot of pies tonight!
HOH room – Vic talks to Paul. Vic says he asked America to give them a package in his Blog and tweets.
6:50pm In the kitchen – Paulie takes off his shorts so he's now making pies n@ked. James tells Big Brother to re alert Paul. Soon after big brother plays the red alert. Paul goes to pat down the house guests. Paulie tells Paul he has a concealed weapon.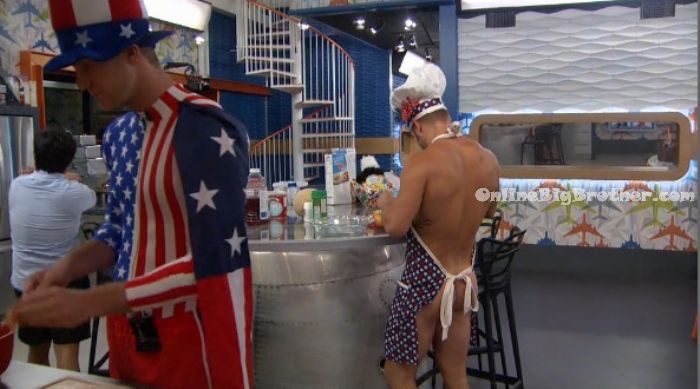 "CO-HOH"
WEEK 4 – August 14th to August 19th
This winner automatically becomes Co-HOH, sharing all HOH perks and responsibilities for the duration of the week, including choosing 1 of the 2 nominees.
[polldaddy poll=9496376]
Usernames will have to be a bit more PG please. At the least censor them with @*(#^%_