Demetres Sindy Kevin Bruno and Ika HOH
Ika says they have stuck their neck outs for their alliance and taken people out that weren't coming after them but did it for the alliance.
Ika – they're people coming after us and you're telling me you are not going to target those people Iak – leaving 3 people that are coming after two members of your alliance
Ika – if this is an alliance just for votes then just say that is how it is
Kevin speechless..
Bruno says the way things are going they can control it. "If one goes up we control the numbers"
Ika – so you are keeping Jackie Dillon and emily safe in this house.. When did Jackie become an important member in your life
Kevin – Jackie is not important to me at all
Ika says neda will not put up Jackie, Emily and Dillon
Demetres- then what is the point to all this
Gary comes in and breaks up the conversation
Kevin tells Ika he will do everything in his power tomorrow to win the HOH.
Demetres points out to them Cass wasn't coming after them and they took her out. THey have 3 people coming after them and they are not even targeting those people.
Ika points out Dallas wasn't coming after them too, "I evicted them for this alliance"
Bruno tells them not to doubt them "we have the numbers"
Demetres – Trust me I didn't want to win that F***g HOH.. Send one of these people home I didn't even vote for them.
Demetres – one of us had to..
Bruno reassures Ika she is not playing the HOH on her own.
Ika – I feel like you guys don't' want to win HOH
Bruno says he's been on slop for two weeks he feels like mush but he's going to try to win
Kevin says he's going to put up Karen because she wants him out.
Kevin proposes they get rid of Jackie next to "balance it out"
Bruno says he never doubted anything for a second. He didn't know there was issues with Demetres and Ika over who they are targeting
Bruno – I'm glad you guys brought it up .. I'm going to talk to Dillon today.. For sure for sure
Bruno and Demetres leave. .
Bruno and Demetres Kitchen
Bruno says he had no idea they felt this way, "I'm going to work on Dillon for sure"
Bruno says he put in the work with EMily she's not putting the two of them up
Demetres going over that him and Ika have gotten rid of players that weren't going after them but but did it for their alliance, "We just need to spread it out"
Bruno – fair enough.."
Bruno – we keep winning and we control the numbers.
Bruno says if they start taking big shots right now what would happen if Demetres and him go up.
Demetres says how it looked fort them is they were covering their asses.
Bruno – no man..
Demetres says if him not being able to play in the HOH this week Ika needs some help.
Bruno – we're a team
Demetres points out that Neda has no one coming after her
Bruno says it's his birthday this week he can try and convince Emily, Dillon jackie that he really wants HOH for it. "Throw it to me.. I'll do that I have no problem in that"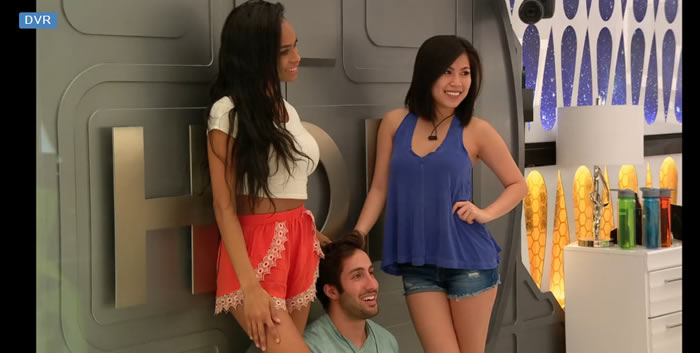 HOH Pictures
6:37pm Storage room Neda and Sindy
Sindy brings up the conversation int he HOH. Neda says Jackie doesn't want Ika out she wants Dre out because then Jackie can pick up William.
6:48pm Gary and Ika
Gary says if he does go home he doesn't want to go into sequester he just wants to go home.

7:04pm Ika Karen and Gary
8:00pm Houseguests are getting memory clues throughout the night. this is for HOH tomorrow.
Jackie and Bruno
They start studying.
Bruno – win it we have to take shots.. we have to take a shot this week
Bruno – we have to win this and we have to take shots this week Jackie.

8:35pm Neda Emily and Dillon
Talking about how mean Ika is. Neda says Ika just doesn't look at her.
Neda says the only reason why Ika doesn't mouth off to her is because they were on the same season.
NEda adds that Ika never learned from her first time playing Big BRohter she's doing the same thing being nasty.
Dillon – I thought she got a bad edit on her season but she's worst in person
Neda – she's very bad at hiding her emotions.
Emily – what the f** did I do to her..
Neda – If you're not with her you're against her
Dillon asks Neda what she thinks if they put Demetres and Ika up .That way if one of them wins POV the other one goes.
Neda – do it.. It's going to be a knock out comp.
9:25pm Ika and Demetres
Going back and forth about keeping Dre or Gary.
Demetres – for me and you what is the better move.. Dre is F*** loyal
Ika says that is all Dre has going for her "She sucks.. she couldn't spell a 5 letter word"
Demetres says Gary has a lot of people to go through before he gets to them.
Ika says Gary is more of a gamer and is a bigger target.
Dre's going after Kevin/Bruno Gary is going after Neda/Kevin and Bruno
Ika says Gary could befriend EMily, Dillon and Jackie which Ika doesn't like.
Demetres says the only reason the other side wants Gary out is because of Neda.
Ika – Is Gary leaving beneficial for us.. who is more trustworthy.. Dre but do you want a bigger target in the house
Demetres – if we get rid of Dre god knows what happens with Will..
Iak brings up that Dre didn't even look like she cared to safe herself in the competition.
10:07pm Ika and Sindy

Bruno & Neda. Bruno – honestly I talked to Dillon and he said Ika and Demetres. Done Done. Honestly done. Neda – yeah .. I just can't handle someone being mad at me everyday for something I didn't do. Bruno – And I think Jackie is going to do the same. What if she does Ika and Dre? Neda – I think we would have to do Dre. Bruno – Okay, honestly I cool ether way. I know Emily will do Ika and Demetres .. she said she would. Bruno and Neda start studying again.
10:33pm Neda and Kevin
Neda says Ika is the glue to that entire side. They need to start targeting the glue. She says the perfect scenario is Dre goes, Jackie goes Ika goes. That frees up William and Demetres.
11:53pm Dre Ika and Demetres. Dre – Kevin doesn't give a sh*t. He doesn't need to win this. If I was in there place why would I win. I wouldn't need to. They're going to do just enough to make sure people like us are not winning and then they're going to drop it so whoever wins win. They would probably throw it to Jackie. Ika – are they close with Jackie? Dre – they're not that close with Jackie but if she wants to take us out… they're not going to say no. Jackie – is trying to regain their trust right now. Jackie is a freakin plankton in the sea. Demetres – Jackie can suck a di*k! Ika – OHHH?! Demetres – I can't say that? Ika – I could say that but not you. Dre – she can suck something .. and that's my toe. My big toe. Demetres – Maybe that means a whole lot less in Alberta … because I tell a lot of people to suck my d*ck. Ika – STOP! Demetres – I'm sorry. Dre – so do you guys think I should show my boobs to Kevin because he's attracted to anything? Ika – maybe I should show mine? Dre – the only person I trust is you and you. I don't know about William .. he's never going to come after us or vote against us. Ika – what is he doing? Dre – I don't know what he's doing. He's just a nice kid right now. I'm tired of taking the heat for things I didn't do. I'm a nice little umbrella for this kid. SO F**KING ANNOYING!
Demetres – I'm not going to get animated about it. I want to say like … Ika – was already pissed off about it. I'm just going to sit in the corner and calm myself down. Now they've got me freaking sketchy. The last thing you want them to think is that you're.. Demetres – sketchy too. Ika – yeah. Demetres – that's all I'm going to say is I was talking to Dre and trying to figure out who Will would put up if he won and she said he was going to throw it. That's all I'm going to say. Ika – yeah, yeah. Demetres – You guys make of that what you will. He's not coming after you guys because he's not going to f**king win it. Ika – exactly. Demetres – I'll be like he's not even studying. Ika – he doesn't care. Demetres – he's too busy chasing.. Ika – Kevin. Demetres – f**king triangle. Ika – he doesn't care because no one is going after him. Demetres – You're right. That's what I mean .. if everyone feels safe, then its you three versus them.
[polldaddy poll=9712548]