Head of Household Winner – Holly
Have note are: Cliff, Nicole, and Jess get punishments
America's Prankster – Nick
Nominations are: Christie & Nick
Power of Veto Players are – Christie, Holly, Nick, Jackson, Jessica, Cliff
Power of Veto holder – Jackson
Power of Veto Ceremony – Jackson did not use the power of veto
Grab your live feeds —-> BB21 Live Feeds Subscription Link
Rank your houseguests —-> Big Brother 21 Ranking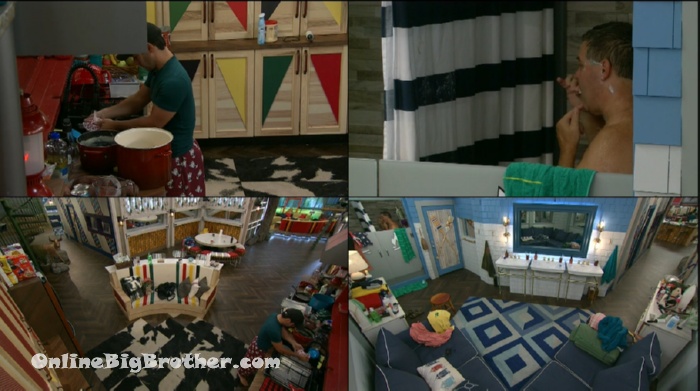 10:22 am Wake up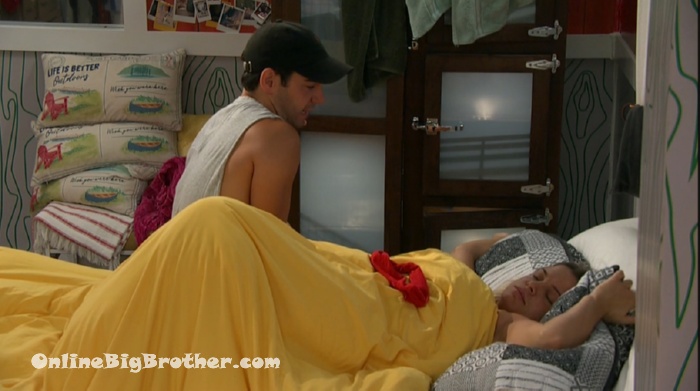 10:52 am Tommy and Christie (very hard to hear due to whispering)
Christie saying that Nick is trying to get Holly and Michie to be Scared that they are the biggest target with him gone.
C – I'm a little nervous about that
Tommy says Jackson claims he didn't use the veto because he was worried Tommy would go on the block.
They agree this is BS.
Christie – My contract is null I would put them up .they are an unbreakable thing"
Christie – I can't believe they haven't asked about my MIC this is a major conversation (My thoughts exactly I missed 3/4 of it)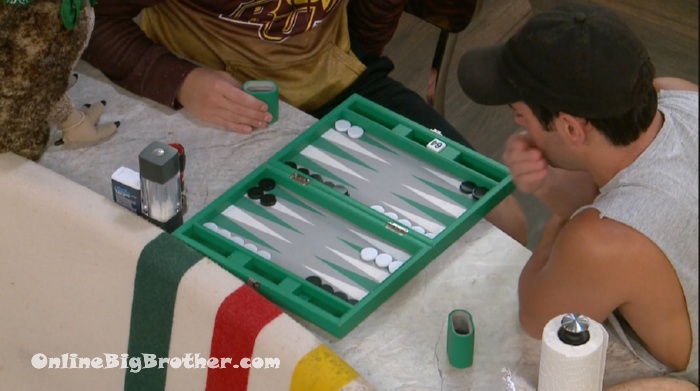 12:40 pm Feeds on Fire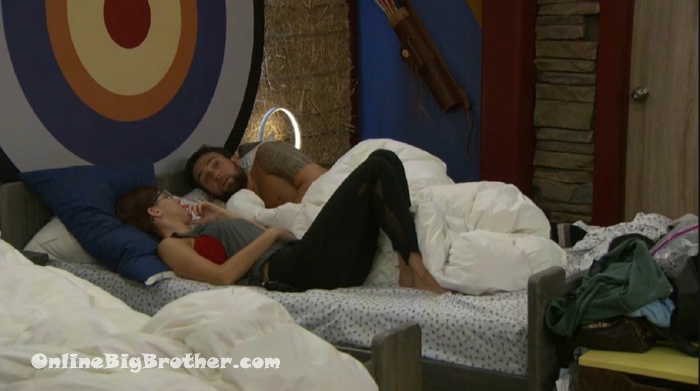 2:35 pm Nick and Nicole
Nick says to stick with Michie and Holly "they are trustworthy. Tommy will never vote for you he'll do whatever is best for him"
Nicole – I love him but I know what you are saying
Nick says use Michie and Holly as a shield "they like you and they know you are super loyal"
Nick – if you win HOH next week and I'm not here hook up with them
Nick saying that Tommy was all about getting Christie out last week now he is not mentioning anything about it.
Nick goes over all his points to campaign to Tommy. He Adds after he gets evicted Jess will put up Cliff and Tommy because she's probably made a deal with Michie and Holly so she will put up Tommy and Cliff.
Nick's points to Holly "I'm going to fight for you I'm going to win. the only person I'm not going after is Nicole. they can pick the targets after that"
Nick – this is absolutely an upgrade. I can be used as a shield, I can win HOH's, I can win vetos to keep you guys protected.
Nick – Jackson you are the only alpha male left if I leave
Nick – I'm going to use an analogy with a condom. Bro what do condoms do? protection bro, I'm you're protection. And what do you do when you are done with them you dispose of them. You can literally get rid of me whenever you want. You have my word
Nicole – that's what Christie used last week.. use me
Nick – yeah but I'm an upgrade
Nick goes on about him being an upgrade "if you guys ever feel like putting me up because it's my time to go then put me up. I have your back"
Nick – I've been honest. I can win vetos if they need that
Nicole points out if Christie stays it keeps the Christie/Jess duo together.
Nick – are you guys really going to let Christie survive the block three times in a row. Bro that's a killer campaign in the f*ing Final and she's good with her words.
Nick – she will flip when her backs against the wall
Nick – there's no way they won't take this f*ing deal
Nicole – they took Christie's deal last week. I'm just not getting it
Nick – they had to take it for me to be in this situation. Why would you not want me.
Nick – If I go Jess and Christie's targets change. They might be good next week Jackson and Holly but after that
Nicole – say if I go their targets are going to change together.
Nick – I'm going to hammer that in. It's going to be all the points I've been loyal to him, How I can benefit them going forward, Why Christie had to stay last week for this to happen and how she's been on the block three times three weeks in a row her campaign is going to be sick
Nick – dude you can't beat that in the end.
Nick – I know Jackson wants to keep me I know he's thinking about it
Nick – Jackson, and Holly are my two major pitches. I'm going to have to hammer it out, KILL it.
Nick – if I can get Jackson's vote.. then you'll have to help me secure Cliff's
Nicole – They know Tommy promised his vote to Christie.. you can use that to your advantage as well. you know I was close to Tommy it's all I had in this game and now…
Nick – I don't want to drop his name right now. only because I don't know how close they are. If I do stay and Tommy wins he probably won't put me up.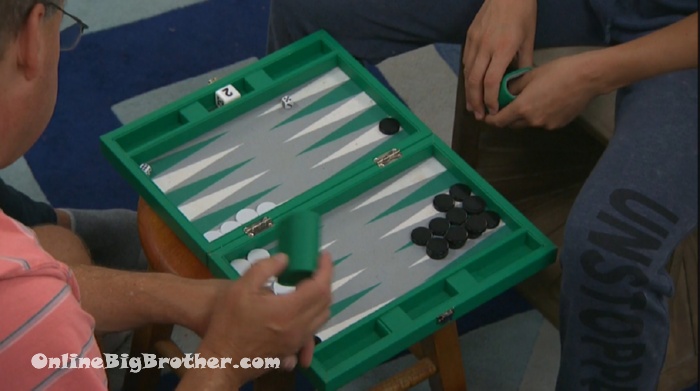 3:02 pm Feeds on fire cam 3
4:41 pm
Nicole gets pied by Jackson
4:46 pm Feeds back on FIRE!!!!!!!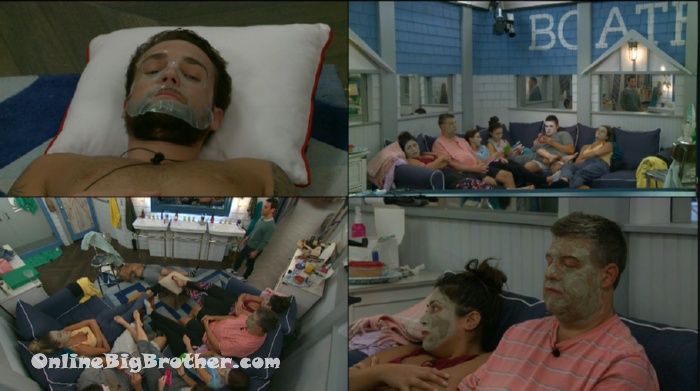 6:15 pm These feeds they on FIRE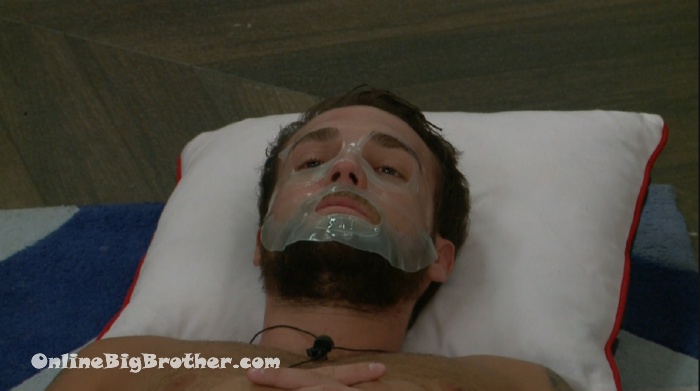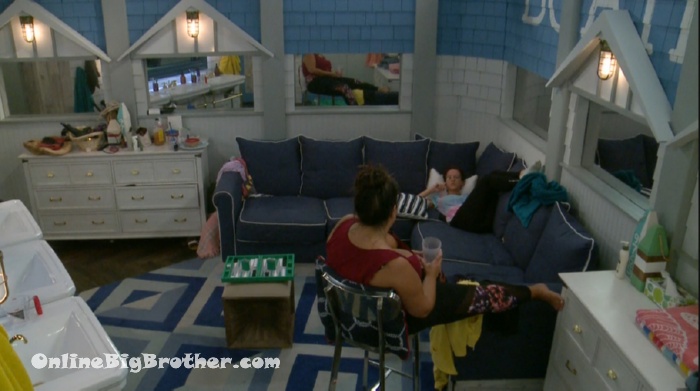 6:42 pm Jess and Nicole
Jess going on about being a "Social drinker" but she's always out and about so she's always drinking.
Jess – my parents can drink me under the table like nobodies business.. when my mother got sick that was her biggest thing she couldn't drink shew as pissed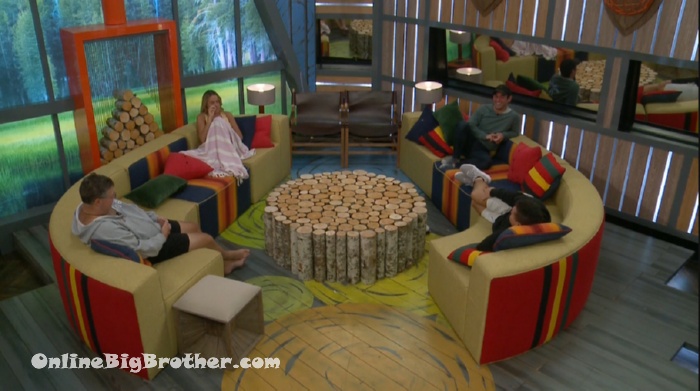 7:30 pm Cliff, Christie, Jackson, and Tommy
Chit chat